January is a month for reflection. Looking back on things past, and looking forward with hope and optimism to what lies ahead. For many of us, January 1 brings a laundry list of changes: new diet, new workout routine, newly organized pantry, closet and desk, etc. Then by January 31 few of any of these changes have become permanent habits.
Why? I think it's because we're too hard on ourselves.
We want to make that perfect version of ourselves a reality overnight, all at once, when the true reality is that baby steps toward our goals are much more likely to have lasting impact. And we don't need to wait until the start of a new year to do something that we know will make us happier, healthier, or more prosperous. Each morning is a fresh beginning.
Which is why I am a huge proponent of eating a healthy breakfast…how can you expect the rest of your day to go well if you start with bad fuel or no fuel at all?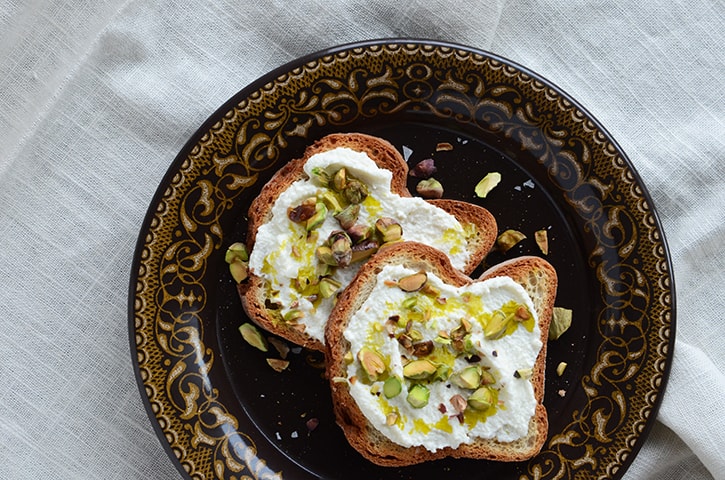 I recently saw this idea for Ricotta-Pistachio Toast on Cooking Light: Spread 2 tablespoons of ricotta cheese on 1 serving whole-grain bread (check the package to see if 1 serving is 1 slice or 2 slices); sprinkle on 1 tablespoon of chopped roasted, salted pistachios, and drizzle on 1 teaspoon olive oil.
I couldn't resist making this; I used unsalted pistachios and a sprinkle of sea salt (that's what I had in my pantry), and the pistachio oil that I mentioned in my last post instead of olive oil. Because that stuff is heaven.
Here are a few other healthy breakfast ideas:
Do you have a favorite healthy breakfast?