These Baked Apple Cinnamon Doughnuts with Apple Cider Glaze are full of warm spices and apple flavor; they're moist and sweetly scented of fall.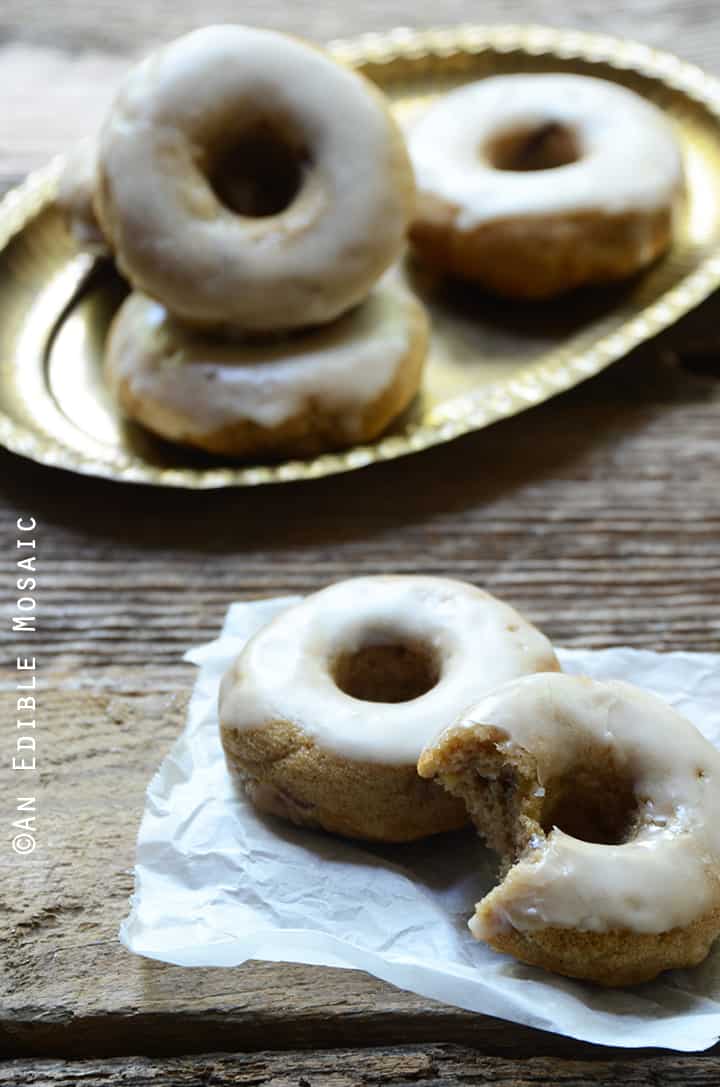 It's the weirdest thing ever.
I don't eat doughnuts (or donuts) all year long until autumn rolls around.
January through August, they don't cross my mind even once; they're a non-issue as far as temptation goes. Then September hits and all I can think about is how badly I want an apple fritter, bear claw, Boston cream, or my all-time favorite, a French cruller.
I know there's no rhyme or reason to it; it's just one of my quirks.
So instead of fighting the urge, I usually just go with it and have some fun in the process.
I'm going to make the case for homemade vs. bakery-bought doughnuts here for a couple reasons. First, these doughnuts whip up fast, and if you go with the cinnamon sugar coating option instead of glaze (or skip a coating or glaze altogether – they really don't need it!), you don't even need to wait for them to cool.
Also, as far as doughnuts go, this homemade version is a bit healthier. These are baked, so that right there is a plus, but I also give a few ingredient substitution ideas in parentheses below for healthier options.
Of course making your own doughnuts is cheaper than buying them from a bakery.
And maybe the best thing of all, these doughnuts make your home smell like fall as they bake.
Sold yet? ;)
P.S. These are best served with crisp apple cider (either ice-cold in a glass or spiced and steaming-hot in a mug) for maximum fall effect.
Baked Apple Cinnamon Doughnuts with Apple Cider Glaze
Prep time:
Cook time:
Total time:
Yield:
About 10 doughnuts
Ingredients
Doughnuts:
4 tablespoons light brown sugar, lightly packed (or coconut palm sugar)
1 large egg
2 tablespoons canola oil (or melted coconut oil)
½ cup (120 ml) fresh 100% apple cider
1 small (preferably organic) apple, washed, cored, and grated (not peeled)
½ teaspoon pure vanilla extract
1 cup + 2 tablespoons (145 g) all-purpose flour (or 1 cup/128 g whole wheat flour)
1 teaspoon baking powder
¾ teaspoon ground cinnamon
¼ teaspoon salt
¼ teaspoon ground nutmeg
⅛ teaspoon ground cloves
⅛ teaspoon ground ginger (dried)
Glaze (see Note for cinnamon sugar option):
½ cup (58 g) powdered sugar
1 tablespoon fresh 100% apple cider
Other:
Butter, to grease the doughnut pans
Instructions
Preheat the oven to 350F; generously grease 2 doughnut pans with butter. (Or cook the doughnuts in 2 batches if you only have 1 pan.)
Whisk together the brown sugar, egg, oil, apple cider, grated apple, and vanilla in a large bowl.
Add the flour, baking powder, cinnamon, salt, nutmeg, cloves, and ginger all at once and use a wooden spoon to stir just until combined, being careful not to over-mix.
Spoon the batter into the prepared doughnut pans (you should get about 10 doughnuts). Bake until a wooden pick inserted inside comes out clean or with just a couple crumbs, about 8 to 10 minutes, rotating the trays once halfway through baking.
Let the doughnuts cool for 15 minutes in the tray, then run a paring knife along the outside of each doughnut; invert the tray onto a wire rack and the doughnuts should come right out. Let the doughnuts finish cooling on a wire rack.
Once the doughnuts are cool, mix the glaze ingredients together in a shallow bowl. Dip the top of each doughnut in the glaze and let it set before serving.
Notes
Cinnamon Sugar Option Instead of Glaze: Melt 2 tablespoons of butter and brush it all over the warm doughnuts; coat them in a mixture of ¼ cup sugar + 2 teaspoons ground cinnamon. Enjoy!