This post is sponsored in conjunction with #BrunchWeek. I received product samples from sponsor companies to aid in the creation of the #BrunchWeek recipes. All opinions are mine alone.
Sweet Apple Hand Pies with Cheddar Shortcrust let the magical flavor pairing of sweet apple and sharp cheddar shine.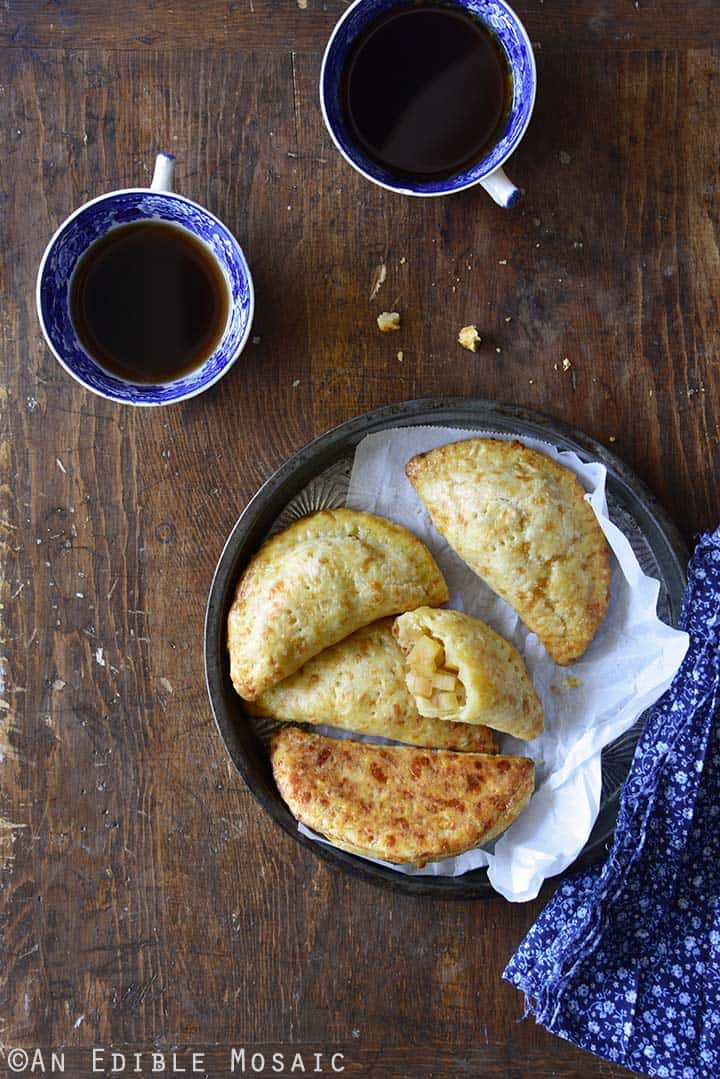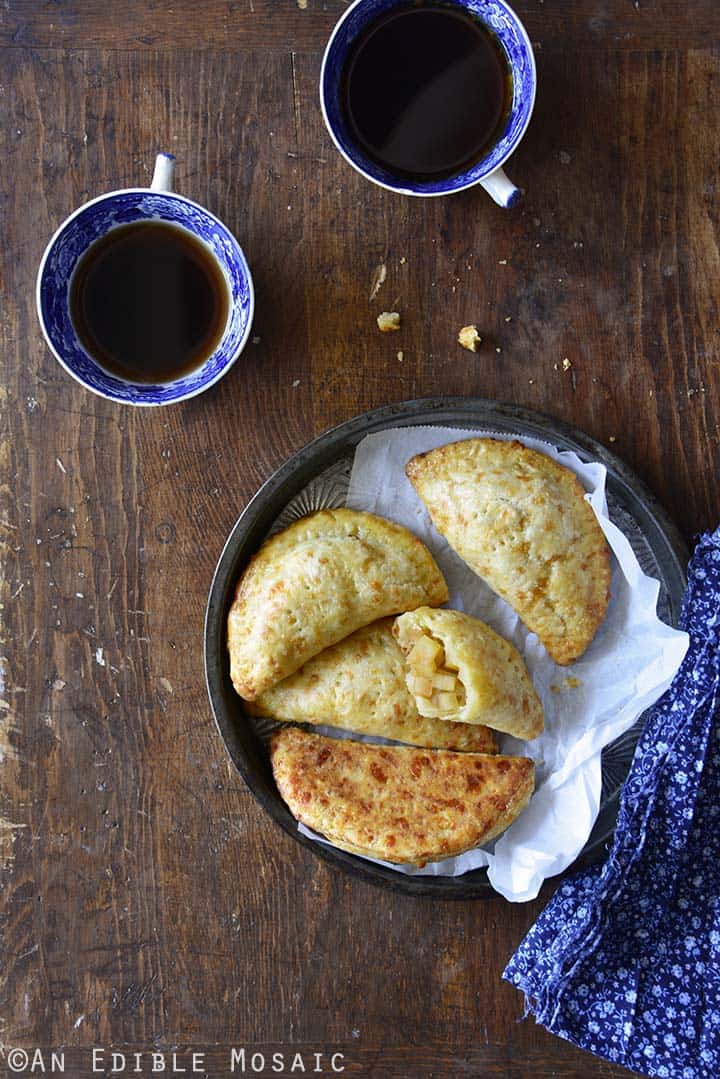 I was so torn when I was thinking about the third recipe I wanted to share for Brunch Week. Originally, I had high hopes for something egg-centric like quiche, frittata, or even a really special omelet.
But then inspiration struck in the form of apple and cheddar. I'm no stranger to that combination; in fact, sliced apple with a wedge of great-quality cheddar is one of my favorite snacks. There's something about a sweet, crisp apple that magically compliments the twang of a lovely sharp, nutty cheddar.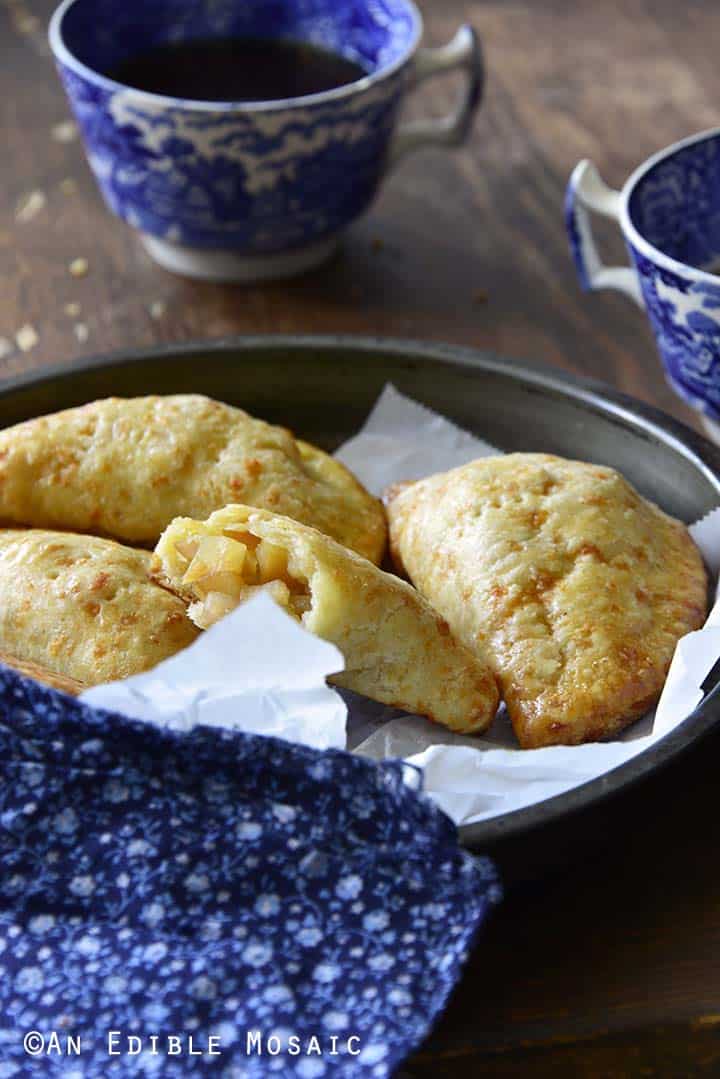 And then because this feels like such a classically British combination, my mind wandered to my time spent traveling there. During law school years ago, I took a summer course that was divided between London and Geneva. It was during that time that I first experienced a proper Cornish pasty, which is a type of pastry from Cornwall, England. The fillings are typically savory, involving some kind of meat and/or vegetables, but who's to say you can't break the mold and go with a sweet version?
I kept my apple filling very simple here. I didn't add warm spices like cinnamon and nutmeg that are a necessity in American-style apple pie, because I didn't want them to compete with the flavor of cheddar. Instead, I used a few things to just let the natural flavor of apple shine through.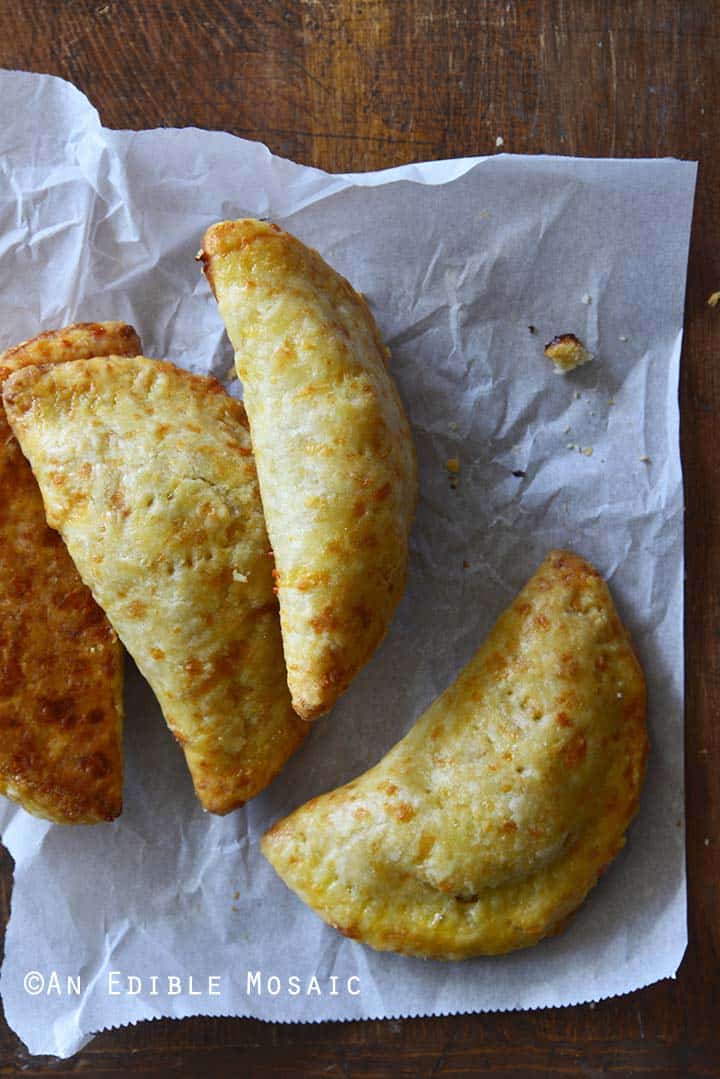 Because Rainier Fruit Lady Alice apples are so naturally sweet, I used a bit of apple cider vinegar and salt to create a balance of flavors. (If you can't find this kind of apple and you go with a less-sweet variety, you can reduce the vinegar a bit.) Sugar is needed for syrupy texture here. A hint of vanilla rounds out the flavor without being too discernable on its own. As the filling cooks, it gives off the most beautiful, almost floral aroma.
The end result is a perfect marriage of sweet and savory; like most good things in life, an end result that is so much more than the sum of its parts.
So yes, perhaps eggs would have been a more common choice for brunch, but make these hand pies and wow your guests.
Sweet Apple Hand Pies with Cheddar Shortcrust
Prep time:
Cook time:
Total time:
Sweet Apple Hand Pies with Cheddar Shortcrust let the magical flavor pairing of sweet apple and sharp cheddar shine.
Ingredients
Apple Filling:
1 lb (450 g) Rainier Fruit Lady Alice apples, washed, cored, and diced small (not peeled)
⅓ cup (67 g) Dixie Crystals sugar
1½ teaspoons apple cider vinegar
¼ teaspoon fine salt
2 tablespoons water
½ teaspoon Nielsen-Massey vanilla extract
Crust:
1¼ cups (160 g) all-purpose flour
¼ teaspoon fine salt
½ cup (1 stick) good-quality unsalted butter, chilled and diced into small cubes
2 to 3 tablespoons ice-cold water
4 oz (115 g) Cabot Alpine Cheddar cheese, shredded
Other:
1 egg beaten with 1 tablespoon cold water, for eggwash
Instructions
Add the apples, sugar, vinegar, salt, and water to a medium saucepan over medium-high heat; cook (covered) until the sugar is dissolved and the apple is starting to soften, about 8 to 10 minutes, stirring occasionally. You can remove the lid during the last couple minutes to help the syrup thicken a bit if you want. Turn the heat off and stir in the vanilla. Cool to room temperature, then refrigerate until fully chilled, about 1 hour (up to 3 days is fine).
When you want to make the pies, strain the apple, reserving the syrupy liquid for another use (such as a sweetener for tea, oatmeal, yogurt, etc.).
For the crust, whisk together the flour and salt in a large bowl and then cut in the butter with a pastry cutter or a fork until it looks like coarse meal. Add water 1 tablespoon at a time, working the dough together with your fingertips just until it comes together, and only adding enough water so the dough comes together when you squeeze it. Knead in the shredded cheese. Gather the dough together into a ball and then flatted it into a disk; wrap it in plastic wrap and refrigerate until chilled, about 30 minutes.
Once chilled, remove the dough from the fridge. Lay a piece of parchment paper out on your work surface, place the dough on the prepared parchment paper, and top with another piece of parchment (or if you have it, freezer paper works even better because it's thicker). (Done this way, there is no need for flour to roll the dough out.) Working from the center out, roll the dough out to a circle about 12 inches in diameter. Use a 4-inch cookie cutter (or a glass with that diameter) to stamp out circles in the dough.
Place a heaping 1 tablespoon of filling in the center of each circle of dough. Use a thin metal spatula to lift up one circle of dough, then fold the dough over onto itself to form a half-moon, pressing the pastry closed along the outside. Set the pastry down on a flat surface and crimp the edges with a fork. Gather the scraps of dough, re-roll them, and repeat until the dough and filling are gone (you should get about 7 to 9 pastries). You can chill the dough scraps at any point if it becomes too difficult to re-roll them out.
Chill the pastries in the fridge for 30 minutes; during this time, preheat the oven to 400F.
Line a large baking sheet with parchment paper or a silpat liner; arrange the pastries on the tray and use a paring knife or fork to prick the top of each. Brush the tops with the eggwash (you will have extra eggwash, don't try to use it all).
Bake until the pastries are golden and flaky, about 20 to 25 minutes.
Serve warm or at room temperature.
Notes
If There's Extra Filling: Use it as a topping for yogurt, oatmeal, ice cream, toast, etc.
Take a look at what the #BrunchWeek bloggers are creating today!
BrunchWeek Beverages:
Blackberry Mint Bellinis from Sweet Beginnings
Cardamom Rose Cocktail from Culinary Adventures with Camilla
Lemon & Blueberry Mocktail from Girl Abroad
Mango Pina Colada from The Spiffy Cookie
BrunchWeek Egg Dishes:
Cheesy Asparagus Bacon Quiche from The Nifty Foodie
Creamed Asparagus Omelet from Wholistic Woman
Eggs Benedict Quiche from A Kitchen Hoor's Adventures
Eggs in Hell from kimchi MOM
Roasted Asparagus and Cheddar Frittata from My Catholic Kitchen
Spring Veggie Quiche from A Day in the Life on the Farm
BrunchWeek Breads, Grains, and Pastries:
Apple Cheddar Cream Cheese Danish from Amy's Cooking Adventures
Apple Cinnamon Bread from It Bakes Me Happy
Apple Waffles from Gluten Free Crumbley
Banana Bread Pancakes from Love and Confections
Blackberry Cream Cheese Sweet Rolls from Pink Cake Plate
Brown Sugar Poptarts from Big Bear's Wife
Creme Brulee French Toast from The Barbee Housewife
Cherry Almond Coffee Cake from The Chef Next Door
Cheddar Yeast Rolls from Family Around the Table
Cinnamon Apple Danish from Nik Snacks
Garlic and Herb Pull Apart Bread from Jane's Adventures in Dinner
Lemon Poppy Seed Loaf Cake from Books n' Cooks
Mocha Eclairs from The Redhead Baker
BrunchWeek Main Dishes:
Country Ham Biscuits with Peach Mustard from Palatable Pastime
Country Skillet from Feeding Big
Ham, Apple and Cheddar Melts from Cookaholic Wife
Smoked Salmon & Herbed Cream Cheese Pizzas from Sarcastic Cooking
Yumbo Sliders from Cindy's Recipes and Writings
BrunchWeek Fruits, Vegetables, and Sides:
Rhubarb Crunch from Cooking with Carlee
BrunchWeek Desserts:
Apple Crisp Ice Cream from From Gate to Plate
Biscuit Bar with Flavored Sugars from Sew You Think You Can Cook
Low-Fat Apple Coffee Cake from Hardly A Goddess
Thumbprint Donuts from A Kitchen Hoor's Adventures
Disclaimer: Thank you to #BrunchWeek Sponsors: Red Star Yeast, Dixie Crystals, Cabot Cheese, Nielsen-Massey, Rainier Fruit, and Michigan Asparagus for providing the prizes free of charge. These companies also provided the bloggers with samples and products to use for #BrunchWeek recipes. All opinions are my own. The #BrunchWeek giveaway is open to U.S. residents, ages 18 & up. All entries for the winner will be checked and verified. By entering you give the right to use your name and likeness. The number of entries received determines the odds of winning. Six winners will be selected. The prize packages will be sent directly from the giveaway sponsors. The #BrunchWeek Bloggers are not responsible for the fulfillment or delivery of the prize packages. Bloggers hosting this giveaway and their immediate family members in their household cannot enter or win the giveaway. No purchase necessary. Void where prohibited by law. This promotion is in no way sponsored, endorsed or administered by, or associated with Facebook, Instagram, Pinterest, or any other social channel mentioned in the #BrunchWeek posts or entry.