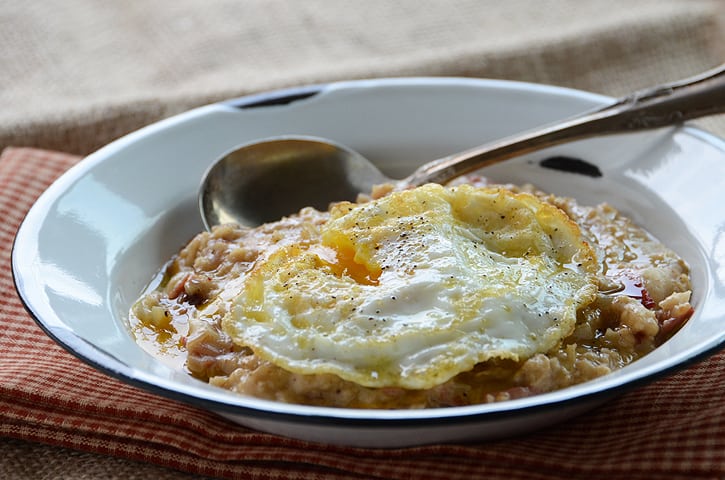 I have absolutely nothing to say for myself. I first saw a recipe for savory oatmeal on Penny De Los Santos' blog going on two years ago. Two years it took me to try it for myself.
(Bottom line, I need to start working through my "to-make" recipe list faster. The problem is, once I finally make something and realize how amazing it is, it's hard to keep it out of regular rotation. And thus continues the vicious cycle of not working through my list.)
I made a couple changes to the original recipe, namely, added turkey bacon and onion. You can leave them out if you prefer, but don't skip the sharp cheddar or fried egg…they make the dish. (I know at first savory oatmeal might seem a little strange...but it's just so right. It's similar to savory grits or creamy polenta. Give it a try. :) )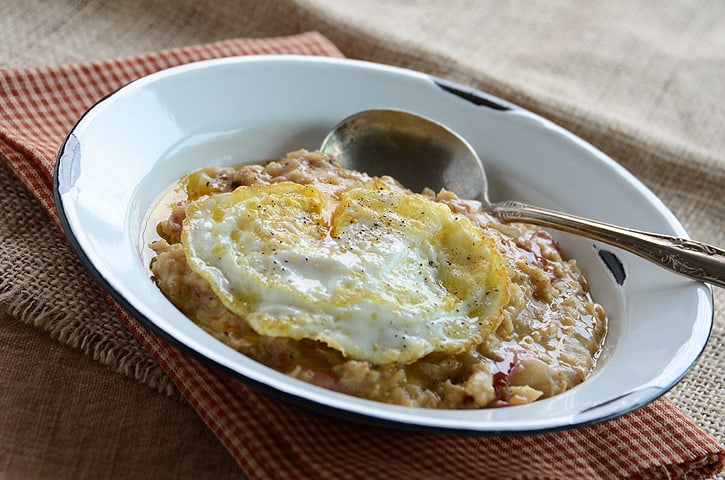 Savory Oatmeal (Inspired by Penny De Los Santos' recipe for Sexed Up Savory Oatmeal)
Serves 1
1 tablespoon olive oil
2 slices turkey bacon, diced
½ small-medium onion, diced
⅓ cup rolled oats
⅔ cup water
1 pinch sea salt
1 pinch black pepper
½ oz sharp cheddar, diced
1 fried egg (for topping)
Heat the oil in a small saucepan over medium heat; add the bacon and cook until crisp, about 2 to 3 minutes, stirring occasionally. Transfer the bacon to a small bowl and set aside. Add the onion to the oil and cook until softened and just starting to turn brown, about 3 minutes, stirring occasionally. Stir in the oats, water, salt, and pepper; bring to a boil then turn heat down to low and simmer until the oats are tender, about 5 minutes. Turn off heat and stir in the bacon and cheese. Transfer to a bowl and top with a fried egg and more black pepper.