When it comes to eating out, I generally prefer small, locally owned restaurants. They're unique, charming, and full of heart and soul. Not only does patronizing them support local businesses (many times right down to the food sourcing), but I've found that their food quality is so much better in general.
When I was a kid my parents loved chain restaurants with a passion (and I mean in a strange, over-the-top way that had no rhyme or reason to it). The Original Roadhouse Grill was their absolute favorite, and it was their go-to spot no matter what the occasion. Except if it was a lunchtime celebration, in which case they headed to T.G.I. Friday's (no idea why they made this distinction, lol!). They also had a few other favorite chains and Bennigan's was one of them.
I don't remember much of the food from these places, but there is something from Bennigan's I do remember: broccoli cheddar bites.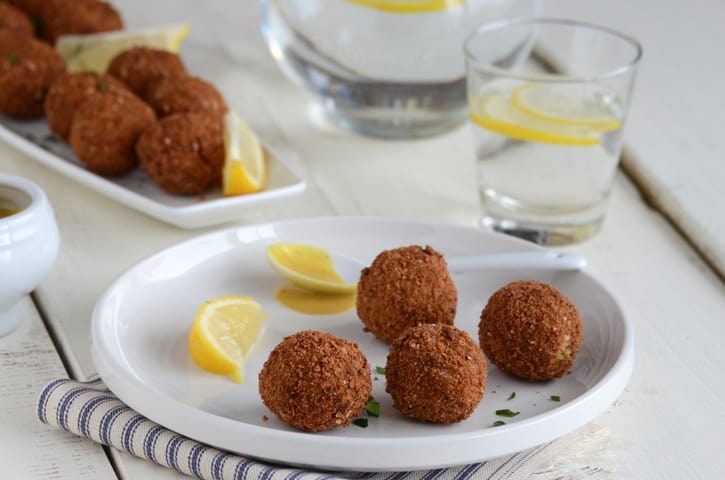 This was one of our favorite appetizers to order and it was always gone within minutes after arriving at our table. The honey mustard sauce that was always served with it might seem like an odd pairing but it really works – it cuts through the richness of the dish and provides the perfect tang. (A squeeze of fresh lemon juice on top is also fantastic.)
I don't think the broccoli cheddar bites at Bennigan's have rice (I really don't remember, it's been so long since I've been there…they closed in our area a few years ago), but I included rice in my recipe with Sicilian arancini or fried breaded rice balls in mind. When Mike asked what I was making, I told him "Sicilian falafel". He isn't big on trying new things, but he hears Sicilian and/or falafel and he's in. (A girl does what she has to do, right?) Anyway, he loved them.
Broccoli Cheddar Bites with Honey Mustard Dipping Sauce
Serves 6 to 8 as an appetizer
2 cups prepared Broccoli-Cheddar Risotto, chilled
2 oz sharp cheddar cheese, grated
1 large egg
⅓ cup breadcrumbs, plus more as necessary to bind the balls together
Canola oil, for frying
Honey Mustard Dipping Sauce (recipe below)
Minced fresh parsley (optional, for garnish)
Lemon wedges (optional, to squeeze on top)
Put ⅓ cup breadcrumbs into a shallow bowl and set aside (this is for rolling the balls in). Use your hands to combine the risotto, cheese, and egg in a medium bowl. If the mixture doesn't come together nicely when squeezed, add breadcrumbs a little at a time until it does. Scoop into bite-sized balls (I use a 1 ½ tablespoon scoop and I get about 25 balls) and roll each ball in breadcrumbs. Transfer the balls to a baking sheet, cover with plastic wrap, and refrigerate 30 minutes to 2 hours.
Fill a large Dutch oven or other heavy-bottomed pot with about 2 inches of canola oil and heat to 350F. Once the oil is hot, fry the balls in batches of 5 to 6 until golden brown and crispy outside, about 2 to 4 minutes per batch. Remove the balls from the oil with a slotted spoon and drain on a paper towel-lined plate.
Sprinkle parley on top and serve with Honey Mustard Dipping Sauce for dipping, and/or lemon wedges to squeeze on top.
Honey Mustard Dipping Sauce
Yields ½ cup
2 tablespoons Dijon mustard
2 tablespoons yellow mustard
2 tablespoons honey
2 tablespoons plain yogurt
A pinch each of salt and pepper
Whisk together all ingredients until smooth and refrigerate until serving.