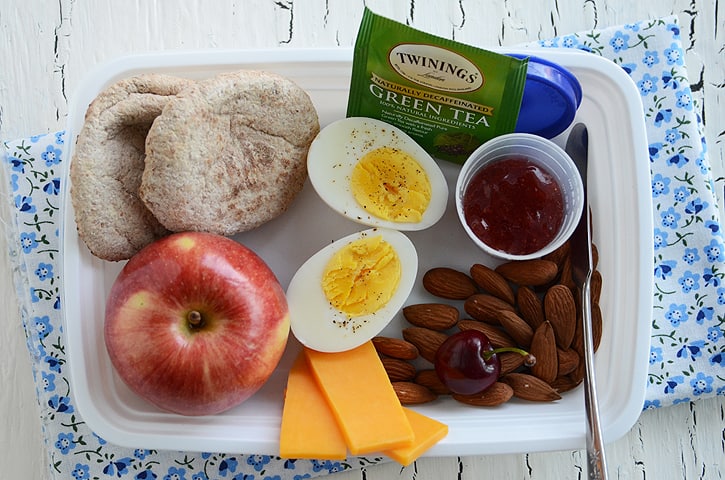 I wasn't always a breakfast eater. In high school, college, and even law school I had myself convinced that I didn't have time to eat in the morning. What I didn't realize was that those mid-afternoon energy crashes could have been avoided had I started my day with a healthy meal…since then I've realized that I don't have time not to eat a healthy breakfast.
And even breakfast on-the-go can be healthy.
A while ago I posted on healthy packed lunches, but when it comes to fueling your body and energizing your day, it all starts with breakfast. A good breakfast not only keeps you going until your next meal, but also sets you up mentally for healthy eating all day.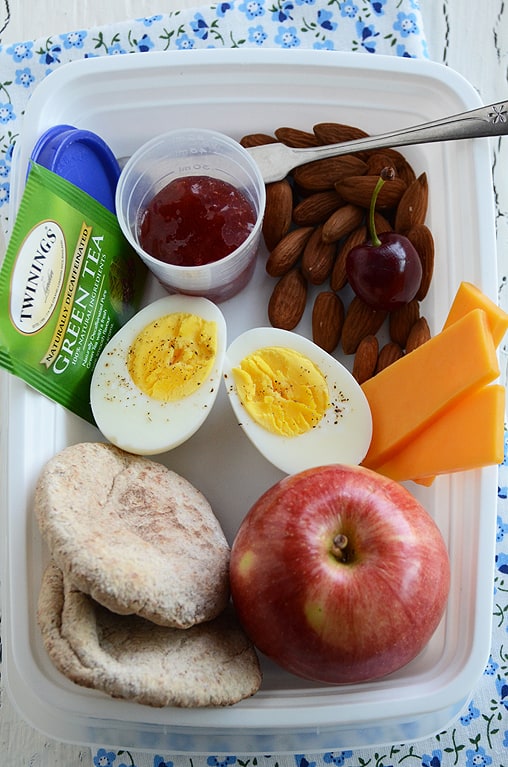 A breakfast like this keeps me satisfied until lunch.
It's easy to whip up a healthy breakfast if you have time to eat at home in the mornings, but even if you eat breakfast at work or on the road you have options. You can grab a healthy breakfast on-the-go or take a couple minutes to pack your own healthy breakfast. Inspired by Starbucks' Protein Plate, here is one of my favorite packed breakfasts.
1 Hard-Boiled Egg: I make hard boiled eggs once a week and keep them in the fridge for easy meals or snacks during the week.
3 Small Slices Cheese (about ¾ oz): This is Sharp Cheddar, but Swiss is also a favorite.
1 Handful Unsalted Almonds (about 1 ½ oz): I also like walnuts, cashews, and sunflower seeds. Sometimes I save this for a mid-morning snack!
1 Apple: Any piece of whole fruit will do, I just grab whatever I have on hand. I try to avoid processed fruits (like applesauce or canned fruit).
2 Mini Whole Wheat Pitas: Any healthy carb is perfect. If you have access to a toaster, I like to pop the pitas in and then spread with all-fruit jam.
1 Tablespoon All-Fruit Jam: This is optional – just for spreading on your bread (low-fat cream cheese is also a favorite).
Green Tea: Healthy and delicious, I drink mine as-is without sweetener. In hot months I also like to cold-brew my tea and drink it all day long.
1 Cherry: Dessert. :)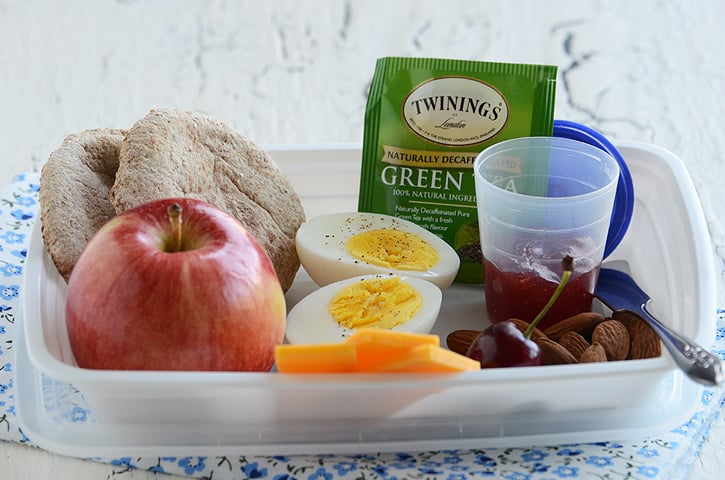 What is your favorite healthy breakfast on-the-go?