Cinnamon and Toasted Almond Dulce de Leche Cheesecake Popsicles are rich and creamy and perfect for cooling down with on a hot day. And bonus, they're low-carb!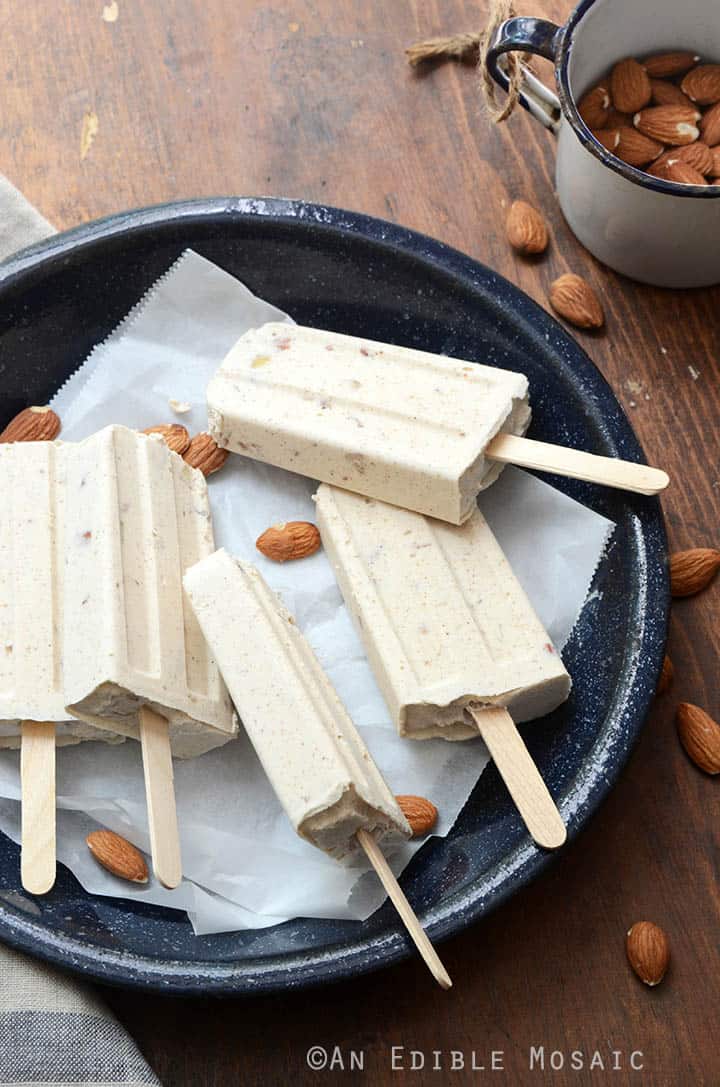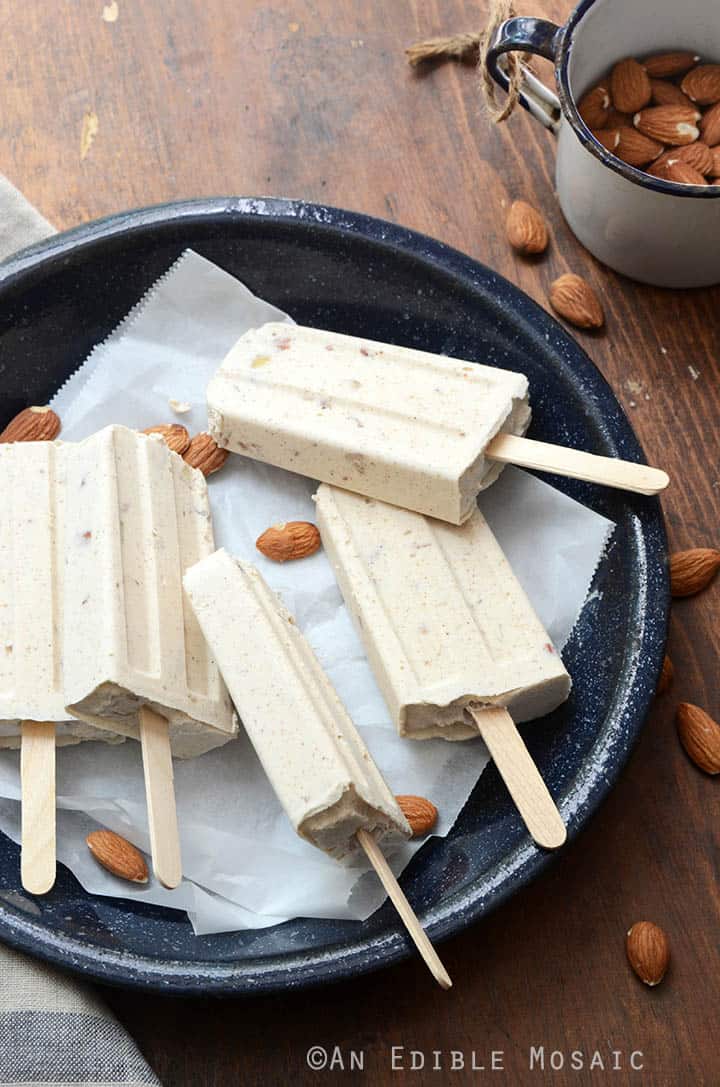 When the weather heats up enough to necessitate trips to the ice cream stand, I am only too happy to get out my popsicle mold.
When it comes to popsicles (or maybe in general), I'm a sucker for offbeat flavor combos, like Cherry Chocolate Chip Coffee and Banana Chai; when the fabulous Billy (of Wit & Vinegar) mentioned this year's Popsicle Week, I knew I wanted to go all out! I'm telling you, these are luscious.
Taking inspiration from my Low-Carb Buttermint Cheesecake Mousse (because that is a pretty great source of inspiration!), I started with a cream cheese base. I browned a couple tablespoons of butter, which adds lovely little brown flecks and a nutty flavor dimension to these popsicles (and those caramelized golden bits of butter is the dulce de leche part of these pops! Clever, right? I thought so anyway, lol).
Cinnamon, vanilla, and toasted almonds get added to the mix, and whipped cream is folded in for a mousse-like treat. Yup, you could stop right there and just grab a spoon. But this is Popsicle Week after all, so you see where I went with this.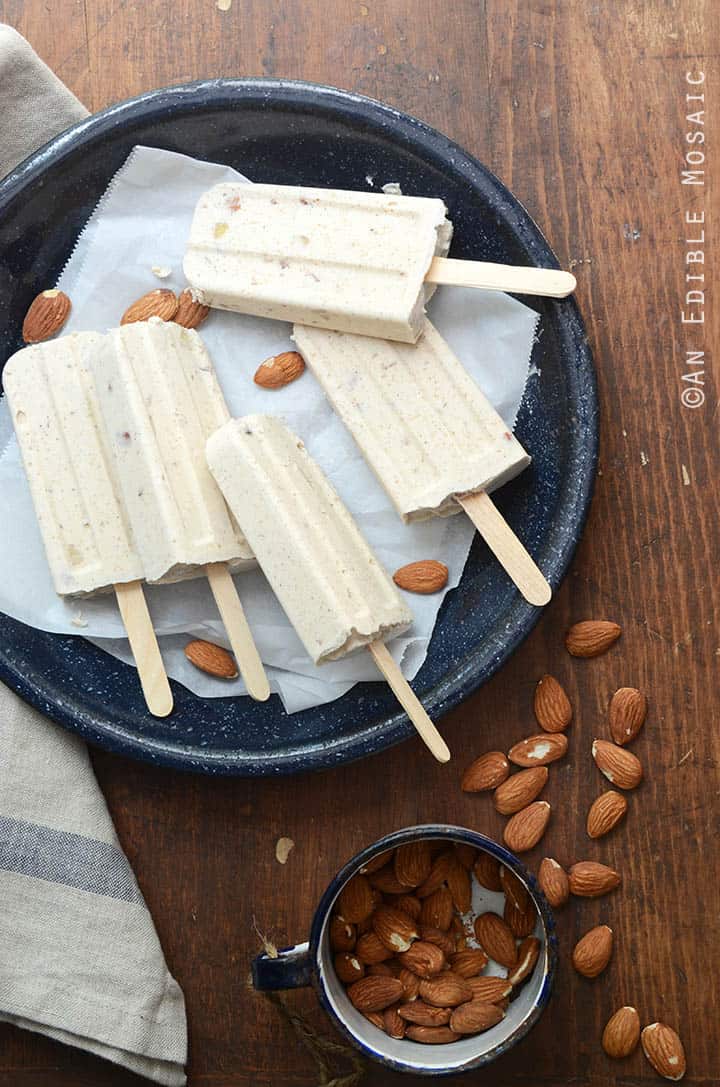 These pops have a lot going on, combining the flavors of cheesecake and dulce de leche with the added bonus of cinnamon and toasted almond. It all works though, I promise. Icy, fruity pops are good, but if you're looking for the creamy factor that ice cream provides, look no further. These are rich and satiating, every bit as much as ice cream (and how many popsicles can make that claim?), and they're the perfect cool treat to stock the freezer with for a hot day.
What's your favorite crazy popsicle or ice cream flavor?
Cinnamon and Toasted Almond Dulce de Leche Cheesecake Popsicles
Prep time:
Cook time:
Total time:
Cinnamon and Toasted Almond Dulce de Leche Cheesecake Popsicles are rich and creamy and perfect for cooling down with on a hot day. And bonus, they're low-carb!
Ingredients
2 tablespoons unsalted butter
6 oz (170 g) cream cheese, at room temperature
1½ teaspoons granulated stevia (see Note)
1 teaspoon pure vanilla extract
½ teaspoon ground cinnamon
½ cup (120 ml) heavy cream, whipped to stiff peaks
4 tablespoons almonds, toasted, cooled, and coarsely chopped
Instructions
Heat the butter in a small saucepan over medium heat until it's light golden brown and nutty smelling; cool slightly.
Beat together the browned butter, cream cheese, stevia, vanilla, and cinnamon. Beat in ¼ of the whipped cream, and then use a rubber spatula to gently fold in the remaining whipped cream ¼ at a time. Fold in the almonds.
Spoon the mixture into popsicle molds, making sure not to fill the molds over the "fill" line. The mixture is quite thick, so you will likely have to tap the mold several times to help the mixture settle to the bottom of the molds; take the time to do this though! You don't want big air bubbles because they could make it really difficult to unmold the popsicles. (My molds are 2½ oz/75 ml and I got exactly 5 popsicles.) Tap the mold several times on a hard surface to help any air bubbles escape, then insert the sticks.
Transfer to the freezer and freeze completely, about 3 to 4 hours, depending on the size of your popsicles and how cold your freezer is. To easily unmold the popsicles, dip the plastic bottoms in warm water and they should slide right out.
Once unmolded, wrap each popsicle individually in plastic wrap and store in the freezer.
Notes
Recipe inspired by and adapted from my recipe for
Low-Carb Buttermint Cheesecake Mousse
over on my other blog Healthy Sweet Eats.
Stevia:
If stevia isn't your thing, instead use maple syrup or honey to taste (I would start with about 1 tablespoon and work up from there to suit your tastes).
The Popsicle Mold I Use:
I frequently get asked where I got my popsicle mold; I use
this one from Amazon
.
Disclosure:
 This post contains Amazon affiliate links to products I believe in, which means that even though it doesn't cost you anything extra, I will receive a small amount of money from the sale of these items, which helps me keep this site alive – thank you for helping to support An Edible Mosaic!