Sugar Free Strawberry Jam has just the right amount of sweetness and comes together in just 20 minutes! Use local strawberries in season (or local strawberries that have been flash-frozen) for the most intensely-flavored jam.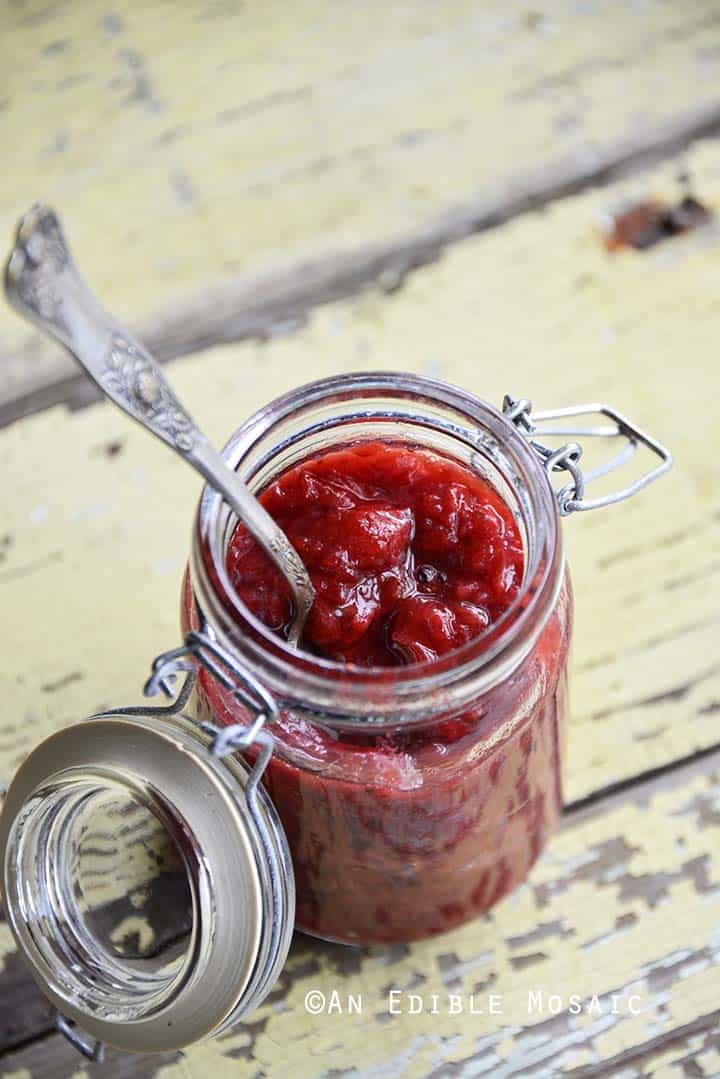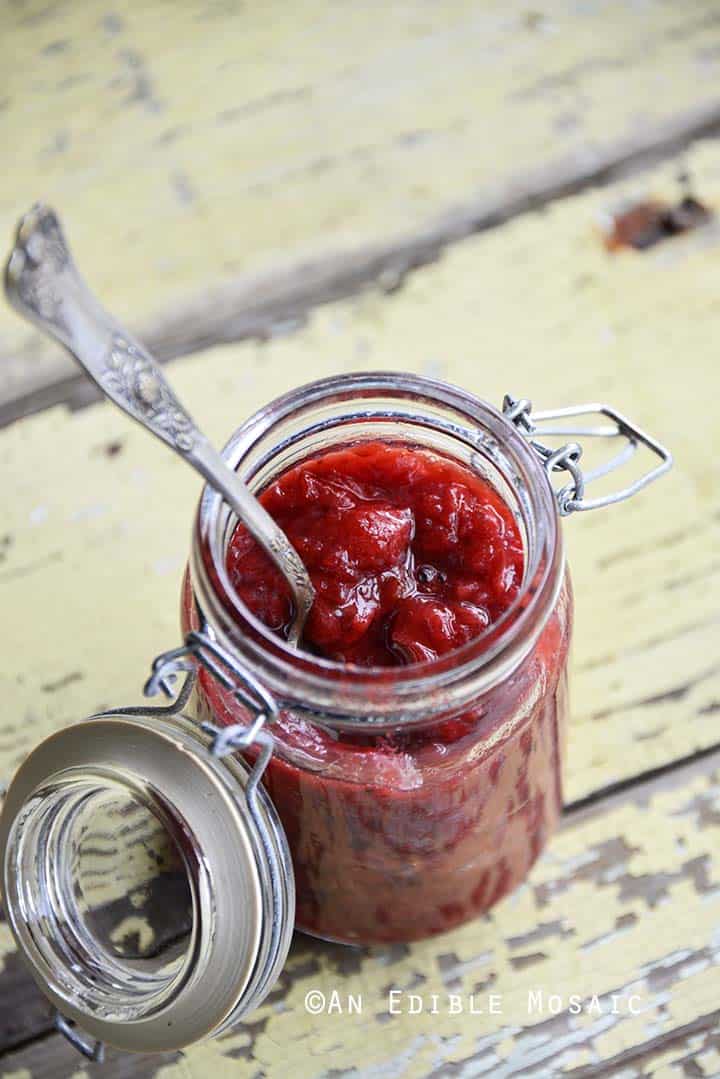 Growing up in Buffalo, strawberry season was usually right around the third week of June. My sister and I looked forward to strawberry picking with mom every year!
It's one of those things where instinct sort-of takes over. You're in a field of deliciously ripe strawberries; you've already picked a flat of strawberries (when you only meant to pick half a flat); and yet you just can't stop picking, lol.
"Just a little more" somehow turns into another flat before you discover you might have an obsession with gathering all the gorgeous berries you can get your hands on. You finally stop yourself, and then you realize you'll have to find a ton of ways to use up all those berries!
One of our favorite things that mom made was strawberry freezer jam. Of course it had a ton of sugar (but it's soooooo good!). This Sugar Free Strawberry Jam is my take on mom's classic. It's not exactly the same, but for being free of added sugar, it's pretty darn delicious.
In addition to sweeteners (erythritol and stevia), I use a touch of salt, lemon juice, and vanilla extract to simply highlight the berries' natural flavor. During strawberry season I actually flash-freeze strawberries to use throughout the year, and that's what I used to make this jam.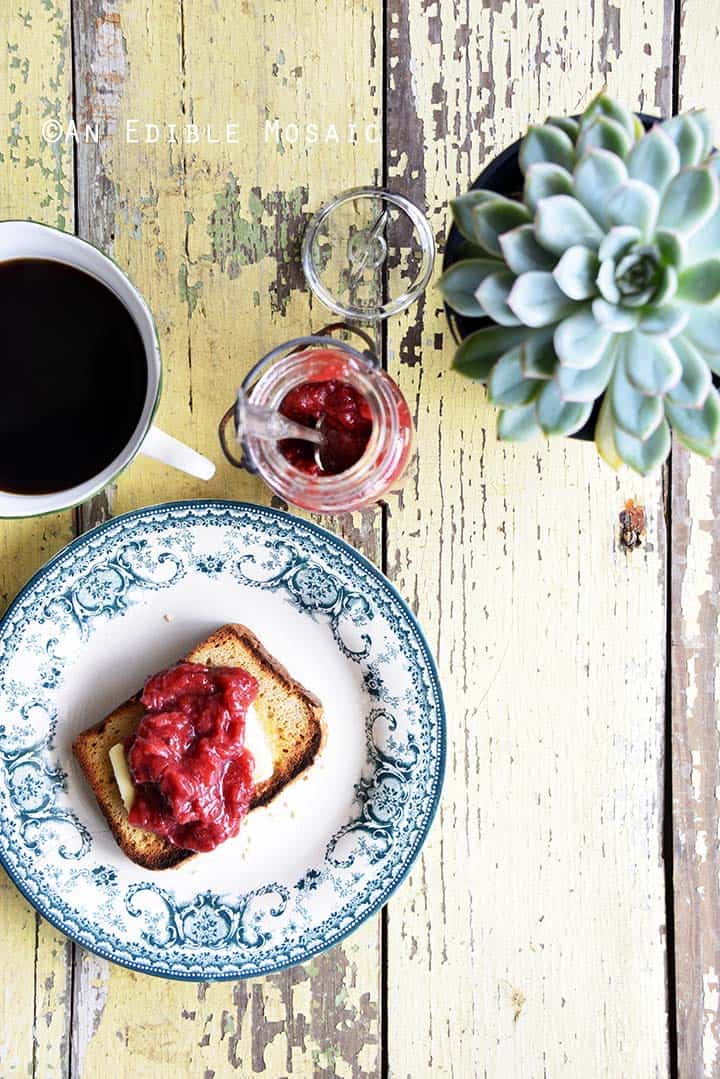 You can use store-bought frozen strawberries, but know that they don't have the same intense strawberry flavor as local in-season berries have (even after freezing local berries are still intensely strawberry-flavored).
Pro Tip: It's easy to flash freeze local strawberries in season! Make this part of your summertime routine so you'll have local berries to enjoy throughout the year. See my easy instructions below on how to flash freeze strawberries.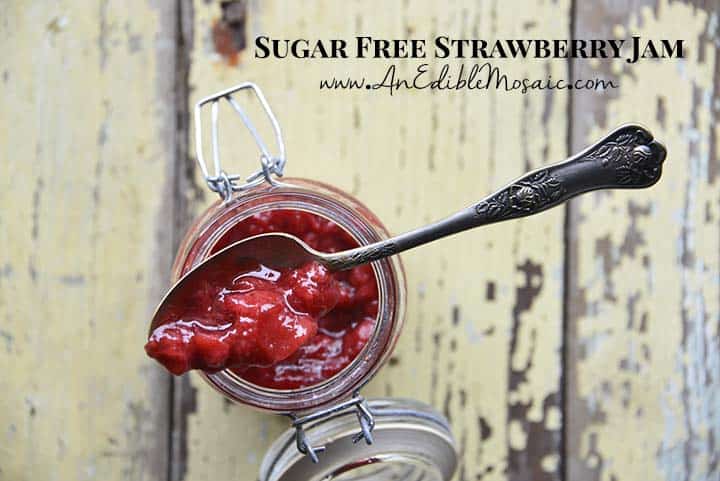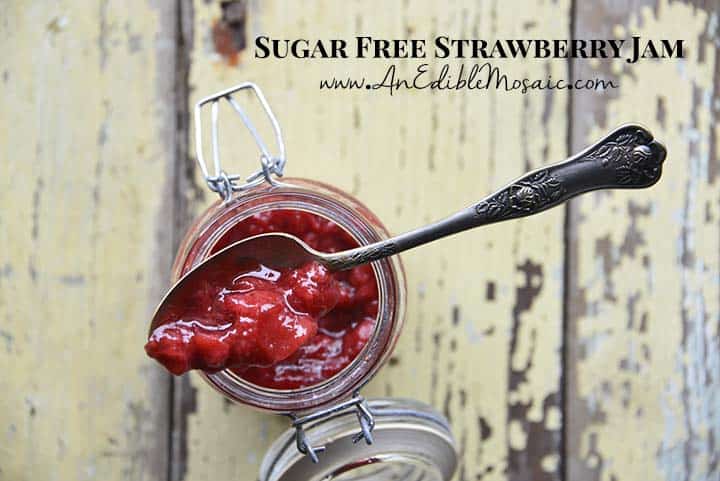 What is the Ratio of Sugar to Fruit When Making Jam?
The ratio of sugar to fruit needed to make jam varies based on the sweetness level of the fruit and on the amount of pectin in the fruit. However, the base ratio is 1:1. (Read more on The Guardian and BBC.)
How to Make Jam Without Sugar
My recipe for Sugar Free Strawberry Jam uses two sweeteners instead of sugar: granulated erythritol and liquid stevia. I use a combination of both because erythritol can sometimes have a "cooling effect", which is basically a minty, menthol-like flavor. Additionally, stevia can have a bitter aftertaste. When these two sweeteners are used together, both the bitterness of stevia and the cooling effect of erythritol are lessened.
Sugar Free Strawberry Jam Ingredients
Here's what goes into my Sugar Free Strawberry Jam; scroll down to the recipe below for ingredient quantities and instructions!
Local in-season strawberries, either fresh or flash-frozen
Granulated erythritol
Liquid stevia
Salt
Fresh lemon juice
Pure vanilla extract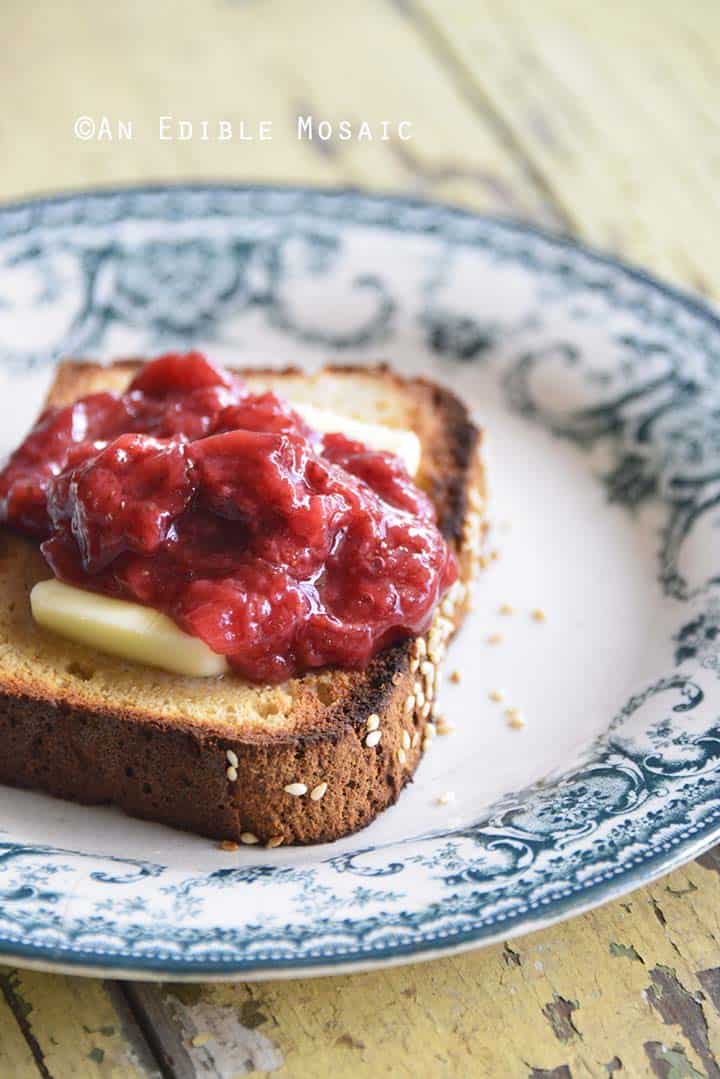 In the photo above, I used my recipe for The Best Keto Bread to make toast! Find my recipe over on The Keto Queens.
How to Flash Freeze Strawberries
Here's how I flash-freeze local strawberries so that I can enjoy them the rest of the year:
Rinse the strawberries and pat them completely dry.
Hull the strawberries (remove their stems)
Arrange the strawberries on a large baking tray so that they aren't touching.
Put the tray in the freezer and let the strawberries freeze completely (usually takes about 30 minutes, depending on the size of your strawberries).
Transfer the frozen strawberries to zip-top plastic bags and store them in the freezer for up to 6 months.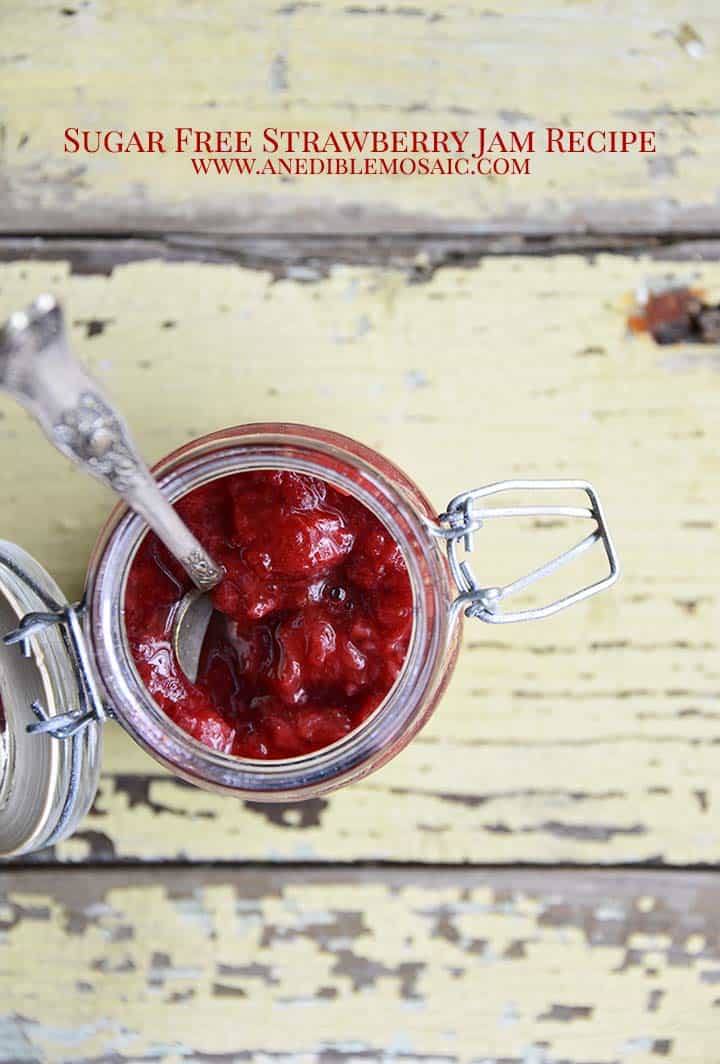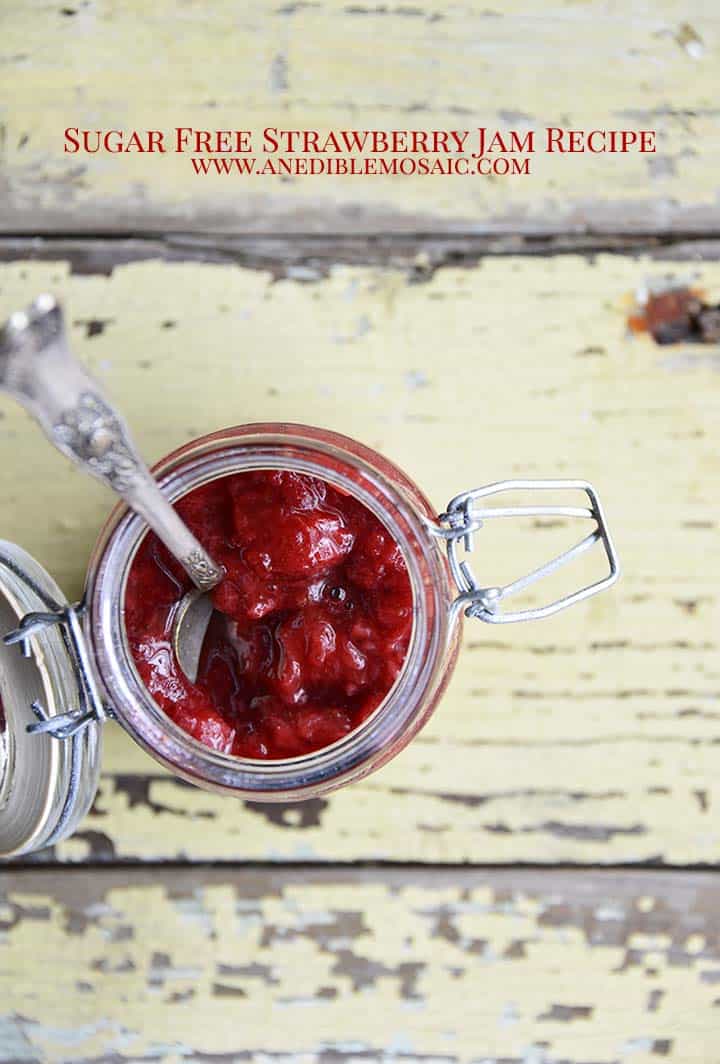 More Fruity Sweet Treats with No Added Sugar: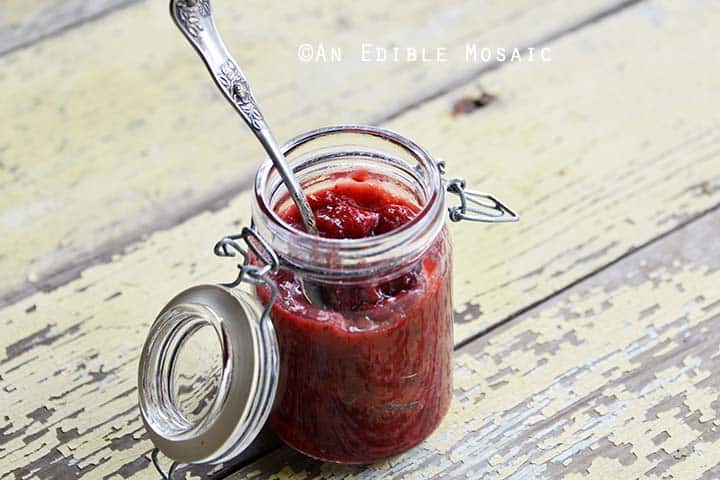 Did you make this recipe? Please rate it and leave a comment below because I love hearing from you! You can also tag @anediblemosaic on social media. To stay up-to-date FOLLOW ME on Instagram, Twitter, and Facebook. Xoxo, Faith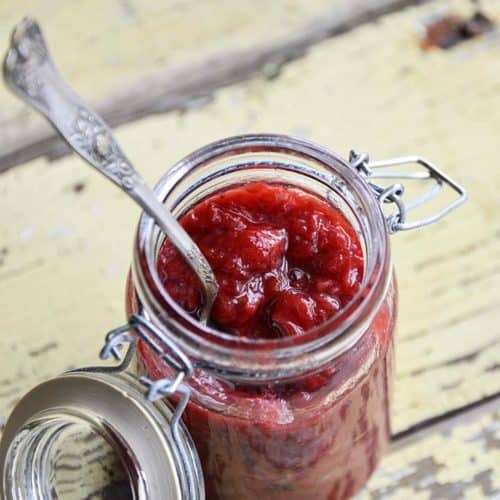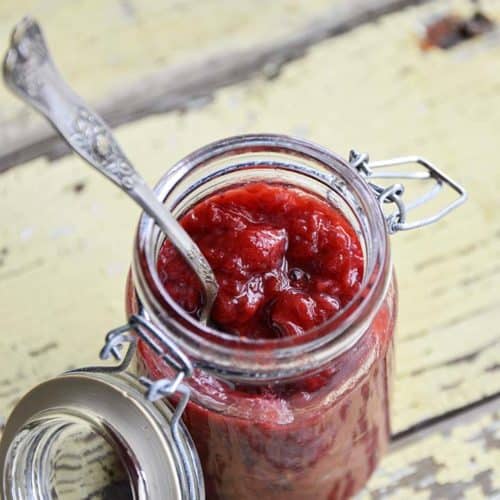 Sugar Free Strawberry Jam
Sugar Free Strawberry Jam is intensely strawberry flavored, has just the right amount of sweetness, and comes together in just 20 minutes!
Instructions
Combine the strawberries, erythritol, liquid stevia, and salt in a large saucepan. Cover the saucepan and cook (covered) on the stovetop over medium heat for 10 minutes.

Use a fork or potato masher to carefully mash the berries, and continue cooking (uncovered) until the sauce is thickened to your desired consistency, about 2 to 5 minutes more, stirring frequently.

Remove from the heat and stir in the lemon juice and vanilla extract.

Cool to room temperature, and then refrigerate to chill. (This will keep well covered in the fridge for up to 10 days.)
Faith's Tips
Net Carbs: 3g per serving (2 tablespoons)
It's easy to flash freeze local strawberries in season! Make this part of your summertime routine so you'll have local berries to enjoy throughout the year. See my easy instructions in the post above on how to flash freeze strawberries.
I haven't tried canning this jam, but I found that it freezes very well!
Nutrition
Nutrition Facts
Sugar Free Strawberry Jam
Amount Per Serving (2 tablespoons)
Calories 16
% Daily Value*
Sodium 24mg1%
Potassium 73mg2%
Carbohydrates 3g1%
Vitamin A 5IU0%
Vitamin C 28.5mg35%
Calcium 8mg1%
Iron 0.2mg1%
* Percent Daily Values are based on a 2000 calorie diet.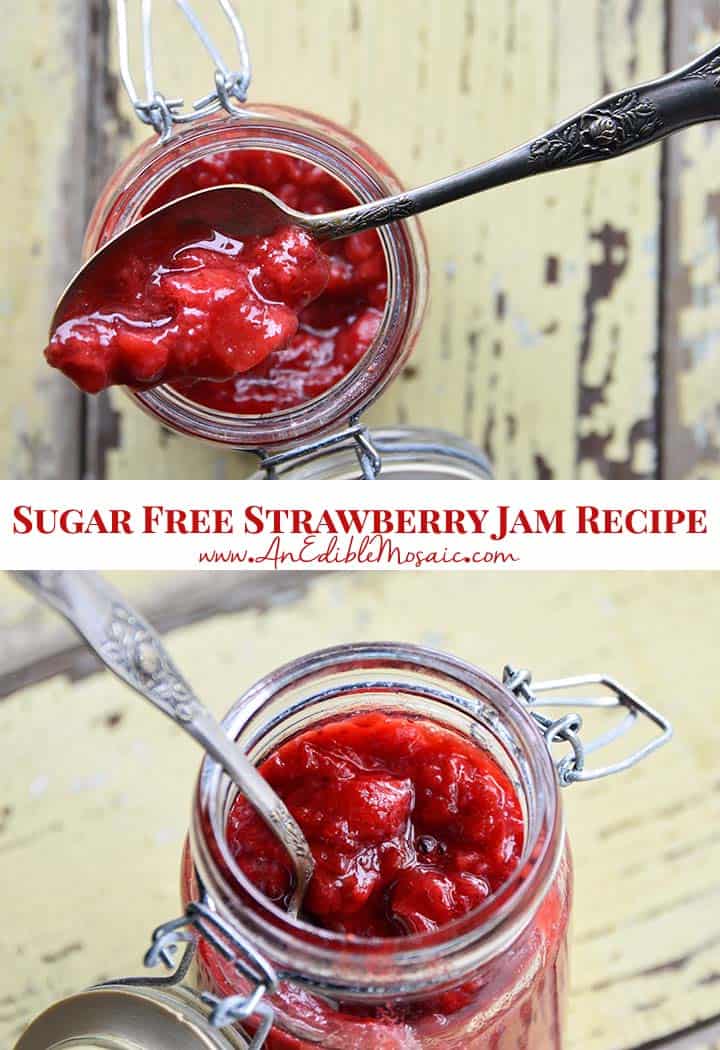 Disclosure: This post contains Amazon affiliate links to products I believe in, which means that even though it doesn't cost you anything extra, I will receive a small amount of money from the sale of these items. Thank you for helping to support An Edible Mosaic!