This shop has been compensated by Collective Bias, Inc. and its advertiser. All opinions are mine alone. #TeaProudly #TeaProbiotics #CollectiveBias
Small Batch Easy Blueberry Jam with Ginger and Lemon is a delicious no-added-sugar alternative to sugary store-bought jams, and bonus, it whips up in just 20 minutes!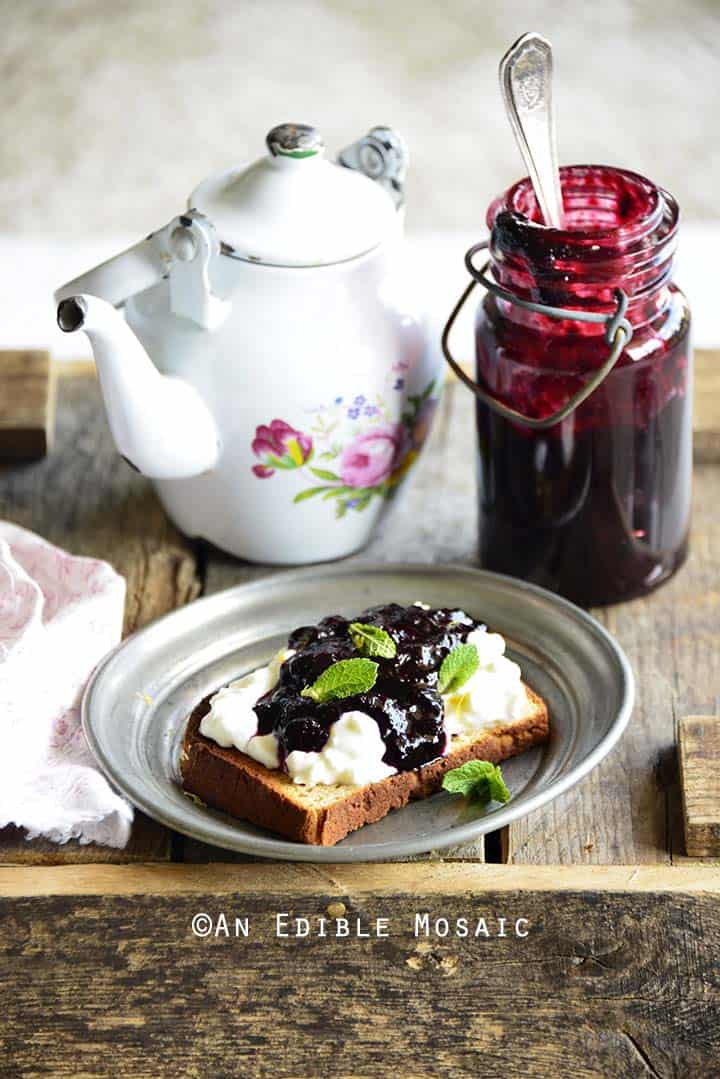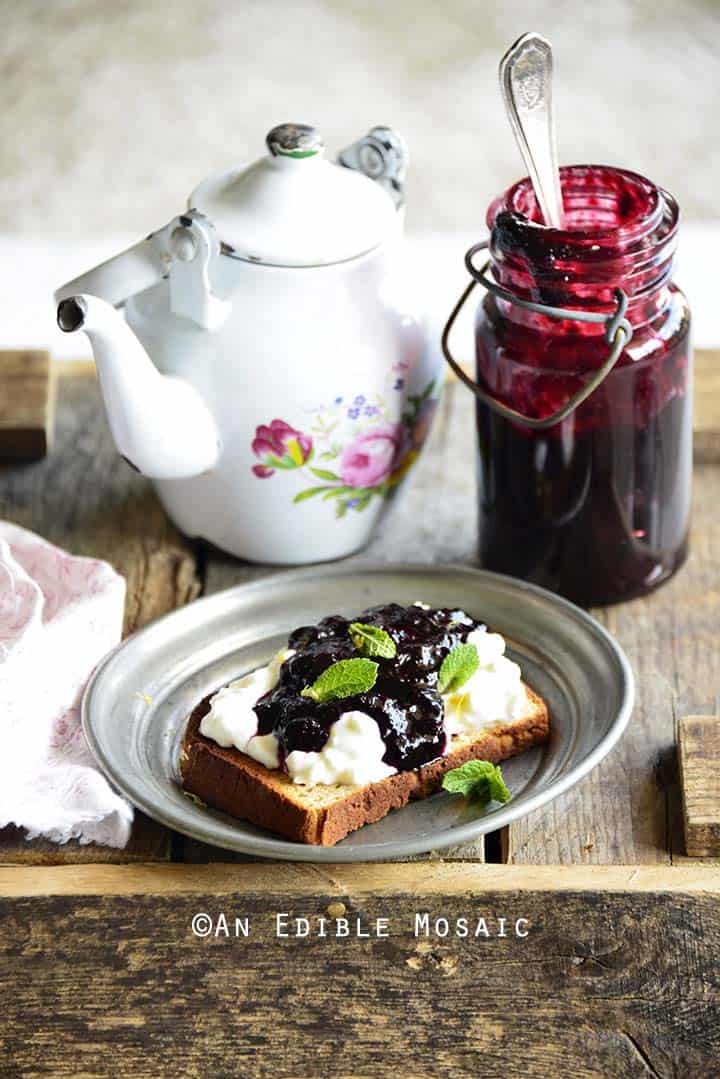 I'm a coffee drinker in the morning, but for a mid-afternoon break, tea is typically my go-to. This routine is very soothing; I find the whole process of picking a flavor and steeping tea relaxing. Paired with toast topped with cottage cheese, Small Batch Easy Blueberry Jam with Ginger and Lemon, fresh mint, and a little lemon zest, your afternoon just got a whole lot better.
I've been a Bigelow drinker for years; I love their family-owned brand that goes back three generations, plus their foil packaging helps keep each tea sachet fresh. But what is really important to me are the family ties and memories; it wouldn't be Christmas for my family without their Eggnogg'n tea, one of our favorite holiday tea family traditions! And I also I love trying Bigelow's new flavors.
The Bigelow Probiotics tea line has two new flavors: Lavender Chamomile Herbal Tea Plus Probiotics and Green Tea with Ginger Plus Probiotics, which are new to Walmart. The Lemon Ginger Herbal Tea Plus Probiotics, as well as the Lavender Chamomile are favorites of mine to sip on at night because they don't have caffeine. These teas are combined with Ganeden-BC30, an innovation that helps maintain a healthy balance in your digestive tract when used as part of a healthy diet. (For more info and to stay up-to-date, find Bigelow on Facebook, Twitter, and Instagram.)
I like to pair my tea with something to nibble on, such as scones (Small Batch Maple Walnut Scones for Two are a favorite) or a quick bread (like my Chai-Spiced Brown Butter Pumpkin Walnut Loaf Cake). But when I don't have time to bake something up, toast with jam fits the bill perfectly.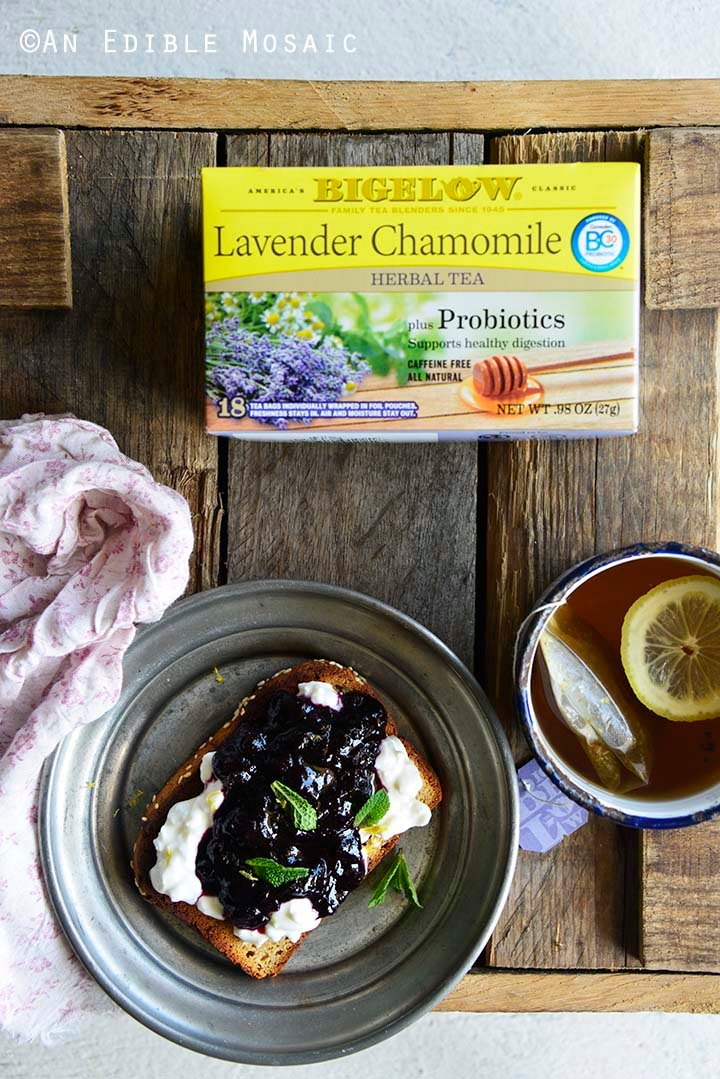 Interested in trying out the NEW Bigelow Tea with Probiotics offerings? Hover over the photo above to click through to Walmart.com and buy it!
What to Eat with Tea
If you're putting together an afternoon tea, along with a selection of tea, it's traditional to have a variety of finger sandwiches (also sometimes referred to as tea sandwiches), scones with clotted cream and jam, as well as bite-sized pastries and cookies. (For more details on afternoon tea, check out my royal tea experience at the Waldorf Astoria in Orlando.)
Afternoon tea is a lovely way to spend a few hours mid-day on the weekend, but normally when I make tea it's to enjoy solo as a mid-afternoon break on a weekday. On the regular, I don't get to indulge in anything nearly as pretty as a full-on afternoon tea spread, lol! A slice of toast ends up being perfect though, especially if I have the time to make the jam myself; and because this easy blueberry jam comes together in just 20 minutes, it's perfect for whipping up on the weekend and enjoying throughout the week.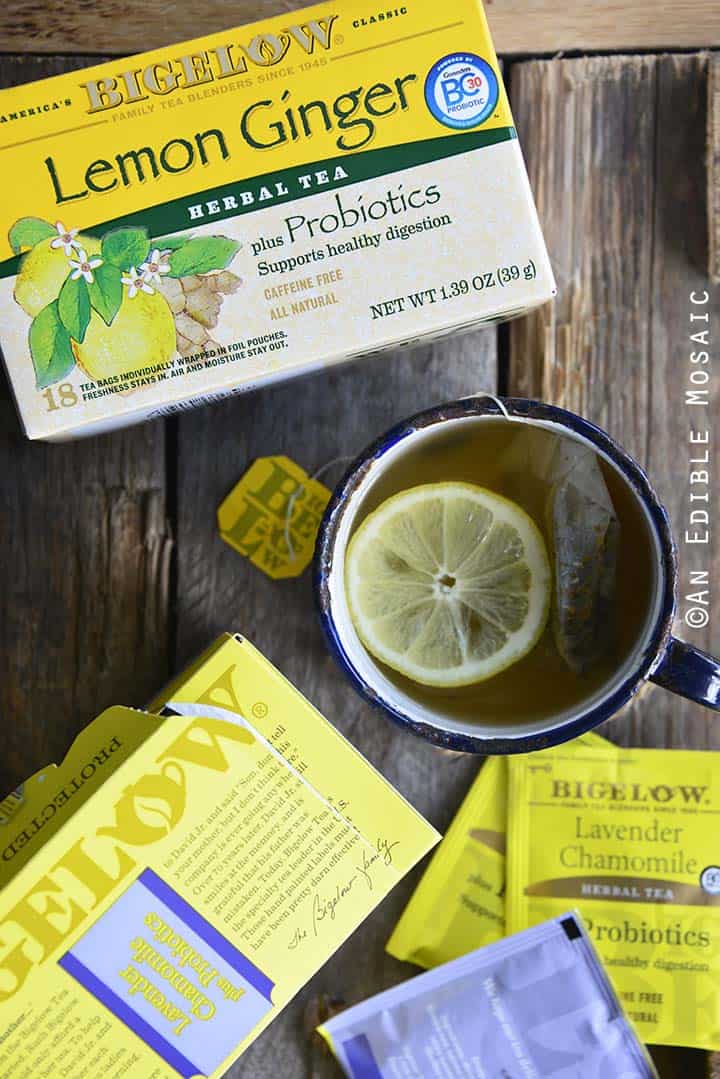 What is Fancy Toast?
Fancy toast is basically exactly what it sounds like: toast with fun toppings that take it to the next level. Here are a few of my favorite ways to make fancy toast:
Ricotta cheese, fresh figs, balsamic reduction
Goat cheese, fresh strawberries, honey, mint
Greek yogurt, za'atar, olive oil, fresh tomatoes
Smashed garlicky green peas, fresh radish slices, fresh mint
Brie cheese, orange marmalade, toasted almonds
Pumpkin butter, sliced apple, walnuts
Guacamole, roasted red pepper, poached egg
Sliced pear, crumbled blue cheese, honey
Homemade Blueberry Jam
An easy way to elevate your afternoon tea and toast is by making it feel special with a homemade component. Even if you don't have time to whip up a batch of scones or a quick bread, it only takes 20 minutes to make my Small Batch Easy Blueberry Jam with Ginger and Lemon!
How to Make Easy Blueberry Jam
I've found that the best way to make easy blueberry jam is on the stovetop, starting with frozen blueberries. The berries cook down with sweetener and a pinch of salt, forming a luscious jam that can be used for topping toast, oatmeal, yogurt, etc. Once the jam is cooked, I add in any flavors I'm feeling at the moment; here I went with lemon and ginger, but vanilla or cinnamon are also lovely pairings with blueberries.
How to Make Blueberry Jam without Pectin
Pectin is found naturally in fruits; some fruits are higher in pectin than others, for example, citrus fruits and apples are naturally high in pectin. The function of pectin in jam is to thicken it. Blueberries are moderately high in pectin, and to help this easy blueberry jam set even more, we add a little acid (in the form of lemon juice).
How to Make Jam without Sugar
Sugar performs two functions in jam: 1) sweetness (surprise, lol), and 2) it also helps it set. It is possible to make jam without sugar, but I recommend looking for a recipe (like my easy blueberry jam below) that has already been tested without sugar. If you just swap out a sugar substitute instead of sugar in a recipe that has been developed and tested using sugar, it may not set properly.
I developed this recipe using two sugar alternatives (a combination of erythritol and liquid stevia). Not only is the sweetness level on-point, but it also gels perfectly.
How to Make Jam with Frozen Blueberries
Frozen blueberries work really well in this easy blueberry jam recipe, without the need to add more water. Here I cook the frozen berries down with sweetener and a pinch of salt covered on the stovetop for just 10 minutes, and then I cook uncovered a couple minutes more to help the jam thicken. Easy as pie!
More Ideas For What to Serve with Tea: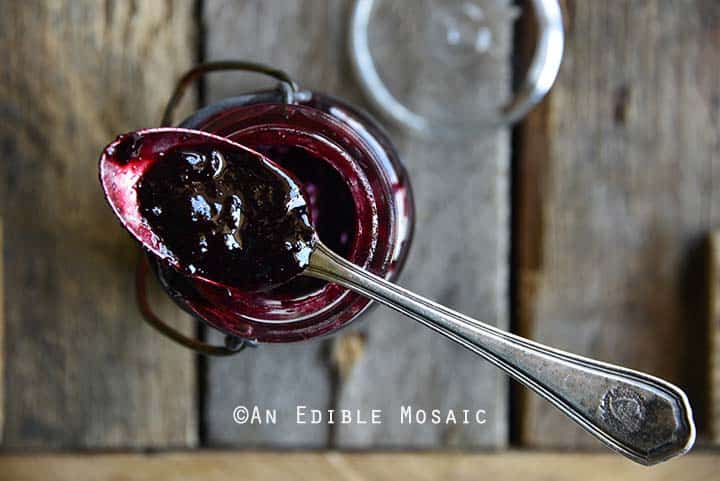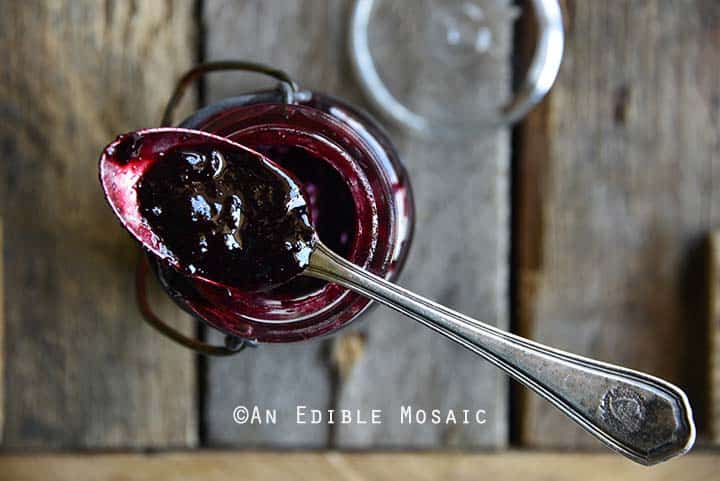 Small Batch Easy Blueberry Jam with Ginger and Lemon
Small Batch Easy Blueberry Jam with Ginger and Lemon is a great alternative to sugary store-bought jams, and bonus, it whips up in just 20 minutes!
Ingredients
10

oz

bag frozen blueberries

¼

cup

erythritol

1

pinch

sea salt

1

teaspoon

fresh lemon juice

1

teaspoon

lemon zest

1

teaspoon

fresh-grated ginger
Instructions
Combine the blueberries, erythritol, liquid stevia, and salt in a medium saucepan. Cover the saucepan and cook (covered) on the stovetop over medium heat for 10 minutes.

Use a fork or potato masher to carefully mash the berries, and continue cooking (uncovered) until the sauce is thickened to your desired consistency, about 2 to 5 minutes more, stirring frequently.

Remove from the heat and stir in the lemon juice, lemon zest, and ginger.

Cool to room temperature, and then refrigerate to chill. (This will keep well covered in the fridge for up to 10 days.)
Faith's Tips
Net Carbs: 3g per serving (2 tablespoons) To Make Fancy Toast: Top a slice of toast with cottage cheese, a bit of this easy blueberry jam, a couple fresh mint leaves, and a little lemon zest; enjoy!
Nutrition
Nutrition Facts
Small Batch Easy Blueberry Jam with Ginger and Lemon
Amount Per Serving (2 tablespoons)
Calories 18
% Daily Value*
Sodium 4mg0%
Carbohydrates 4g1%
Vitamin C 1.3mg2%
* Percent Daily Values are based on a 2000 calorie diet.
Fine the Bigelow Probiotics tea line in the coffee/tea aisle at Walmart!
Disclosure: This post contains Amazon affiliate links to products I believe in, which means that even though it doesn't cost you anything extra, I will receive a small amount of money from the sale of these items. Thank you for helping to support An Edible Mosaic!