Butter Lentil Curry, Paleo Crepes, and Chopped Salad make a flavorful Indian-inspired feast in about an hour that's much better than takeout!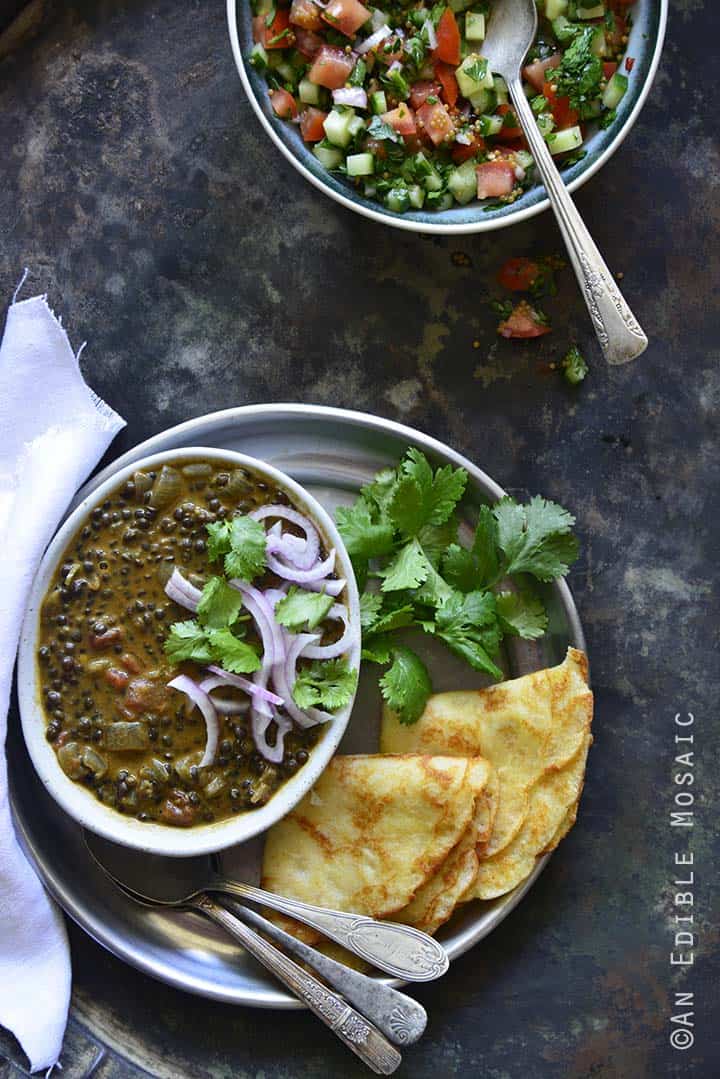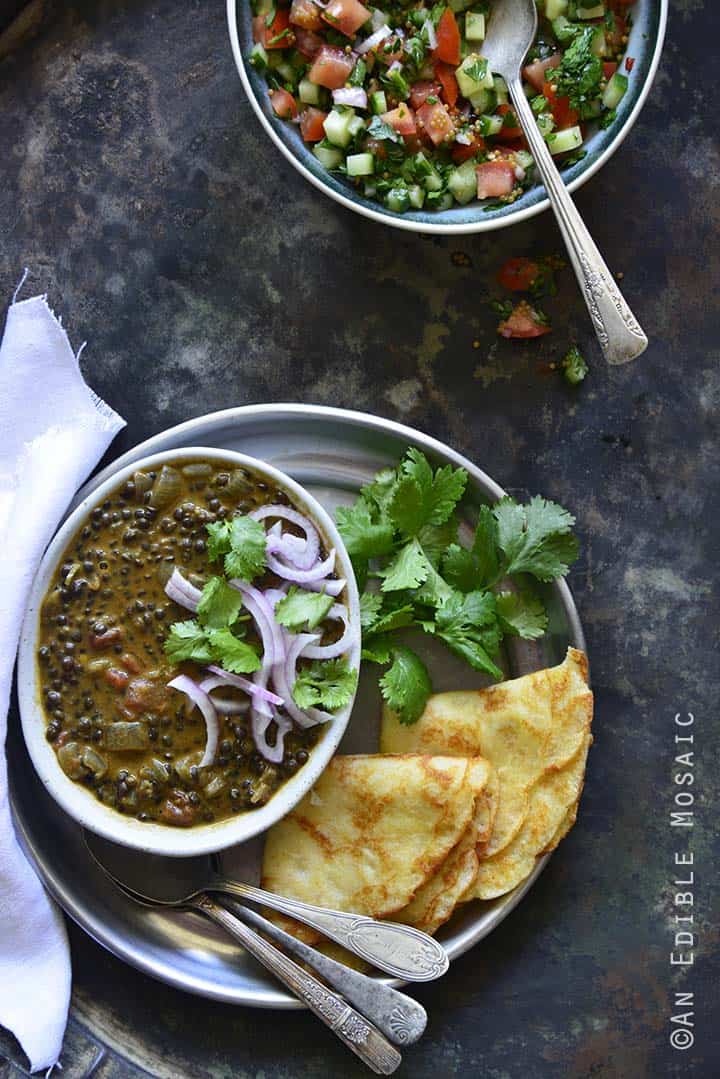 Every so often I get a hardcore craving for Indian food. When I lived in the DC area there was an easy remedy in the form of several great Indian restaurants nearby, my favorite of which just happened to be within a 5-mintue drive. Here in Orlando, it's a different story.
I had the misfortune of trying one Indian restaurant in this area and I was very much underwhelmed. I've asked around and generally hear the same reply: "Indian food?! Hmmm, no, I don't really know of a good place in the area." And so I'm stuck making it at home, which of course isn't a bad thing at all.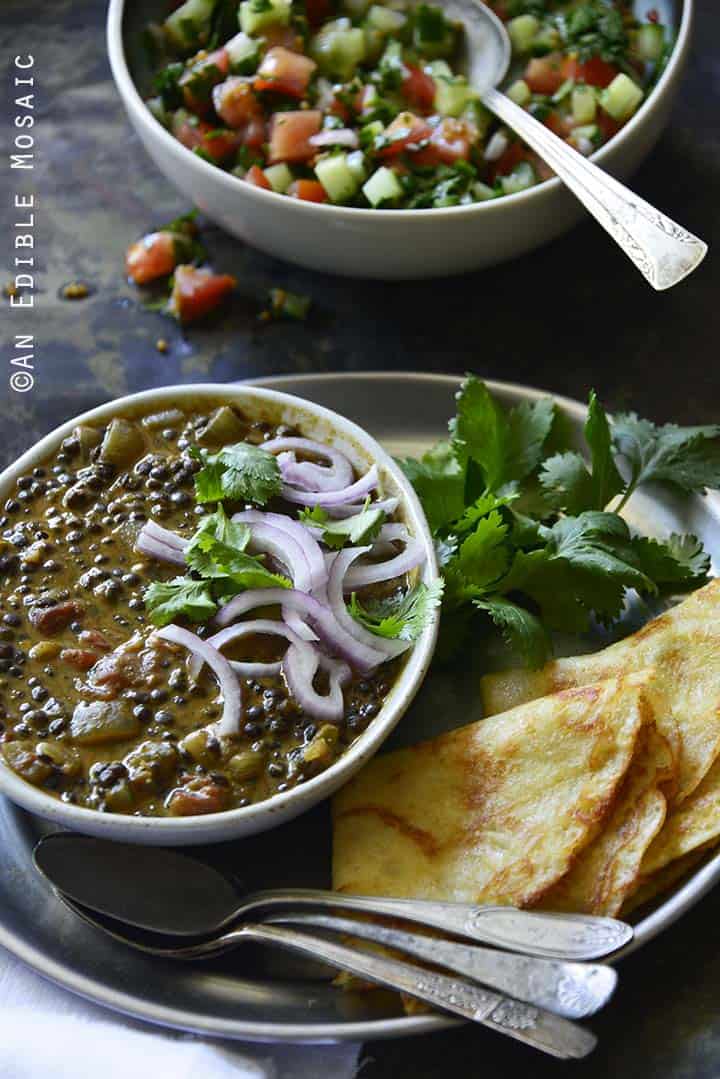 Scroll down quickly and take a peek at the recipe; I know it's long, but don't be intimidated! Most of the ingredients are spices that are probably in a well-stocked pantry (except for maybe the fenugreek, which can be found at local Indian grocery stores or specialty spice shops, or omitted if you really can't find it). There isn't really all that much prep work that needs to be done though.
A quick version of my Dal Makhani (Indian Butter Lentils) makes a nourishing and delicious curry, and served up with the crepe version of my Paleo Flatbread and an easy chopped salad, dinner is irresistible.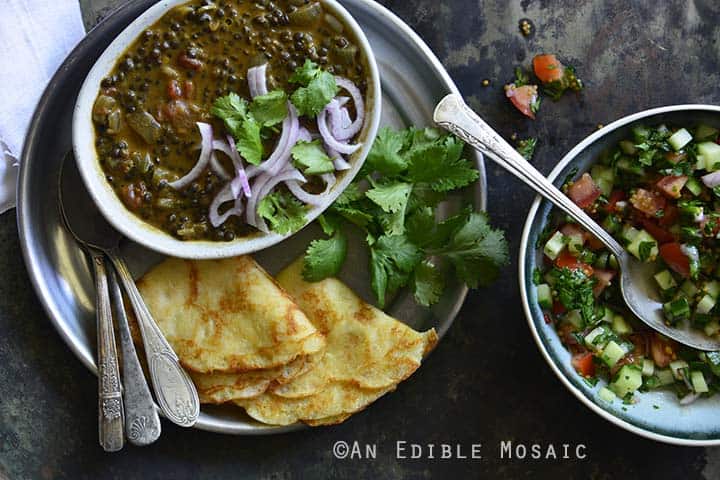 An Indian-Inspired Feast in 1 Hour
Prep time:
Cook time:
Total time:
Butter Lentil Curry, Paleo Crepes, and Chopped Salad make a flavorful Indian-inspired feast in about an hour that's much better than takeout!
Ingredients
Butter Lentil Curry:
2 tablespoons olive oil
1 medium-large onion, diced
3 large cloves garlic, minced
1-inch piece fresh ginger, grated on a microplane
1 jalapeno, more or less depending on how spicy-hot you like it
1¼ teaspoons fine sea salt
1 teaspoon garam masala spice mix
1 teaspoon ground coriander
½ teaspoon ground cumin
½ teaspoon chili powder
½ teaspoon ground turmeric
¼ teaspoon ground black pepper
⅛ teaspoon ground fenugreek (optional, but recommended)
1 cup diced tomatoes, with juices (canned or fresh)
2 tablespoons tomato paste
5 cups (1.18 L) low-sodium vegetable stock or water
1 cup + 2 tablespoons dried black lentils
1½ tablespoons fresh lemon juice
2 tablespoons unsalted butter, diced small
4 tablespoons heavy cream
Fresh minced cilantro, for garnish
Minced red onion, for garnish
Instructions
Heat the oil in a 4-quart pot over medium heat. Once hot, add the onion and cook until starting to soften, about 5 to 7 minutes. Add the garlic, ginger, and jalapeno and cook 1 minute, stirring constantly. Add the spices (salt, garam masala, coriander, cumin, chili powder, turmeric, black pepper, and fenugreek), and cook 30 seconds, stirring constantly.
Add the diced tomatoes, tomato paste, and vegetable stock, using a wooden spoon to scrape up any brown bits that have formed on the bottom.
Bring up to a boil, and then add the lentils. Turn the heat down to simmer and cook (uncovered) until the curry is thickened and the lentils are tender, about 30 to 40 minutes, stirring frequently.
Turn off the heat and stir in the lemon juice, and then the butter and cream.
Serve garnished with cilantro and red onion.
Notes
Paleo Version of Butter Lentil Curry:
Use canned unsweetened full-fat coconut milk instead of heavy cream, and clarified butter (ghee) instead of unsalted butter.
Paleo Crepes
(based on my
Paleo Flatbread
recipe): Follow my Paleo Flatbread recipe, and add ¼ cup water. Use a ¼-cup measure to scoop out the batter and cook it according to the directions in that recipe.
Chopped Salad:
I basically used my method for Salad Shirazi that I talked about in
my post for Rogan Josh
; here I added fresh mint to take it to the next level.