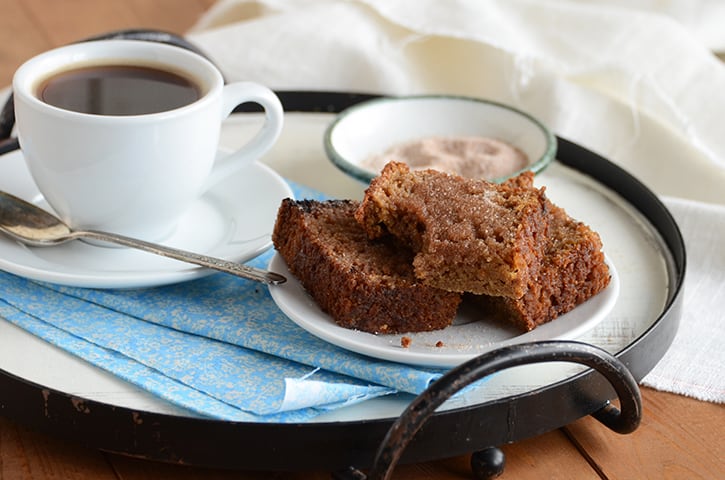 As I type this post, even with the aroma of cinnamon bread swirling around me, my mind is completely somewhere else.
I'm thinking about hiking, beautiful mountain views, and pristine forests. Swimming and biking. Quaint little towns and cozy cafés. Buying fresh food every day and cooking it that night in the country kitchen of the luxury, fully-renovated 1800's farmhouse where we're staying in the Adirondacks this week. (My kitchen at home is anything but luxurious, so that might be what I am most excited about!)
We are leaving tomorrow for a little mini vacation, and I'm thrilled. It's been far too long since I've been to the Adirondacks and Mike has never been, so we're planning on making the most of it.
Where does this bread fit in? Well, it was super easy to whip up and I plan on taking it with us for breakfast. That is, what's left of it. I should give you fair warning – it smells absolutely amazing as it bakes – just try to resist a slice, especially lightly toasted and topped with butter and cinnamon sugar! I know we couldn't. Anyway, I'll pack what's left of it to take with us. Speaking of packing, I have to go get on that!
I wanted to leave you with a few other beautiful quick bread ideas before I go:
Fig, Applesauce, and Almond Breakfast Loaf from Cooking Light
Quick Cinnamon Swirl Bread from MB's Kitchen
Nutty Carrot Breakfast Bread from Daily Bites
Vegan Applesauce Quick Bread from Trans-Planted
Peanut Butter & Banana Whole Wheat Quick Bread from Cookin' Canuck
Lemon Coconut Bread from Baking Bites
Best Strawberry Bread from Taste and Tell
And I had to share something else too. Food blogger Shannon from Tri 2 Cook is hosting a virtual bake sale starting today to help raise funds for the Pan Mass Challenge. 100% of the money received will go directly to Pediatric Oncology efforts at the Dana Farber Cancer Institute. If you're interested in bidding on some yummy baked goods and helping a good cause, please head over to the bake sale here!
Buttermilk-Cinnamon Bread
Prep time:
Cook time:
Total time:
Yield:
Yields 1 (9 by 5-inch) loaf
Ingredients
1 cup (115 g) all-purpose flour
1 cup (115 g) whole wheat pastry flour
¾ cup (160 g) brown sugar, lightly packed
2 teaspoons cinnamon
2 teaspoons baking powder
1 teaspoon baking soda
¾ teaspoon salt
1 cup (240 ml) buttermilk
½ cup (120 ml) sparkling water
2 tablespoons salted butter, melted (plus a little more room temperature butter to grease the loaf pan)
Instructions
Preheat oven to 375F; grease a 9- by 5- by 3-inch loaf pan with butter.
Whisk together the flours, brown sugar, cinnamon, baking powder, baking soda, and salt in a large bowl. Stir in the buttermilk and sparkling water with a wooden spoon, being careful not to over-mix.
Pour the batter into the loaf pan, drape a piece of plastic wrap on top, and let it sit in a warm place for 5 minutes.
Pour the melted butter on top; bake until a toothpick inserted inside comes out clean, about 40 to 45 minutes. Cool completely before slicing.