This easy Homemade Cinnamon Bread Recipe is soft with a fluffy crumb, and sweetly aromatic with brown sugar and cinnamon. From start-to-finish, it whips up in less than 1 hour, including bake time!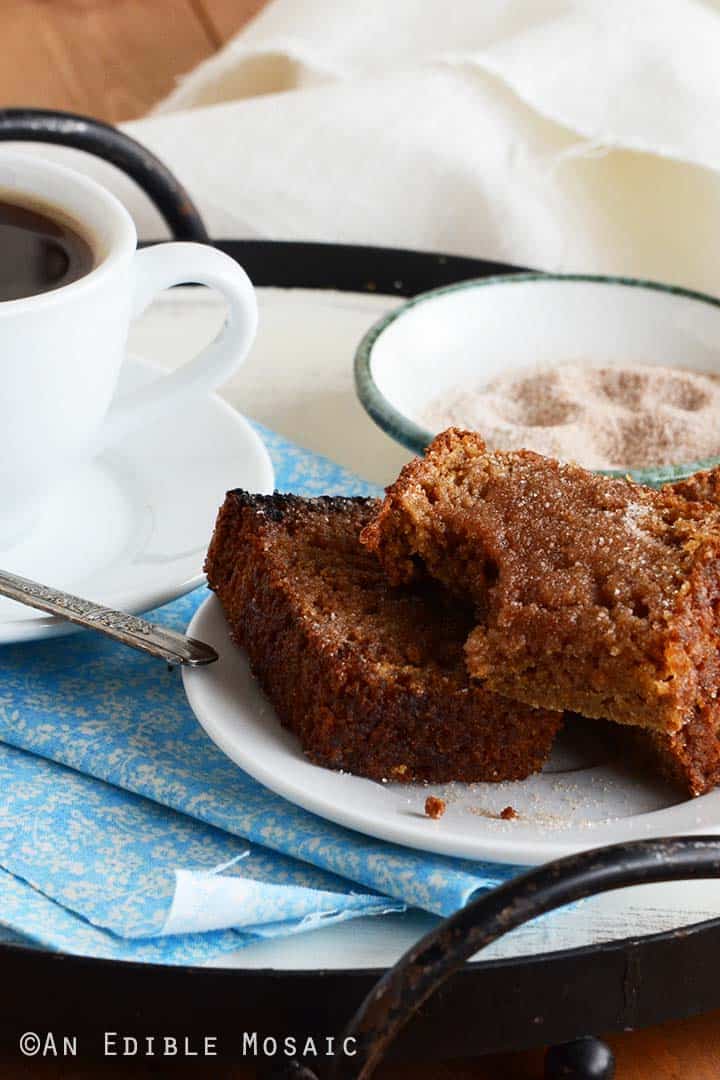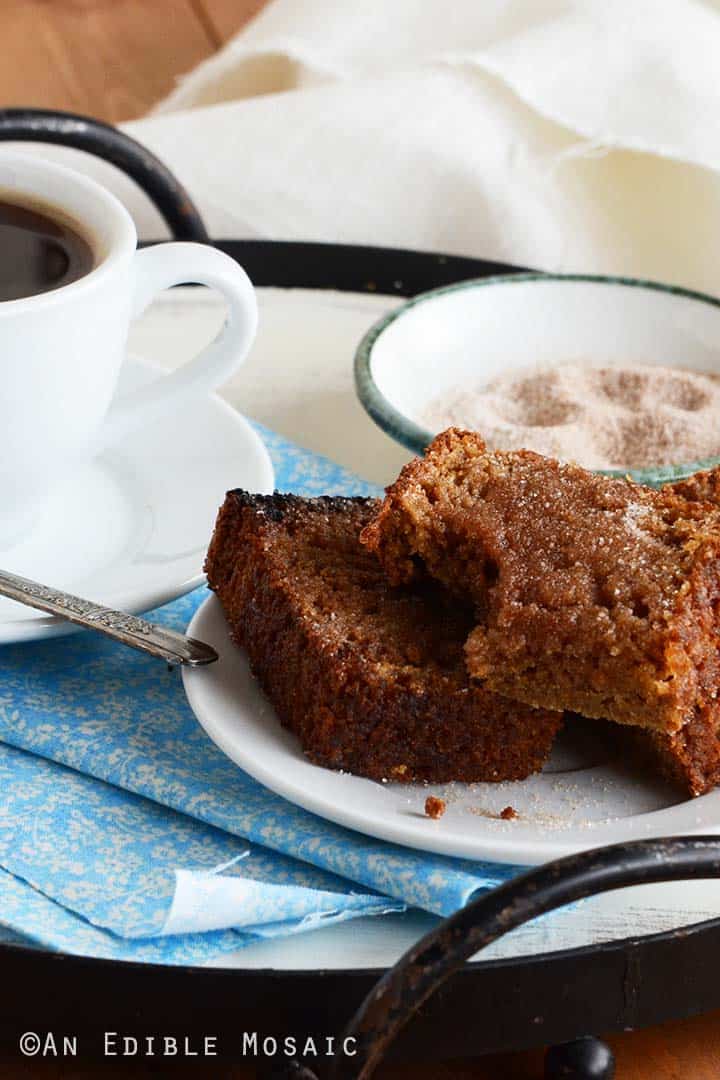 As I type this post, even with the aroma of cinnamon bread swirling around me, my mind is completely somewhere else.
I'm thinking about hiking, beautiful mountain views, and pristine forests. Swimming and biking. Quaint little towns and cozy cafés.
Buying fresh food every day and cooking it that night in the country kitchen of the luxury, fully-renovated 1800's farmhouse where we're staying in the Adirondacks this week. (My kitchen at home is anything but luxurious, so that's what I am most excited about!)
We are leaving tomorrow for a little mini vacation, and I'm thrilled. It's been far too long since I've been to the Adirondacks and Mike has never been, so we're planning on making the most of it.
Where does this bread fit in? Well, it was super easy to whip up and I plan on taking it with us for breakfast. That is, what's left of it. I should give you fair warning – it smells absolutely amazing as it bakes – just try to resist a slice, especially lightly toasted and topped with butter and cinnamon sugar! I know we couldn't. Anyway, I'll pack what's left of it to take with us. Speaking of packing, I have to go get on that!
Easy Homemade Cinnamon Bread Recipe
This is one of the easiest bread recipes I've ever made! It comes together in less than an hour from start-to-finish, including bake time.
This Cinnamon Bread Recipe is a type of quick bread. Quick breads use baking powder and/or baking soda as a leavening agent instead of yeast.
The end result is a soft, sweet, and aromatic bread that's perfect for eating as-is. Or you can slather it with butter. Better yet, toast it, butter it, and sprinkle a little cinnamon on top.
How to Customize This Cinnamon Bread Recipe
Here are a few ideas to make this loaf even more special:
Stir in a handful of raisins for Cinnamon Raisin Bread.
Add a cup or so of pecans or walnuts if you like nuts!
Peel and chop an apple and add that to the batter (don't add more than 1 cup of chopped apple). Note that your loaf might need to bake a couple minutes longer.
Once the bread is baked and cooled, drizzle a cream cheese glaze on top and let it set before slicing.
More Delicious Quick Bread Recipes to Try:
Did you make this recipe? Please rate it and leave a comment below because I love hearing from you! You can also tag @anediblemosaic on social media. To stay up-to-date FOLLOW ME on Instagram, Twitter, and Facebook. Xoxo, Faith
Homemade Cinnamon Bread Recipe
This easy Homemade Cinnamon Bread Recipe is soft with a fluffy crumb, and sweetly aromatic with brown sugar and cinnamon. From start-to-finish, it whips up in less than 1 hour, including bake time!
Instructions
Preheat oven to 375F; grease a 9- by 5- by 3-inch loaf pan with butter.

Whisk together the flours, brown sugar, cinnamon, baking powder, baking soda, and salt in a large bowl.

Stir the buttermilk and sparkling water into the dry ingredients with a wooden spoon, being careful not to over-mix.

Pour into the prepared loaf pan, drape a piece of plastic wrap on top, and let it sit in a warm place for 5 minutes.

Pour the melted butter on top. Bake until a toothpick inserted inside comes out clean, about 40 to 45 minutes.

Cool completely before slicing.
Faith's Tips
This recipe makes 1 loaf of bread. Cut the loaf into 12 slices and each slice is a serving. Nutrition information is for 1 slice.
Before baking, stir in a handful of raisins or nuts if desired.
Nutrition
Nutrition Facts
Homemade Cinnamon Bread Recipe
Amount Per Serving (1 slice)
Calories 155
Calories from Fat 27
% Daily Value*
Fat 3g5%
Cholesterol 7mg2%
Sodium 281mg12%
Potassium 160mg5%
Carbohydrates 30g10%
Protein 3g6%
Vitamin A 91IU2%
Calcium 72mg7%
Iron 1mg6%
* Percent Daily Values are based on a 2000 calorie diet.
This post was first published on An Edible Mosaic on June 10, 2013. I updated it with more information on April 14, 2020.
Disclosure: This post contains Amazon affiliate links to products I believe in, which means that even though it doesn't cost you anything extra, I will receive a small amount of money from the sale of these items, which helps me keep this site alive – thank you for helping to support An Edible Mosaic!