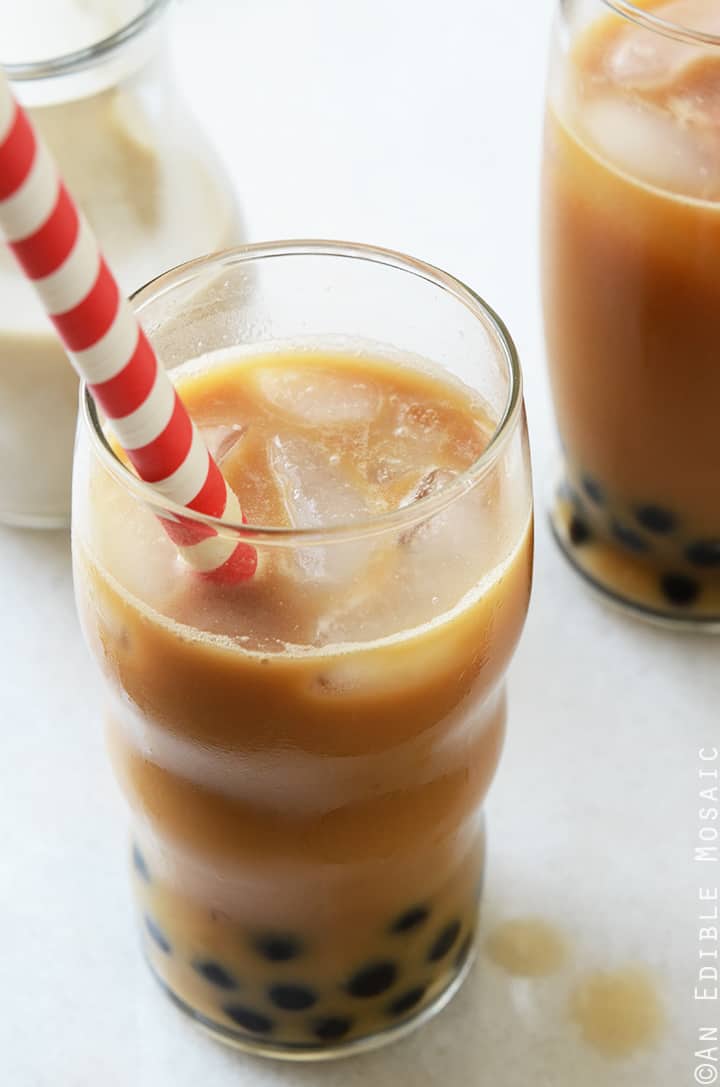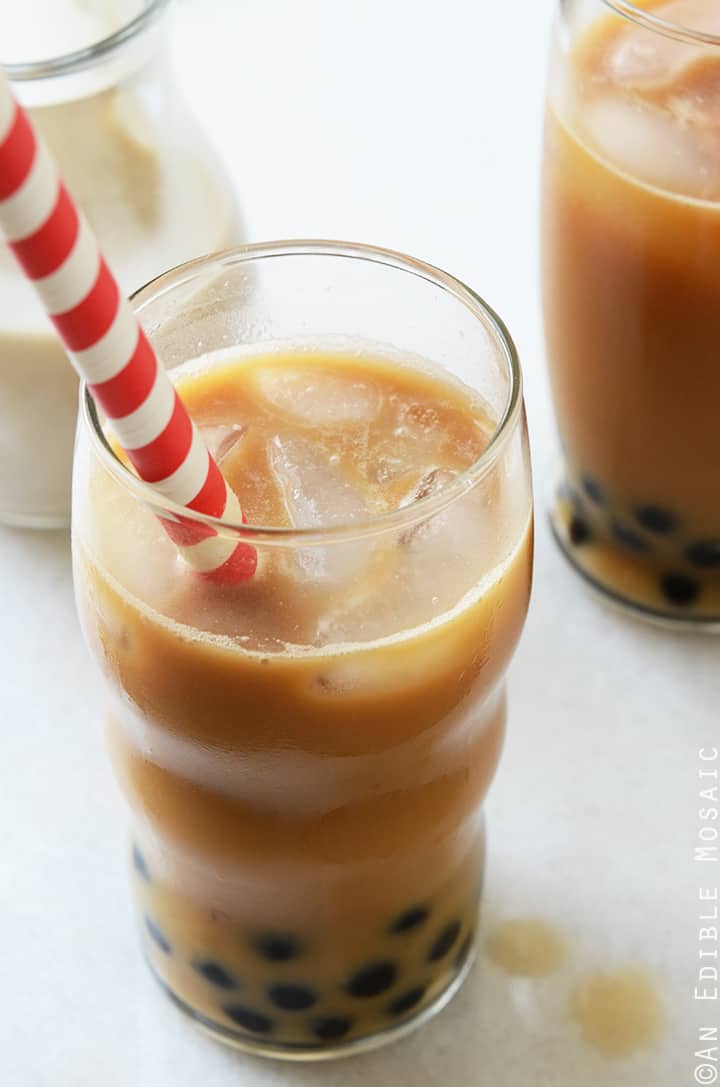 I love my coffee, but it's one of those things that I try not to have every day.
I like to think of coffee as an indulgence…not quite on par with triple-layer chocolate cake or lasagna, but still something that isn't for daily consumption.
So when I have coffee, I take my time to make sure that a) its good stuff and b) I have time to actually sit down and savor it. I am a fiend for local artisanal coffee shops and at home my French press sees more action than any other coffee brewing tool in my kitchen.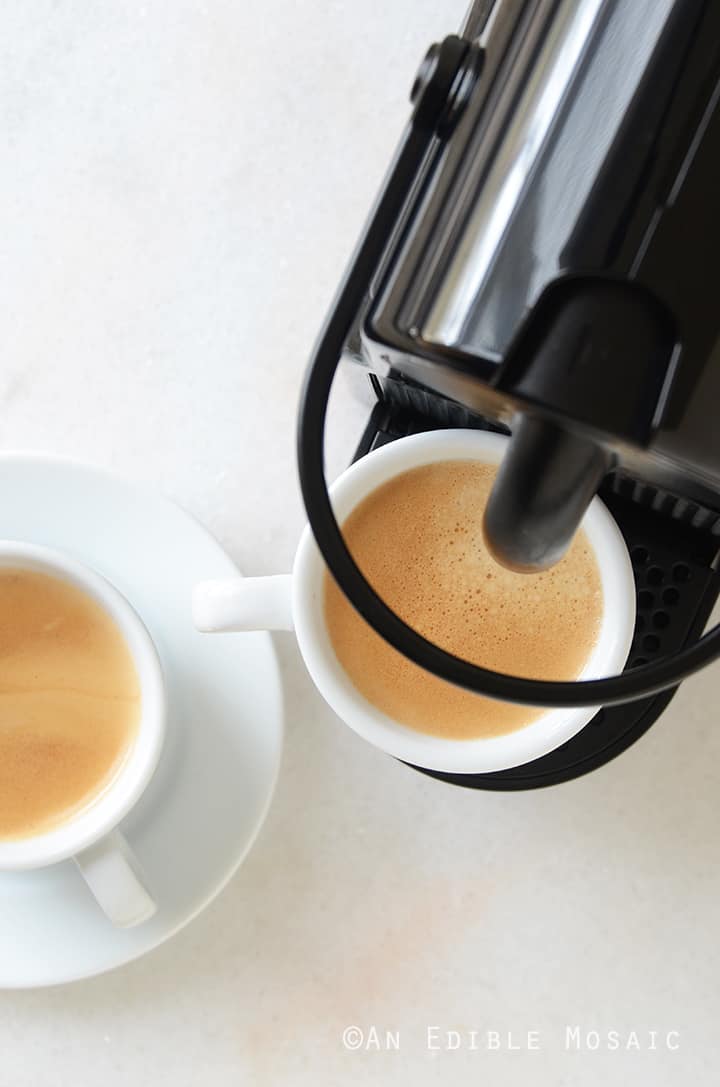 But even a self-proclaimed coffee fanatic has to admit that convenience is a factor in today's world.
You've heard of Nespresso? Gourmesso makes compatible coffee capsules for Nespresso machines, and they recently reached out to me asking if I was interested in trying their product. My interest was already piqued, as I've heard a lot about Nespresso but hadn't yet tried it; how could I resist?
If you don't have a Nespresso machine and you don't think you have room for it in your kitchen, let me say, what I love most about it is how compact it is…it's pretty teeny-tiny! I'd even go as far to say that I think it would fit nicely into an area as small as a dorm room where space is at a serious premium. Another thing I really appreciate about this brewing system is that you only have to wait for about 30 seconds for it to warm up before it brews. How is that for convenience? (This is the Nespresso machine I use, which I think is a pretty great bargain!)
So about the coffee. Gourmesso ("gourmet espresso") says they have "Italian passion for coffee combined with German ingenuity", and if that statement doesn't sum it up perfectly, then I don't know what does.
Their coffee is good, rich-flavored and aromatic, and with lovely crema on top. (And they have Fair Trade options!) To sweeten it up just a touch, I typically add a sprinkle of stevia or for a real indulgence, turbinado sugar. When I don't have time to cold-brew coffee, this also is good for a quick iced coffee; just brew it up, let it cool, and serve it over ice.
Speaking of iced coffee, how about Iced Bubble Coffee to keep things interesting? Don't mind if I do. ;)
I love bubble tea, so this was a natural for me. Now, since you can't have a bubble drink (tea or coffee) without the bubbles (which are black tapioca pearls called boba), let's talk about that first. I live in a pretty ethnically diverse area and I have access to about 10 different Asian markets all within about a 15 to 20-minute drive from where I live. Because of that, I thought I wouldn't have an issue finding boba. I was wrong.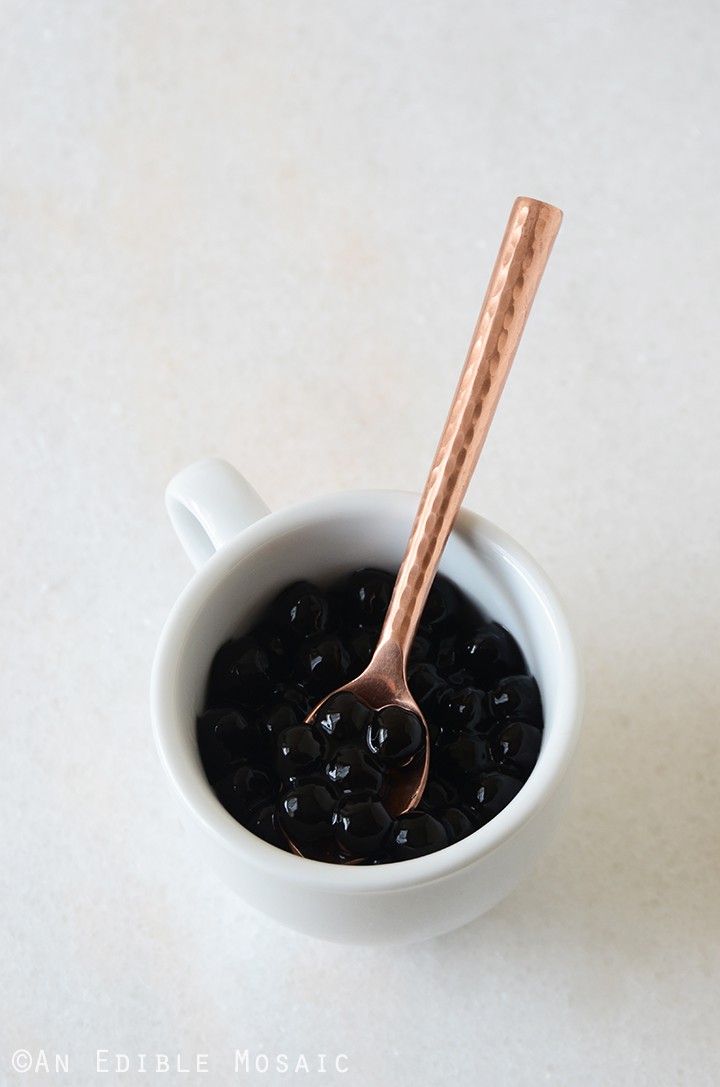 I had such a hard time finding black tapioca pearls that I had to turn to the Walmart of the internet: Amazon. I ordered this kind and it's fabulous – just what I was looking for. Just a word of warning, I didn't follow the cooking directions on the boba package; I did a lot of research online for the best method, and in the recipe below I share one that works perfectly for me every time.
I used my Vegan Sweetened Condensed Coconut Milk to sweeten my Bubble Coffee, but you can go for regular sweetened condensed milk, or even just milk and simple syrup or stevia if you prefer. This drink is refreshing and fun, and now that I've made a bubble drink at home I probably be doing it much more often.
And if you want to try Gourmesso's coffee capsules for yourself, check out the giveaway below!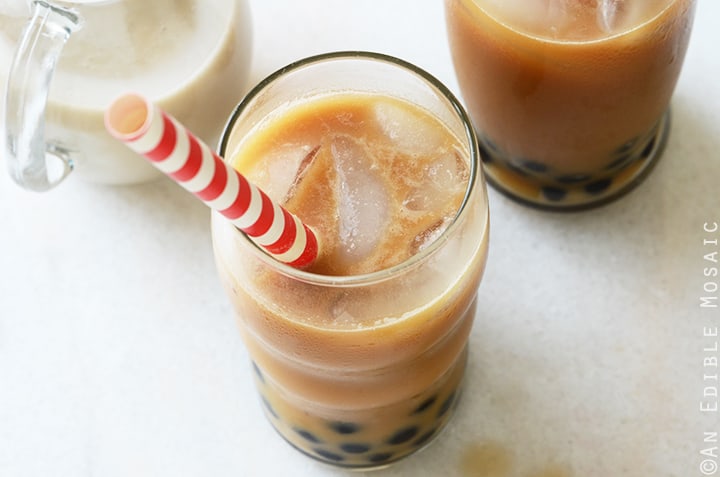 Iced Bubble Coffee
Prep time:
Cook time:
Total time:
Bubble tea (or bubble coffee) is a fun and easy drink to make at home.
Ingredients
⅓ cup (50 g) black tapioca pearls (boba)
1 tablespoon maple syrup or honey
¾ cup (6 oz/180 ml) espresso, cooled (I used Gourmesso's Messico Blend Forte)
¼ cup (60 ml) water
8 large ice cubes
¼ cup (60 ml) sweetened condensed milk (I used my homemade Vegan Sweetened Condensed Coconut Milk)
Instructions
Bring a small-medium pot of water to a boil; add the tapioca pearls and boil 20 minutes. Turn the heat off, drain out all but 1 cup of water, and stir in the 1 tablespoon of maple syrup or honey. Cover the pot and let the tapioca sit for 20 minutes. Drain the tapioca pearls and divide them between 2 glasses. (For best results, use the tapioca pearls within 4 hours of boiling them.)
Stir together the cooled espresso and water. Divide this between the 2 glasses and add 4 ice cubes to each.
Stir in sweetened condensed milk to taste and serve.
: : GIVEAWAY : :
Those of you who have a Nespresso machine are in luck because I'm giving away Gourmesso coffee capsules! (Check out Gourmesso's website to see if their coffee capsules are compatible with your machine.)
I'm giving away 1 pack (each pack has 10 capsules) of the following Gourmesso capsules:
Bolivia Pura Mezzo
Caramel – Soffio Caramello
Columbia Arabic Mezzo
Lungo Arabica Forte
Messicao Blend Forte
To participate in this giveaway, just leave a comment on this post telling me your "usual" coffee of choice (what do you typically order when you go to your favorite coffee house?). And if coffee isn't your thing, what is your favorite drink in general?
For extra entries, you can do any of the following (please leave a separate comment for each):
You do not need to have a blog to enter this giveaway. I am willing to ship the prize anywhere in the world, so this giveaway is open to everyone. This giveaway ends on May 7, 2015 at 11:59 PM EST. Once the giveaway ends, the winner will be randomly chosen and notified via email. The winner will have three business days to respond with his or her mailing information, otherwise a new winner will be randomly chosen. Good luck to all!
Disclosure: Gourmesso provided me with their coffee capsules to try and a Nespresso machine with which to brew them; as always, opinions stated are my own. They are also provided the coffee capsules for this giveaway. This post contains Amazon affiliate links to products I believe in, which means that even though it doesn't cost you anything extra, I will receive a small amount of money from the sale of these items, which helps me keep this site alive – thank you for helping to support An Edible Mosaic!