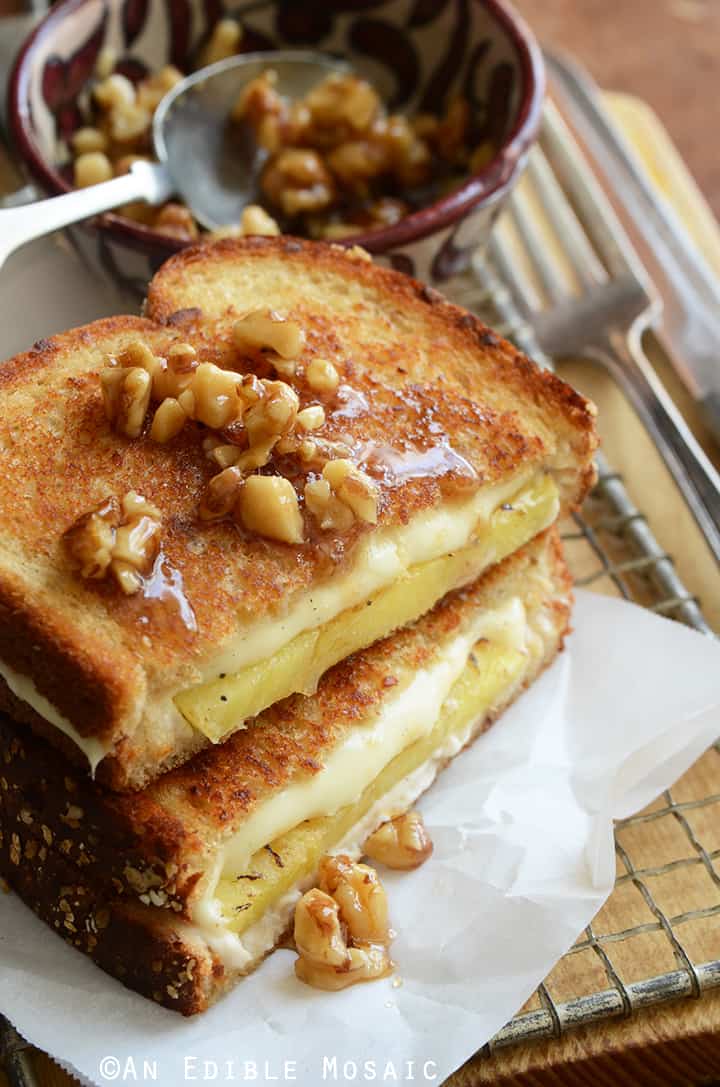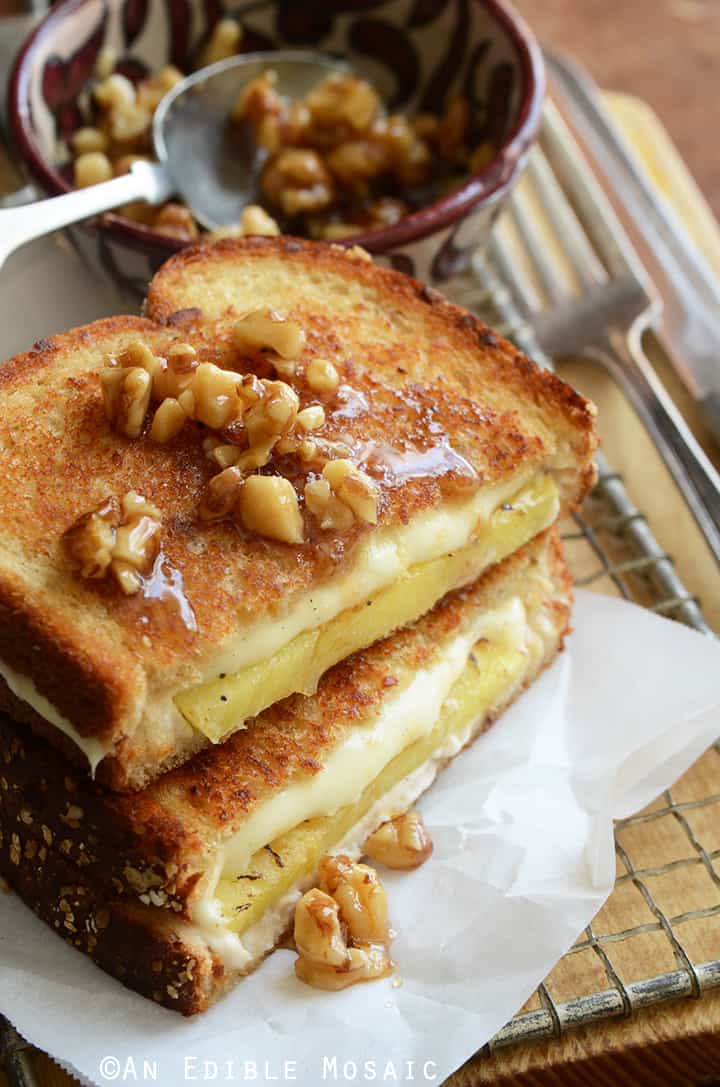 What's up with the pineapples on houses everywhere?, either Mike asked me or I asked him when we first moved to Virginia.
Because they literally are everywhere…we noticed them carved or engraved on mailboxes, porches, doorways, doorknobs, door knockers, and welcome mats, and that's before you even get inside. Once inside a traditional Southern house, you may notice a pineapple design integrated right into the house (for example, carved into fireplace mantels), as well as throughout the décor (like in paintings and carpets).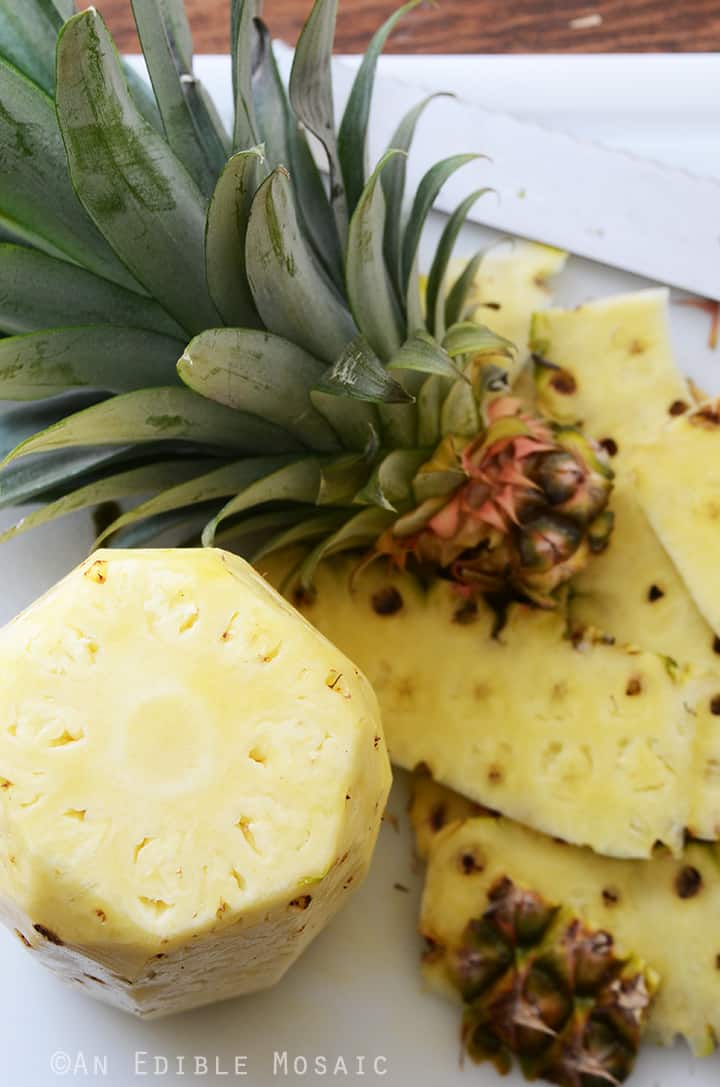 So, why are they so into pineapple?
I was curious, so I Googled it and found out that pineapple symbolizes hospitality, stemming from the time when explorers to the West Indies and Americas found that a pineapple placed at a village entrance was a sign of welcome.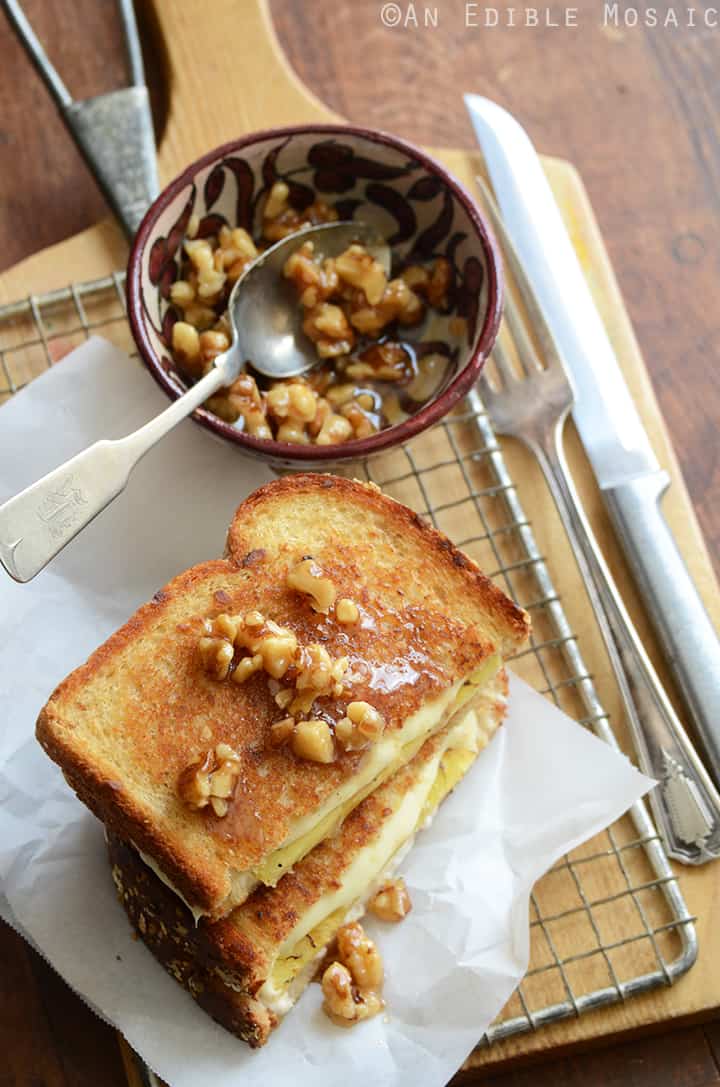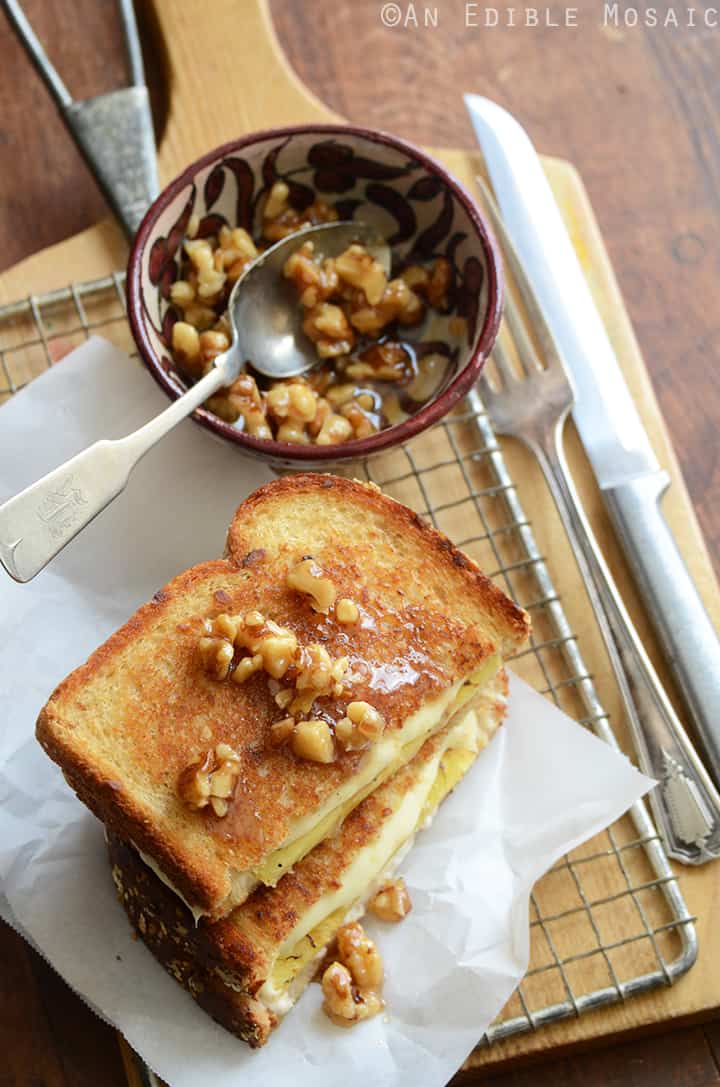 This symbolism spread. When voyagers would return to Europe they'd spear a pineapple and put it outside their house to let visitors know that the master of the house was home and receiving guests with whom he would entertain with food and tales of his adventures. The symbolism of pineapple then spread to Colonial North America, where hostesses used it as a focal point in their home décor (particularly as part of their dining table decorations), and also served it as dessert for special meals.
I go through an entire pineapple each week making fresh juice, but I don't feature the flavor of pineapple itself in my cooking very often. This recipe makes up for that because pineapple really is the star of the show…of course, in addition to two fabulous kinds of cheese that take this sandwich from a good grilled cheese to fabulously gooey, cheesy bliss.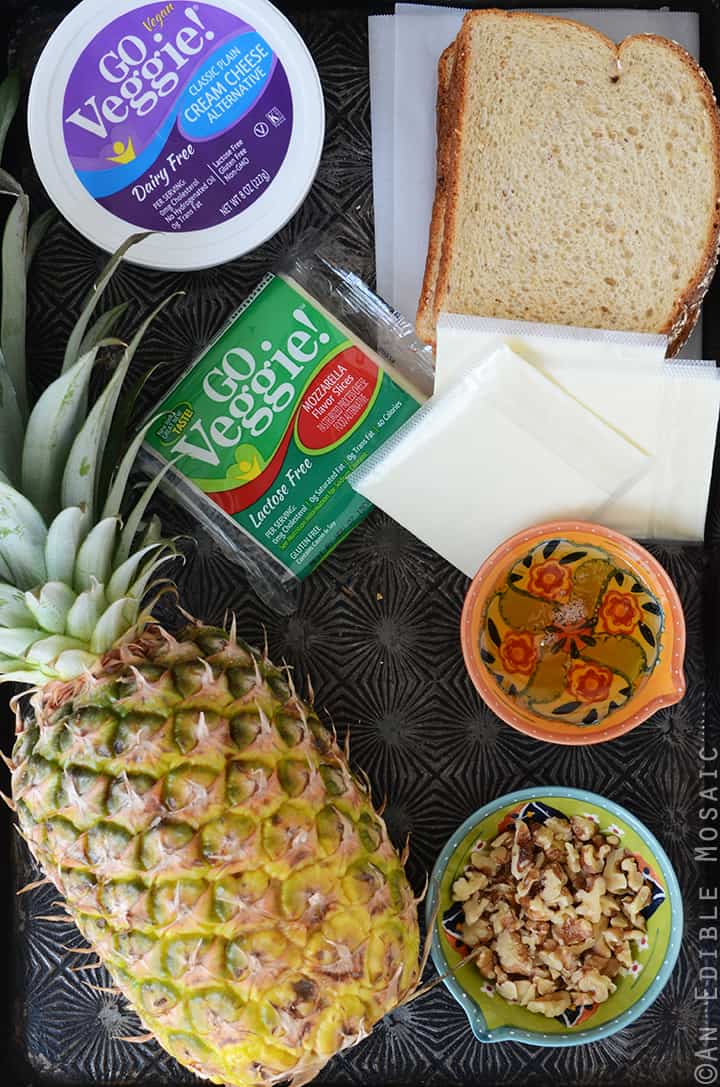 Here I used a combo of GO Veggie! Vegan Classic Plain Cream Cheese and GO Veggie! Lactose Free Mozzarella Slices. I know that might seem like a lot of cheese, but as we all know, grilled cheese is not the time or the place to cheap out on cheese. We're going for cheese oblivion here. The cream cheese adds silky smooth texture and the mozzarella adds great flavor and melts into the perfect grilled cheese. GO Veggie! cheese products are plant-based and lactose-free with no cholesterol, and both the cream cheese and mozzarella slices are gluten-free, so the only adjustment necessary for people with gluten sensitivities is to use gluten-free bread as well.
If you're into grilled cheese, try this recipe next time a craving hits!
(Information about the symbolism of pineapple in this post came from Mind Spring, Westbridge Homes, and Sweet Southern Prep.)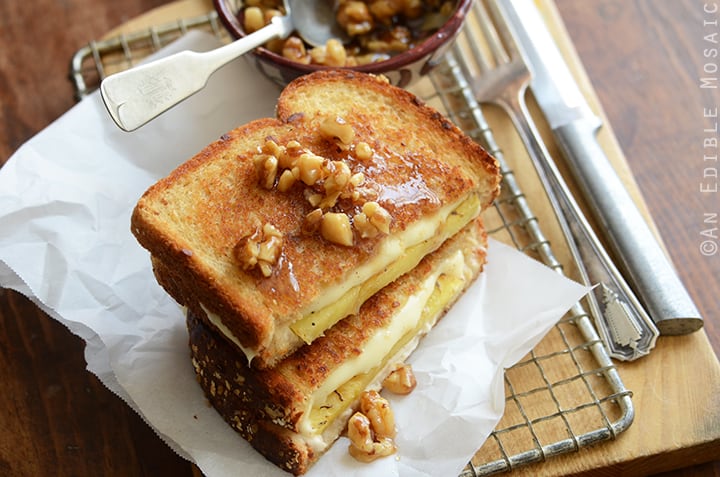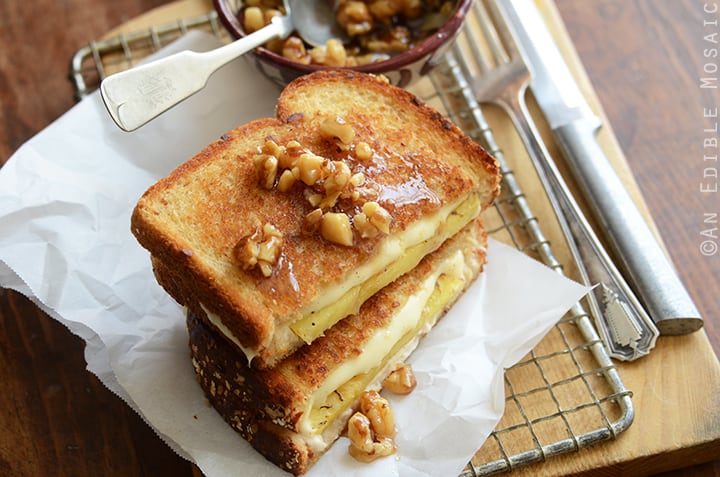 Caramelized Pineapple Grilled Cheese with Honeyed Walnuts
Prep time:
Cook time:
Total time:
Ingredients
Caramelized Pineapple Grilled Cheese:
6 (¼-inch thick) slices of fresh pineapple (peel the pineapple before slicing it cross-wise)
8 slices of your favorite sandwich bread
8 teaspoons unsalted butter
8 tablespoons GO Veggie! Vegan Classic Plain Cream Cheese
8 slices GO Veggie! Lactose Free Mozzarella Slices
Honeyed Walnuts:
4 tablespoons chopped walnuts
3 tablespoons honey
1 to 3 teaspoons water
Instructions
Cut each pineapple slice in half. Preheat a large dry nonstick skillet over medium to medium-high heat. Add the pineapple slices and cook until slightly softened and browned in spots, about 2 minutes per side. Transfer the pineapple to a plate.
Spread 1 teaspoon butter on 1 side of each slice of bread.
Place 4 slices of bread (butter side down) on a cutting board. Spread 2 tablespoons cream cheese on top of each, and then top each with 3 slices of caramelized pineapple and 2 slices of mozzarella cheese. Place the remaining slices of bread on top (butter side up).
Grill the sandwiches in a large skillet (or on a griddle) over low heat until the cheese is melted and the bread is golden on both sides.
For the honeyed walnuts, add the walnuts, honey, and enough water to slightly thin it out to small saucepan. Bring up to a simmer over medium heat and cook 1 minute.
To serve, transfer each sandwich to a plate. Serve the sandwiches hot along with the honeyed walnuts to spoon on top.
Disclosure: I received the GO Veggie! products that I used in this recipe for free, and I also received compensation for this post. I am happy for the opportunity to share brands that I believe in with my readers, and I hope you enjoy my recipe. As always, opinions stated are my own.