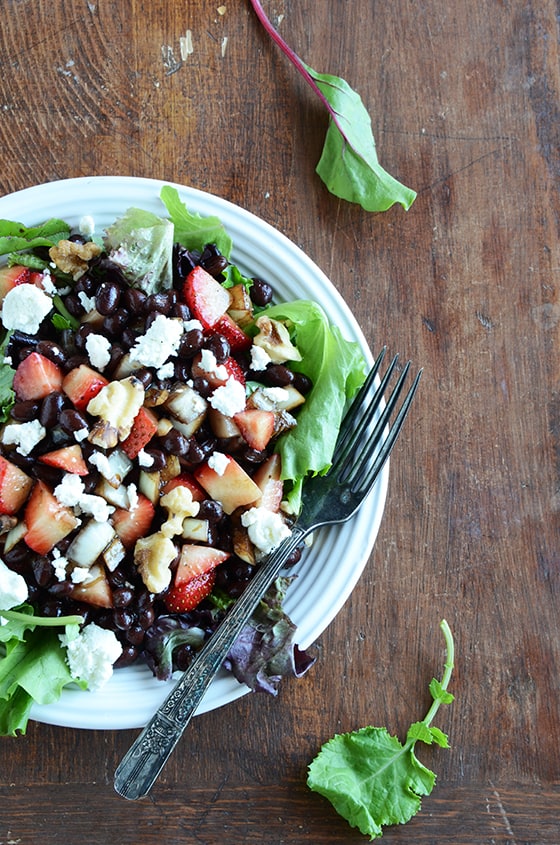 Some things just naturally go together swimmingly.
Effortlessly.
Like cheese + crackers.
PB + J.
Summer + corn on the cob.
Cake + birthdays.
Pizza + movie night.
Chocolate + ladies.
Those pairings need no explanation.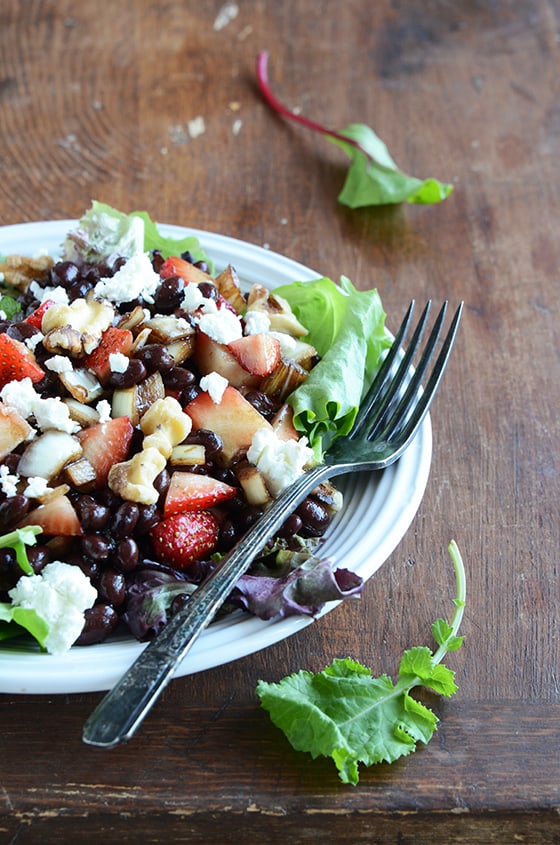 It's when you venture into the strange world of things like strawberries + black beans that you have to explain yourself. And throw onion into the mix like I did, and oh boy, you might just have an uprising on your hands, lol.
I promise you that this salad is as delicious as it is strange – and that's saying a lot because it sounds pretty strange. The berries provide a bit of sweet/tart flavor, the beans make it hearty, walnut adds a bit of umami, and the onion adds a savory touch. Somehow it just works. Like magic.
I think crumbled blue cheese might be a nice substitution for the crumbed goat cheese, but that might be throwing a little too much crazy into the mix. Next time I feel adventurous, I'll be all over that.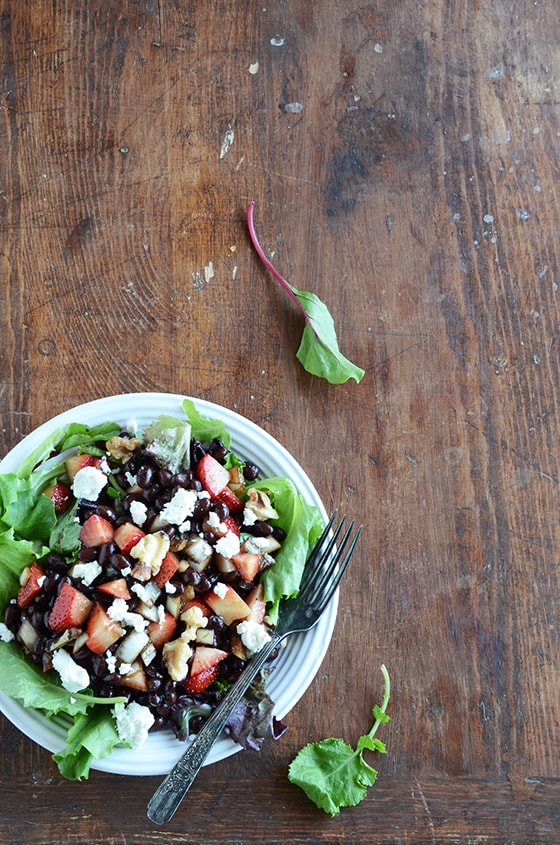 It reminds me of one of those fancy salads I like to order when lunching out (for some reason it always makes me giggle when "lunch" is used as a verb, lol). This is even better, not only because I know exactly what's going into it (dressing included…sometimes store-bought or restaurant-made salad dressings don't always agree with my tummy!), but because it can be enjoyed in the comfort of my PJs (hey, some days it happens). And it comes together in under 10 minutes, much less time than it would take to go out to lunch.
Plus, if I'm alone for lunch it means there's enough left over for the next day too.
Strawberry Black Bean Salad
Ingredients
1½ tablespoons strawberry balsamic vinegar
1½ tablespoons olive oil
1 teaspoon honey (optional; you may want to omit this if your berries are super sweet)
¼ teaspoon sea salt
⅛ teaspoon ground black pepper
1 small onion, diced
1 cup (160 g) chopped strawberries
1 (15.5 oz/440 g) can no-salt-added black beans, rinsed and drained
3 cups (3 oz/85 g) mixed baby field greens
2 tablespoons walnuts, toasted
2 tablespoons crumbed goat cheese
Instructions
Whisk together the vinegar, oil, honey (if using), salt, and black pepper in a medium bowl.
Add the onion, strawberry, and beans, and gently toss to combine.
Divide the greens between 2 plates and top each with half the black bean mixture.
Top each with 1 tablespoon walnuts and 1 tablespoon goat cheese.