Rich and dense with deep nutty chocolate flavor, this Chocolate Hazelnut Cake looks like it came from a bakery. But you won't believe how easy it is to make at home!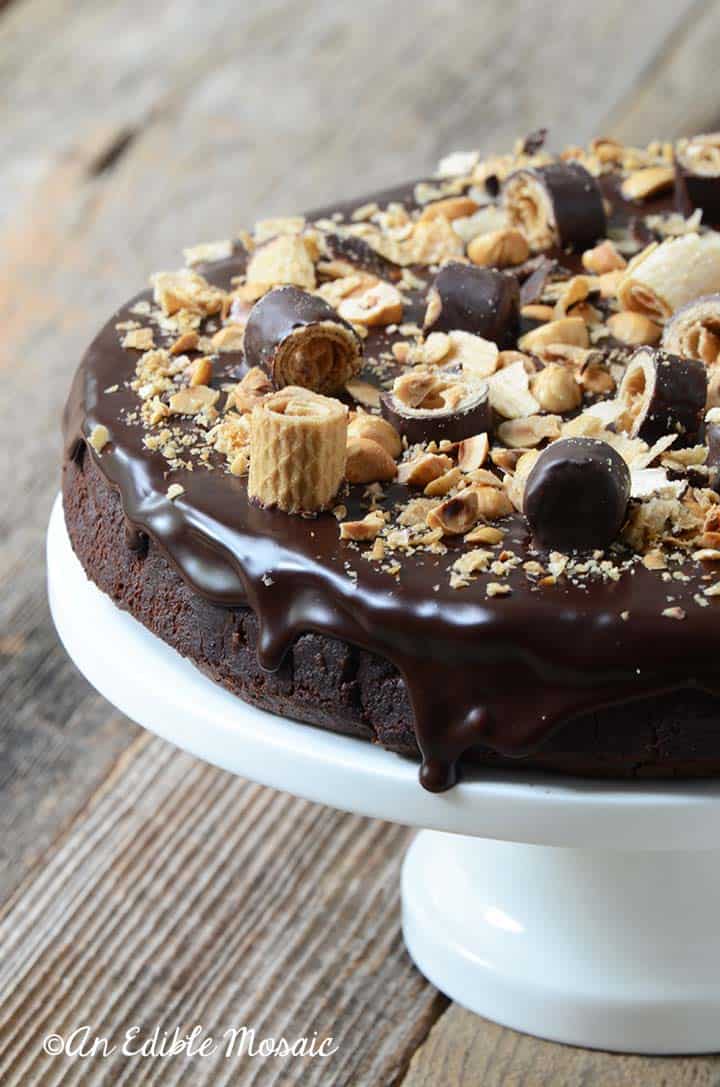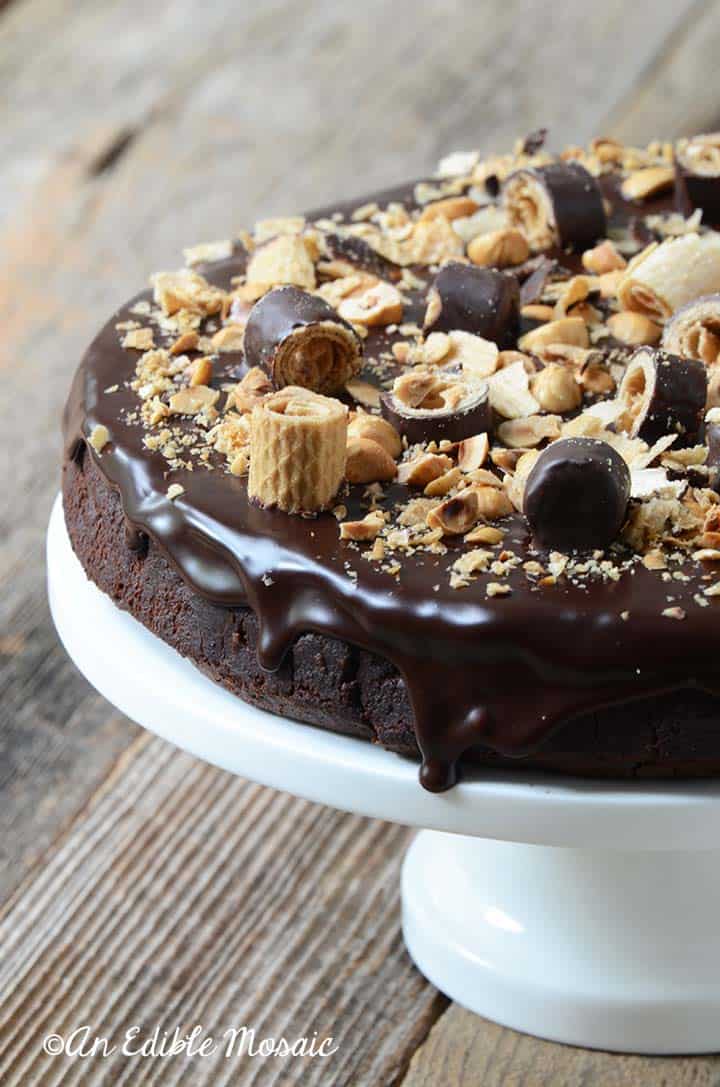 Did you know that September is the biggest birthday month of year?
I had no idea until just recently! But with my birthday on September 30 (shout-out to my fellow Libras!), I thought this was pretty interesting.
I looked into it and as it turns out, it's true! (I found this info on a ton of websites, including Time and HuffPost.) What's more is that the most common birthday in all of September is September 16. And if you're curious like I was, the least common birthday is February 29, with the second least common being December 25.
So anyway, enough of my rambling about birthdays. Except for the fact that I want to tell you this cake makes a gorgeous celebration cake! And with birthdays being a pretty great reason to celebrate, by extension it makes an absolutely fabulous birthday cake.
I don't know about you, but personally I always feel like I was cheated if my birthday cake doesn't include chocolate of some kind, whether it's the cake, frosting, filling, or topping.
This deep, rich, and dense chocolate cake is almost fudgy. It also boasts a velvety chocolate ganache, dark chocolate Bahlsen Waffeleten cookies, and toasted hazelnuts on top.
It's a chocolate + hazelnut lovers paradise.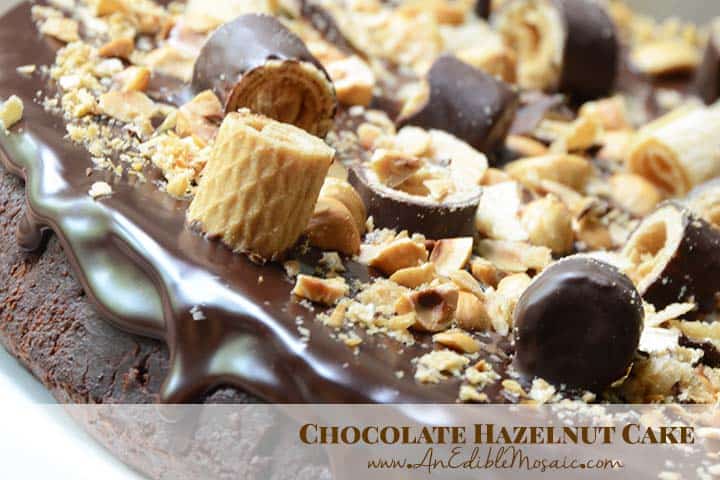 Chocolate Hazelnut Cake Recipe
The flavor of hazelnut is a classic (but wonderful) accent to chocolate here. Additionally, I used pear butter for a hint of warm spices.
Bahlsen Waffeletten cookies play a double role in this recipe. Half a box is crumbled into powder with the hazelnut meal, and the other half is coarsely chopped and used as garnish on top.
This cake is really impressive too; it looks like something straight from a bakery, but is actually quite easy to make. There are no hard techniques to master or tricks needed, but bring this cake to a birthday celebration and you'll be a rock star. Especially with chocoholics!
How Do You Use Hazelnut Flour?
You can use hazelnut flour in many of the same ways you can use almond flour. Further, you can use hazelnut flour in both sweet and savory recipes. However, note that instead of tasting like almonds, the dish with have a hazelnut flavor.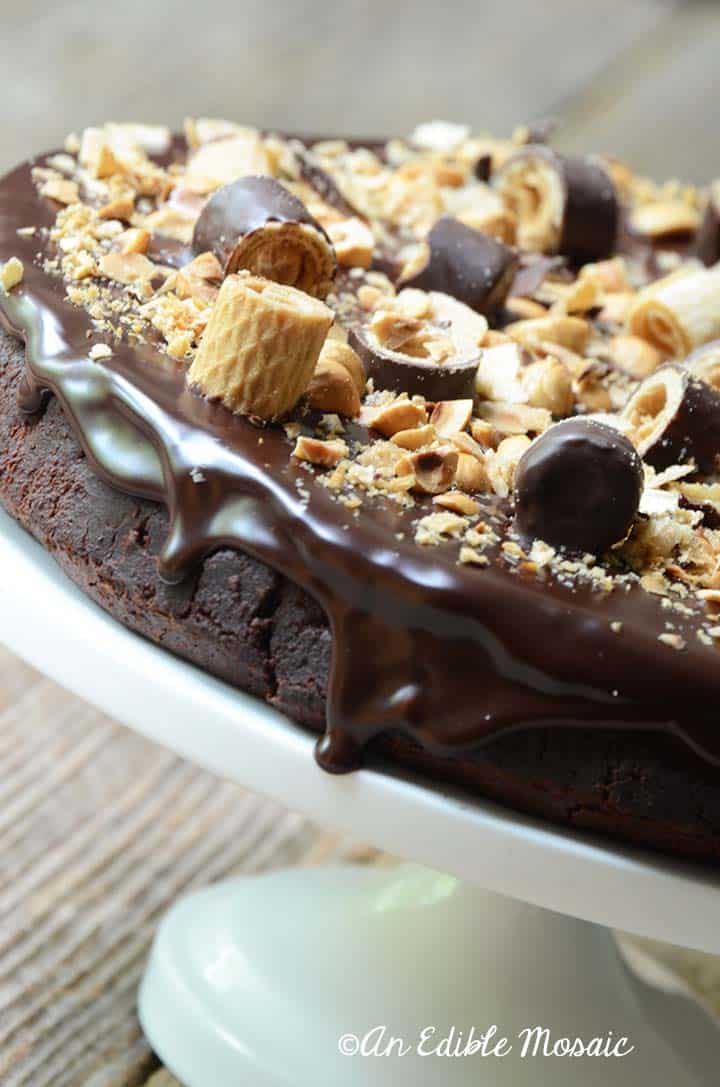 Here are a few ways to use hazelnut flour:
Cakes
Cookies
Pastry crusts
Quick breads
As a coating or breading for chicken, zucchini, etc.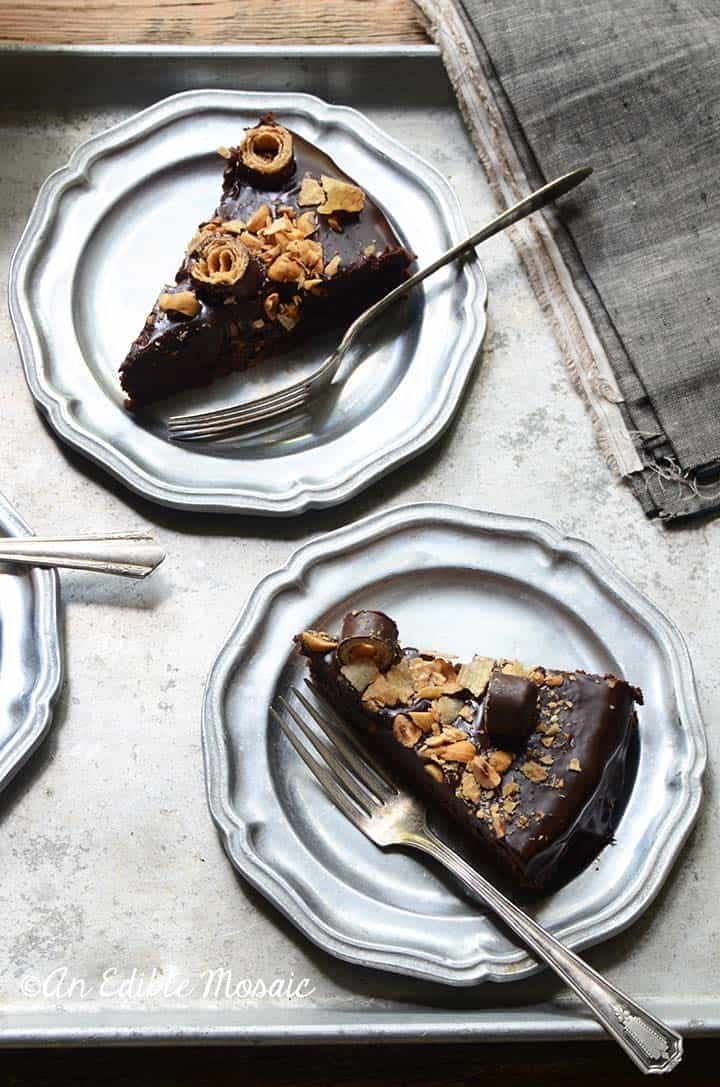 What is a Substitute for Hazelnut Flour?
Instead of hazelnut flour, you can use almond flour.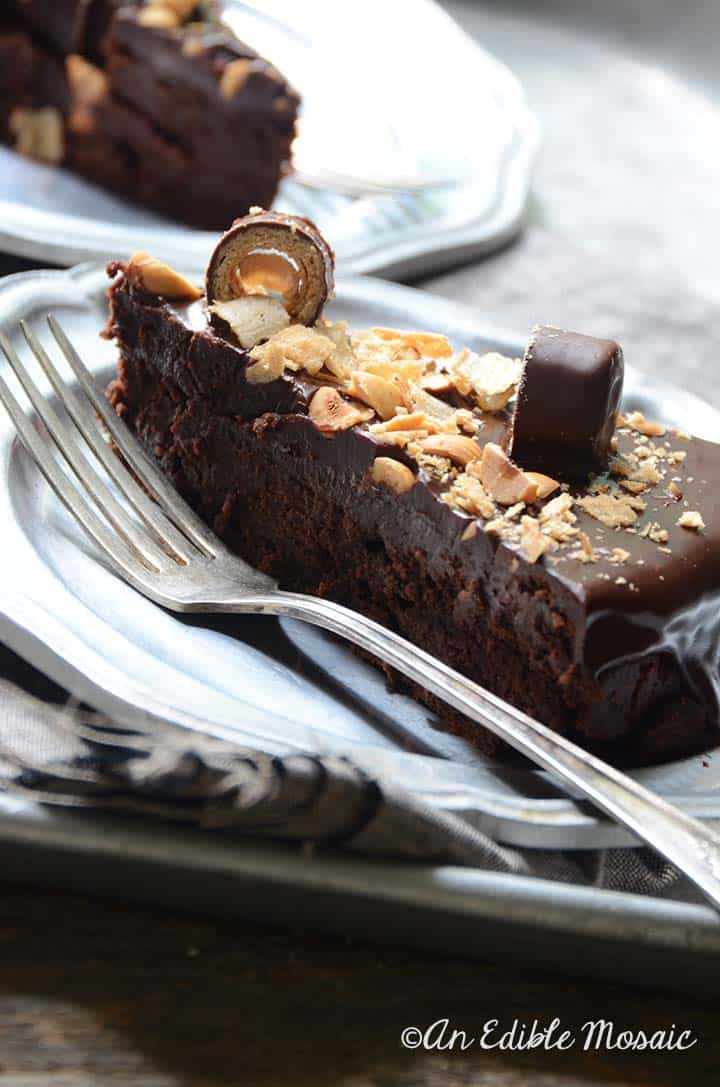 More Decadent Chocolate Cake Recipes: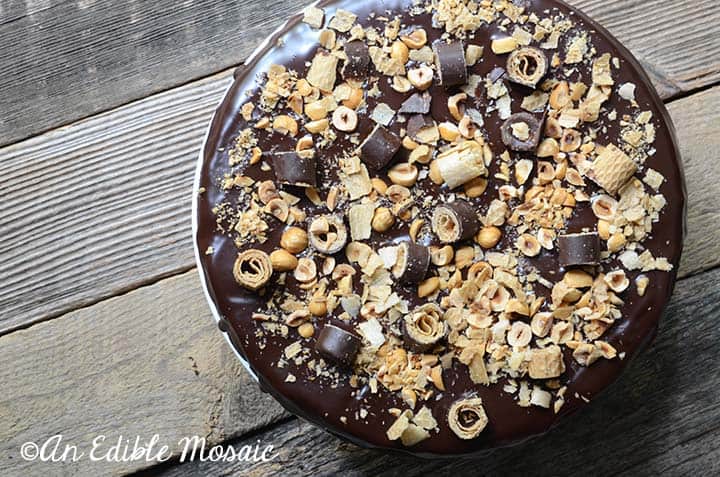 Did you make this recipe? Please rate it and leave a comment below because I love hearing from you! You can also tag @anediblemosaic on social media. To stay up-to-date FOLLOW ME on Instagram, Twitter, and Facebook. Xoxo, Faith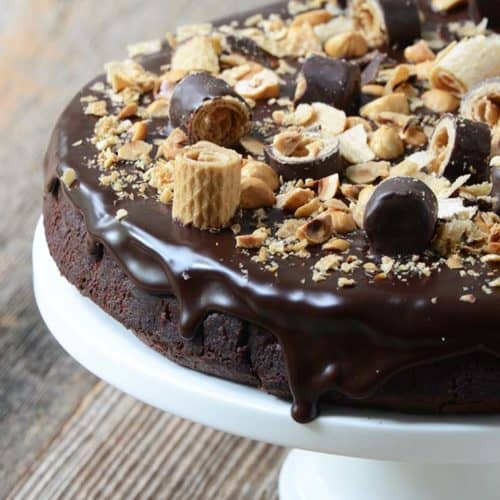 Chocolate Hazelnut Cake
Rich and dense with deep nutty chocolate flavor, this Chocolate Hazelnut Cake looks like it came from a bakery. But you won't believe how easy it is to make at home!
Instructions
Preheat oven to 350F. Generously grease a 9-inch springform pan with butter line the bottom with a round piece of parchment paper; set aside.

Add the hazelnut meal, cocoa powder, sea salt, cream of tartar, and ½ box Bahlsen Waffeletten cookies to a food processor and pulse until the cookies are completely crumbled; set aside.

Melt the chocolate and butter together in a microwave or double boiler. Stir in the pear butter, vanilla extract, and hazelnut extract. Mix in the hazelnut meal mixture.

Use a handheld electric mixer to beat the eggs and brown sugar together in a large bowl until they're pale golden, light and fluffy, and nearly doubled in volume, about 10 minutes.

Stir ⅓ of the fluffy egg mixture into the chocolate mixture. Once incorporated, fold in another ⅓ of the egg mixture until nearly completely incorporated, and then fold in the remaining ⅓ of the egg mixture. Be careful not to over-mix or deflate the eggs completely; a few streaks of egg in the batter is fine.

Pour the batter into the prepared springform pan. Bake until the cake is set and a wooden pick inserted in the center comes out with just a couple crumbs (do not bake until a wooden pick comes out clean because the cake will be overcooked), about 55 to 60 minutes.

Straight out of the oven, transfer the cake to a wire rack to cool completely to room temperature. Once cooled, cover the cake and transfer it to the fridge to chill for 4 hours or overnight. Once chilled, invert the cake onto a cake platter and peel off the parchment paper.

For the ganache, melt the chocolate and heavy cream together in a microwave or double boiler just until the chocolate is melted (being careful not to overheat), and gently stir to combine. Let the ganache cool a couple minutes, and then starting in the center, spread it across the top of the inverted cake, letting it drip down the sides. Add the toppings decoratively to the top.

Chill the cake until the ganache sets (about 1 hour) before slicing and serving.
Faith's Tips
Instead of Bahlsen Waffeletten Dark cookies, you can use any chocolate wafer cookies you like.
Store any leftovers wrapped in the fridge for up to 5 days.
Nutrition
Nutrition Facts
Chocolate Hazelnut Cake
Amount Per Serving
Calories 375
Calories from Fat 243
% Daily Value*
Fat 27g42%
Cholesterol 94mg31%
Sodium 148mg6%
Potassium 172mg5%
Carbohydrates 34g11%
Protein 5g10%
Vitamin A 464IU9%
Vitamin C 1mg1%
Calcium 44mg4%
Iron 2mg11%
* Percent Daily Values are based on a 2000 calorie diet.
This post was first published on An Edible Mosaic on September 5, 2014. I updated it with more information on September 30, 2020.
Disclosure: This post contains Amazon affiliate links to products I believe in, which means that even though it doesn't cost you anything extra, I will receive a small amount of money from the sale of these items. Thank you for helping to support An Edible Mosaic!