Ok, so I have to tell you right now: this cake has salad dressing in it.
Don't leave. I promise there's a method to my madness.
Have you ever had mayonnaise cake? If you have, this cake won't seem so strange to you.
Actually, my mom's recipe for Crazy Cake (which I know just about every family has their own version of) calls for vinegar and oil – the two main components of vinaigrette – so using a vinaigrette-style salad dressing in a cake didn't sound completely off the wall to me.
Last summer when I received all those Girard's salad dressings to taste test, I was left with a fridge full of salad dressing, looking for ways to use it up. The Espresso Balsamic Vinaigrette was a very well balanced salad dressing. It had lovely coffee flavor with a hint of sweetness and a touch of tart flavor. There may have been savory spices in there (and I'm guessing there were), but it was so well balanced I couldn't pick out any specifically. So, if I (inadvertently) added something like garlic to my cake it went unnoticed, lol. If you're looking for a unique and decadent treat to serve for the New Year, this would be perfect.
I'm wishing everyone a very Happy New Year! May this year bring you happiness in every sense of the word.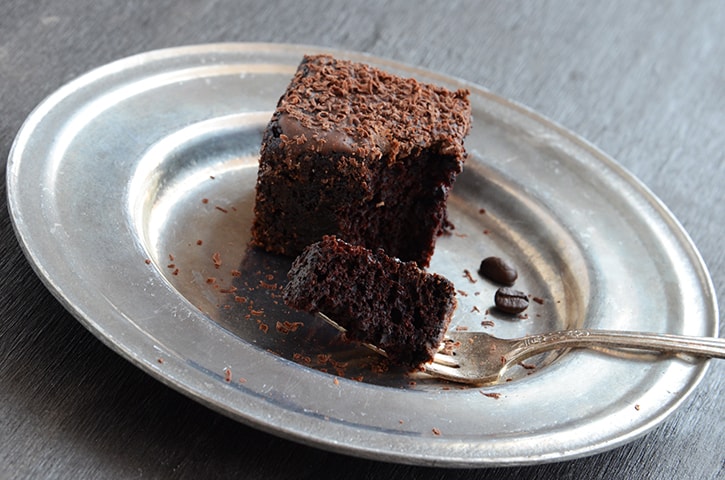 Dark Chocolate Espresso Cake
Ingredients
Dark Chocolate Espresso Cake:
2 cups all-purpose flour
1½ cups sugar
½ cup plus 1 tablespoon unsweetened cocoa powder
1¾ teaspoons baking soda
¾ teaspoon salt
1⅓ cups water
⅓ cup Espresso Balsamic Vinaigrette (see note below for substitution)
1 tablespoon molasses
2 teaspoons vanilla
Butter, for the pan
Flour, for the pan
Mocha Glaze:
1 teaspoon instant coffee powder
1 teaspoon hot water
1 teaspoon unsweetened cocoa powder
1 pinch (about 1/16 teaspoon) sea salt
½ cup powdered sugar
1 teaspoon water
Other:
2 teaspoons grated dark chocolate, for garnish
Instructions
Preheat oven to 350F; butter and flour a cake pan (I used a pan 10½ inches long by 6½ inches wide by 2½ inches deep).
In a large bowl, whisk together the flour, sugar, cocoa powder, baking soda, and salt. In a separate medium bowl, whisk together the water, vinaigrette, molasses, and vanilla. Pour the wet ingredients into the dry and whisk just enough to combine, being careful not to over-mix.
Pour the batter into the prepared pan and bake until a toothpick inserted inside comes out clean or with just a couple crumbs, about 1 hour in the pan size that I used. Cool completely.
For the glaze, dissolve coffee powder in hot water in a small bowl; stir in cocoa powder and salt. Stir in the powdered sugar and 1 teaspoon water until smooth. Spread the glaze on top of the cooled cake and sprinkle on the grated chocolate.
Notes
Cake Pan & Cooking Time: To cook the cake, I used a pan 10½ inches long by 6½ inches wide by 2½ inches deep, and the cooking time was about 1 hour; if you use a different size pan, be sure to adjust the cooking time accordingly.

Espresso Balsamic Vinaigrette Substitution: If you can't find this salad dressing you could very easily make your own. Mix together the following, whisking until the sugar is dissolved: 2 tablespoons espresso or very strong coffee, 1 tablespoon good quality balsamic vinegar, 2 tablespoons good quality olive oil (not extra virgin, which will be too strong-flavored for this), 1 teaspoon water, 1 teaspoon sugar, 1 pinch salt, and 1 pinch black pepper. This will give you about ⅓ cup, the amount that is needed for this cake. And here is another idea, you could also whip up this vinaigrette when you're making a grilled steak salad – so good!