So, fess up…what's your favorite part of the Super Bowl?
Football? Ha! I grew up in Buffalo – enough said.
The commercials and/or halftime show? Maybe.
The food? Now we're talking.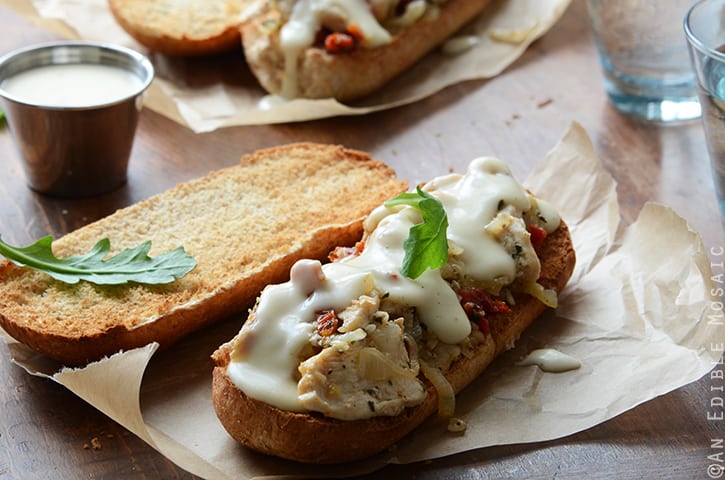 For some reason, the best foods seem to come out for the Super Bowl. Like adorable little one-bite finger foods, cheesy dips, chicken wings, and hoagies (or subs/heros/bombers/grinders/etc.).
Like for any party, good Super Bowl food starts with quality ingredients. My Italian Sundried Tomato, Garlic, and Rosemary Chicken Hoagies with Melted Fontina Sauce are scratch-made, and flavor-wise it really shows. (I think you'd be hard-pressed to get take-out this good!) Plus these hoagies come together in less than 30 minutes from start to finish, which means you could even whip them up during the halftime show.
Chicken breast, fresh herbs, and Cobblestone Bread Co. sub rolls really make these something special, and with garlic and sundried tomato they're bold-flavored and unique – I've never seen a combo like this at a sub shop! I like to toast the sub rolls before I put these hoagies together because I don't think there's anything better than warm bread. (Except maybe warm bread topped with cheese, but I'm getting there.)
The melted Fontina sauce literally comes together in 5 minutes, but adds so much flavor, not to mention that gooey cheese factor. If there's cheese sauce leftover, heat it on the stovetop over low heat while whisking frequently (it only takes a couple minutes). And then grab fresh baguette slices or a bowl of tortilla chips and dig in.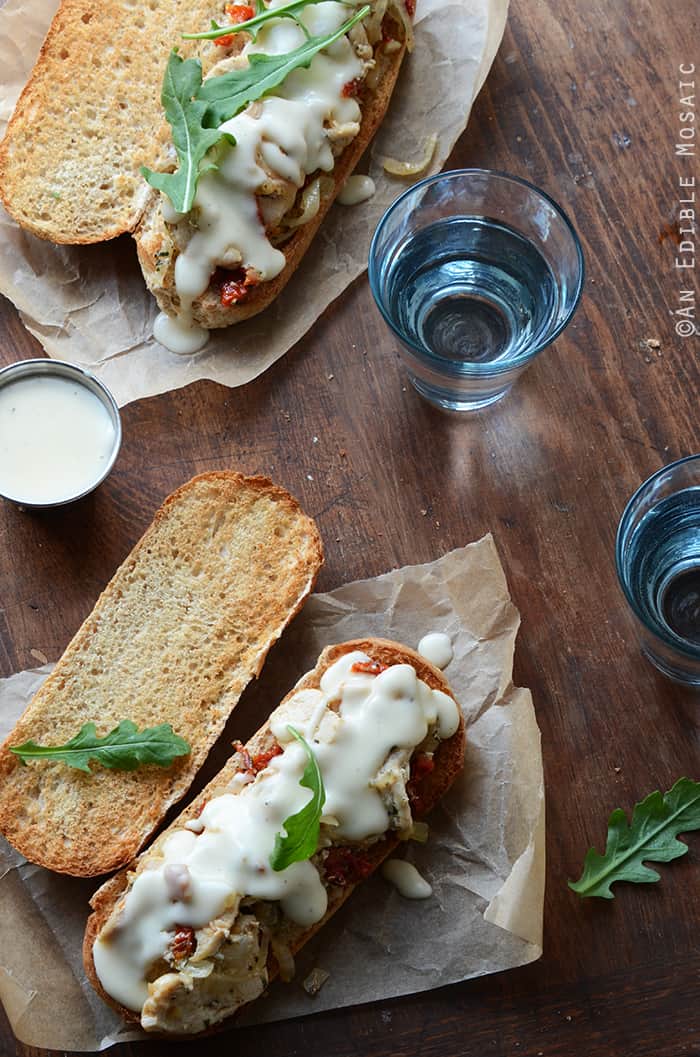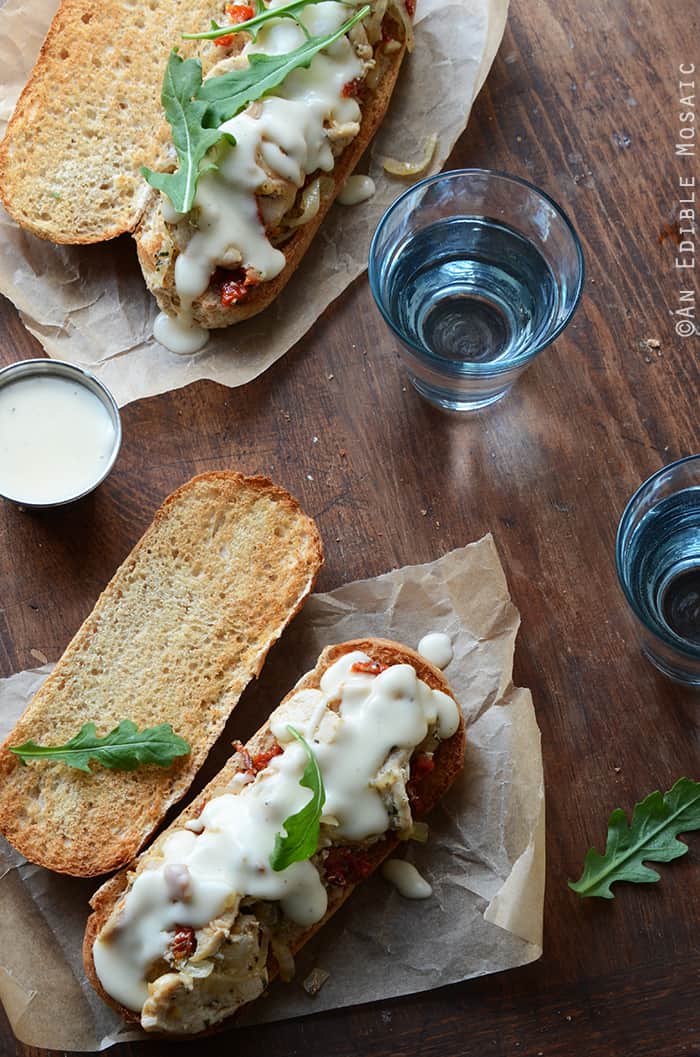 Whether you're making these hoagies for the Super Bowl or a weeknight dinner, I think they'll become a new favorite. And for more fabulous inspiration, check out 10 Sandwich Recipes for the Ultimate Super Bowl Party on Kitchen Daily!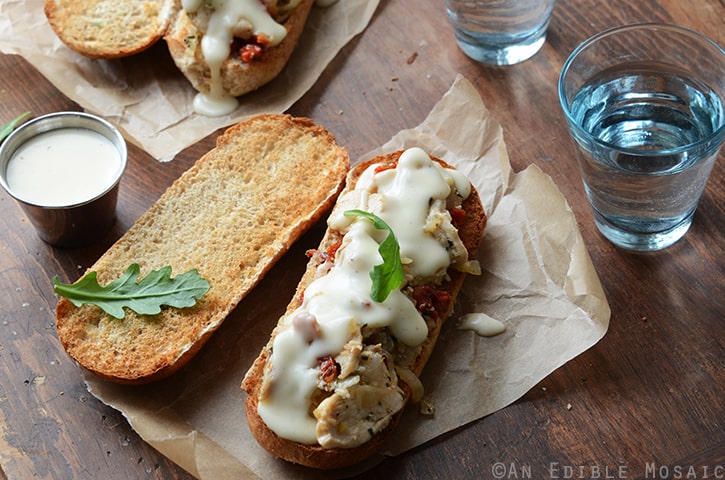 Italian Sundried Tomato, Garlic, and Rosemary Chicken Hoagies with Melted Fontina Sauce
Prep time:
Cook time:
Total time:
Ingredients
Sundried Tomato, Garlic, and Rosemary Chicken:
2 tablespoons olive oil
1 medium-large onion, halved and thinly sliced
1 lb (450 g) boneless, skinless chicken breast, sliced cross-wise into ¼-inch thick pieces
2 large cloves garlic, minced
1 tablespoon minced fresh rosemary
3 tablespoons thinly sliced sundried tomatoes (packed in olive oil)
½ teaspoon salt
¼ teaspoon black pepper
Melted Fontina Sauce:
1½ tablespoons unsalted butter
2 tablespoons all-purpose flour
1 cup (240 ml) low-fat milk
½ teaspoon hot sauce (or more to taste)
¼ teaspoon Dijon mustard
¼ teaspoon salt
⅛ teaspoon black pepper
6 oz (170 g) Fontina cheese, shredded
Other:
4 Cobblestone Bread Co. Wheat Grinder Sub Rolls, split in half and toasted
A handful of fresh arugala leaves, for garnish (optional)
Instructions
For the chicken, heat the olive oil in a large skillet over medium heat. Once hot, add the onion and cook until starting to soften, about 2 to 3 minutes. Push the onions to one side of the skillet and add the chicken; turn the heat up to high and cook until browned on both sides, about 5 minutes (don't stir until the chicken is browned on the first side). Add the garlic, rosemary, sundried tomatoes, salt, and black pepper and cook 2 minutes more, stirring frequently.
Meanwhile, for the cheese sauce, heat the butter in a medium saucepan over medium heat. Once melted, whisk in the flour and cook 30 seconds. Slowly whisk in the milk, and then the hot sauce, Dijon mustard, salt, and black pepper; bring up to a boil. Immediately turn the heat off and whisk in the cheese.
To assemble the hoagies, divide the chicken mixture between the toasted rolls. Top each with a drizzle of cheese sauce and a few arugula leaves. Serve the rest of the cheese sauce on the side for dipping.
Disclosure: I received the Cobblestone Bread Co. product that I used in this recipe for free, and I also received compensation for this post from Cobblestone Bread Co. via AOL Media. I am happy for the opportunity to share brands that I believe in with my readers, and I hope you enjoy my recipe. As always, opinions stated are my own and are not indicative of the opinions or positions of Cobblestone Bread Co. or AOL.