Thank you Potatoes USA for sponsoring this post. Make a delicious and convenient meal for your family tonight with potatoes!
Rich and creamy Chicken Pot Pie Topped with Garlic and Herb Potato Mash is the perfect nourishing meal on a chilly day.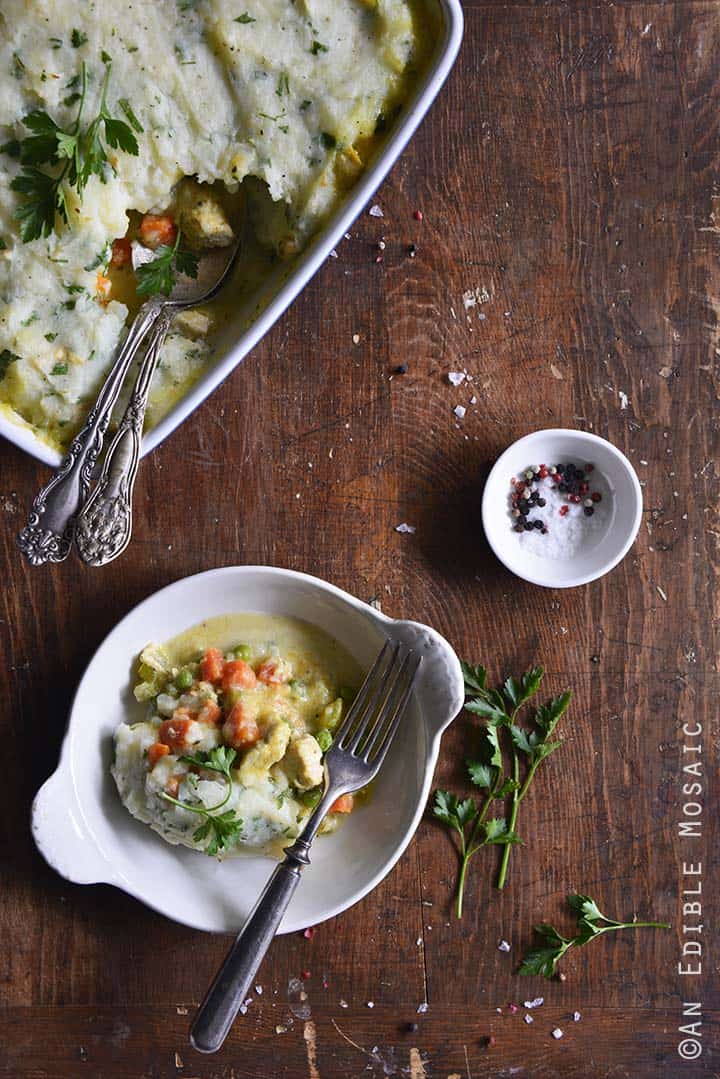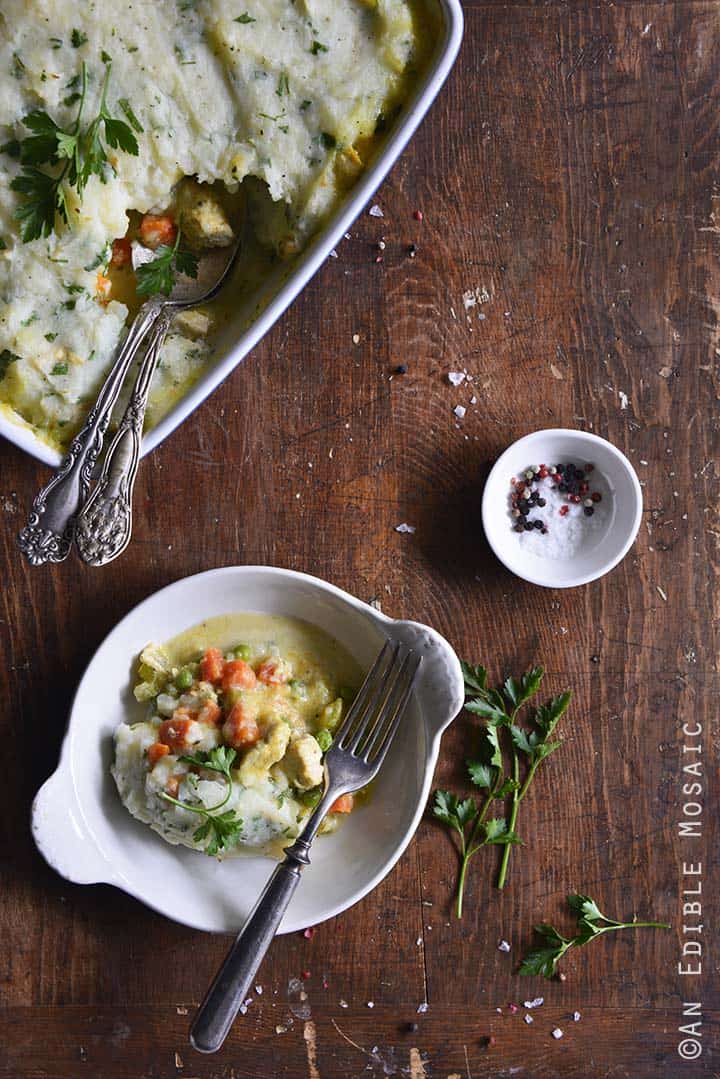 In college I used to stock up on premade chicken soup products. I would buy all kinds of flavors: chowder-style, with dumplings, chicken noodle, pot pie, etc. At that time I knew how to cook about five things, mostly just variations of eggs and pasta. (And throwing together a sandwich definitely doesn't count as cooking!)
Chicken soups, stews, and pot pies are definitely comfort food, and if you're just starting to learn how to cook, you'll be amazed at how easy these recipes are to make. Not mention how much more delicious (and healthy!) the homemade versions are.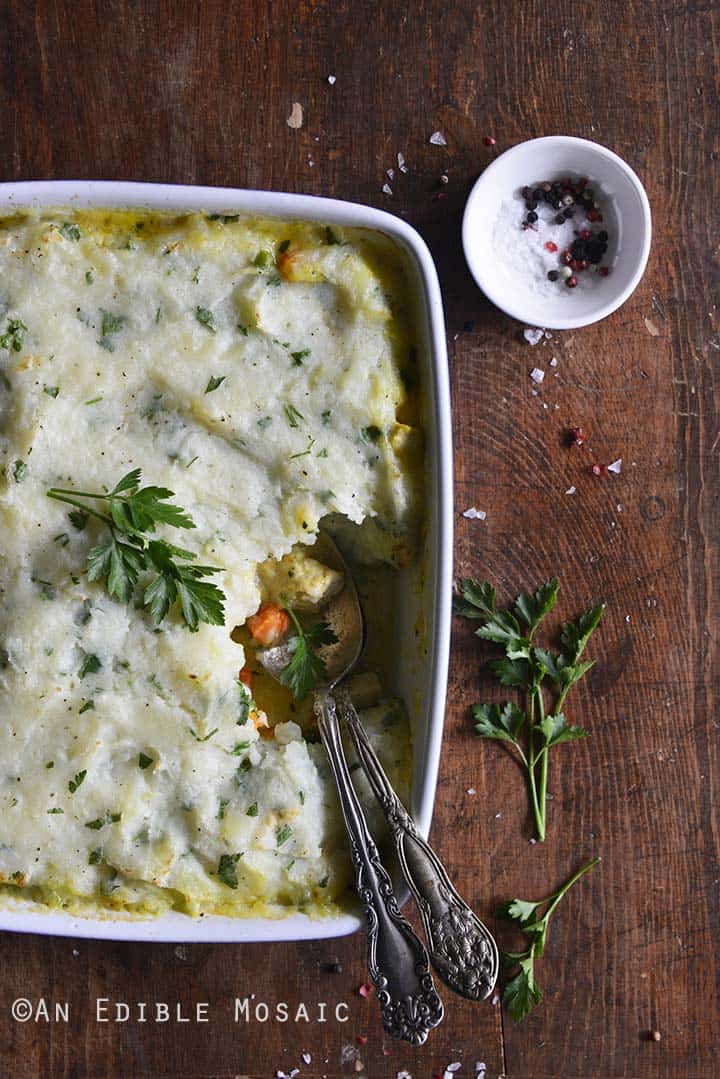 This recipe is basically a combination of Chicken Pot Pie and Shepherd's Pie. The creamy pot pie filling is full of way more veggies than what you'd get in most store-bought items, and velvety garlic and herb mashed potatoes take the place of crust on top. Pastry crust is delicious, but so are potatoes, and potatoes  are more nutritious and easier to work with (especially on a weeknight when there's just no time to fuss around with pastry dough).
Not only are potatoes convenient to whip up as part of a weeknight dinner, but they're also a great blank canvas for flavor. For this recipe, I mashed white potatoes with garlic butter, half and half, and fresh parsley. Scallion would also be delicious, and so would a sprinkle of grated Parmesan. You can take any flavors you like and make this dish your own.
This meal is kid-friendly, adult-friendly, and I think it would even make a beautiful winter supper to entertain guests with.
What's your favorite dish to make with potatoes?
Chicken Pot Pie Topped with Garlic and Herb Potato Mash
Prep time:
Cook time:
Total time:
Rich and creamy Chicken Pot Pie Topped with Garlic and Herb Potato Mash is the perfect nourishing meal on a chilly day.
Ingredients
Filling:
2 tablespoons olive oil
1 lb (450 g) boneless, skinless chicken breasts, chopped into bite-sized pieces (see Note)
3 large carrots, diced
3 large stalks celery, diced
1 medium onion, diced
5 large cloves garlic, minced or crushed
2 teaspoons minced fresh thyme
1 cup (240 ml) chicken stock or broth
¼ teaspoon salt
⅛ teaspoon black pepper
¼ cup (60 ml) heavy cream
1 cup frozen peas, thawed and drained
Potato Topping:
3 medium (about 1½ lbs/680 g) white potatoes, peeled and cubed
4 tablespoons unsalted butter
1 large clove garlic, minced or crushed
½ cup (120 ml) half and half (or use half heavy cream and half whole milk)
½ teaspoon salt
⅛ teaspoon black pepper
2 tablespoons minced fresh parsley
Instructions
For the filling, add the oil to a large, deep skillet over medium-high heat. Once hot, add the chicken and cook until starting to brown outside, about 3 to 5 minutes.
Stir in the carrot, celery, and onion, and cook until the vegetables are starting to soften, about 5 minutes, stirring occasionally. Add the garlic and thyme and cook 1 minute more, stirring constantly.
Add the chicken stock, salt, and black pepper. Bring up to a simmer, and then cover the skillet, turn the heat down so it doesn't boil over, and cook until the vegetables are tender, about 15 minutes, stirring occasionally. You can add a splash more stock if the pan starts to get too dry, but you want the liquid to evaporate off a bit. Remove from the heat, and stir in the heavy cream and the peas.
Meanwhile, make the mashed potato topping. To do so, add the potatoes to a medium pot along with enough water to cover them by 1 to 2 inches. Cover the pot and bring the potatoes up to a boil; once boiling, turn the heat down and crack the lid (so they don't boil over), and cook until the potatoes are very tender, but not mushy, about 10 to 12 minutes. Drain well. Melt the butter in a small skillet over medium heat; once melted, add the garlic and cook for 1 minute, stirring constantly. Mash the potatoes with the garlic butter, and then stir in the half and half, salt, black pepper, and parsley.
Preheat the oven to 450F, and grease a 2½-quart casserole dish with butter. Spread the filling into the bottom of the dish and spread the potatoes on top. Bake until golden in places, about 10 minutes.
Notes
Chicken: Or you can use rotisserie chicken instead.
Get more potato recipe inspiration on Potatoes USA, and "like" Potato Goodness on Facebook!
I was selected for this opportunity as a member of CLEVER and the content and opinions expressed here are all my own.