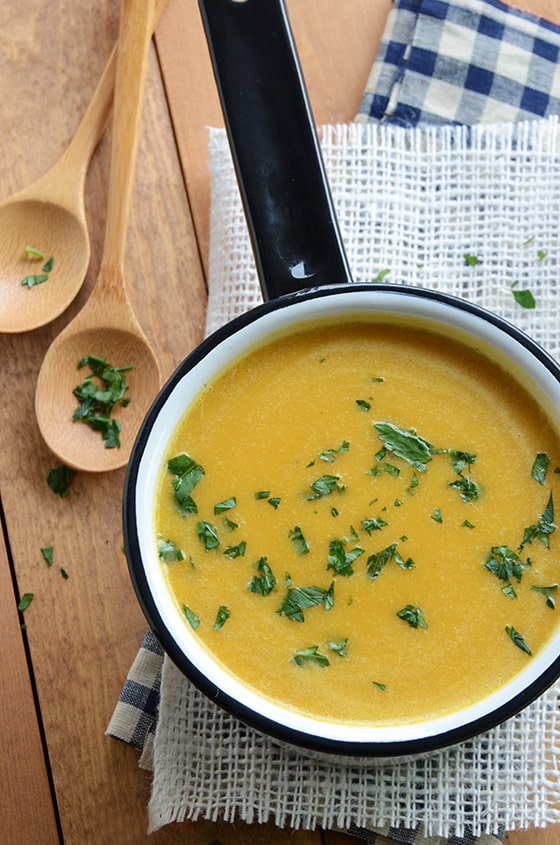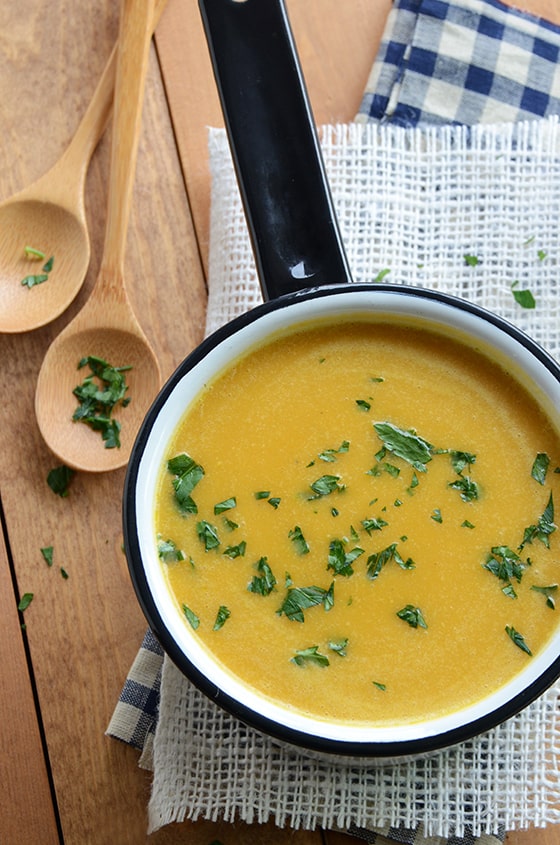 Among the many reasons I adore Wegmans is their soup bar. Their store-bought soups actually taste homemade. (For the most part anyway…the one soup I don't like is their Chicken and Dumpling. The dumplings used to be really fluffy and tender, but they changed the recipe and now they're heavy and mealy with a very potato-like taste and texture. I never get that soup anymore…Wegmans if you're reading, please bring back the previous Chicken and Dumpling!).
Back to the soups I do like. Shrimp Bisque, Spicy Tomato with Orzo, Broccoli Cheddar, and Italian Wedding (which is made with beef meatballs instead of pork!), to name a few. And the queen of all delicious soups, their Brown Sugar Pumpkin Bisque.
It's super thick and incredibly flavorful. It's quite sweet (as you might expect, since there's brown sugar in the title!), but savory onion and a hint of tartness balance it well. It's very rich, with a deep buttery flavor. I love this soup but every time I enjoy it I can't help but wonder what exactly is in it, knowing full well that I don't really want to know.
My homemade version is not as sweet or buttery as the version at Wegmans, but I wanted to make it a bit healthier. And I found that it doesn't need a ton of added butter and sugar to be delicious.
For those of you who are wondering whether this soup needs added coconut milk or cream – the answer is no. It's a nice touch, but I've made this soup several times, sometimes with coconut milk or cream and sometimes without, and either way it's delicious with a silky-smooth texture.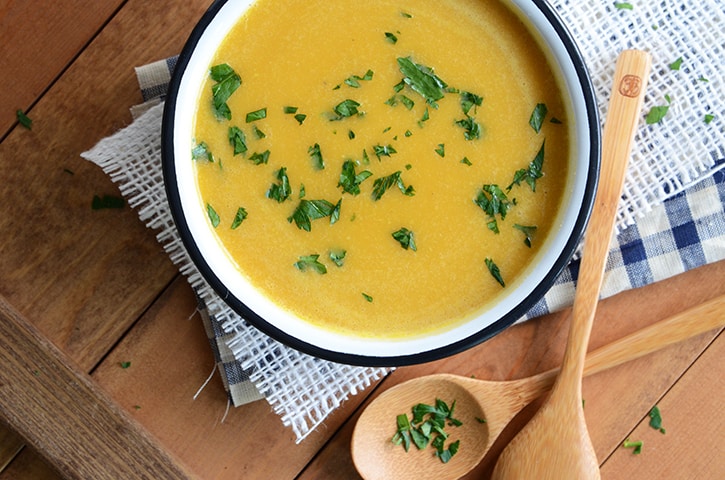 Brown Sugar Pumpkin Soup
Prep time:
Cook time:
Total time:
Ingredients
2 tablespoons butter
1 medium onion, diced
1 small (about 8 oz/230 g) sweet potato, peeled and diced into ½-inch cubes (about 1¾ cups cubed)
¾ teaspoon salt
¼ teaspoon black pepper
1 bay leaf
6 cups (1.4 L) low-sodium stock (vegetable to keep the soup vegetarian, or chicken for deeper flavor)
2 cups (480 g) pumpkin puree (homemade or canned is fine)
2 tablespoons brown sugar
4 tablespoons (60 ml) full-fat coconut milk or heavy cream (optional)
1 teaspoon lemon juice
2 tablespoons minced fresh parsley, for garnish
Instructions
Melt the butter in a medium saucepan over medium heat; add the onion and sauté until starting to soften but not yet turn color, about 5 minutes, stirring occasionally.
Add the sweet potato and cook 3 minutes more. Add the salt, pepper, bay leaf, stock, pumpkin, and brown sugar.
Bring the soup up to a boil, then turn heat down and cook until the sweet potato is tender, about 15 to 20 minutes, stirring occasionally. Turn heat off and stir in the coconut milk or cream, if using, and then stir in the lemon juice. Taste and season with additional salt and pepper as desired.
If you want a very smooth soup, puree it in batches in a blender (or use an immersion blender). Ladle the soup into bowls and sprinkle the parsley on top, if desired.