This easy homemade Butterbeer Popcorn is inspired by Harry Potter with a butterscotch vanilla flavor and the sweet crunch of caramel popcorn.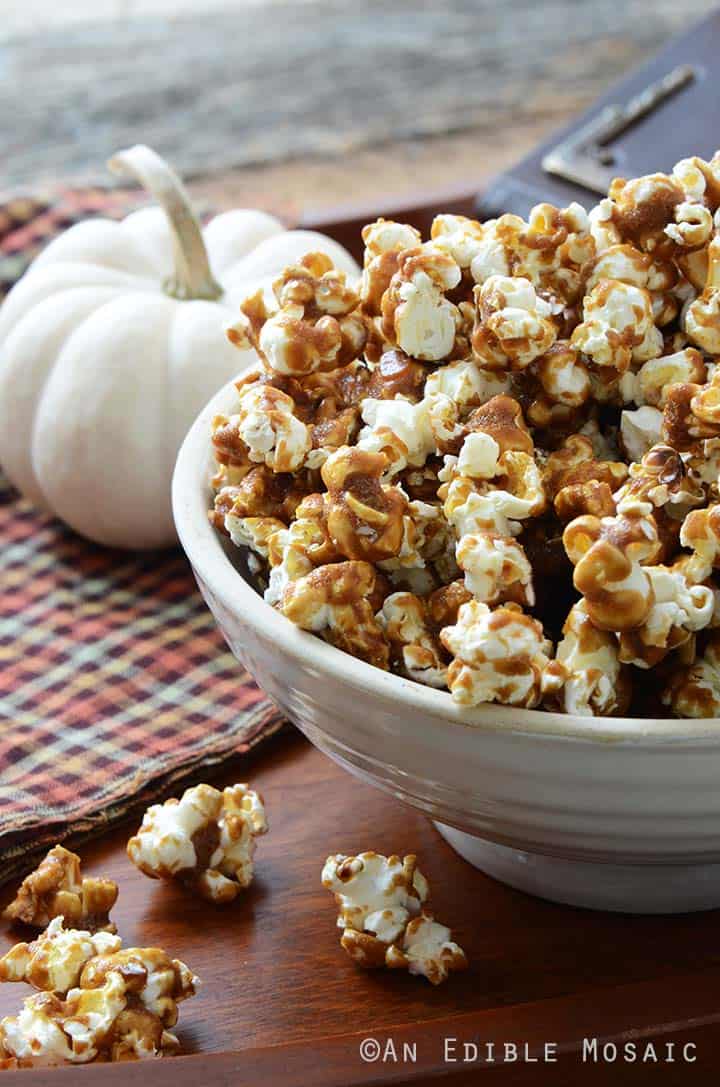 I wish all year could be autumn.
I'd be bundled up in a cozy scarf drinking apple cider and eating roasted winter squash every day. And that's not even to mention how much I love car rides in the country to take in the glorious fall foliage, and pumpkin spice lattes, which, incidentally, always seem to taste best in fall.
One of my favorite autumn traditions is watching the Harry Potter movies with my niece. We usually start around mid-October when the air takes on a nice chill and the trees have begun losing their jewel-toned leaves.
This year I decided to take our Harry Potter experience to the next level for her and make a Harry Potter-inspired treat to enjoy while we watch.
Chances are, no matter whether or not you're a Harry Potter fan, you've probably heard of pumpkin juice, treacle tart, cauldron cakes, pumpkin pasties, or the infamously wonderful butterbeer.
We tried butterbeer at The Wizarding World of Harry Potter last time we were in Orlando, and it's something I've wanted to play around with at home ever since. Actually, it's something I've wanted to experiment with making ever since I first saw the scene with Harry, Ron, and Hermione enjoying butterbeer in The Three Broomsticks!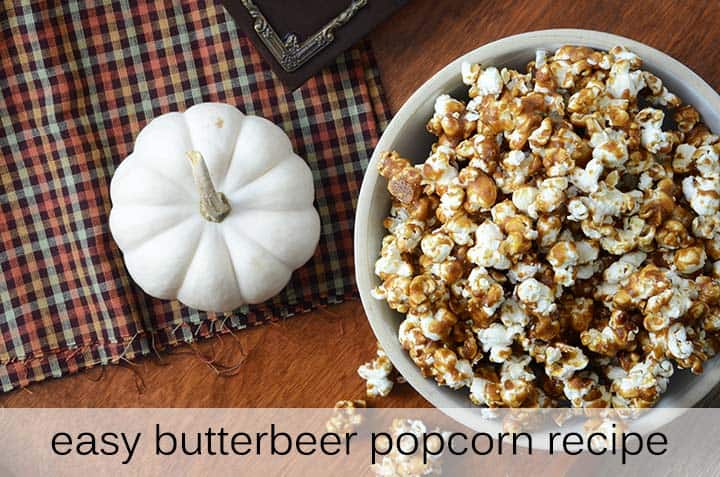 The Best Butterbeer Popcorn Recipe
Don't be intimated to make homemade caramel popcorn! It's as easy as popping corn, melting sugar + butter, and then carefully tossing them together.
Butterbeer Flavor
In this recipe, I use a combo of four extracts (vanilla, almond, butter, and rum), plus molasses and a bit of salt to get the right flavor for butterbeer.
I also add just a hint of nutmeg, which you won't be able to pull out flavor-wise, but I think it just adds that je ne sais quoi that puts this recipe over the top.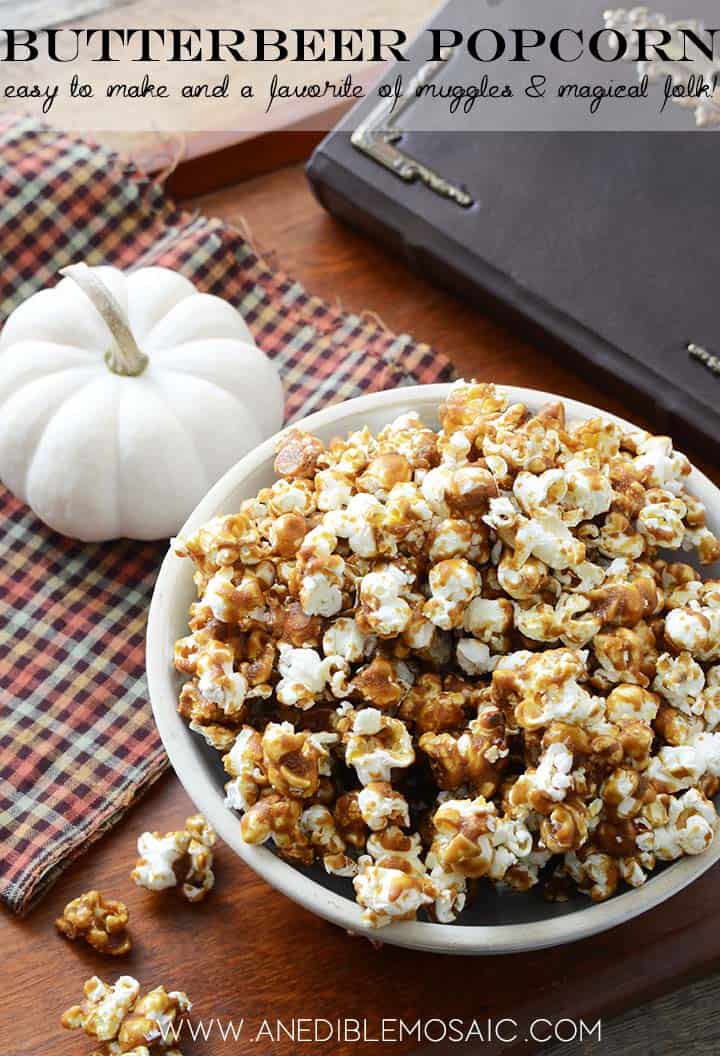 What Does Butterbeer Taste Like?
Butterbeer is a fun flavor combo, and you definitely don't have to be a Harry Potter fan to enjoy it.
If I had to sum it up in just two words, I'd say butterbeer tastes like butterscotch vanilla.
More Harry Potter-Inspired Recipes to Make
Did you make this recipe? Please rate it and leave a comment below because I love hearing from you! You can also tag @anediblemosaic on social media. To stay up-to-date FOLLOW ME on Instagram, Twitter, and Facebook. Xoxo, Faith
Butterbeer Popcorn (Inspired by Harry Potter)
This Butterbeer Popcorn is inspired by Harry Potter with a butterscotch vanilla flavor and the sweet crunch of caramel popcorn.
Instructions
Put the popcorn into a large bowl and set aside. Line a large baking sheet with parchment paper or a silpat liner; set aside. Sift together the baking soda and nutmeg in a small bowl; set aside. Add the vanilla extract, almond extract, butter extract, and rum extract to a small bowl; set aside.

Cook the butter, sugar, molasses, water, and salt in a medium-sized, thick-bottomed saucepan over medium heat until the temperature reaches 305F (hard crack stage), stirring occasionally. Carefully stir in the mixture of extracts and then the baking soda/spice mix; pour the toffee over the popcorn/nut mixture.

Use two heat-safe rubber spatulas to toss the popcorn around to distribute the toffee throughout. Spread the popcorn out onto the prepared baking sheet.

Let the popcorn cool and then break it apart; store in an airtight container at room temperature.
Faith's Tips
Recipe adapted from my recipe for Gingerbread Popcorn.
Making This on a Hot and/or Humid Day: If it's a hot and/or humid day and the butterbeer popcorn is too sticky, you can dry it out in the oven. To do so, leave the butterbeer popcorn on the baking sheet and bake it in a 200F oven for 20 to 30 minutes, tossing it every 10 minutes.
Nutrition
Nutrition Facts
Butterbeer Popcorn (Inspired by Harry Potter)
Amount Per Serving
Calories 209
Calories from Fat 99
% Daily Value*
Fat 11g17%
Cholesterol 20mg7%
Sodium 270mg12%
Potassium 121mg3%
Carbohydrates 27g9%
Protein 1g2%
Vitamin A 253IU5%
Calcium 15mg2%
Iron 1mg6%
* Percent Daily Values are based on a 2000 calorie diet.
This post was first published on An Edible Mosaic on October 20, 2014. I updated it with more information on October 16, 2020.
Disclosure: This post contains Amazon affiliate links to products I believe in, which means that even though it doesn't cost you anything extra, I will receive a small amount of money from the sale of these items. Thank you for helping to support An Edible Mosaic!