In this Gingerbread Popcorn recipe, sweet crunchy homemade caramel popcorn gets a festive twist with gingerbread spices and brown sugar!
So, I have a funny story for you.
In general it's pretty hard to ruffle my feathers, which is a trait Mike says I get from my dad. But there are situations that take their toll on my patience, like when the girl who works at the sub shop at my favorite local grocery store repeatedly hits on my husband. In front of me.
Let me explain…
My local grocery store makes the best subs ever. They call them "old-fashioned". I can't for the life of me figure out what makes them old-fashioned, but they are fantastic. And I am a sucker for a good turkey and Swiss cheese sub, especially when it's offered on an "everything" roll (yup, that's like an everything bagel).
A couple years ago, this girl (who we'll call "S") started working there who apparently had a thing for Mike. Long story short, she was always sweet and flirty with him and curt and cold with me. This continued for some time, until one night when she reached the pinnacle of her brazenness.
Mike and I were there for dinner. He was waiting in line for a sub and I was over looking at the soups available that day. After we left the store, Mike told me that she had the nerve to ask him out. And then Mike told her that he was married – and I was his wife!
You won't believe what she said… I thought she was your cousin. Oh wow.
Mike and I aren't into public displays of affection, but he usually walks around the store with his arm around my waist or my shoulders, not to mention the fact that we both wear wedding rings. Plus we don't look a thing alike. And she'd seen us there together countless times (does anyone really spend as much time with a cousin as they do with a spouse?). Bottom line, I am hard-pressed to believe she actually thought Mike and I were cousins.
Since then, I didn't see her again for a very long time. That is, until one day when I was at the sub shop with my mom and sister. When it was our turn to order, my mom (who didn't know the story of the sub girl's unwaning love for my husband) said, Oh, hi S---! How's your mom, honey? What a twisted situation.
I had no idea that my mom knew her! Actually, as it turns out, I knew her too. My parents have known her uncle and parents since before I was born, and she's actually been to my parents' house for dinner before (granted, it was 15 years ago and there's no way she and I would have recognized each other now).
Later I told my mom what S had done and with a shocked/horrified expression on her face my mom exclaimed, I wonder what her mother would say about that! Ha! Me too, Mom.
Funnily enough, Mike and I went shopping late last night and she was our cashier! And she was sweet as pie. Even to me, lol.
I guess the moral of the story is don't hit on married men! You never know if their wives know your mother.
Inspiration for This Gingerbread Popcorn Recipe
So, about this Gingerbread Popcorn.
One of the reasons for our late-night trip to the store last night was that I was in the mood for what we call Dutch Windmill Cookies (or something similar, like Dutch Speculaas). They are crisp, deliciously warm-spiced cookies with almonds.
These wonderful cookies used to be sold in the bulk bin at my local grocery store. But alas, they were nowhere to be found when we went. We didn't leave the store empty-handed, but we didn't get anything close to these cookies either. I really wasn't in the mood for baking cookies, but I was still in the mood for those cookies. And then I had an idea.
I remembered my Butter Toffee Popcorn and started thinking about how to turn it into something that tasted like those spicy cookies. Molasses, warm spices, and toasted slivered almonds worked out quite nicely!
And bonus, if you're looking for an easy homemade holiday gift to make for co-workers/neighbors, this popcorn is perfect.
The Best Gingerbread Popcorn Recipe
Here's what you're going to love about this recipe:
Festive flavor. Butter, brown sugar, molasses, and warm spices give it the perfect amount of gingerbread flavor.
Nutty crunch. Just like in my favorite Dutch Speculaas Cookies, almonds add a deliciously nutty flavor and crunch factor here.
Easy to make. Unlike cookies, homemade popcorn is much quicker and easier to make! It's the perfect snack for your next holiday-themed movie night.
How to Store Homemade Gingerbread Popcorn
Store this popcorn in an airtight container at room temperature for up to 2 weeks. And if it gets stale, there's an easy fix! Simply spread it out on a large baking tray and warm it in an oven preheated to 200F for 10 to 15 minutes.
Variations on This Recipe
Play with the spices. Feel free to use more or less of the spices listed. Additionally, you can use other spices that you like as well! This is a good way to truly make this recipe your own.
Go nuts. If almonds aren't your thing or if you just like another type of nuts more, by all means, go with what you like.
More Homemade Popcorn Recipes to Try
Did you make this recipe? Please rate it and leave a comment below because I love hearing from you! You can also tag @anediblemosaic on social media. To stay up-to-date FOLLOW ME on Instagram, Twitter, and Facebook. Xoxo, Faith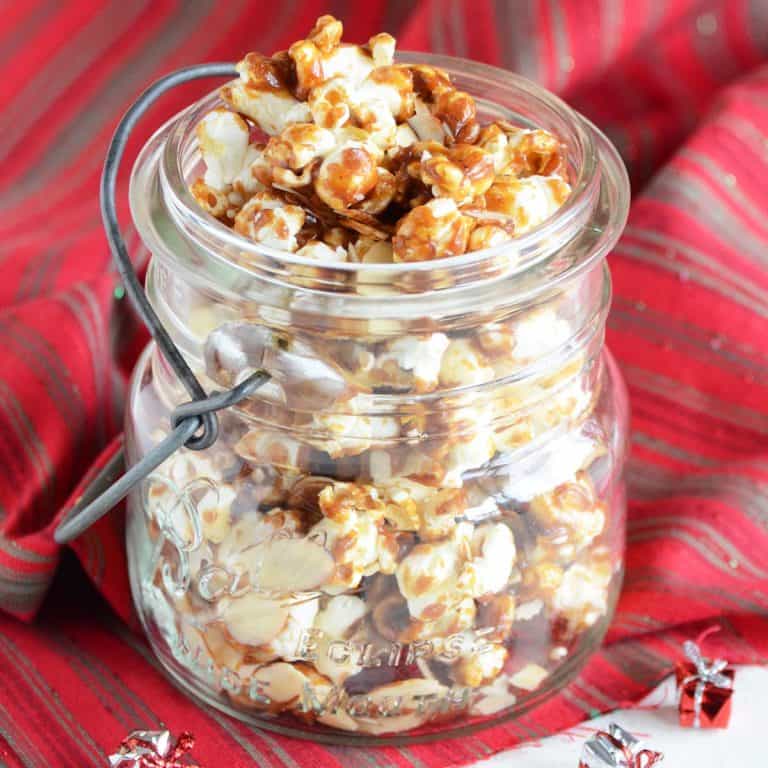 Gingerbread Popcorn
In this Gingerbread Popcorn recipe, sweet crunchy homemade caramel popcorn gets a festive twist with gingerbread spices and brown sugar!
Instructions
To Make the Stovetop-Popped Popcorn:
Add the oil and popcorn kernels to a 5-quart pot over medium heat.

Cover the pot and cook, shaking frequently, until the kernels are popped.

Remove the pot from the heat when you don't hear any more pops after 3 seconds.
To Make the Gingerbread Caramel and Gingerbread Popcorn:
Toss together the popcorn and almonds in a large bowl; set aside.

Line a large baking sheet with parchment paper or a silpat liner; set aside.

Sift together the baking soda, cinnamon, ginger, nutmeg, and cloves in a small bowl; set aside.

Cook the butter, sugar, molasses, water, and salt in a medium-sized, thick-bottomed saucepan over medium heat until the temperature reaches 305F (hard crack stage), stirring occasionally. Carefully stir in the vanilla and baking soda/spice mix.

Pour the toffee over the popcorn and use two heat-safe rubber spatulas to toss the popcorn around to distribute the toffee throughout. Spread the popcorn out onto the prepared baking sheet.

Let the popcorn cool and then break it apart; store in an airtight container at room temperature.
Faith's Tips
If Making This on a Hot and/or Humid Day: If it's a hot and/or humid day and the Gingerbread Popcorn is too sticky, you can dry it out in the oven. To do so, leave the popcorn on the baking sheet and bake it in a 200F oven for 20 to 30 minutes, tossing it every 10 minutes.
Store Gingerbread Popcorn in an airtight container at room temperature for up to 2 weeks.
If the popcorn gets stale, spread it out on a large baking tray and warm it in an oven preheated to 200F for 10 to 15 minutes.
Nutrition
Nutrition Facts
Gingerbread Popcorn
Amount Per Serving (1 cup)
Calories 296
Calories from Fat 162
% Daily Value*
Fat 18g28%
Cholesterol 20mg7%
Sodium 148mg6%
Potassium 244mg7%
Carbohydrates 32g11%
Protein 5g10%
Vitamin A 234IU5%
Vitamin C 1mg1%
Calcium 79mg8%
Iron 1mg6%
* Percent Daily Values are based on a 2000 calorie diet.
This post was first published on An Edible Mosaic on December 20, 2011. I updated it with more information on December 16, 2021.
Disclosure: This post contains Amazon affiliate links to products I believe in, which means that even though it doesn't cost you anything extra, I will receive a small amount of money from the sale of these items. Thank you for helping to support An Edible Mosaic!