After I made apple butter, I wanted to think of uses for it beyond toast. Then I thought about making this Oktoberfest-inspired chicken dish with the flavors of apples and onions. Served with scallion-mashed potatoes and salad greens, this is the perfect fall meal.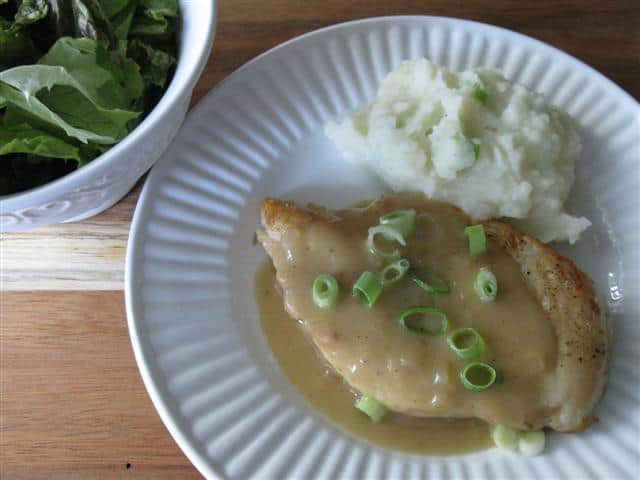 Chicken Cutlets with Apple-Onion Pan Sauce
(Yield: 4 servings)
4 chicken cutlets (4-6 oz each)
2 TB olive oil
3 TB flour, divided
2 TB butter
1 shallot or ½ small onion, minced
1 teaspoon to 1 TB apple cider vinegar (depending on how tangy you like it)
1 TB apple butter
½ teaspoon Dijon mustard
1 ½ c chicken stock
¼ teaspoon ground sage
Salt and pepper
Lemon juice to taste
Sliced scallions or chives (garnish)
Scallion-mashed potatoes and salad greens (for serving)
In a large skillet, heat the olive oil over medium-high heat. Sprinkle 1 TB flour and a little salt and pepper on both sides of the chicken cutlets. Add the chicken to the pan and cook about 4-5 minutes on each side or until sides are light golden brown and cooked through. Remove the chicken from the pan.
To the same pan, add the onion and sauté for 2-3 minutes until softened. Add the vinegar and use a wooden spoon to scrape up any dark bits from the bottom of the pan; let the vinegar cook off, then add the apple butter, mustard, stock, and sage. Turn the heat down to medium-low and let it cook. Meanwhile, in a separate small pan, melt the butter, then whisk in 2 TB flour and let it bubble for 1-2 minutes to make a roux. Whisk the roux into the sauce and cook until thickened (about 5 minutes). Turn off the heat and taste the sauce, then add salt, pepper, and lemon juice to taste.
Serve the chicken with sauce on top, garnished with a sprinkle of sliced scallions or chives. I like to serve this chicken with scallion-mashed potatoes and a green salad.