We have a couple of exciting All Through the Year Cheer announcements!
Over to the right, you might have noticed a banner for this event (we will change the look of the banner seasonally). Feel free to grab it and add it to your blog if you want!
On Oct. 28 I'll be posting a MckLinky list asking for your Halloween recipe submissions (the Mcklinky list will close on Oct. 29 due to spammers). With the MckLinky list, all you'll have to do is enter your blog link to your holiday recipe. Of course, if you don't have a blog or don't want to wait until the 28th to enter, you can just email me ([email protected]) with your recipe (a picture of your recipe is recommended, but is not necessary to enter). Don't forget, your recipes can be for anything that says Halloween to you!
Recipe submissions must be in by 9 PM EST on Oct. 29, so that Brandy and I have time to review them and choose a winner! There will be a roundup of the recipe submissions on Oct. 30, and at that time the winner will be announced!
The winner's prize has been determined! The winner will receive the following items...a cake pedestal (sorry, cake not included ;) ) and a springform pan set (the items will be shipped from Amazon directly to the winner):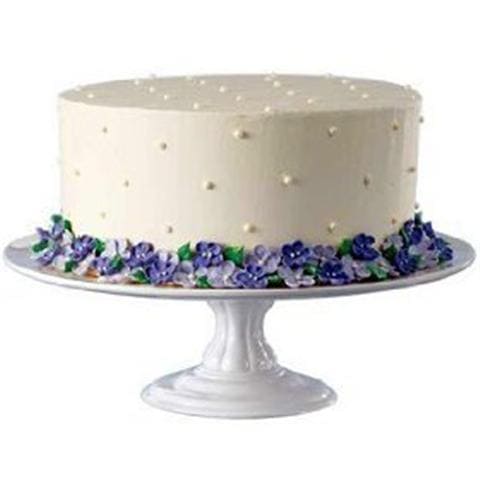 (Pictures from Amazon)
On to the apple butter! In the throes of apple season I'm always looking for new ways to use up my apples. This was the first time I had ever made apple butter, but I will definitely be making this a yearly tradition. Apple butter has a thick, creamy consistency and a deep, rich flavor, with spicy, floral, and almost caramel-like flavor notes. It can be used in infinite dishes…for a few of my favorite ways to use it, see the photos below!
A Note on How Many Apples to Use: A "peck" of apples is equal to one-quarter of a bushel of apples. A peck of apples weighs around 10-12 pounds, which ends up being about 40 average-sized apples. A peck yields about 30-36 cups of chopped apples.
A Note on What Kind of Apples to Use: I recommend using a mix of sweet apples. Using a variety of different apples gives the butter a well-rounded, fuller flavor, and the sweeter the apples are, the less sweetener you'll have to add later. A few apples varieties of sweet apples include the following: Golden Delicious, Gala, Fuji, Honeycrisp, Braeburn, Macoun, McIntosh, Mutsu, and Pink Lady.
A Note on What Sweetener to Use: You can use any sweetener you like, such as sugar, maple syrup, honey, agave nectar, stevia, etc. I suggest tasting the applesauce before you add any sweetener, then add sweetener to taste.
A Note on Grinding the Apples: Once the apples have turned into applesauce, they need to be ground into a smooth mixture. Some people like to use a sieve or food mill to do this. I prefer using a food processor or blender so that the skin isn't strained out, since removing the skin also takes away the nutrients and flavor that are in it. (Either method will work fine though.)
A Note on Cooking Down the Apple Butter: You can either use a crock pot (slow-cooker) or a large, thick-bottomed pot on the stovetop to cook down the apple butter. If you're using a crock pot: fill it ¾ full with apple butter, leave the lid slightly ajar so steam can escape, and cook it on low (there's no need to stir). It will need to cook about 10-12 hours in the crock pot. If you're using a large, thick-bottom pot: leave the lid slightly ajar so steam can escape and cook it on the lowest heat available on the stovetop, stirring frequently. It will take about 4-6 hours to cook on the stovetop. Whether you use a crock pot or the stovetop, the apple butter is done when it has reached your desired consistency (for me, the thicker, the better!).
Homemade Apple Butter
(Yield: About 5 pints (10 cups) of apple butter)
A peck of apples, washed, cored, and chopped…but not peeled (or about 5 quarts unsweetened applesauce)
1 TB ground cinnamon
¼ teaspoon allspice
¼ teaspoon fresh grated nutmeg
Pinch salt
Sweetener to taste
(1) Transfer the chopped apples to a huge, thick-bottomed pot (you can use more than one pot if all of the apples don't fit). Add a little water to the pot, cover it, and cook on medium heat (stirring occasionally) until the apples turn into applesauce (you should end up with about 5 quarts of applesauce).
(2) Grind the apples into a smooth mixture using a blender, food processor, food mill, or food sieve. (See note above.)
(3) Add the spices and salt to the ground apples, then add sweetener to taste. (See note above.)
(4) Transfer the apple mixture either to a large, thick-bottomed pot or to a large crock pot to cook down the apple butter until it reaches your desired consistency. (See note above.)
(5) You can preserve the apple butter by canning, or store it in the fridge. I've never tried freezing it, so I'm not sure how well it works…anyone who's frozen apple butter, feel free to leave a comment letting us know how well it freezes!