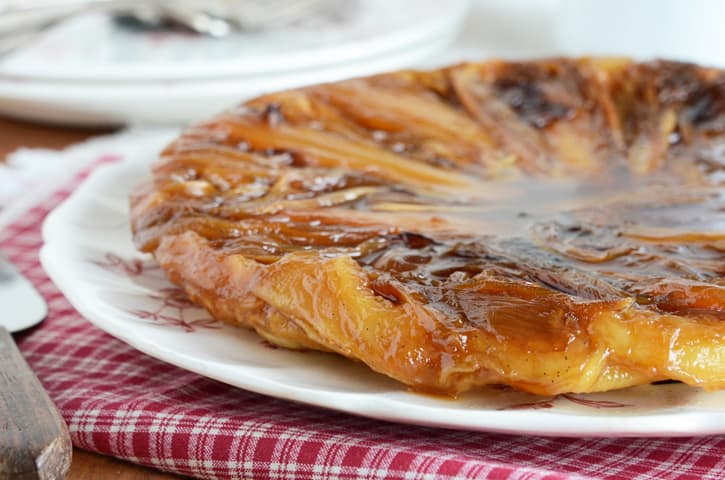 When a girl gets a huge box of endive, after she shares some of the loot with her neighbors and makes endive salad a couple times, what's she to do with it all? If your mind went to dessert, you are truly in good company.
Belgian endive in a dessert?, some of you might be asking (and you make a very valid point…I guess it's about as weird as salad for dessert, lol). If you've had it, you know that Belgian endive is quite bitter. But yes, I had my mind and heart set on making it into dessert.
Mike (albeit unknowingly ;) ) came to the rescue. A couple weeks ago he surprised me with three new cookbooks that he said he thought I'd enjoy. I was looking through Anne Willan's The Country Cooking of France when I came across a recipe for a savory endive tarte tatin. The idea had a few kinks in it (mostly since I wanted to make dessert, not a savory dish), but it was brilliant and provided just the inspiration I was looking for.
Luckily, a long braising process helps to mellow endive's bitterness (especially when the braising liquid is caramel). In addition to quite a bit of sugar, I balanced the endive's bitterness with salty (from salted butter) and sour (from lemon juice) flavors. Even with two cups of sugar the end result still had a hint of bitterness; it wasn't overwhelming though, and I was happy that the endive flavor wasn't completely lost.
I think a scoop of vanilla bean ice cream and a drizzle of the extra caramel sauce on top makes the perfect foil, but freshly whipped cream or crème fraîche would be fantastic as well.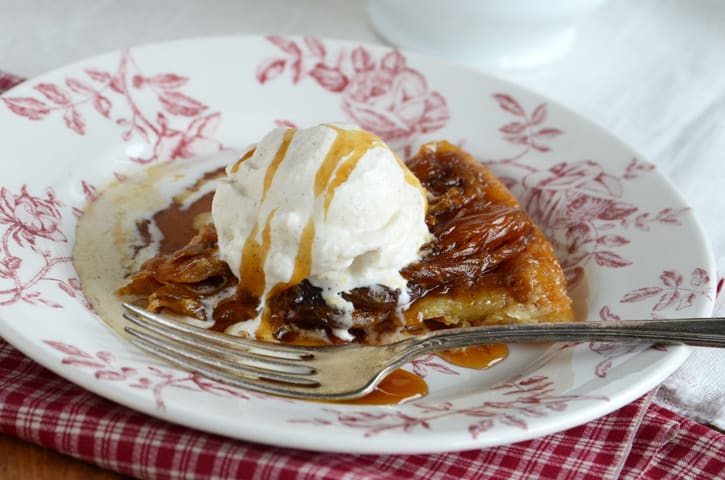 Belgian Endive Tarte Tatin (Inspired by Ann Willian's recipe for Tarte Tatin aux Endives in The Country Cooking of France, published by Chronicle Books LLC)
Yields 1 (10-inch) tarte
8 tablespoons salted butter, plus more for the pan
1 ¾ cups sugar
1 teaspoon vanilla bean paste
1 ½ lbs (about 6 heads) Belgian endive, ends trimmed and halved*
2 tablespoons lemon juice
1 sheet (about ½ lb) puff pastry, thawed if frozen and corners trimmed off
1 egg, lightly beaten with 2 teaspoons water (for eggwash)
Preheat oven to 350F.
Heat a 12-inch cast iron skillet over medium to medium-high heat; add the butter and once melted, add the sugar and the vanilla. Cook, stirring occasionally, until the sugar melts and turns amber in color (see my post on making homemade caramel for more explanation).
Lay the endive halves in the caramel cut side down, tightly packing so they all fit in the pan; sprinkle on the lemon juice. Bake (covered) 20 minutes, then flip each endive over and bake (uncovered) another 20 minutes, or until the endive is very tender.
Turn oven up to 400F and butter a 9-inch ovenproof skillet. Decoratively arrange the endive in the bottom of the buttered skillet. Boil the caramel sauce for a few minutes until it's reduced to about the thickness of cough syrup (the endive will have given off quite a bit of water); taste and add additional sugar as desired, heating and stirring to fully dissolve any added sugar. Add ¾ cup of the caramel sauce (reserving the extra sauce to serve with the tarte) to the pan with the endive, then place the trimmed puff pastry on top and tuck in any edges with a paring knife. Lightly brush the puff pastry with eggwash and cut 4 slits in the pastry so steam can vent.
Bake until the pastry is puffed and golden, about 20 to 25 minutes. Cool about 10 minutes before inverting the tarte onto a plate and serving. Serve with the reserved caramel sauce to drizzle on top, along with a dollop of whipped crème fraîche, whipped cream, or vanilla bean ice cream.
*I used Belgian endive that was grown in California that I received from Discover Endive – thanks, Discover Endive!