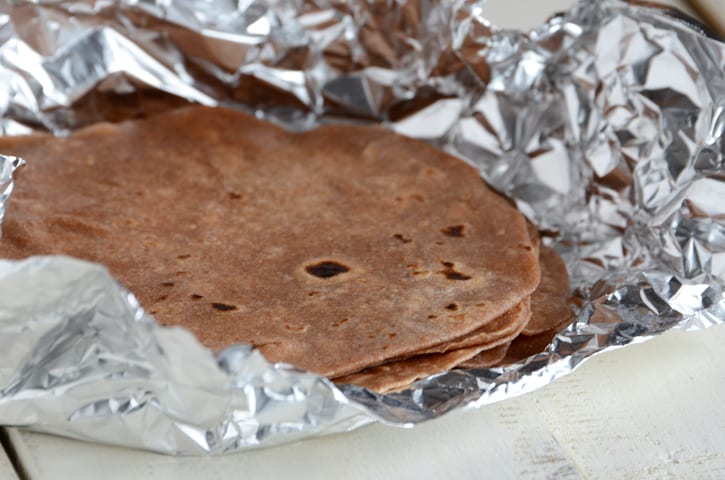 When I was trying to think of what to make for dinner for Mike and I the night before we left for a recent vacation, I noticed a jar of spicy cashew and cream sauce in the pantry that sounded pretty tasty (which it was, especially with chicken and a few veggies added in). To go along with it, I gave Mike a choice between rice and homemade bread. He's so sweet, at first he said whatever is easier…
Then he got a pensive, far-off look and asked if I minded making bread. I laughed, thinking that I'd much rather be making bread than cleaning/packing/doing laundry like I should be doing to get ready…so bread it was!
When it comes to Indian breads, Mike prefers chapatis but I prefer parathas (excluding naan of course…that's both of our favorite, but I didn't have time for that!). Chapatis are unleaved and taste like fresh flour tortillas. Parathas are like chapatis, but due to the addition of butter and a little bit of folding (kind-of like making croissants), parathas are flaky and buttery; of course, parathas are also a bit more work to make. In the end I chose to use chapati dough but add a bit of ghee (clarified butter) as a wink and a nod to parathas.
Chapatis (Adapted from the Best Ever Indian Cookbook's recipe for Chapatis; published by Hermes House)
Makes 8 chapatis
2 cups whole wheat flour
¾ teaspoon salt
¾ cup water
2 tablespoons melted ghee (clarified butter), plus more to brush on top once they're cooked (optional)
Whisk the flour and salt together in a large bowl. Mix with your fingers as you gradually drizzle in the water; once all the water is added, mix in 2 tablespoons melted ghee (if using). Knead the dough until it's supple and when poked with a finger the indentation remains, about 5 minutes. Wrap the dough in plastic wrap and let it rest 20 minutes at room temperature.
Divide the dough into 8 equal pieces. Use a rolling pin to roll out the pieces 1 at a time. I like to roll out a piece to a circle about 6 inches in diameter, then I gently lift up the dough (you can use a thin metal spatula if necessary) and very gently stretch it while rotating it, as if I were stretching pizza dough. Then I put it back onto the countertop and roll it out again, this time to a circle about 8 inches in diameter, and after that it's ready to cook. (If you added the ghee to the dough, you shouldn't need any flour to roll it out; otherwise, use a bit of flour.)
To cook the chapatis, heat a large cast iron skillet or griddle over high heat; once it's very hot, turn the heat down to medium-high and add a chapati. Turn the chapati over when it starts to bubble; cook until lightly browned in spots on the second side, then turn it back over onto the first side and cook a few seconds until the bubbles puff up. (This entire process for cooking 1 chapati should take about 2 minutes or less; if it's taking longer, your pan probably isn't hot enough.) Repeat this process with the remaining 7 chapatis.
As the chapatis are cooked, transfer them to a wire rack and lightly brush them with melted ghee (if using). Cool completely before stacking the chapatis.
To Reheat: Wrap the chapatis securely in foil and place in a 350F oven until warm, about 10 minutes.