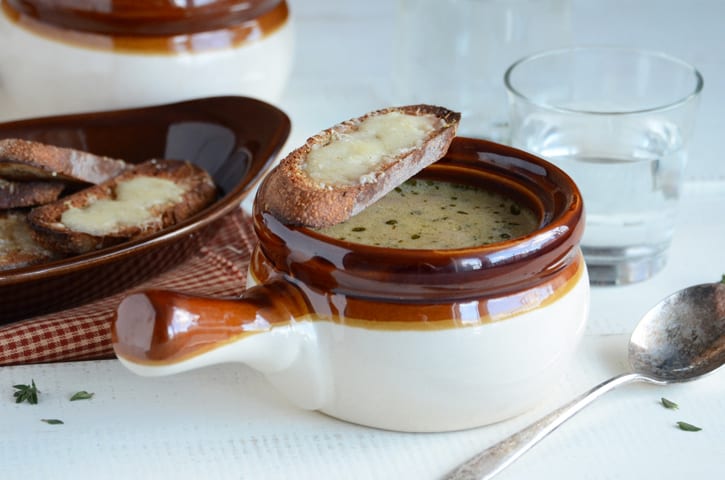 I know I recently posted a recipe for Creamy Potato Onion Soup, and even though they both have onion and cream in their titles, I promise this soup is nothing like it. This soup is actually just my French Onion Soup that I shared a while back with a couple twists: a touch of cream added at the end, a little garlic (because I love it in creamy soups), and instead of being gratinéed with bread and cheese on top, I made little cheese toasts for dunking.
I enjoyed this soup (I think the day I don't enjoy a recipe that has copious amounts of onion along with bread and cheese will probably be the day pigs fly), but you guys know how much I love you…so I have to come out and say it. I prefer my original version. :)
But don't let me deter you…choose for yourselves, my friends.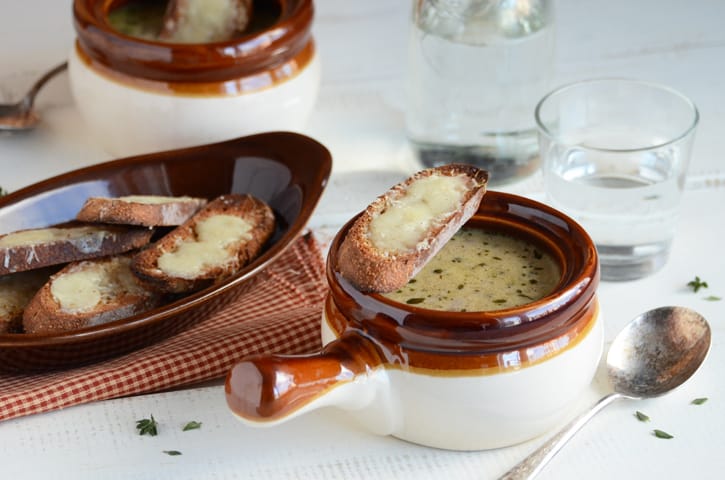 Creamy Onion Soup (Adapted from my recipe for French Onion Soup)
Serves 4 as a starter, or 2 as a meal along with a green salad
1 tablespoon unsalted butter
1 tablespoon olive oil
4 medium cooking onions, thinly sliced (about 4 cups sliced)
3 large cloves garlic, divided (2 minced and 1 peeled but left whole)
2 teaspoons minced fresh thyme leaves
1 bay leaf
3 cups beef stock
¼ cup heavy cream
About ⅓ of a hearty multigrain baguette (stale is fine), thinly sliced on a diagonal
3 oz Gruyère or Emmental cheese, grated
Salt and pepper
Heat the butter and oil in a medium, thick-bottomed pot over medium-high heat; once the butter is melted, add the onion and a pinch of salt and pepper, and stir to coat the onion with oil. Cook until the onion starts to soften and turn color, about 5 to 10 minutes, stirring occasionally. Lower heat to medium-low and cook until the onions are a rich caramel color, about 15 to 20 minutes, stirring occasionally. You can add a splash of water at any point if the onions start to stick to the pan too much. Add the minced garlic, thyme, and bay leaf, and cook 2 minutes more.
Add the beef stock and use a wooden spoon to scrape up all the brown bits from the bottom. Bring the soup up to a boil over high heat, then turn the heat down to low and simmer (uncovered) 15 minutes, stirring occasionally. Turn off the heat and stir in the cream; taste and season with salt and pepper as desired. Remove the bay leaf and discard.
Preheat the broiler. Broil the bread on both sides until light golden brown; cool slightly (so you can handle it) and then rub the remaining 1 whole clove of garlic on 1 side of each piece. Sprinkle the cheese on top of the bread and broil until melted (stay with it, this happens fast). Serve the cheesy bread along with the soup.