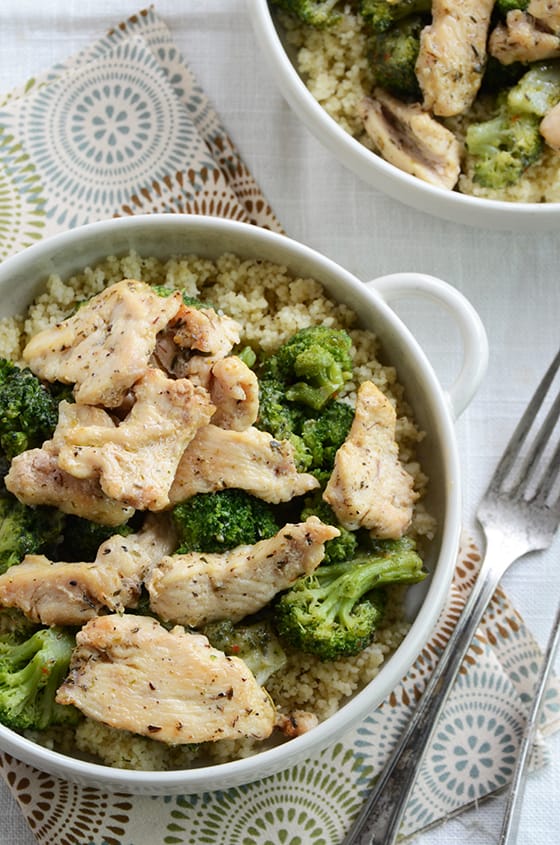 Let's talk a little about weekday lunches. (Because really, unless I have a lunch date out, lunch is usually my most boring meal of the day.)
During the week do you like to make lunches in the morning or the night before? I like the convenience of making them the night before so I don't have to rush around in the morning…but on the other hand, if it's a sandwich, I do like to whip it up on the morning of so it's fresher.
Leftovers are even better because not only do you get a hot meal at lunch without any extra effort, but they're great for using up stuff that's in the fridge that wouldn't necessarily be enough for another dinner. This dish is along those lines – a hot lunch that's worth making in its own right.
For me, the most time-consuming part of cooking is usually prepping fresh veggies. One of the reasons this meal comes together so quickly is because I used Green Giant Seasoned Steamers Tuscan Broccoli to make it. Not only was it quick, but it also added a ton of flavor.
There are so many reasons to love this recipe. It takes 10 minutes to make, start to finish (if you want to be technical, add another 5 to 10 minutes to clean up the kitchen afterwards, lol…but still, that's pretty great!). It serves 4 and each serving has a serving of veggies and lean protein to help keep you fueled for your day. It's delicious (I should probably move that to reason #1, right?). And again, it makes 4 servings, so even if you don't have 4 people to feed, it's perfect because you can have a hot lunch all set and ready to go for 4 days during the week. Which leaves one day open, so maybe you can splurge on lunch out on Friday. Sounds like a plan, doesn't it?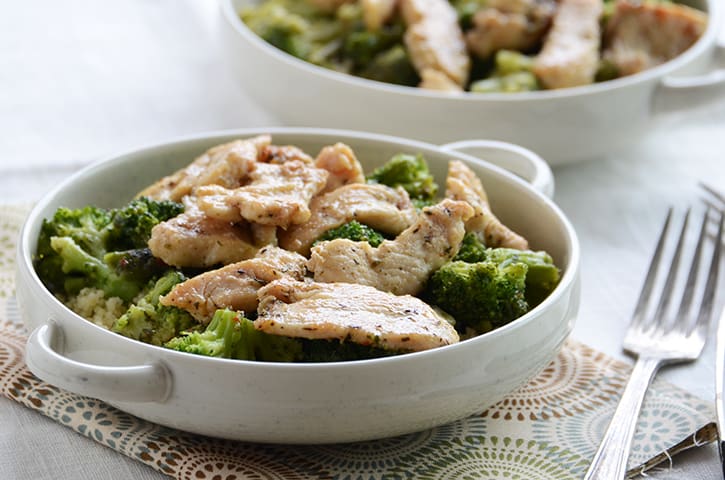 Chicken & Broccoli Lunch Bowl in 10 Minutes
Prep time:
Cook time:
Total time:
Ingredients
1 (13.5 oz) bag Green Giant Seasoned Steamers Tuscan Broccoli
1 cup water
1 cup couscous
1½ teaspoons dried Italian herb seasoning, divided
1 teaspoon onion powder, divided
1 teaspoon garlic powder, divided
½ teaspoon salt, divided
¼ teaspoon black pepper, divided
2 tablespoons olive oil
1 lb boneless, skinless chicken breast, thinly sliced
Instructions
Heat the broccoli in the microwave according to the package directions (this takes 5 to 8 minutes).
Bring the water to a boil in a medium saucepan; turn off heat and stir in the couscous, ¾ teaspoon Italian herb seasoning, ½ teaspoon onion powder, ½ teaspoon garlic powder, ¼ teaspoon salt, and ⅛ teaspoon black pepper. Cover the saucepan and let the couscous steam until tender, about 5 minutes.
Heat the oil in a large (preferably nonstick) skillet over medium heat. As the skillet heats up, season the chicken with the remaining ¾ teaspoon Italian herb seasoning, ½ teaspoon onion powder, ½ teaspoon garlic powder, ¼ teaspoon salt, and ⅛ teaspoon black pepper. Spread the chicken out evenly in the hot pan and cook until done, about 4 to 6 minutes, flipping once. (To check for doneness, cut a piece in half and make sure there is no pink.)
Get out 4 bowls; spread the couscous on the bottom of each bowl, then add the broccoli and top with the chicken. Serve hot or cool to room temperature and refrigerate to enjoy as lunches throughout the week (they reheat well in the microwave).
Seasoned Steamers™, a new line of Green Giant® vegetables, gives you unexpectedly delicious taste in every vegetable bite. These chef-inspired, seasoned vegetables come in six new varieties ranging from smoky roasted cues to ethnic inspired flavors. By roasting, seasoning and freezing individual pieces, our vegetables lock in flavor so delicious, your family will ask for more. In less than 8 minutes, your family can enjoy new Seasoned to Delicious™ Seasoned Steamers™.
Disclosure: Compensation for this post was provided by General Mills via Glam Media; such compensation did not influence the opinions expressed herein. The opinions expressed herein are my own, and are not indicative of the opinions or positions of General Mills.