Keep leftovers exciting with this Low-Carb Leftover Pot Roast Hash with Chimichurri-Inspired Sauce! Topped with a fried egg, it's perfect for any meal of the day.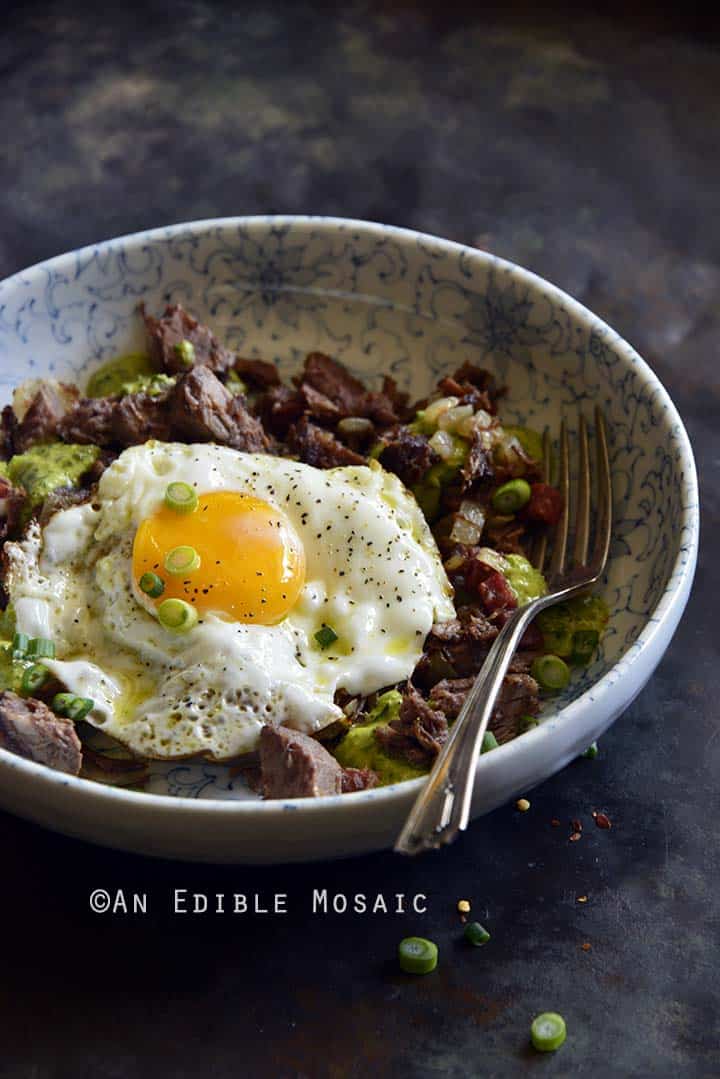 Pot roast is one of those perfect Sunday supper family meals; it's usually braised until the meat is fall-apart tender, and then served with classics like mashed potatoes and roasted carrots. And it's great for leftovers because they're easy to reinvent into completely different meals, like this Low-Carb Leftover Pot Roast Hash with Chimichurri-Inspired Sauce!
What Cuts of Meat Make Good Pot Roast
There are a few cuts that work well for pot roast:
Brisket:
Comes from the breast or lower chest; the brisket flat half is leaner and the brisket point half has more fat.
Round Roast:
Comes from the rump and hind legs (sometimes called the "beef hip").
Chuck Roast:
Comes from the shoulder area. Look for a 7-bone chuck roast, chuck eye roast, arm chuck roast (sometimes called a "shoulder clod"), blade chuck roast, chuck tender roast, top blade, or cross-rib chuck roast.
(Read more about different cuts of beef on Beef, It's What's For Dinner.)
Are Pot Roast and Roast Beef the Same Thing?
Pot roast and roast beef come from the same cuts of beef (brisket, round, or chuck), but the difference is in how they're cooked. Pot roast is cooked in liquid, such as stock, water, or wine, and roast beef is cooked dry. You can use either leftover pot roast or roast beef to make this hash.
How to Cook Pot Roast
Pot roast is typically braised in liquid (such as water, stock, or wine) and cooked low and slow in the oven, on the stovetop, or in a slow cooker (I've also cooked it successfully in a pressure cooker in a fraction of the time!). Before braising, it's common to sear the meat to get a lovely brown on the outside, which adds to the depth of flavor of the dish.
What To Do With Leftover Pot Roast
There are the usual delicious ways to use up pot roast, like soups/stews, tacos/burritos/enchiladas/quesadillas, shepherd's pie, sandwiches/grilled cheese melts, on top of salad, or tossed with pasta. And of course leftover pot roast makes a pretty delicious hash!
Making Leftover Pot Roast Into Hash
Leftover pot roast is very easy to make into hash, and it's a nice change of pace because it transforms it into a completely different meal so you don't get sick of leftovers! Because the meat is already fully cooked, the hash takes just minutes to make. I start by cooking onion and a little bit of chorizo in oil until the onion is softened, and then I add the pot roast and cook until warmed. You can skip the chorizo if you want, or use bacon/turkey bacon if you prefer (it's just to add a little depth of flavor). If you want to add more veggies to the mix, I think bell peppers, zucchini, or yellow summer squash would all be delicious.
This low-carb hash is then topped with an egg cooked any way you like; I prefer fried over easy, sunny side up, or poached because I love that runny yolk! And then the pièce de résistance, this whole shebang gets topped with a healthy drizzle of this chimichurri-inspired sauce!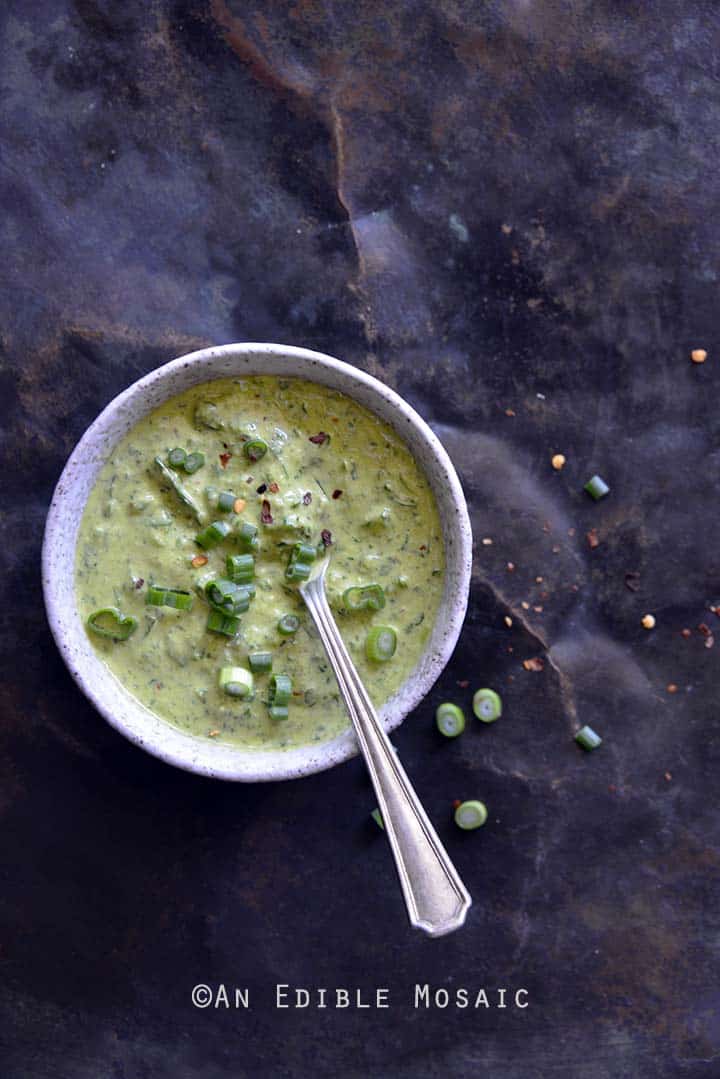 What is Chimichurri Sauce and Where Does it Come From
Chimichurri sauce is a raw herb condiment originating from Argentina and Uruguay. It's usually made from fresh parsley, oregano, garlic, salt, black pepper, olive oil, red or white wine vinegar, and sometimes red pepper flakes, cumin, cilantro, and/or onion. It's typically served along with grilled meat, steak in particular, but also chicken or fish. There are both green and red versions of this sauce, and tomato and red bell pepper may be added to the red version. My version isn't a traditional recipe, but you can read more about chimichurri sauce on Wikipedia, and check out Michelle Bernstein's traditional recipe for it on Food & Wine.
Other Low-Carb Hash Ideas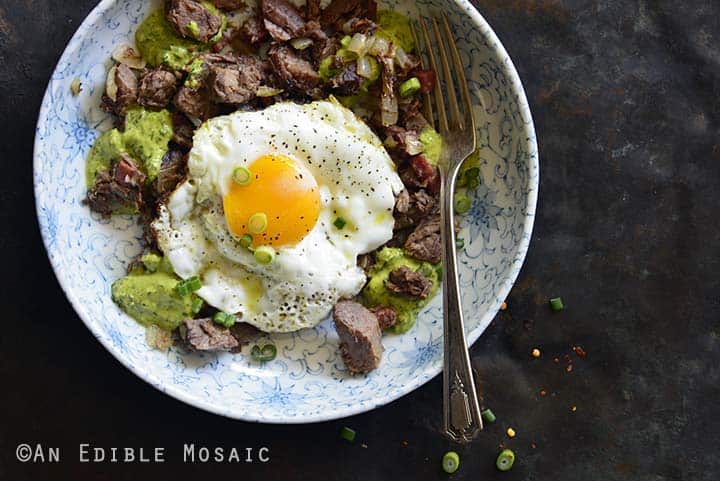 Low-Carb Leftover Pot Roast Hash with Chimichurri-Inspired Sauce
Prep time:
Cook time:
Total time:
Keep leftovers exciting with this Low-Carb Leftover Pot Roast Hash with Chimichurri-Inspired Sauce! Topped with a fried egg, it's perfect for any meal of the day.
Ingredients
Chimichurri-Inspired Sauce (yields about ½ cup sauce):
2 tablespoons red wine vinegar
4 tablespoons extra-virgin olive oil
1 large clove garlic, crushed
½ cup finely chopped fresh parsley
5 scallions, green and white parts, thinly sliced
¼ teaspoon ground coriander
¼ teaspoon ground cumin
¼ teaspoon dried oregano
¼ teaspoon salt
⅛ teaspoon crushed red pepper flakes
Leftover Pot Roast Hash:
1½ tablespoons olive oil
2 tablespoons finely diced chorizo (optional)
1 small onion, diced
2 cups (about 8-12 oz/227-340 g) cooked, cubed leftover pot roast
Other:
4 eggs, cooked any way you like
Sliced scallion or minced chives, for garnish (optional)
Instructions
For the sauce, add the vinegar, oil, and garlic to a food processor or blender and process until smooth. Add all remaining ingredients and pulse a few times just to combine. The sauce should be chunky, not completely pureed. You can make the sauce up to 1 day ahead of time, and keep it covered in the fridge; let it sit at room temperature for 20 minutes before using.
For the hash, add the oil, chorizo, and onion to a medium skillet over medium heat. Cook until the onion is softened and starting to brown, about 5 to 7 minutes, stirring occasionally. Add the pot roast and cook until warmed throughout, about 2 minutes more.
To serve, divide the hash between 4 plates. Top each with a fried egg and a sprinkle of scallion or chives on top. Serve along with the sauce to spoon on top.