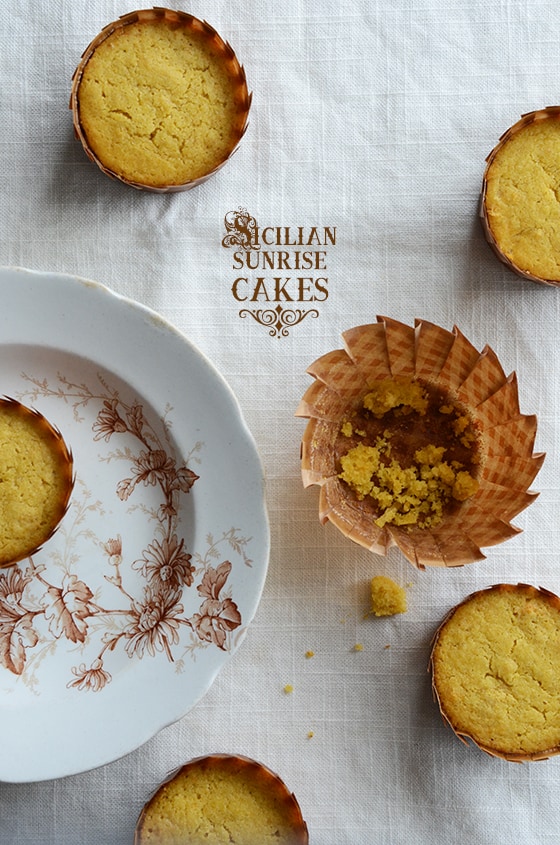 If you're a coffee drinker, I think you'll swoon over one of these cakes with your coffee. (But yes, they are wonderful paired with a cup of tea as well!) These golden sunshine-colored beauties get their lovely rich yellow color from cornmeal and pistachio or olive oil. They have a soft crumb that's subtly sweet, tender, and moist, and are faintly scented of sweet citrus and vanilla.
The "Sicilian" part of the name for this recipe comes from the fact that I used my Fiori di Sicilia-Inspired Syrup to sweeten these cakes. Remember, Fiori di Sicilia (or "Flowers of Sicily") is a floral vanilla-citrus essence used to make lovely treats like Panettone. The flavors also work wonders with cornmeal in these lovely muffins.
Pistachio oil is an uncommon ingredient, but when I spotted a bottle of it in my pantry (which was leftover from making Pistachio + Rosemary White Pizza), I couldn't help but use it here. If you don't have pistachio oil, you can substitute with extra-virgin olive oil or even a neutral-flavored oil, such as canola. If you go with something like canola oil, feel free to add 1 teaspoon pistachio, almond, or hazelnut extract to bump up the flavor.
Take a look through the ingredient list and you'll notice that these cakes are much healthier than a typical dessert cake; they're actually more like muffins, making them perfect for a breakfast treat along with some fresh fruit, as well as a pretty afternoon snack.
Sicilian Sunrise Cakes
Prep time:
Cook time:
Total time:
Yield:
About 10 jumbo-sized muffins
Ingredients
1 cup (115 g) whole wheat pastry flour
1 cup (140 g) yellow cornmeal
2 teaspoons baking powder
½ teaspoon baking soda
½ teaspoon salt
1 cup (240 ml) Fiori di Sicilia-Inspired Syrup
½ cup (120 ml) pistachio oil or extra-virgin olive oil
2 large eggs
¾ cup (180 ml) milk (I used 1%)
1 teaspoon pure vanilla extract
Instructions
Preheat oven to 400F; line 10 wells in a jumbo-sized muffin tray with paper liners (or butter and flour the wells).
Whisk together the flour, cornmeal, baking powder, baking soda, and salt in a medium bowl; set aside.
Whisk together the Fiori di Sicilia-Inspired Syrup and oil in a large bowl; whisk in the eggs, and then the milk and vanilla.
Pour the dry ingredients into the wet all at once, and stir until just combined, being careful not to over-mix.
Pour the batter into the prepared muffin tray and bake until a toothpick inserted inside comes out clean or with just a couple crumbs, about 20 to 25 minutes.
Notes
Other Sized Muffins or Loaves: You could also bake these in a regular-sized muffin tray, mini muffin tray, or loaf pans; if you do so, be sure to adjust the cooking time accordingly.