Today's post is dedicated to helping feed those in need.
We don't have to look as far as you might think to find hunger...did you know that in the U.S. nearly 1 in 5 children live in households that don't know where their next meal is coming from? That's 16.2 million kids struggling with hunger in this country alone.
Millions of Americans are limited to spending an average of only $3 to $4 per day on food through the food stamp program. With that in mind, I wanted to come up with a healthy dinner recipe to feed a family of 4 for $4 or less (not including the cost of pantry staples).
When I was thinking about a budget-friendly meal to make, making sure that it was a healthy, balanced meal was my top priority: I wanted to include lean protein, whole grains, and veggies. That is where the biggest challenge came in, since these items are typically the most expensive.
I wanted to make bean burgers, which are delicious and inexpensive, and I decided to use brown rice to supplement the protein in the beans; according to the National Nutrient Database for Standard Reference, 1 cup of cooked brown rice has just over 5 grams of protein, making it a pretty good source. (In this meal, on top of the protein from beans and brown rice, there's also protein from an egg and some spinach.) In addition to providing protein, brown rice serves double duty as a whole grain; for veggies, I used frozen spinach along with fresh tomatoes, a couple of onions, and garlic.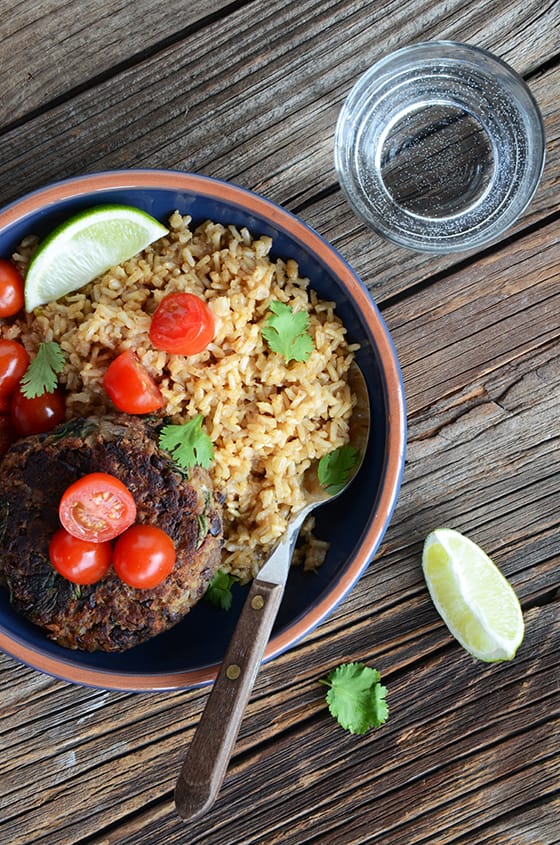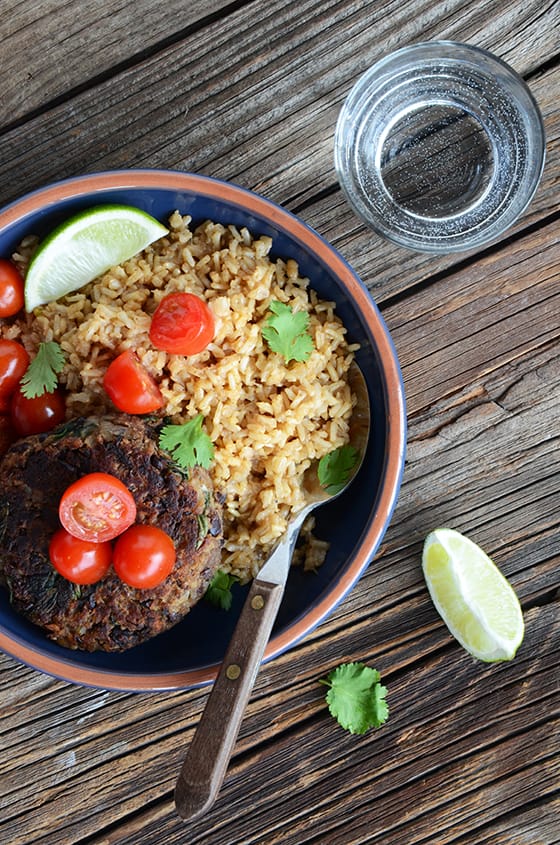 I've always known it, but for me, this challenge really drove home the point that fresh fruit and veggies are so expensive, especially compared with other less nutritious foods. For people who want to eat healthy but are following a strict monetary budget, how does what work out? Where do those two concepts – healthy and affordable – meet? And how can people eat healthy when it seems like they don't have enough money to do so?
With these considerations in mind while developing this budget-friendly healthy meal, I have a few money-saving tips I'd like to share:
Look at unit price. For example, a small package of rice might feed 4 people and cost $1.50, while a larger bag of rice might cost $1.99. At a first glance, it looks like the smaller bag is cheaper, right? Wrong – that's where unit price comes in. The larger bag of rice actually feeds 8 people. That makes it enough for 2 meals, so it's the more budget-friendly choice at a cost of about $1.00 per meal, instead of $1.50 per meal like the smaller package.
Buy in bulk. This is similar to looking at unit price. When I say "bulk", I'm referring to the bulk bins found in most grocery stores, and also the bigger quantities of packaged items, such as the large canisters of oatmeal instead of the single-serving oatmeal packs, the 18-pack carton of eggs instead of the 1-dozen, the gallon of milk instead of the half-gallon, etc. For example, the larger bag of rice that feeds 8 people that I talked about in the example above is also probably available in a 5 lb bag that makes 50 servings, maybe costing around $3.25, which brings the cost per meal for a family of 4 to just $.26 (or less than $.07 per 1 serving!), making it an even better bargain. In general, the larger the quantity, the cheaper the unit price will be, so your dollar stretches farther.
If you're willing to do a little extra work, you're likely to save quite a bit of money. Is possible, avoid buying pre-made or pre-prepared foods for the biggest savings. For example, when it comes to something like beans, dried beans are much cheaper (look at the unit price!) than canned beans. Although cooking dried beans is more time consuming, it is really easy to do and might be worth it for the savings. Another example is buying a whole chicken instead of a chicken that has already been butchered; this is usually much cheaper and easy to do with a little practice. In the end, it comes down to what you have more of – time or money. If time is a limiting factor, spend a little extra money, but if it's the other way around, do a little more work and spend less.
Be smart about your fruit and vegetables. For a healthy lifestyle, fruit and veggies should be a huge part of any diet, no matter what your budget is. Fresh, local, in-season veggies are usually cheaper, more nutritional, and better tasting; for the best bargains on in-season produce you may want to look beyond your grocery store to your farmers' market, local co-ops, etc. (Or make friends with a local farmer and buy their produce…or grow a small farm yourself!) If fresh fruit and veggies are just too pricey for your budget to buy all the time, you can supplement with frozen or canned. Some vegetables lend themselves very well to being canned or frozen; a few examples are: frozen spinach, frozen peas, frozen corn, frozen carrot, frozen green beans, frozen broccoli, frozen cauliflower, frozen Brussels sprouts, frozen squash, canned corn, canned tomatoes, canned mushrooms, and canned legumes (such kidney beans, pinto beans, cannellini beans, garbanzo beans, etc.). Most frozen fruit is pretty good quality too, just be sure to choose a brand you trust; I recommend keeping canned fruit to a minimum because it usually has quite a bit of sugar, but if you're going to buy it, look for "no-sugar-added" varieties. (And a tip buying canned veggies, I like to look for "no-salt-added" varieties.)
Be smart about your grains. Compare prices and when possible buy whole grains over processed grains. For example, at my local grocery store, brown rice and white rice are the exact same price, but brown rice is a whole grain; it's less processed and not stripped of its fiber, protein, vitamins, and minerals the way white rice is. You literally get more nutrition for the same amount of money.
When it comes to protein, shop smart for your meat and think outside the meat department for other protein sources. One of my favorite ways to save money when buying meat is to stock up on a large quantity of meat when an item goes on sale. I divide the meat into meal-sized packages (such as 1 or 1 ½ pounds), wrap each package in parchment paper and plastic freezer bags, and freeze (just be sure to label the packages). Also, a few of my favorite non-meat protein sources are: vegetables (like broccoli, peas and other legumes, mushrooms, spinach and other leafy greens, potatoes, and Brussels sprouts), dairy (like cheese – especially cottage cheese, yogurt, and milk), eggs, nuts, and whole grains (like brown rice, bulgur wheat, oats, and quinoa – although, yes, I know, technically quinoa is a seed related to leafy green veggies).
To shave some money off the cost of a recipe, skip the garnish and the spices. This isn't always true, but a lot of the time the garnishes I use are for color rather than flavor. If it just isn't in your budget and isn't something you use all the time, skip the parsley or cilantro as a garnish, which are usually sold by the bunch; the recipe probably only calls for a couple tablespoons anyway, and then you're going to be left wondering what to do with the rest of the bunch if it isn't something you use all the time. As far as spices go, even just salt and pepper (which just about everyone I know keeps on hand) will go a long way to season a dish. I keep a well-stocked spice pantry and make my own spice blends (like taco spice mix, pumpkin pie spice mix, shawarma spice mix, garam masala spice mix, etc.), so I always have spices on hand. If you have a little bit of extra money in your food budget, go ahead and buy a few different spices; if not, make do with what you have, even if it is just salt and pepper – but remember, adding garlic and onion to a dish is another great way to "spice" it up. Making your own spice mixes is actually another money-saving tip; you can buy the spices in bulk, which saves money when you look at unit price; and bonus, you can add more or less of whichever spices you want. Plus, many pre-made spice mixes have lots of added salt; by making the mix yourself you can control how much salt you add and you're not paying for salt at the price of spice.
I'm sure you have some money-saving tips – please share them in the comments below!
Back to this meal. Here are the ingredients I bought for it, along with their prices at my local grocery store. I considered all the other ingredients used in the recipe (like onion, garlic, oil, breadcrumbs, egg, salt, pepper, and other spices) to be pantry staples, so I didn't include them in the cost. Remember, if need be for this meal you can skip the garnishes and the spices (except the salt and pepper).
1 (16 oz) can black beans: $0.79 (you can spend even less money on beans if you buy dried black beans and cook them yourself)

1 (16 oz) bag long-grain brown rice: $0.99 (you will only need ½ of the bag for this meal, so $0.50)

1 (16 oz) bag frozen cut-leaf spinach: $0.99 (you will only need ¼ of the bag for this meal, so $0.25)

1lb fresh tomatoes: $2.29
That brings the total to $3.83 for the meal, and don't forget, it makes 4 servings so it works out to just $.96 per serving. I think that's pretty amazing. It's less than the cost of a single item off the dollar menu at a fast food restaurant, and this meal is not only filling, but nourishing.
Working on this post was an eye-opening challenge for me, and if this is something my readers are interested in, I would like to share budget-friendly healthy meal ideas more frequently. Feel free to let me know in the comments below or send me an email if this is something you'd like to see on An Edible Mosaic.
So, what can you do to help? I'm glad you asked.
The best way for hunger to be eliminated in America is if policies change, so it's important we make our voices heard.
Please ask Congress to support anti-hunger legislation. It will take less than a minute to fill out this form! Then please ask as many people as you can to do the same.
Also, there's a documentary from Participant Media (the same company that brought us Food Inc.) called A Place at the Table that follows three families struggling with food insecurity. It shows just how real the issue of hunger is here in the U.S. If you have the time, please see the film either in your city or on demand through iTunes or Amazon.
The movie trailer can be found on this page if you want to take a look.
Please do what you can, and together hopefully we'll make a difference.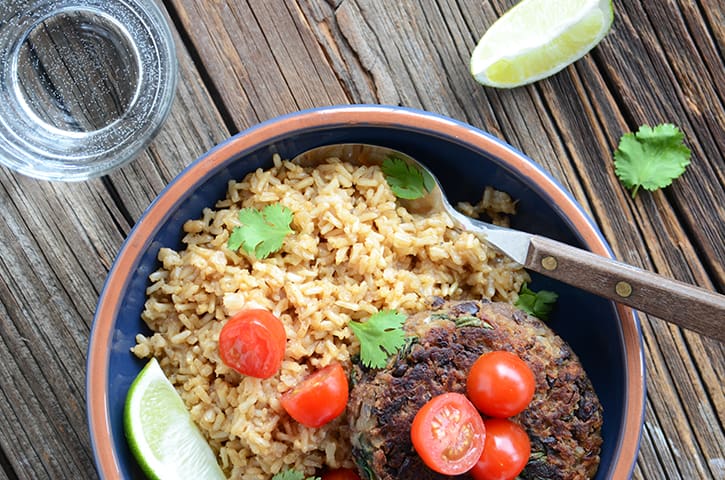 Black Bean Burger Dinner
Ingredients
Brown Rice:
1 cup (200 g) long-grain brown rice
2 tablespoons olive oil
1 medium-large onion, diced
1 teaspoon salt
½ teaspoon ground smoked paprika (optional)
¼ teaspoon ground black pepper
1 bay leaf (optional)
2 cups (475 ml) boiling water
A small handful of cilantro leaves and/or a couple fresh lime wedges, for garnish (optional)
Black Bean-Spinach Burgers:
2 tablespoons olive oil, plus about 2 tablespoons more for shallow frying
1 medium-large onion, diced
3 large cloves garlic, minced
4 oz (115 g) frozen cut-leaf spinach, thawed and squeezed to remove excess water
1 (16 oz/455 g) can no-salt-added black beans, rinsed and drained
1½ teaspoons ground cumin (optional)
½ teaspoon salt
½ teaspoon ground coriander (optional)
½ teaspoon ground smoked paprika (optional)
¼ teaspoon ground black pepper
1 large egg, lightly beaten
½ cup plain Panko breadcrumbs (or any kind of breadcrumbs you like)
Basic Tomato Salad:
1 lb (455 g) tomatoes, any kind you like, chopped into bite-sized pieces (I used grape tomatoes)
1 teaspoon lemon juice (optional)
1 pinch each salt and pepper
Instructions
For the Brown Rice:
Soak the rice in tepid water for 15 minutes; drain. While the rice is soaking, put half a kettle of water on to boil.
Add the oil to a medium, thick-bottomed lidded saucepan over medium heat; once hot, add the onion and cook until softened but not browned, about 3 to 5 minutes, stirring occasionally.
Add the rice and cook until it smells nutty, about 2 minutes, stirring frequently.
Add the salt, smoked paprika, black pepper, bay leaf, and boiling water. Turn the heat up to high and bring it to a rolling boil.
Give the rice a stir, then cover the saucepan, turn the heat down to low, and cook until tender, about 45 minutes (do not open the lid during this time).
Turn the heat off and let the rice sit (covered) 15 minutes, then fluff with a fork.
For the Black Bean-Spinach Burgers:
Make the burgers while the rice cooks. To do so, heat the oil in a large skillet over medium heat; once hot, add the onion and cook until softened but not browned, about 3 minutes, stirring occasionally. Add the garlic and spinach and cook 1 minute more, stirring constantly. Transfer to a large bowl and cool until just lukewarm.
Add the beans and coarsely mash them with a potato masher. Stir in the spices and then the egg. Add enough breadcrumbs so the mixture comes together loosely and holds its shape when formed into patties (for me, this was exactly ½ cup Panko breadcrumbs). Shape the mixture into 4 patties.
Lightly coat the bottom of a large (preferably nonstick) skillet with oil; heat over medium-high heat. Once hot, add the burgers and cook until golden on both sides, about 6 to 8 minutes, flipping once.
Transfer the patties to a paper towel-lined plate to drain any excess oil.
For the Basic Tomato Salad:
Combine all ingredients in a medium bowl.
To Serve:
Divide the rice between 4 plates and top each with a black bean burger and ¼ of the tomato salad. If using, sprinkle on the cilantro and serve with the lime wedges to squeeze on top.
The statistical information in this post is from Share Our Strength's No Kid Hungry and Giving Table's Food Bloggers Against Hunger.