I made these muffins a long time ago. So long ago that I almost forgot what they taste like.
So long ago that it was before I cut myself off from biscoff spread, realizing it was just a little too dangerous to keep in my pantry.
What I do remember about these muffins is that they were a big hit. I took them to my parents' house for Thanksgiving brunch last November and they were one of the first things to disappear, along with a ginger-vanilla tropical fruit salad (yeah, that was really yum too).
I wanted to make these a bit healthier than the average biscoff muffin by using whole wheat pastry flour instead of all-purpose, increasing the oats, and upping the apples, which also helps keep these muffins moist. So even though they'd be great for dessert, these muffins also work well as a special occasion breakfast, especially if you pair them with a bowl of fruit and/or a couple of eggs. Just be warned that this recipe makes a ton of muffins so it's perfect for feeding a crowd; however, even if you're not cooking for a crowd, the ingredient amounts in this recipe are easy enough to cut in half.
When serving them, I like to split these muffins in half, thinly spread with butter, and grill until light golden brown on a griddle. Then once they're golden and toasted, spread on a thin layer of jam or, dare I say it, biscoff spread, and get ready to vow to cut yourself off like I did.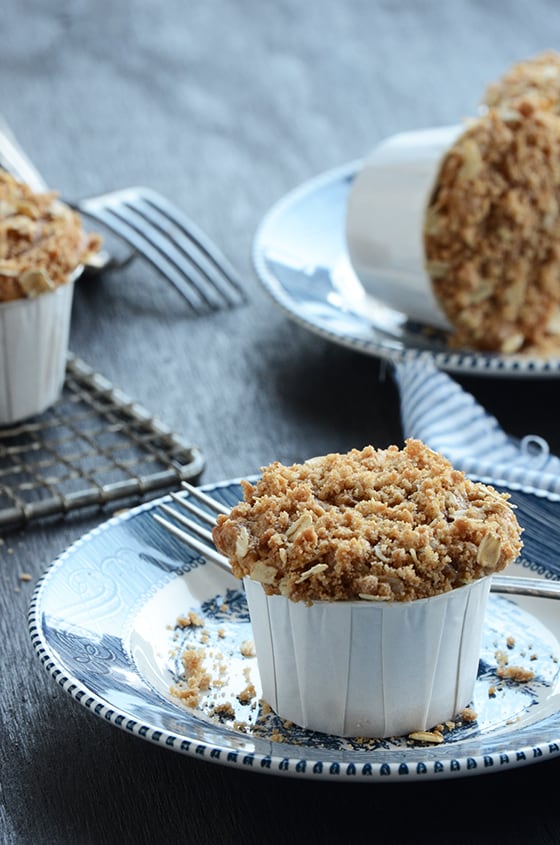 Biscoff Muffins with Coffee Cake Crumble Topping
Prep time:
Cook time:
Total time:
Ingredients
Crumble Topping:
4 tablespoons (60 g) biscoff spread
4 tablespoons (55 g) brown sugar
½ teaspoon pure vanilla extract
2 tablespoons (15 g) whole wheat pastry flour (or all-purpose flour)
4 tablespoons (20 g) old-fashioned rolled oats
¼ teaspoon ground cinnamon
⅛ teaspoon salt
Muffins:
2 cups (230 g) whole wheat pastry flour (or all-purpose flour)
½ cup (40 g) old-fashioned rolled oats
2 teaspoons baking powder
1 teaspoon ground cinnamon
½ teaspoon salt
¼ teaspoon baking soda
¼ teaspoon ground nutmeg
¼ teaspoon ground cardamom
2 large eggs
½ cup (105 g) light brown sugar, lightly packed
½ cup (120 g) biscoff spread
½ cup (120 ml) milk (I used 1%)
½ cup (115 g) plain, low-fat yogurt
2 medium sweet apples, washed, cored, and grated (not peeled)
1 teaspoon pure vanilla extract
Instructions
Preheat oven to 400F; line 2 muffin trays with 20 to 24 paper liners (or butter and flour the muffin wells).
For the crumble topping, use a fork to cut together the biscoff spread and brown sugar in a medium bowl. Mix in the vanilla, then the flour, oats, cinnamon, and salt until the mixture resembles coarse meal with some pieces the size of peas.
For the muffins, whisk together the flour, oats, baking powder, cinnamon, salt, baking soda, nutmeg, and cardamom in a medium bowl. Beat together the eggs and brown sugar in a large bowl, then cream in the biscoff spread; stir in the milk, yogurt, apples, and vanilla. Pour the dry ingredients into the wet all at once and stir just to combine, being very careful not to over-mix (a few lumps or streaks of flour are fine).
Fill each muffin well about ⅔ full with batter, then divide the crumble topping on top. Bake until a toothpick inserted inside comes out clean but still moist, about 18 to 20 minutes.