A couple weeks ago I was stuck in a recipe rut. You know how it goes with dinner…sometimes you feel inspired to make a different meal each night for two weeks, and then other weeks you make the same thing for four nights in a row. (Lol, ok, maybe it's just me who does that.) In any case, Mike and I were both ready for something new when the idea for this recipe struck me one night when I saw the fixings for a salad along with a little bit of leftover meat in my fridge, and a sheet of puff pastry in my freezer.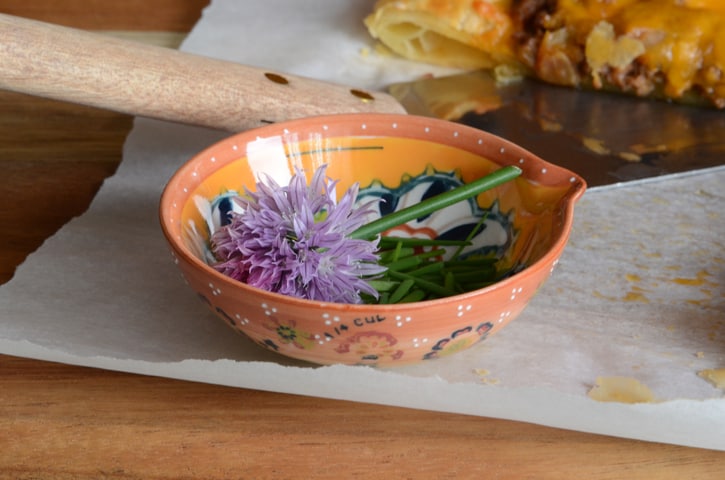 I based this recipe on flavors you would find in a classic cheeseburger. Instead of putting ketchup and mustard on top of the burger, it's part of the seasonings for the meat (along with Worcestershire sauce and steak seasoning, mainly because I can't remember the last time I made beef and didn't season it with these two things…really, these seasonings are that good with beef). Cheddar cheese is melted on top of the pie, and then once it's out of the oven, lettuce, tomato, and a (homemade!) creamy garlic and chive dressing go on top. (And I served it with dill pickles, of course…for me, the pickles make the burger. ;) )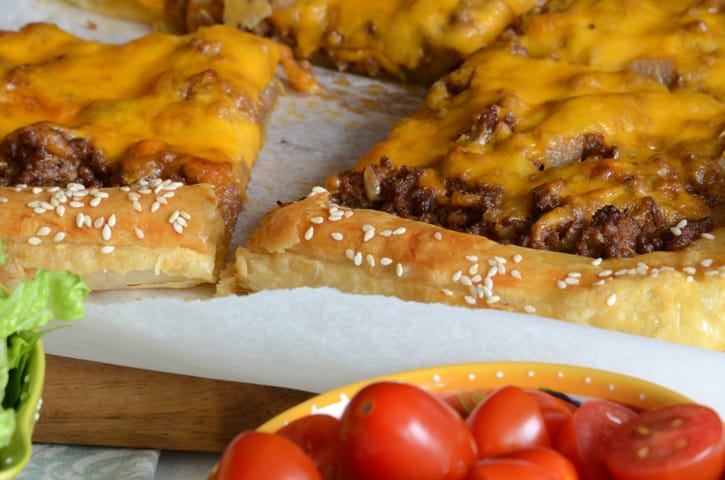 Not only does this make a quick and easy meal, but my favorite part (as far as the cute factor goes) is the crust. I decided to brush on some eggwash and sprinkle on some sesame seeds to make it look like a cheeseburger bun. Adorable, right? (And heads up, kiddos love it too!)
A Note on the Meat: You could substitute any kind of ground meat you like for the beef, such as ground turkey or chicken. Or soy crumbles would probably work great too. Or if you want to go green (pardon the pun), cook up some greens (any kind you like…spinach, kale, chard, collard, etc.) and use them instead.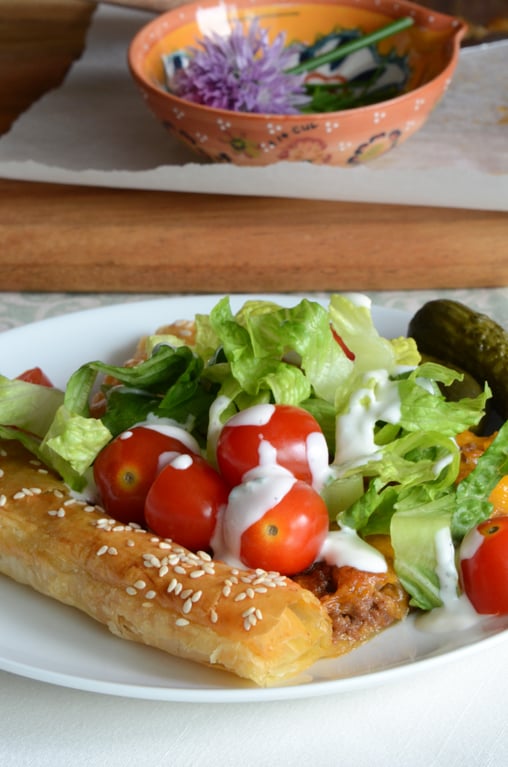 Cheeseburger Pie
Serves 4
1 sheet (½ lb) puff pastry
1 tablespoon olive oil
1 medium onion, diced
½ to ¾ lb 95% lean ground beef*
2 cloves garlic, minced
2 tablespoons ketchup
1 tablespoon yellow mustard
1 tablespoon Worcestershire sauce (I use Lee & Perrins)
½ teaspoon steak seasoning**
4 oz sharp Cheddar, shredded
1 egg beaten with 1 tablespoon water (for eggwash)
1 teaspoon sesame seeds
2 cups chopped Romaine lettuce (or any lettuce you like)
½ cup cherry or grape tomatoes, halved
Creamy Garlic & Chive Dressing (recipe below)
If frozen, thaw the puff pastry at room temperature for 40 minutes. Preheat oven to 375F and line a baking sheet with parchment paper.
Add oil to a medium saucepan over medium heat; once hot, add onion and cook until starting to soften (about 5 minutes). Add beef and cook until brown, then add garlic and cook 1 minute. Add ketchup, mustard, Worcestershire, and steak seasoning and cook until the liquid is evaporated (about 3 minutes). Cool completely.
Unfold puff pastry so that it forms a 9- by 10-inch rectangle (or roll it out with a light dusting of four so that it forms a rectangle this size), and place pastry on top of prepared baking sheet. Spread the cooled meat mixture on the pastry (leaving a 1-inch border all the way around), and sprinkle the Cheddar on top.
Lightly brush the border with eggwash (you will have extra eggwash) and sprinkle on sesame seeds. Bake about 20 minutes, or until the pastry is puffed and golden.
Cool slightly before cutting, then top with lettuce, tomato, and a drizzle of Creamy Garlic & Chive Dressing.
*If you use meat with more fat than this, drain off the fat after browning.
**The steak seasoning I use contains sea salt, coarse-ground black pepper, coriander seed, mustard seed, dill seed, and red pepper. It won't have exactly the same flavor, but in a pinch you could use a scant ½ teaspoon seasoned salt and ⅛ teaspoon black pepper.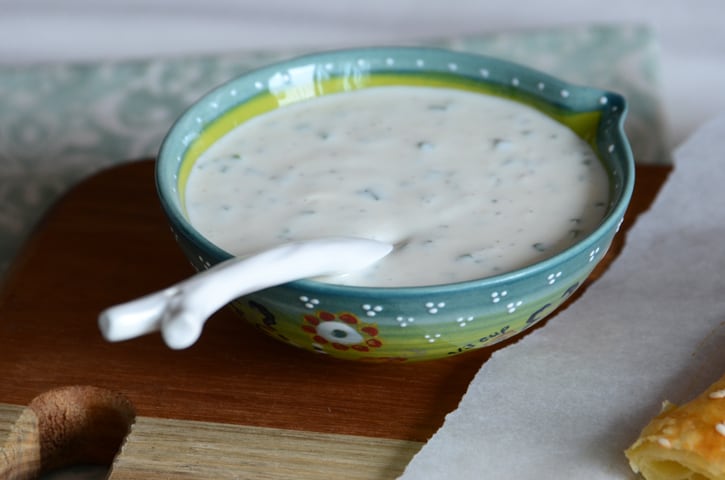 Creamy Garlic & Chive Dressing:
Yields about ⅓ cup
¼ cup plain yogurt
2 tablespoons mayo
1 tablespoon minced fresh chives
1 small garlic clove, grated (or ¼ teaspoon garlic powder)
Pinch salt and pepper
Whisk together all ingredients; store refrigerated until serving.
I'm sending this recipe off to Get Grillin' with Family Fresh Cooking and Cookin' Canuck, sponsored by Ile de France Cheese, Rösle, Emile Henry, Rouxbe and ManPans!