I usually like to save the best for last, but since today is Mother's Day I wanted to share the crowning jewel of my Mother's Day Menu…dessert! Strawberries and cream are a classic summer combination; I wanted to do a new twist on an old classic and so this cake was born. I based this recipe on my double-crusted cheesecake (which was featured here on Delish…yay!). This cake is light and fresh and very summery with the strawberries; it's the perfect ending to a beautiful Mother's Day (or any summertime) meal.
Happy Mother's Day!
Strawberries & Cream Cake
(Yield: 1 cheesecake)
Oatmeal-Almond Crust:
⅔ c lightly packed brown sugar
1 c all-purpose flour
1 c whole wheat flour (or all-purpose flour)
1 ½ c rolled oats
1 c almond meal/flour (I used Bob's Red Mill)
1 teaspoon pure vanilla powder
1 ½ sticks salted butter, melted
Strawberry Filling:
1 quart (4 c) fresh strawberries, washed, hulled, and sliced
⅔ c sugar (more or less depending on your preference and how sweet your berries are)
3 TB cornstarch dissolved in 4 TB cold water
1 teaspoon lemon juice
Cream Filling:
8 oz Neufchatel cheese, at room temperature
2 large eggs
⅔ c sugar
1 teaspoon vanilla bean paste
2 teaspoon lemon juice
Butter (to grease the pan)
Springform baking pan
Preheat the oven to 375F. In a large bowl, whisk together all dry ingredients for the crust, then use a fork to mix the melted butter into the dry ingredients. The mixture should have some lumps that are about the size of peas (you might find it easiest to use your hands to gently crumble the mixture until it has the right consistency). Lightly grease the bottom and sides of the springform pan with butter. Pour about ⅔ of the crust mixture into the greased cheesecake pan and reserve the other ⅓ for the topping. Use a glass to help you press the mixture down evenly in the pan (press just firmly enough so that the mixture is loosely compacted). Bake the crust for 8 minutes.
Use a mixer to combine the Neufchatel cheese and eggs (adding one egg at a time); then beat in the sugar, vanilla, and lemon juice until everything is just incorporated. Pour the Neufchatel mixture into the pre-baked crust and bake for 12-15 minutes (just until the cheese is starting to set).
In a medium pot over medium heat, simmer the berries, sugar, and ¼ c water (covered) for about 10 minutes. Dissolve the cornstarch in cold water and add it to the berries, stirring constantly. Boil for about 2 minutes, then stir in the lemon juice.
Once the cheesecake is starting to set, remove it from the oven and spread the berry mixture on top; bake for 5 minutes. Remove it from the oven and evenly sprinkle the remaining crust mixture on top of the berry layer. Bake for another 15 minutes, or until the topping is golden brown and the sides are bubbling up.
Allow the cheesecake to cool completely to room temperature and then refrigerate for 2 to 4 hours before cutting and serving (4 hours is preferred).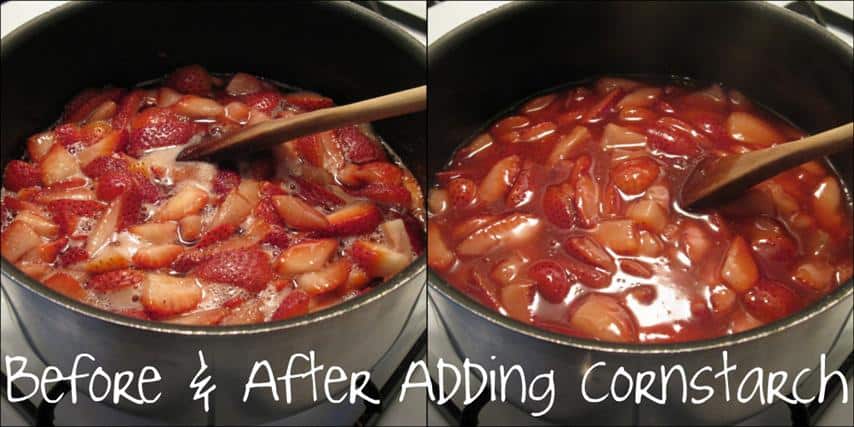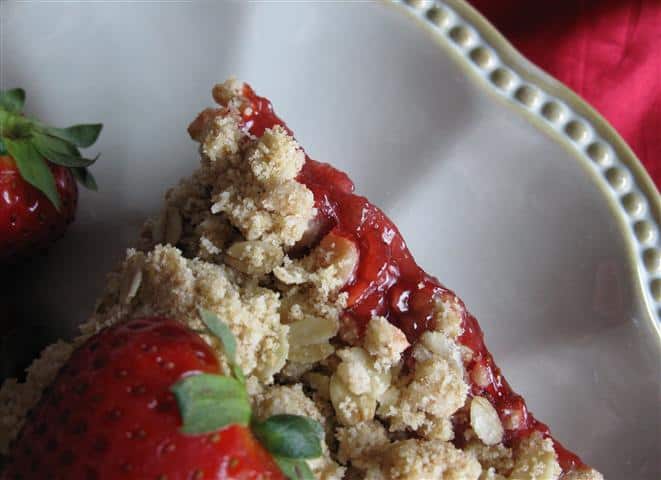 I want to thank you all of you who participated in my last giveaway. It was interesting to see which dishes are the toughest to clean...it looks like eggs and cheese are two of the worst culprits! I used a random number generator to determine the winner…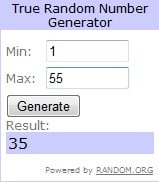 A huge congratulations goes out to Sheila P! Please email me your address and I'll send out your prize.