"You want to make potato salad again?", Mike asked me one day.
We were headed to a potluck pool party later that day and he was apparently sick of potato salad. (I can't blame him though; I brought our favorite potato salad to three different parties in the past month! Truth be told, I'm a little sick of potato salad too.)
I conceded to his request for something different, and set out to come up with a more interesting side dish.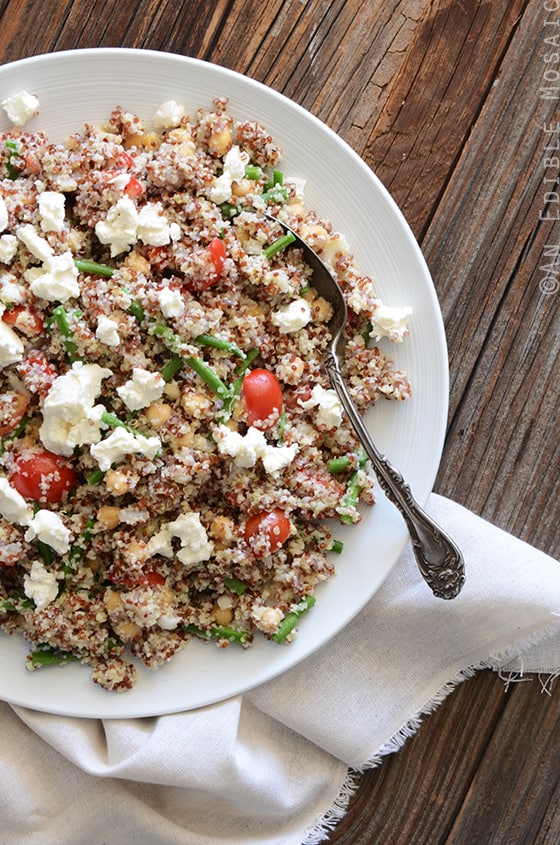 After a quick rummage through my pantry, I found the last of a bag of bulgur wheat and the last of my quinoa. Red wine vinegar, olive oil, oregano, and garlic called to me for the dressing, and when I saw that I had feta and chickpeas on hand, I knew I wanted to put a little bit of a Greek spin on this dish.
I had just enough beautiful green beans in the fridge to make it worth adding them to this salad. I just trimmed and chopped them, but since they were super sweet and I like them crispy, I didn't bother blanching them. If you'd like to blanch your green beans before adding them to this salad, add the beans to a pot of boiling salted water and cook them until crisp-tender, about 2 to 3 minutes, then immediately drain the beans and plunge them into an ice water bath.
The potato salad crisis was averted and all bellies were happy with this salad. It's hard not to love something that combines bold Greek flavors with fresh, ripe produce and hearty whole grains (and yes, I know quinoa technically is a seed, not a grain; as per Wikipedia, it's a pseudocereal that's actually related to spinach, if you can believe that!).
This salad is just light enough so you won't feel stuffed, and just heavy enough to keep you satisfied; plus, it works perfectly as a light summer meal instead of just a side dish.
What are some of your favorite side dishes for summer gatherings?
Two-Grain Vegetable Salad with Chickpeas and Feta
Prep time:
Cook time:
Total time:
Ingredients
Salad:
1 cup (190 g) fine-ground bulgur wheat
1 cup (190 g) Bob's Red Mill Organic Red Quinoa
½ teaspoon salt
1 medium white onion, diced
2 cups (280 g) diced tomato
8 oz (230 g) fresh green beans, washed, stems trimmed, and chopped into 1-inch pieces
1 (16 oz/450 g) can no-salt-added chickpeas, rinsed and drained
3½ oz (100 g) feta cheese, crumbled
Dressing:
4 tablespoons (60 ml) extra virgin olive oil
6 tablespoons (90 ml) red wine vinegar
2 medium cloves garlic, grated on a microplane or crushed using a mortar and pestle
¾ teaspoon dried oregano
½ teaspoon salt
⅛ teaspoon black pepper
Instructions
Put the bulgur in a large bowl and pour 2 cups (475 ml) of hot water on top; soak until softened, about 10 minutes. Drain the bulgur in a fine mesh sieve, pressing with the back of a spoon to extract the excess water. Fluff the bulgur with a fork.
Meanwhile, place the quinoa in a sieve and run under cold running water for about 1 minute. Bring 2 cups (475 ml) of water and the ½ teaspoon salt to a boil in a medium saucepan with a tight-fitting lid. Add the quinoa and bring back up to a boil; cover, reduce heat to medium, and simmer until liquid is absorbed, about 12 to 15 minutes. Remove from heat and fluff the quinoa, then cover the pot and let it sit for 15 minutes covered. Uncover the pot and let the quinoa cool.
Whisk all ingredients for the dressing together in a large bowl. Gently toss in the onion, tomato, green beans, and chickpeas. Taste and add additional salt, pepper, oil, and/or vinegar as desired.
Refrigerate until ready to serve. Right before serving, spread the salad out onto a platter and top with the crumbled feta.
Disclosure: I received the quinoa that I used in this recipe for free from Bob's Red Mill. I did not receive compensation for this post and I was under no obligation to review the product; as always, opinions stated are my own.