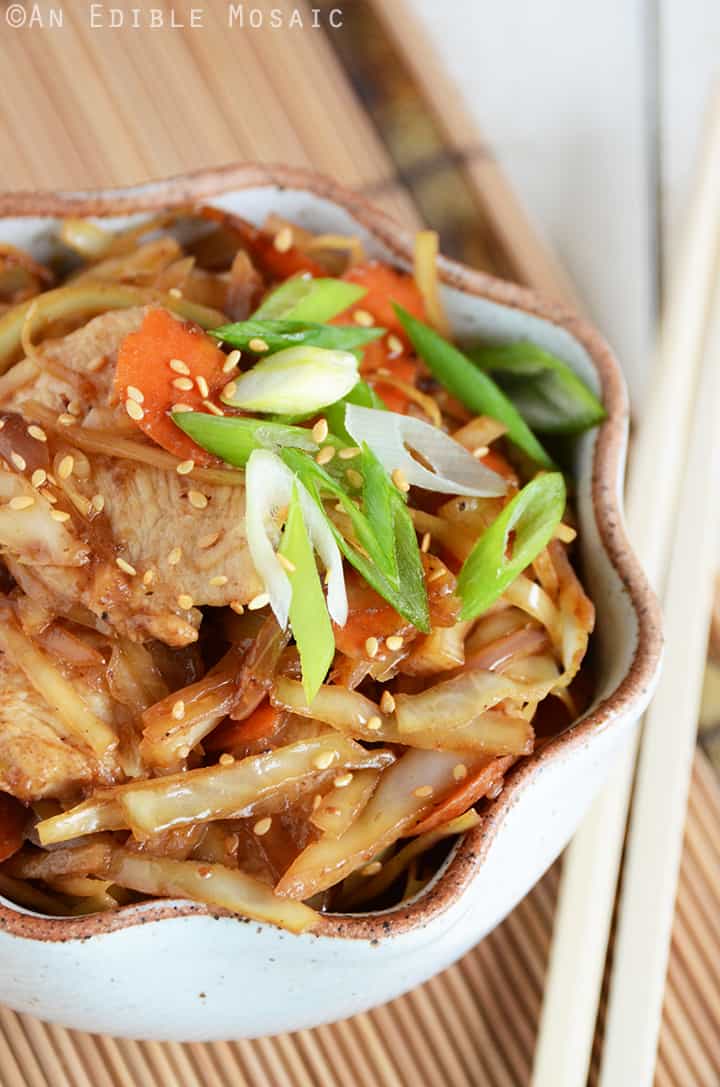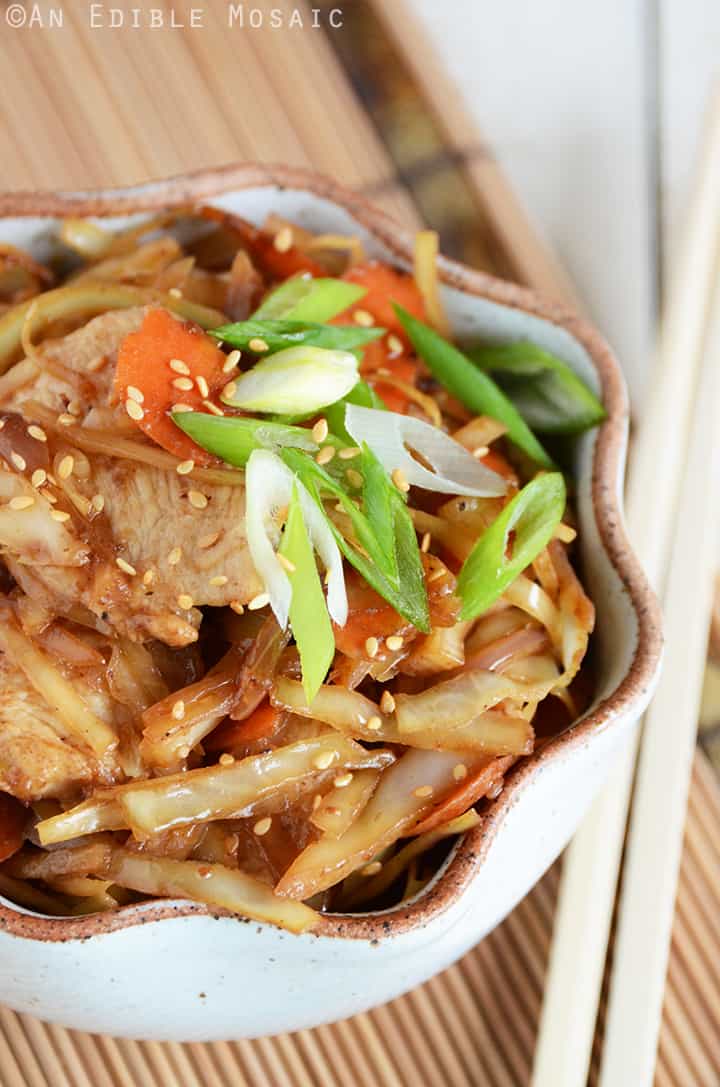 Some nights it goes like this…
It's been one of those days (you know those days, when anything that could go wrong did), and now it's almost 6 o'clock. Hubby just walked through the door…he's hungry and so are you, and if you have kids they're probably claiming to be starving. Dinner is an afterthought, and more of an inconvenience than anything else; you're thinking take-out and you're about to reach for the menu.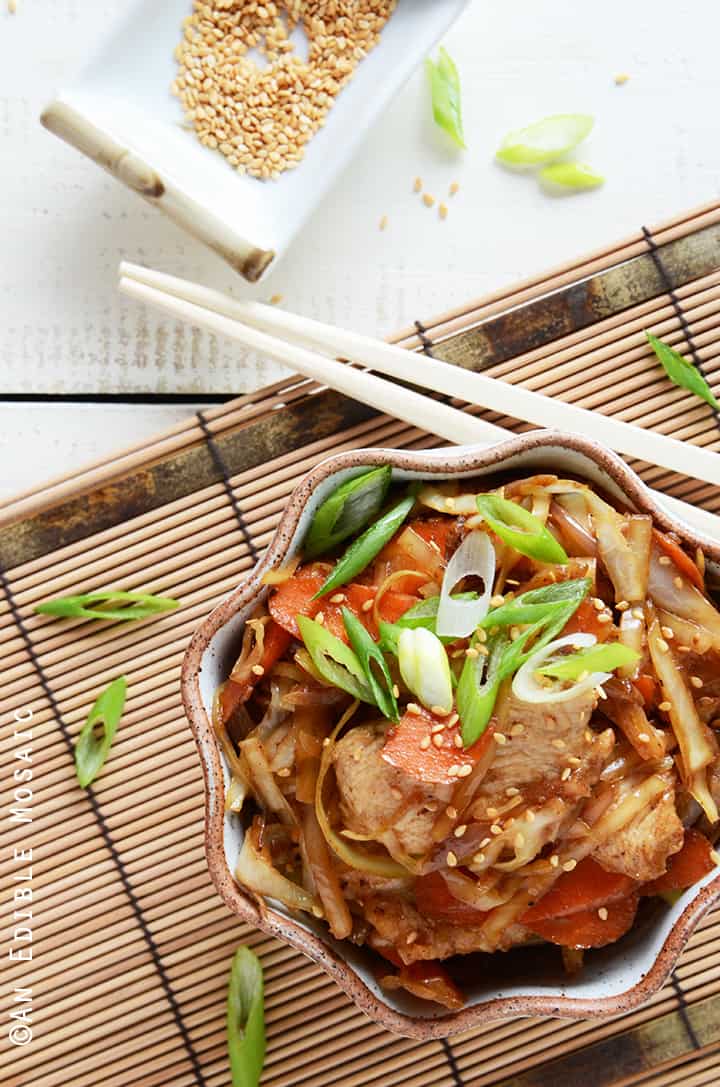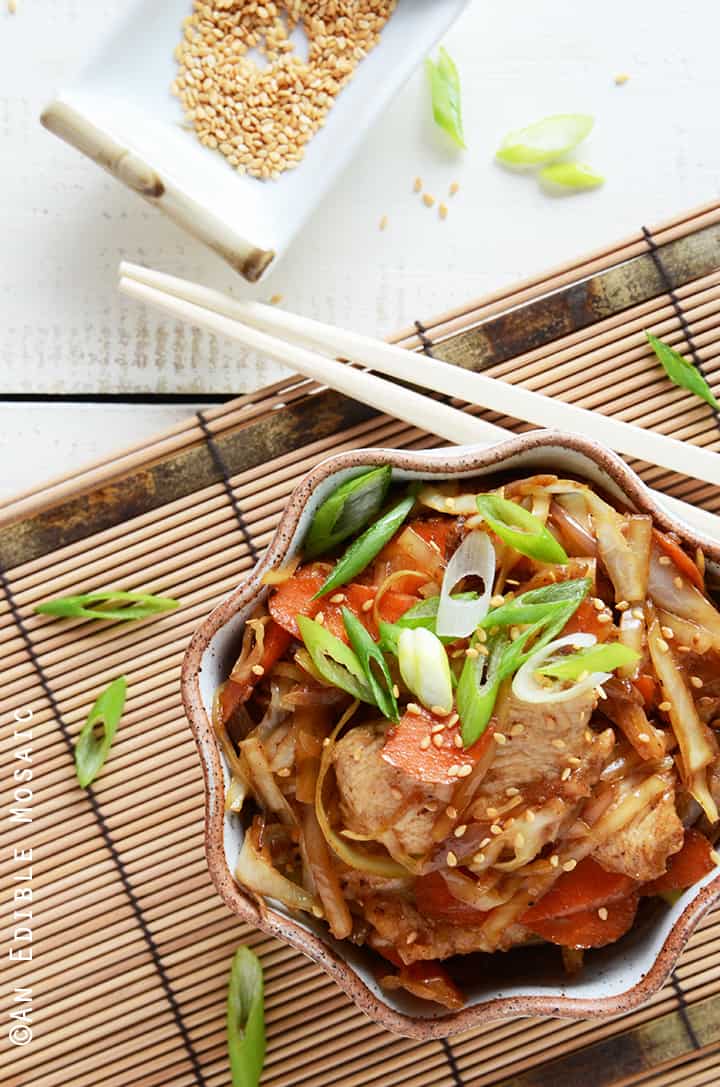 Before you do, take a quick look in your fridge. If you have some kind of protein (chicken, fish, beef, eggs, tofu, etc…or even a can of beans in the pantry) along with a few veggies, you can whip up a stir-fry in about 20 minutes. This particular stir fry was based on what I had on hand, but if you pay attention to the method more than the ingredients, you can use whatever is in your fridge/pantry.
This recipe makes two servings but can easily be adjusted to feed more. Or you can make a double batch and plan to have leftovers…tossed with steamed brown rice, this stir-fry makes a super quick (basically instant!), delicious leftover meal. So there you go, dinner for two nights in less time than it takes to order take-out!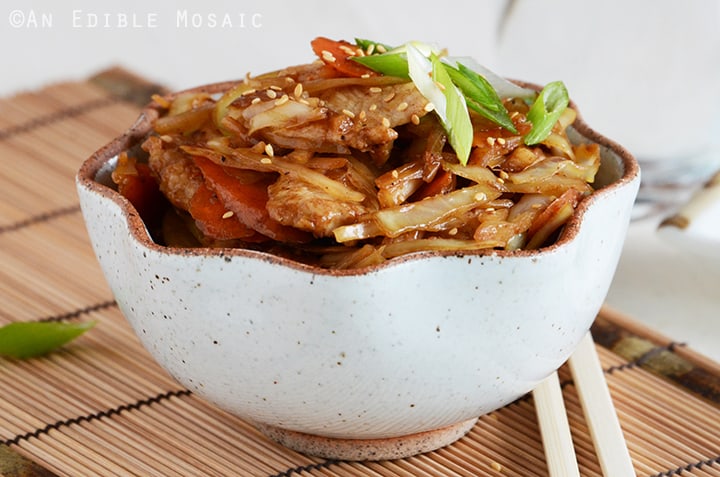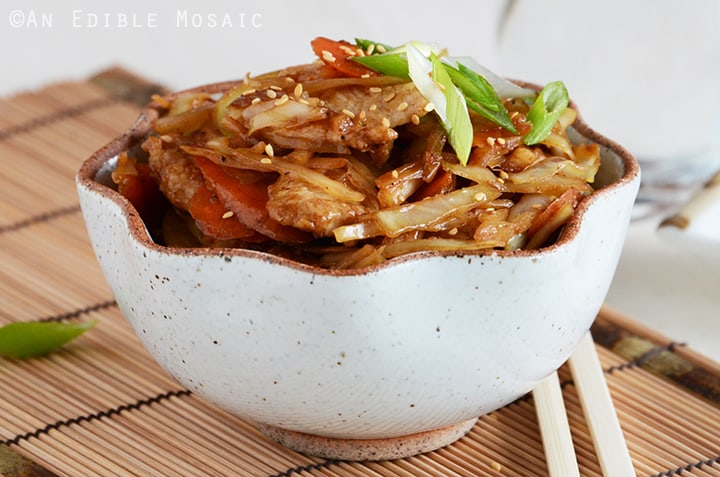 Cabbage, Carrot, and Chicken Stir-Fry
Prep time:
Cook time:
Total time:
Ingredients
5 tablespoons water, divided
2 tablespoons sesame oil, divided
1 tablespoon low-sodium soy sauce (see Note)
½ tablespoon rice vinegar
1 teaspoon honey (see Note)
1 large clove garlic, grated on a microplane
½-inch piece ginger, grated on a microplane
½ teaspoon sesame seeds, plus more for garnish if desired
Pinch salt and pepper
½ lb boneless, skinless chicken breast, sliced cross-wise into thin strips
2 tablespoons cornstarch (see Note)
½ lb green cabbage, sliced into thin shreds
2 medium carrots, thinly sliced on a diagonal
1 shallot, halved and thinly sliced
1 scallion, white and greens parts, thinly sliced
Instructions
Whisk together 1 tablespoon water, ½ tablespoon sesame oil, soy sauce, vinegar, honey, garlic, ginger, sesame seeds, and a pinch of salt and pepper. Stir in the chicken and let it marinade 5 to 10 minutes. Remove the chicken from the marinade (reserving the marinade for later use) and toss it with the cornstarch to coat.
Add the remaining 1½ tablespoons oil to a wok or large skillet over high heat; once the oil is hot, turn the heat down to medium-high. Add half the chicken in a single layer and cook until browned on both sides, about 2 to 3 minutes; remove the cooked chicken and cook the rest of it the same way.
To the skillet you cooked the chicken in, add the cabbage, carrot, shallot, reserved marinade, and remaining 4 tablespoons water; toss with a wooden spoon, scraping up any brown bits from the bottom. Cook until the veggies are crisp-tender, about 3 to 5 minutes, stirring frequently.
Turn off the heat and stir in the chicken.
Serve garnished with the scallion and more sesame seeds if desired.
Notes
Paleo Version: Use coconut aminos instead of soy sauce; use arrowroot starch instead of cornstarch. Omit honey for Whole30.