This meal is the perfect thing to make when you haven't been shopping in a while and there are just a few lonely veggies in your fridge. Feel free to swap out just about anything – the type of sausage, veggies, and lentils – for whatever you have on hand.
Like most meals that come together unplanned and somewhat haphazardly, this meal turned out to be a real winner. It was perfect comfort food with its heartiness and smoky flavor…to me, it tasted like campfire food.
And since it's an easy, one skillet meal, I think it would turn out great cooked on a campfire! Even though I haven't been camping in what feels like forever (and I have no intention of going anytime soon unless there is a full kitchen and bathroom involved and no tents in sight, lol!), with this supper it was easy to imagine I was camping. Well, that and the s'mores we made under the broiler for dessert. :)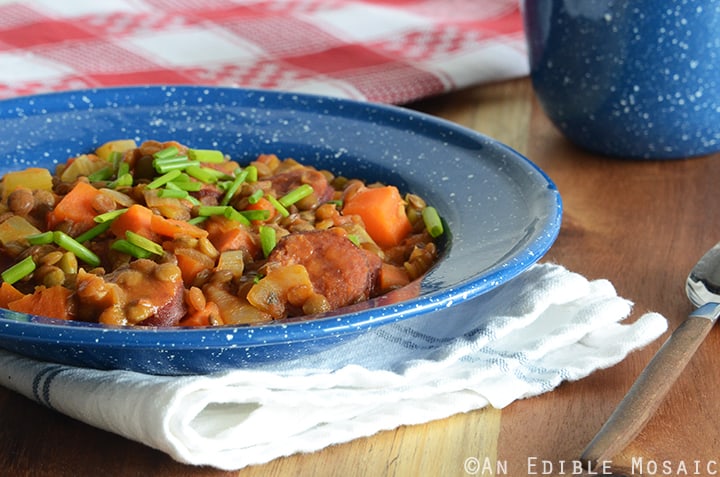 One Skillet Sausage, Lentil, and Veggie Supper
Prep time:
Cook time:
Total time:
It doesn't get any easier than this hearty, healthy one skillet supper! Its smoky flavor makes it perfect campfire food.
Ingredients
3 tablespoons olive oil
14-16 oz fully-cooked smoked beef, turkey, or chicken sausage, sliced
4 medium-large carrots, chopped
3 large stalks celery (including leafy green tops), chopped
1 large onion, chopped
1 large tomato, chopped
2 large cloves garlic, minced
2 oz tomato paste
2 teaspoons Worcestershire sauce
2 teaspoons Dijon mustard
1 teaspoon smoked sweet paprika
½ teaspoon cumin
½ teaspoon ground oregano
1 bay leaf
½ teaspoon salt
¼ teaspoon black pepper
2 cups water
1 (15 oz) can brown lentils, rinsed and drained (see Note)
1 tablespoon fresh lemon juice
Chopped fresh herbs (such as parsley, chives, etc.), for garnish (optional)
Instructions
Heat the oil in a large skillet over high heat; add the sausage and brown, about 3 to 5 minutes, stirring occasionally. Use a slotted spoon to transfer the sausage to a bowl and set aside for now.
Turn the heat down to medium-high and add the carrot, celery, and onion; cook until just starting to brown, about 7 to 10 minutes, stirring occasionally. Add the tomato, garlic, tomato paste, Worcestershire sauce, Dijon, paprika, cumin, oregano, bay leaf, salt, black pepper, and water.
Bring up to a boil, then cover the skillet and turn the heat down to a simmer; cook until the veggies are tender, about 15 minutes, stirring occasionally.
Add the lentils and sausage, cover the skillet, and cook 5 to 10 minutes to heat through and let the flavors blend.
Turn off heat and add lemon juice, then taste and season with additional salt and black pepper as desired.
Garnish with chopped fresh herbs if desired.
Notes
Canned Lentils: Instead of canned lentils, you could use ⅔ cup dried brown lentils if you prefer. To prepare the lentils, sort through them to remove any small stones or pieces of dirt, and then rinse with cold water in a colander. Bring the rinsed lentils and 3 cups of water (or low-sodium broth) up to a boil (don't add salt because it can toughen the lentils). Cover the pot, turn the heat down to a simmer, and cook for 20 to 30 minutes (adding more water as necessary) until the lentils are tender but not mushy; strain and use them the same way you'd use canned lentils.

To Reheat: Add a splash of water, cover the skillet, and bring it to a gentle simmer on the stovetop or on the campfire.