Toward the end of summer I was tomato-obsessed, going to the farmers' market to buy tomatoes by the half-bushel almost every other week. Since, as I'm sure you can well imagine, it's not possible for two people to go through all those tomatoes (despite my summer salad obsession), I had a few adventures in canning.
I know, I'm a terrible food blogger for not sharing my canning experiences on the blog, lol. But sometimes I just want to make a dish, eat a meal, or play around in the kitchen without having my camera at the ready, waiting for perfect lighting and thinking about the right angle, composition, etc.
Getting in the kitchen and cooking without a care in the world is relaxing and therapeutic, and I find this to be especially true of things like canning. Preserving fresh produce at the peak of its season ties us simultaneously to local foods, farmers, and simpler times. 
As I was canning perfectly ripe summer tomatoes, I was thinking about colder days that lay ahead. I saw summer's beauty in them and I knew they'd be delicious long after summer had faded away.
This is my wintertime tomato soup, which differs significantly from my bright-flavored, sweet/tart summer tomato soup. This winter version is a more subtle variation of tomato's beautiful flavor, but with a drizzle of homemade pesto on top (which freezes like a dream!), it really is a lovely reminder of warmer days. This soup is creamy (without a drop of cream), rich (but not heavy), and incredibly comforting. Use the best tomatoes you can find for great flavor and a beautiful blushing color. It brings the warmth and comfort of summer to a cold day.
In honor of World AIDS Day on December 1, this post is dedicated to remembering those who have died, and comforting all who have lost someone dear to them. I don't think I've ever shared this on my blog, but during the year between college and law school, I worked as a case manager for people with HIV and AIDS. I had the opportunity to meet all kinds of people from all walks of life. They made me laugh and cry on a daily basis. I learned their stories, met their families, saw how their diagnosis intertwined throughout their lives…sometimes just barely scratching the surface of a life, and sometimes completely taking over a life, like a strong-rooted, unyielding weed choking out a beautiful flower garden. Their lives touched my heart in so many ways. I lost three clients in the timespan of eight months.
One of my clients was diagnosed with HIV after her husband had been unfaithful to her. She was an amazing lady…a devoted mother, a hard worker, smart, strong, and beautiful, both inside and out. When I think of her, it is nearly impossible not to feel a rush of both happy and sad emotions all over again…she will never stop inspiring me.
I want to thank Angela from Spinach Tiger for inviting me to participate in this event. Please stop by her beautiful blog and read her post on remembering.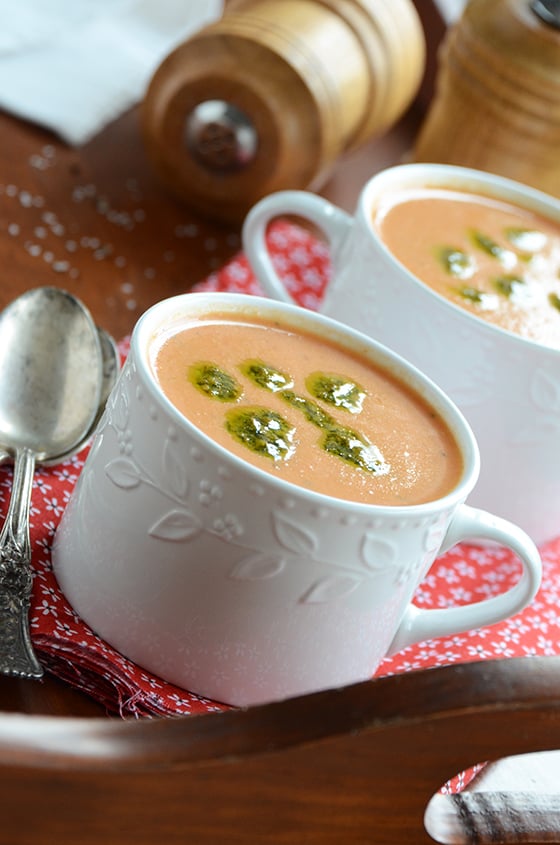 Creamy Wintertime Tomato Soup
Prep time:
Cook time:
Total time:
Ingredients
2 tablespoons butter
1 tablespoon olive oil
1 medium onion, diced
2 large cloves garlic, minced
4 tablespoons all-purpose flour
3 cups milk (I used 2%), warmed slightly
1 quart (4 cups) crushed tomatoes, with juices
3 tablespoons tomato paste
2 soft vegetable bouillon cubes
1½ teaspoons dried Italian herb seasoning
1 bay leaf
¼ teaspoon black pepper
Pesto, for garnish (optional)
Instructions
Melt the butter and oil in a medium saucepan over medium heat; add the onion and cook until softened but not browned, about 5 to 7 minutes, stirring occasionally. Add the garlic and cook 1 minute more, stirring constantly.
Whisk in the flour and cook 1 minute; slowly stream in the milk while whisking constantly. Stir in the crushed tomatoes, tomato paste, bouillon cubes, Italian herb seasoning, bay leaf, and black pepper. Bring up to a simmer, stirring occasionally, and then turn the heat off.
Remove the bay leaf and puree the soup using an immersion blender (or puree it in batches in a regular blender). Taste and season with additional salt as desired.
To serve, transfer to serving bowls and drizzle pesto on top, if using.