This classic Hot Toddy recipe combines whiskey, fresh lemon juice, honey, and a subtle hint of cinnamon for a cozy hot cocktail that's perfect for warming up with.
Like a little black dress or a great pair of jeans, a classic cocktail never goes out of style.
The Hot Toddy is a classic cocktail.
It has a colorfully disputed, but very interesting origin. And it's been touted as a cure-all for the common cold or flu.
But the really great thing about the Hot Toddy is that it's easy to make, delicious, and cozy!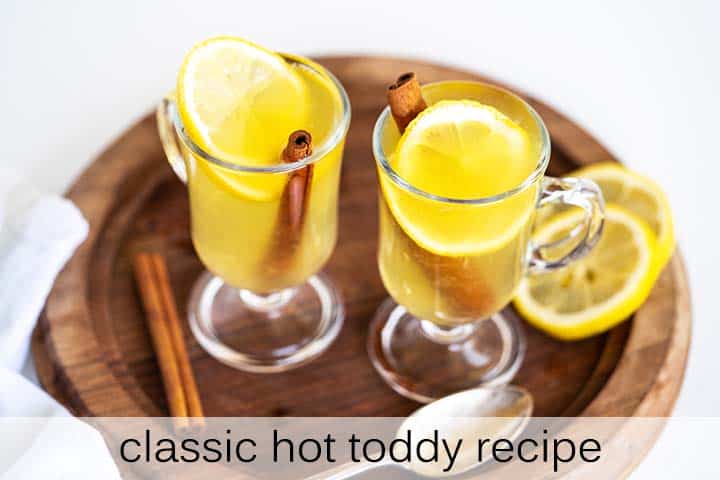 The Best Hot Toddy Recipe
Even though your guess is as good as mine when it comes to determining whether a Hot Toddy is effective in combating a cold or flu, one thing is for certain: it's a delicious and cozy drink! And it has minimal ingredients.
What's in a Hot Toddy?
Throughout history, the components of this beverage have changed to suit the location and the era.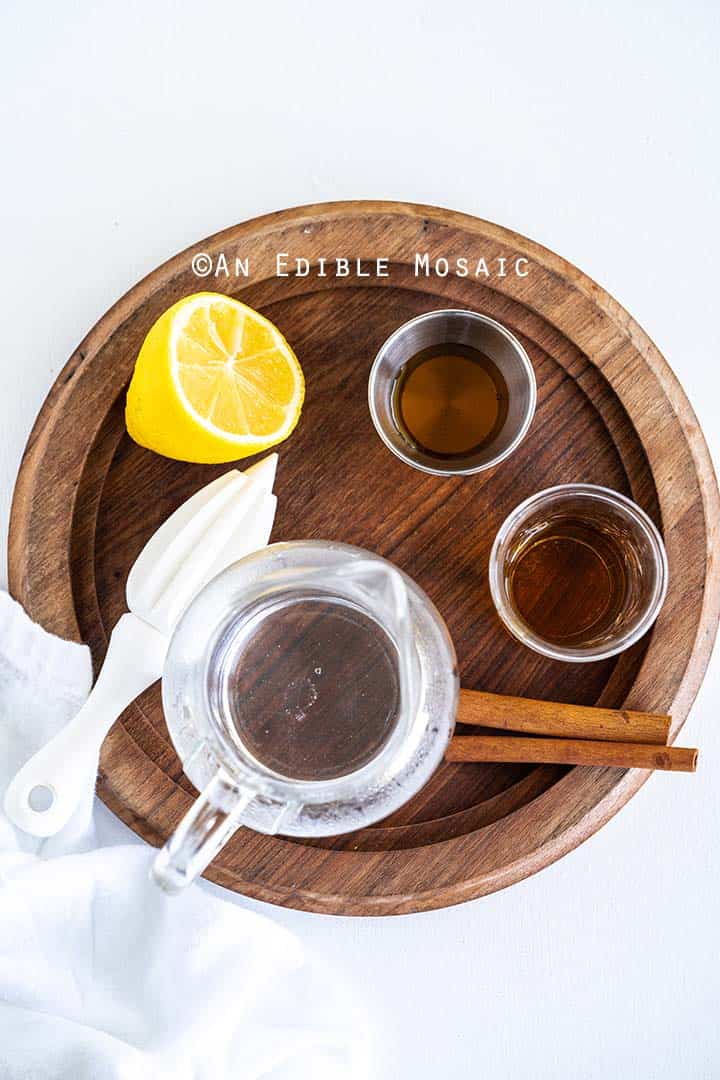 These days, a Hot Toddy is typically made with:
Whiskey (or rum or brandy)
Lemon juice
Honey (or your sweetener of choice)
Cinnamon (but star anise or cloves are also wonderful)
Fresh lemon slices (completely optional, and mostly just for presentation purposes, although they do add a bit more lemon flavor)
Is a Hot Toddy Made with Tea?
Traditionally, this drink is made with hot water, not tea.
However, adding an herbal tea, such as chamomile, adds more flavor and also makes it an even more relaxing hot beverage to cozy up with.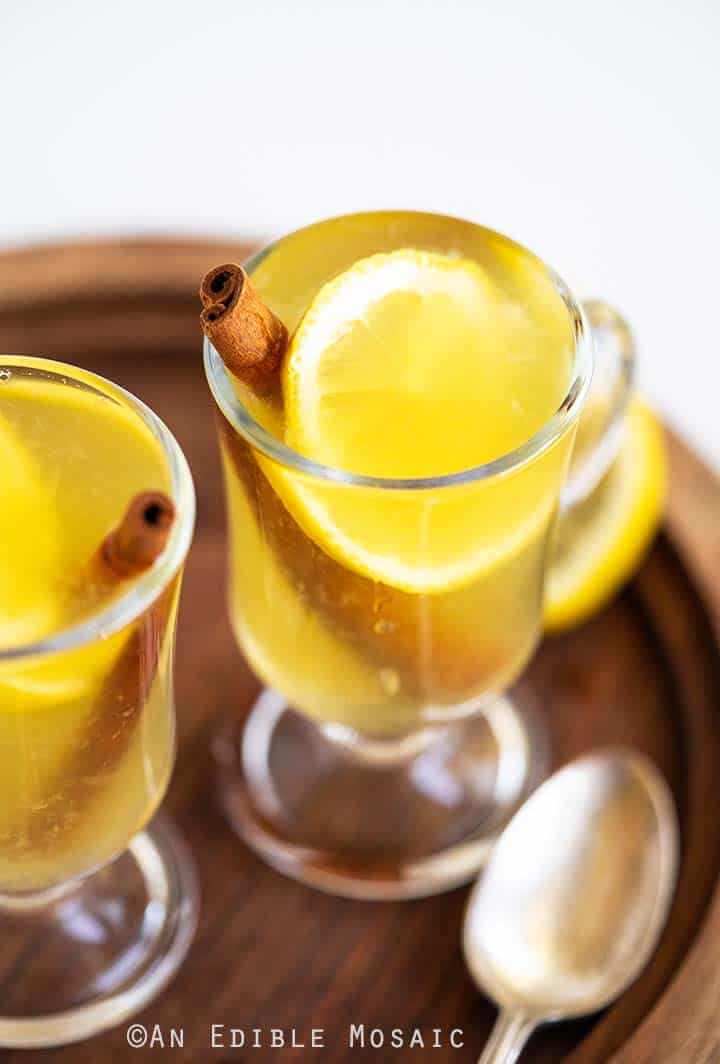 Step-by-Step Instructions
Making this drink really is as easy as boiling water! I like to use an electric kettle to boil water. You can also use a regular tea kettle on the stovetop, or a saucepan on the stovetop.
To make this cozy beverage, simply heat water and pour it into a glass pitcher.
Add a squeeze of fresh lemon juice.
Pour in the whiskey.
And then add the honey and give it a stir.
I like to serve it with a cinnamon stick, star anise, or clove in each glass. I think it really bumps up the cozy factor of this already cozy drink!
However, you could add a small pinch of ground cinnamon, a pinch of ground anise, or a pinch of ground cloves if you prefer.
Hot Toddy FAQs
Where Did the Hot Toddy Originally Come From?
There are several stories describing the origin of this warming beverage.
One explanation is that Scotch whiskey and a splash of hot water was mixed up in a pub in Edinburgh, Scotland to help take the chill off. This was quite a common drink there in the mid-1800s! Supposedly the water came from nearby "Tod's Well", and thus earned the drink its name.
Others say that the Hot Toddy came from British-occupied India where in the early 1600s a "taddy" in Hindi referred to a drink made with fermented palm sap. By the middle of the 1700s century, a "taddy" in India referred to a beverage made with liquor, water, sugar, and spices.
It's also claimed that an Irish doctor, Robert Bentley Todd, prescribed his patients a mixture of hot brandy, sugar, water, and cinnamon for the common cold.
And then when this drink reached the American colonies, Caribbean rum and local brandy were prevalent and soon became used to make their own version of the Hot Toddy.
You can read more about the history of the Hot Toddy on Arcadia Publishing, Vinepair, and Make Me a Cocktail.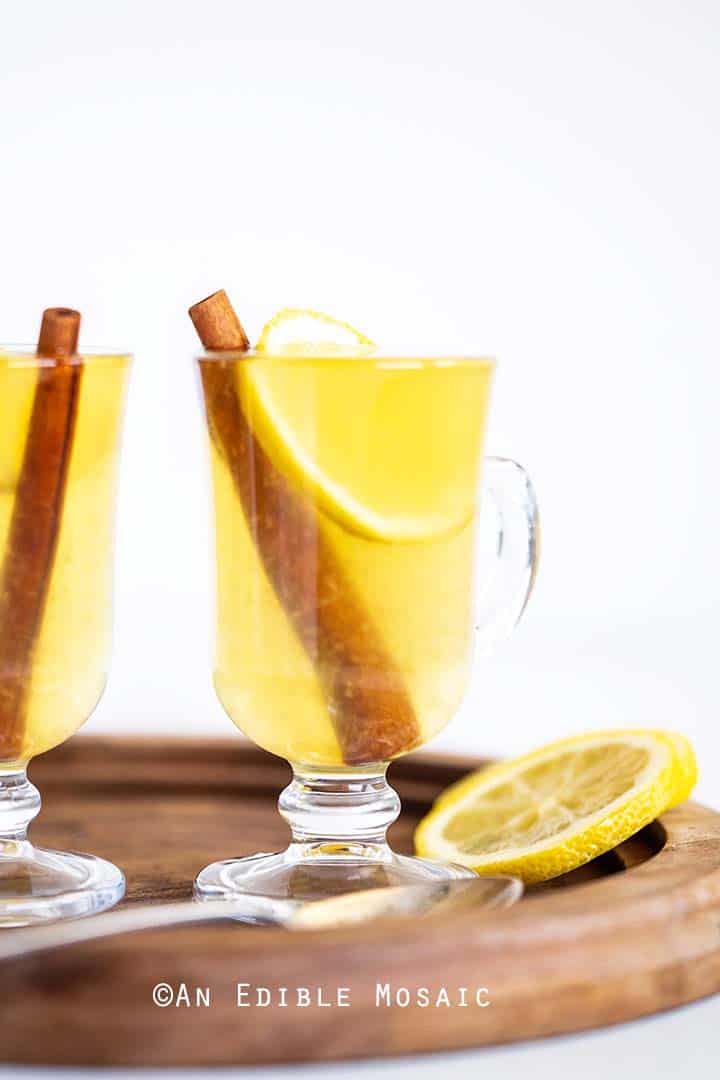 Are Hot Toddies Really Good for Colds?
We've all heard that chicken soup and hot tea are good for a cold and flu, right? The Hot Toddy falls under a similar category.
Honey soothes the throat and fresh lemon provides a boost of vitamin C.
Additionally, it's a hot cocktail, so it will likely help you warm up.
And let's not forget that alcohol is a depressant, so it's claimed that this drink may help you sleep better.
But in terms of actual healing powers, who knows?! Try it for yourself and see.
Read more about Hot Toddies and their effectiveness in helping treat the common cold and flu on Medical News Today and USA Today.
What Whiskey is Best for a Hot Toddy?
There's a saying that says "the best whiskey is the one you have on hand" and that really is the case with this drink! Scotch works well here, and so does Rye whiskey, Canadian whiskey, and bourbon.
Can I Use Liquor Other Than Whiskey for a Hot Toddy?
Yes! Whiskey, brandy, bourbon, or rum all work well in a Hot Toddy.
You can also use a flavored whiskey, such as apple or honey-flavored whiskey.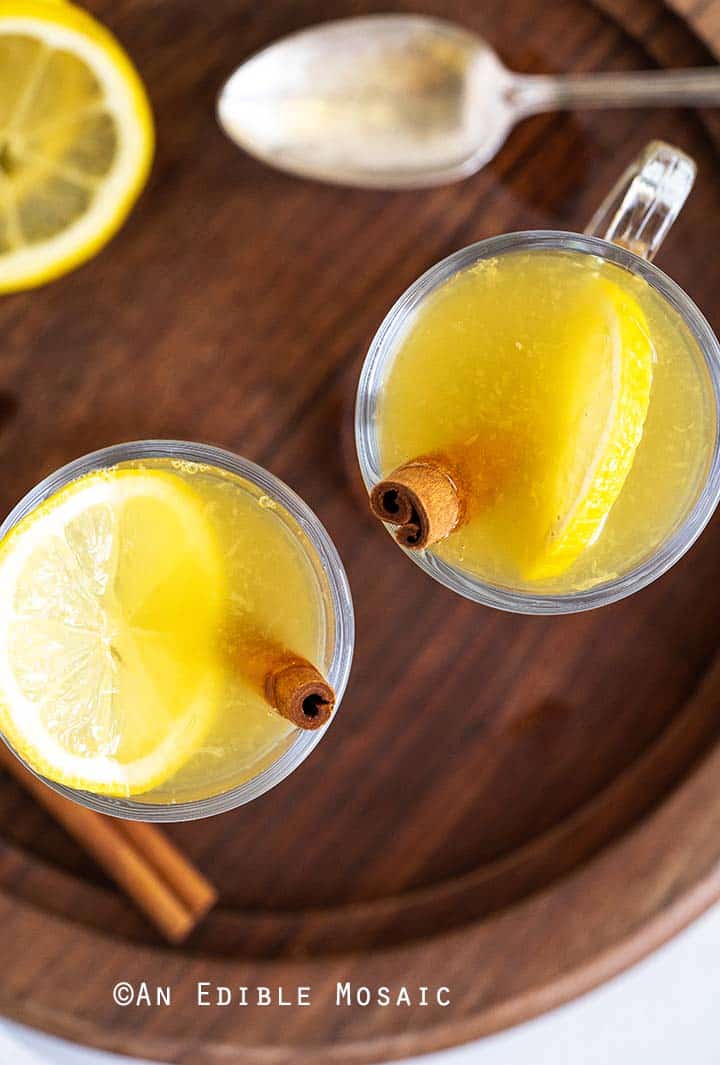 More Warming Drink Recipes to Try
Let's Connect


Did you make this recipe? Please rate it and leave a comment below. You can also tag @anediblemosaic on social media.
To stay up-to-date, follow me on Facebook, Instagram, Pinterest, and Twitter!
Hot Toddy Recipe
This classic Hot Toddy recipe combines whiskey, fresh lemon juice, honey, and a subtle hint of cinnamon for a cozy hot cocktail that's perfect for warming up with.
Ingredients
¾

cup

boiling water

2

ounces

whiskey

¼ cup

1

tablespoon

honey

1

tablespoon

fresh lemon juice

2

lemon slices
Instructions
Stir together the water, lemon juice, whiskey, and honey in a small glass pitcher.

Pour into 2 small mugs or glasses.

Add 1 cinnamon stick and 1 lemon slice to each mug or glass.

Serve hot.
Faith's Tips
Whiskey Substitute: For this recipe, you don't have to use just whisky. You can also use bourbon, brandy, or rum. Or you can use a flavored whiskey, such as apple whiskey or honey whiskey.
Nutrition
Nutrition Facts
Hot Toddy Recipe
Amount Per Serving
Calories 104
Calories from Fat 9
% Daily Value*
Fat 1g2%
Sodium 5mg0%
Potassium 13mg0%
Carbohydrates 9g3%
Protein 1g2%
Vitamin A 1IU0%
Vitamin C 3mg4%
Calcium 4mg0%
Iron 1mg6%
* Percent Daily Values are based on a 2000 calorie diet.