Enjoy this naturally caffeine-free aromatic Spiced Chamomile Tea Latte Recipe as a relaxing hot beverage any time of day. It's as easy to make as steeping tea!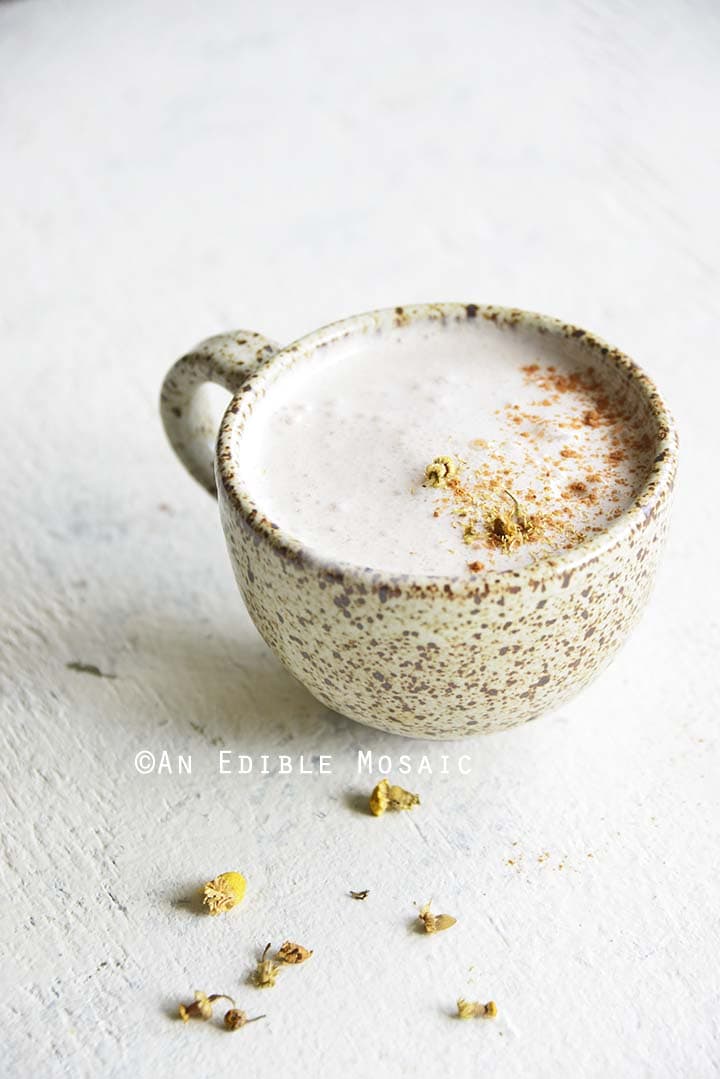 If you're trying to reduce your coffee intake or just want a delicious new hot beverage to try, I highly recommend this Spiced Chamomile Tea Latte Recipe!
This latte features the crisp, fruity aroma of chamomile mellowed out with a subtle nuttiness from almond milk, warm spices, complex vanilla, and a hint of sweetness. It's the perfect drink to relax with any time of day.
Caffeine Free Coffee Alternatives
Normally I drink two cups of coffee a day, and I'm ok with this. However, I occasionally go through phases where I convince myself to try to reduce my coffee intake.
A few months back I decided to cut my coffee consumption down to just one cup a day. For me, the biggest issue was finding a routine to replace my French press coffee ritual in the morning.
Here Are a Few Ideas for Caffeine Free Coffee Substitutes:
Herbal teas or tisanes, such as ginger, chamomile, peppermint, rooibos, etc.

Chicory root coffee

Dandelion coffee

Matcha tea

Barley tea

Golden milk latte (i.e., turmeric latte)

Chaga mushroom drink
Herbal Tea
Unlike black, green, white, and oolong tea, herbal tea is caffeine free, and therefore, a good coffee substitute!
What's the Difference Between Tea and Tisane?
Black, green, white, and oolong teas come from a plant called Camellia sinensis.
Herbal teas, which are also referred to as tisanes, are infusions of spices, barks, roots, leaves, flowers, fruits, etc. that are steeped in liquid (usually water).
Note that the steeping time is different; in general, tea requires a shorter time to steep than tisane requires.
Chamomile Tea
According to Wikipedia, Chamaemelum nobile, commonly known as chamomile, has daisy-like flowers with a yellow disk and white petals, and a sweet, fruity, and herbaceous aroma. It's also known as Roman chamomile, English chamomile, garden chamomile, ground apple, low chamomile, mother's daisy, or whig plant.
Health Benefits of Chamomile Tea
Studies indicate that chamomile tea can lead to improved sleep quality and fewer symptoms of depression. Additionally, it may have antioxidant, antibacterial, and anti-inflammatory effects; it may also be beneficial for blood glucose, insulin, and blood lipid levels. (Read more about the health benefits of chamomile on HealthLine and Medical News Today.)
How Long Before Bed Should You Drink Chamomile Tea?
Chamomile is thought of as a mild sleep inducer or tranquilizer. Its calming effects may be attributed to an antioxidant called apigenin, which binds to benzodiazepine receptors in the brain and may assist in reducing anxiety and initiating sleep. (Read more about chamomile as a sleep inducer on HealthLine.)
It's generally recommended to drink chamomile tea about 30 minutes before bed, but remember that it needs to steep for about 10 minutes.
Chamomile Tea Latte
Ingredients in This Spiced Chamomile Tea Latte Recipe:
Plain, unsweetened almond milk

Looseleaf chamomile

Pure vanilla extract

Ground cinnamon

Ground cloves

Sweetener, to taste (such as honey, maple syrup, stevia, etc.)
How to Make a Chamomile Tea Latte
Making a chamomile tea latte is as easy as making a cup of tea.
Simply heat the liquid and steep the chamomile, and add any spices or sweetener you like.
More Delicious Hot Beverages to Try: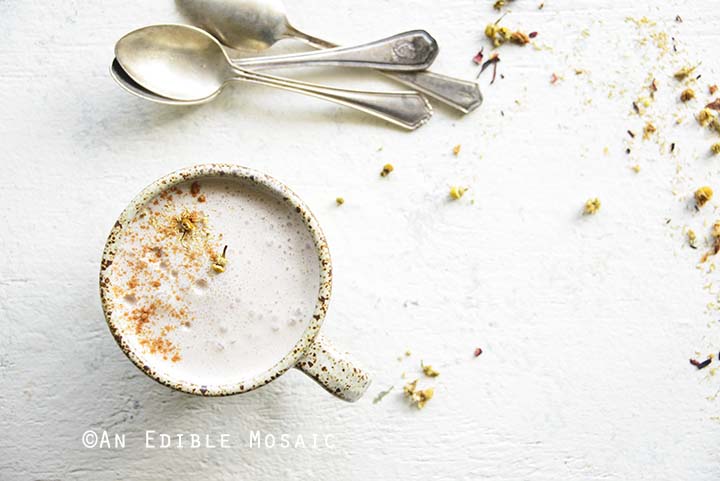 Did you make this recipe? Please rate it and leave a comment below because I love hearing from you! You can also tag @anediblemosaic on social media. To stay up-to-date FOLLOW ME on Instagram, Twitter, and Facebook. Xoxo, Faith
Spiced Chamomile Tea Latte Recipe
Enjoy this naturally caffeine-free aromatic Spiced Chamomile Tea Latte Recipe as a relaxing hot beverage any time of day; it's as easy to make as steeping tea!
Instructions
Add the almond milk and chamomile to a small pot. Bring to a simmer over medium heat, and then cover the pot and let it steep for 5 to 10 minutes.

Mix in the vanilla, cinnamon, cloves, and sweetener to taste.

Strain the mixture 2 times through a fine mesh sieve. I like to add it to a French press, slowly push the plunger down, and then strain it into my mug.

To make it more frothy, you can use a hand-held frother, or once it's strained add it back into your French press and plunge up and down a few times.
Nutrition
Nutrition Facts
Spiced Chamomile Tea Latte Recipe
Amount Per Serving
Calories 42
Calories from Fat 27
% Daily Value*
Fat 3g5%
Sodium 325mg14%
Carbohydrates 1g0%
Protein 1g2%
Calcium 300mg30%
* Percent Daily Values are based on a 2000 calorie diet.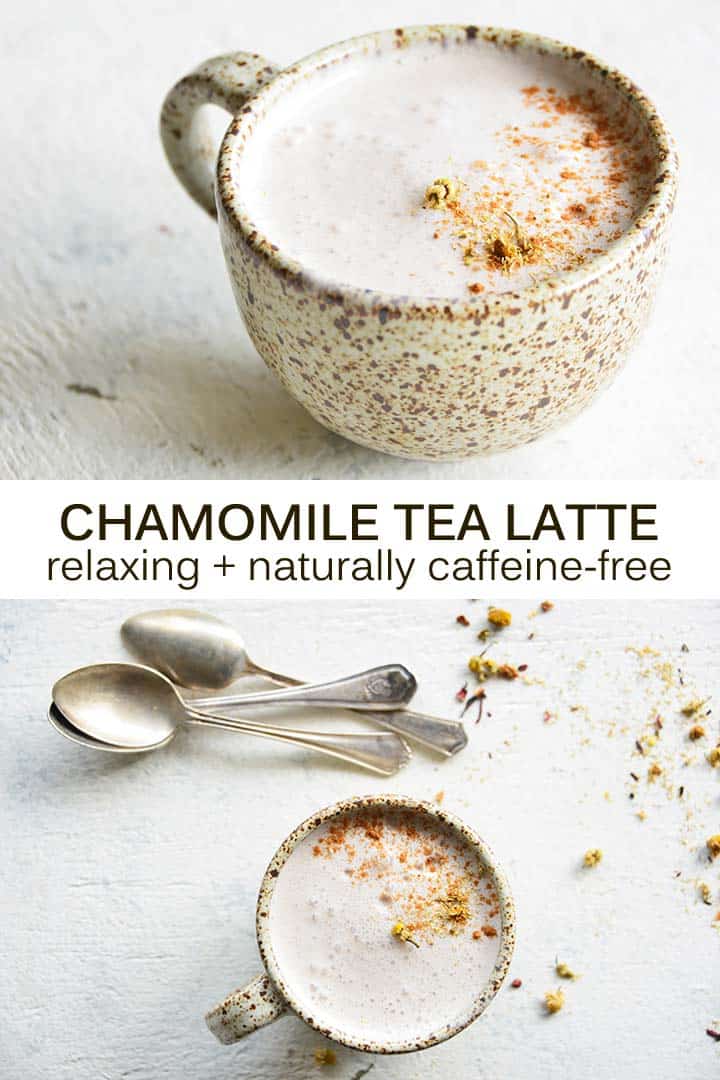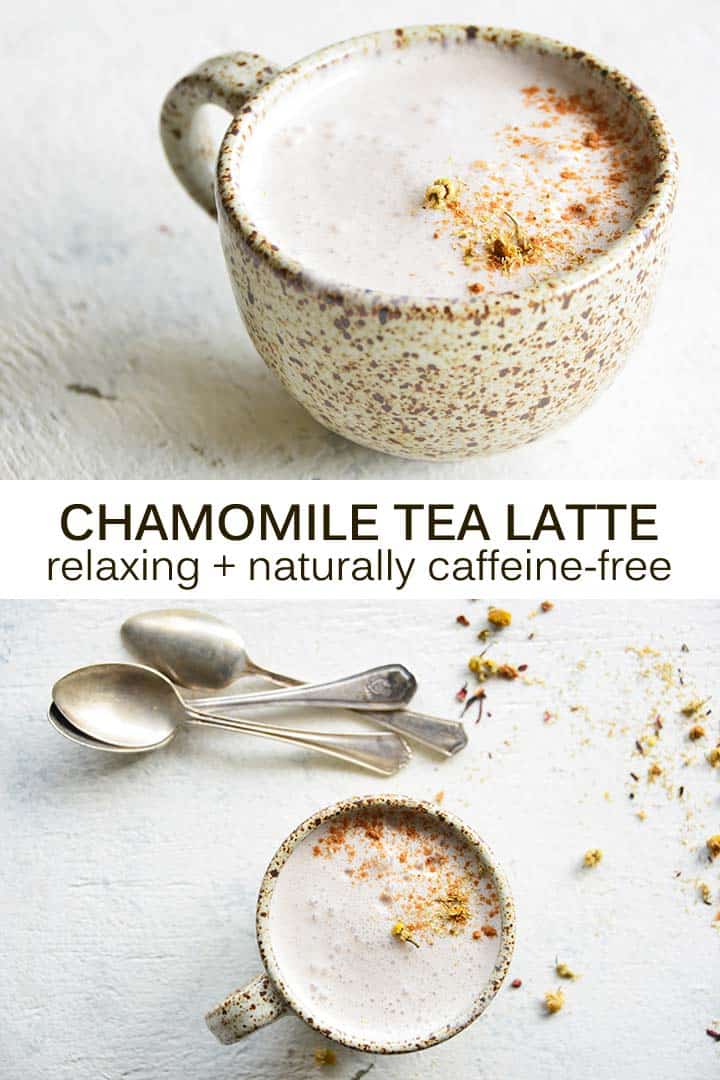 This post was first published on An Edible Mosaic on November 5, 2018. I updated it with more information on October 12, 2020.
Disclosure: This post contains Amazon affiliate links to products I believe in, which means that even though it doesn't cost you anything extra, I will receive a small amount of money from the sale of these items. Thank you for helping to support An Edible Mosaic!