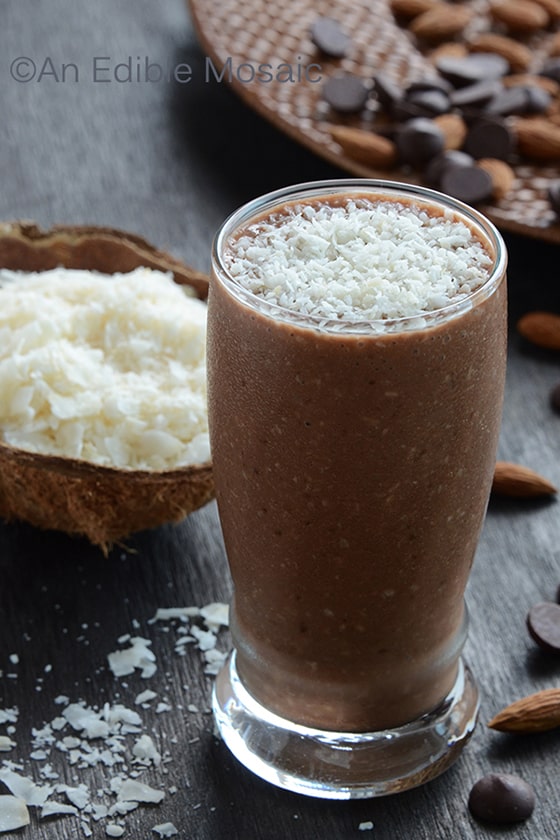 So, I have a funny story about smoothies for you.
At least I think it's funny. I double over laughing every time I retell it, but I'm not sure if it's one of those things where "you had to be there" for it to be funny.
I'll let you be the judge of that. :)
About four summers ago Mike and I had taken my niece to the mall (she was about five at the time). She didn't want to leave, and that's putting it nicely. She had been a little mischievous the entire time, not letting a single kids' store go by without scoping the joint. And of course, there wasn't a toy to be found that she didn't absolutely have to have. Her thirst for new playthings was insatiable and her nagging was incessant. We were burned out, but she was having so much fun she pitched a hardcore fit when it was time to go; she flung her head back and started screaming at the top of her lungs. In an effort to calm her down, we promised she could get a smoothie on the way out if she would just stop yelling. I think we would have promised her the Brooklyn Bridge if it would have helped.
Anyway, the promise of a smoothie satisfied her and the yelling subsided. Smoothie in hand, we headed home, all three of us happy, albeit a little frazzled.
She happily slurped her smoothie in the backseat on the way home, as Mike and I talked in hushed voices about the power of a sweet treat when it comes to kiddos. And if I remember correctly, I think we were conspiring to get a blender.
When we got home, I opened the car door for my niece to get out. She slid over and I saw her ultimate revenge. She had spilled the entire contents of her brightly colored blueberry smoothie all over the light grey interior of the car. It was a sticky, puddled smoothie mess.
I asked her to wait a sec before getting out. I closed the car door and asked Mike if he could help Rosie out while I get the stuff out of the trunk. It's pure evil, I know, but I didn't mention a word about the spilled drink.
Poor Mike…he opened the door to the backseat. She spilled her smootie! She spilled her smootie!, he started shouting, with a mix of annoyance, frustration, and disbelief that the day could get worse. And the situation was pretty unbelievable – it looked like she spilled the whole thing, yet she hadn't said a word about it!
It's no coincidence I left out the "h" in smoothie…he was saying it "smootie" instead of smoothie. At that point I was nearly on the ground laughing because I already knew it was spilled. I felt a little sinister, but at least his reaction provided some comic relief.
Needless to say, I've always liked smoothies except for that one incident. And considering the kick I get out of that story even to this day, I'd still consider it a good memory.
Today both Alyssa and I are sharing smoothie recipes from our first smoothie recipe e-book BLEND: Summer Volume 1, and I just had to share that smoothie story with you. Alyssa is sharing the Sweet Green Goddess smoothie on her site, which is actually a meaningful smoothie for me too. It was the first smoothie I developed when I starting taking a more artisanal approach to smoothie-making! I think I drank this smoothie for nearly two months straight when I first developed it because I loved it so much. It was revolutionary for me. Be sure to check out Alyssa's post here for her thoughts on this smoothie along with the full recipe.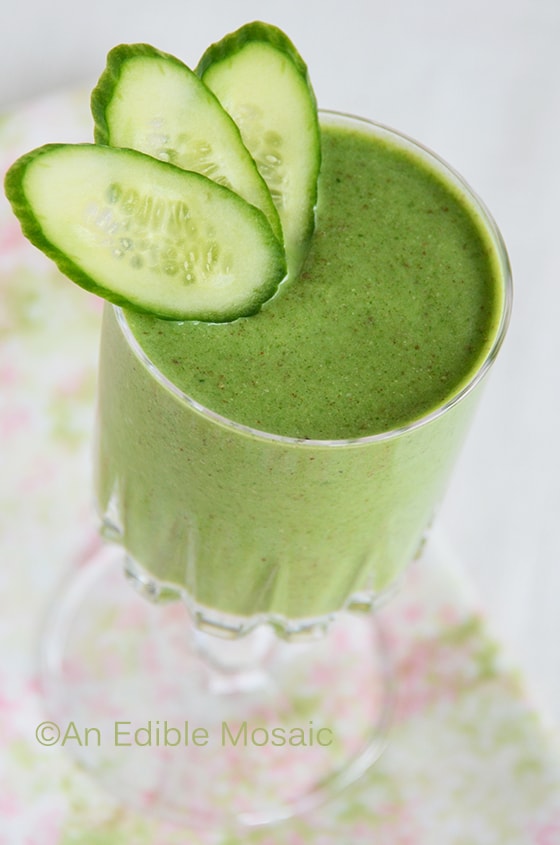 Sweet Green Goddess Smoothie
The BLEND recipe I'm sharing with you is our Almond + Joy recipe. While Alyssa and I both worked on testing all our recipes, she initially developed this one. I remember making it, taking a single sip, and thinking she was a smoothie genius. It really is that good. Like all our smoothies, it's naturally-sweetened, dairy-free, gluten-free, and vegan! The ingredients are easy-to-find and it comes together in a snap. Actually, it's faster to whip this smoothie up than it is to run to the corner store for a candy bar. And unlike a candy bar, this smoothie will leave you feeling energized instead of lethargic.
In fact, both Alyssa and I love this smoothie so much we chose it as the cover of our first recipe volume!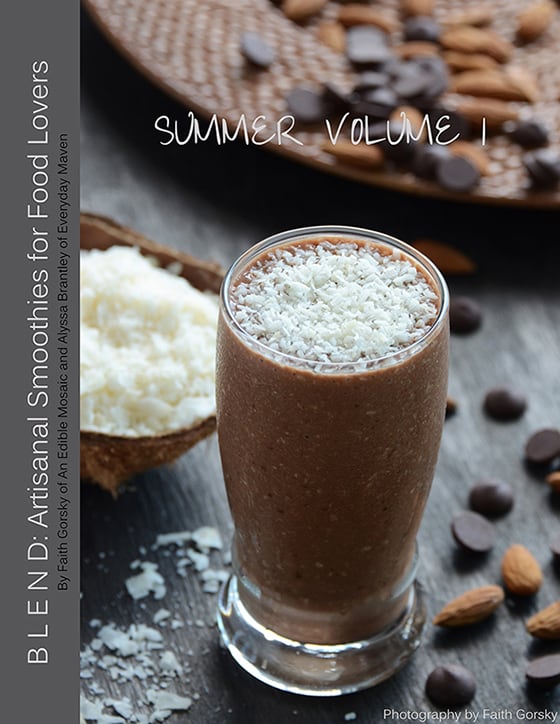 There are 25 recipes in our BLEND: Summer Volume 1 e-book – you don't want to miss out on all the other delicious flavors!
Almond + Joy Smoothie
Ingredients
½ cup (125 ml) plain, unsweetened almond milk
2 tablespoons canned light coconut milk
1 tablespoon unsweetened cocoa powder
¾ teaspoon coconut extract
⅛ teaspoon almond extract
1 pinch sea salt
1 packet stevia
2 Medjool dates, pitted and coarsely chopped
½ medium banana, peeled, chopped into 2 pieces, and frozen
2-4 ice cubes
2 tablespoons unsweetened, shredded coconut, divided
Instructions
Add all ingredients into a blender (except the ice and the shredded coconut) and process until smooth.
Add the ice and pulse until pulverized.
Transfer to a serving glass and stir in 1½ tablespoons shredded coconut.
Sprinkle the remaining ½ tablespoon on top and serve immediately.
Don't forget that our other e-book, BLEND: The Basics (which is chock full of smoothie-making tips and tricks), is absolutely FREE until July 5th! After July 5th the price goes up to $7.99, or you can purchase it together with Blend: Artisanal Smoothies for Food Lovers, Summer Volume 1 as a set for $14.99.
Also, if you haven't entered our HUGE giveaway yet, you still have time to do so! We're giving away over $1750 worth of fabulous smoothie-related items, including a Blendtec blender!
Head over here to enter.
If you have a moment and want to check it out, here's the link to our BLEND website: www.SimplyArtisanal.com. Designing it was a labor of love for me...let us know what you think!
Just a heads-up, since the holiday is next week, I will be taking a little break from posting…but I'll be back to my normal posting schedule on Monday after July 4th with a fabulous recipe! Wishing everyone a very happy Independence Day, and thanks from the bottom of my heart to all who have made a sacrifice for our country.
P.S. I want to thank my completely wonderful readers not only for your purchases, but also for your kind messages, comments, and emails about our smoothie e-books. I smile from ear to ear as I read every one of them. xo