Save yourself from take-out! If you miss egg rolls since going keto, this Low Carb Egg Roll in a Bowl (aka Keto Crack Slaw) will be your new favorite meal. It has all the same bells and whistles, but in stir-fry form with much fewer carbs!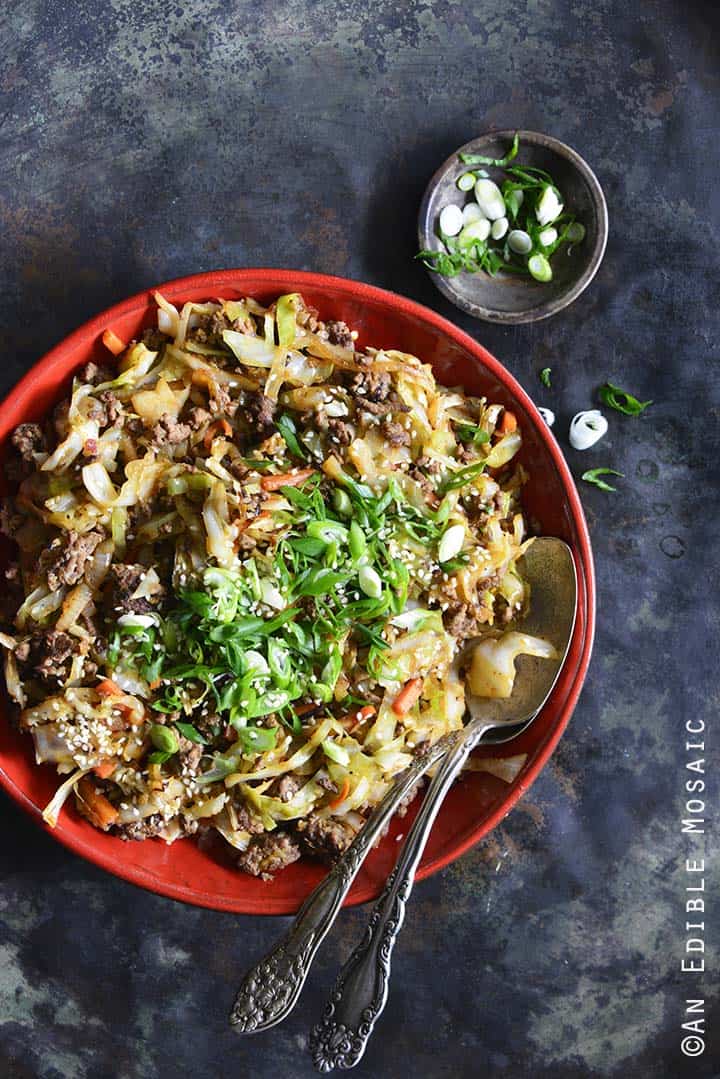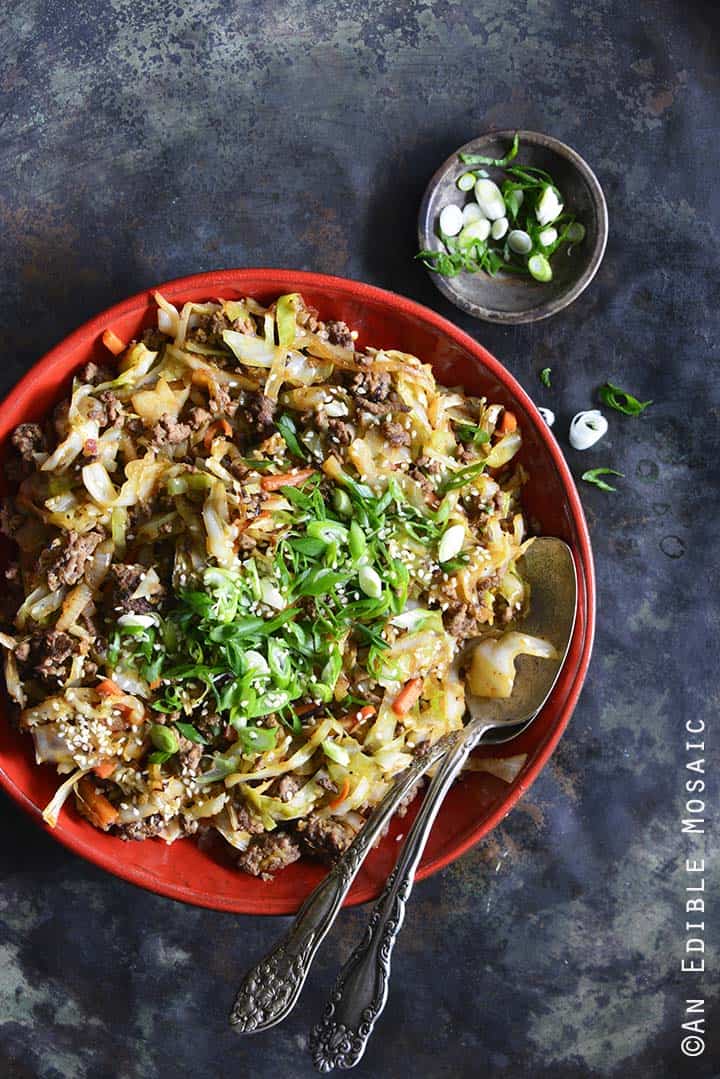 I know, the name Crack Slaw is a little crazy.
Two things about it though: 1) I can't take credit for naming or inventing it, and 2) it actually is addictive so it is pretty aptly named! As far as I know, the recipe comes from the Low Carb Friends Forum (which is now unfortunately closed).
And it really does taste like an egg roll in a bowl!
My version of the Egg Roll in a Bowl recipe features a delicate balance between sweet, salty, umami, and tart flavors.
I use a bit more garlic and ginger than most renditions, and I also add sriracha and sesame seeds. Coconut oil (instead of a neutral-flavored oil) adds a subtle coconut flavor, but if that's not your thing, substitute with any healthy oil you like (such as avocado oil). I finish it with a little drizzle of toasted sesame oil to add a hint of nuttiness and scallion for freshness!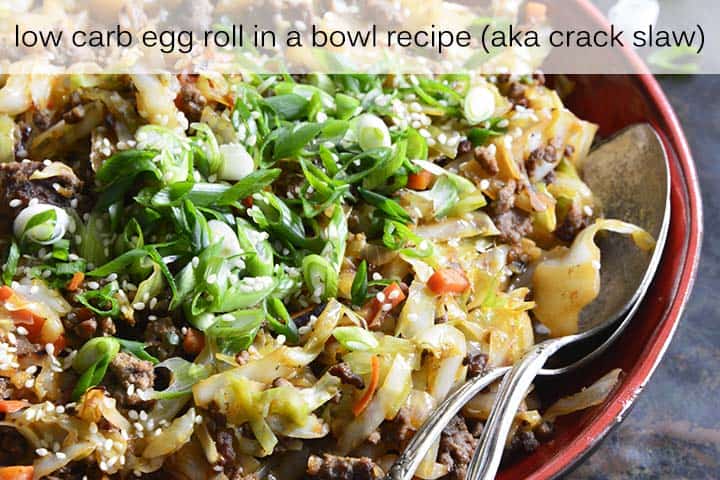 Low Carb Egg Roll in a Bowl Recipe (aka Keto Crack Slaw)
This easy, 30 minute, weeknight dinner recipe is jam-packed with flavor, texture, and nutrition! And it's as addictively delicious as its name implies.
This recipe really does taste like an egg roll without the wrapper! There are so many flavors and textures going on in this recipe that you won't even miss the carbs.
What is an Egg Roll in a Bowl?
Egg Roll in a Bowl (also called Crack Slaw) is basically stir fry that's made to taste like egg roll filling.
The main components are ground meat (a lot of recipes use pork, but I make mine with beef) and cabbage, and it has several flavorful additions, such as garlic, ginger, onion, soy sauce (or coconut aminos or tamari sauce), etc.
Why is it Called Crack Slaw?
The dicey term of endearment for this recipe comes from the fact that this dish is so delicious it's addictive.
Keto, Low Carb, Paleo, and Whole30 Friendly Crack Slaw
This dish is rich with nourishing real foods; the kind of foods you find when you shop the perimeter of the grocery store!
It is keto, low carb, and paleo. To make it Whole30, simply omit the stevia.
This Nutritious Meal is Easy to Fit Into a Busy Lifestyle
This Egg Roll in a Bowl recipe is easy to make, comes together in just 30 minutes from start to finish, and reheats well. This makes it a great one skillet recipe to meal prep or to make for dinner on a busy weeknight!
Easy Meal Prep Meals
This is the sort of quick and easy meal I like to prep on the weekend and keep in the fridge for busy weeknight dinners or pre-made lunches. This Egg Roll in a Bowl recipe is pretty fantastic on the first day, but you'll be surprised at how each day it gets even tastier as its flavors meld together. Reheat Crack Slaw on the stovetop or in the microwave.
Check Out These Other Easy Meal Prep Meals That Reheat Well: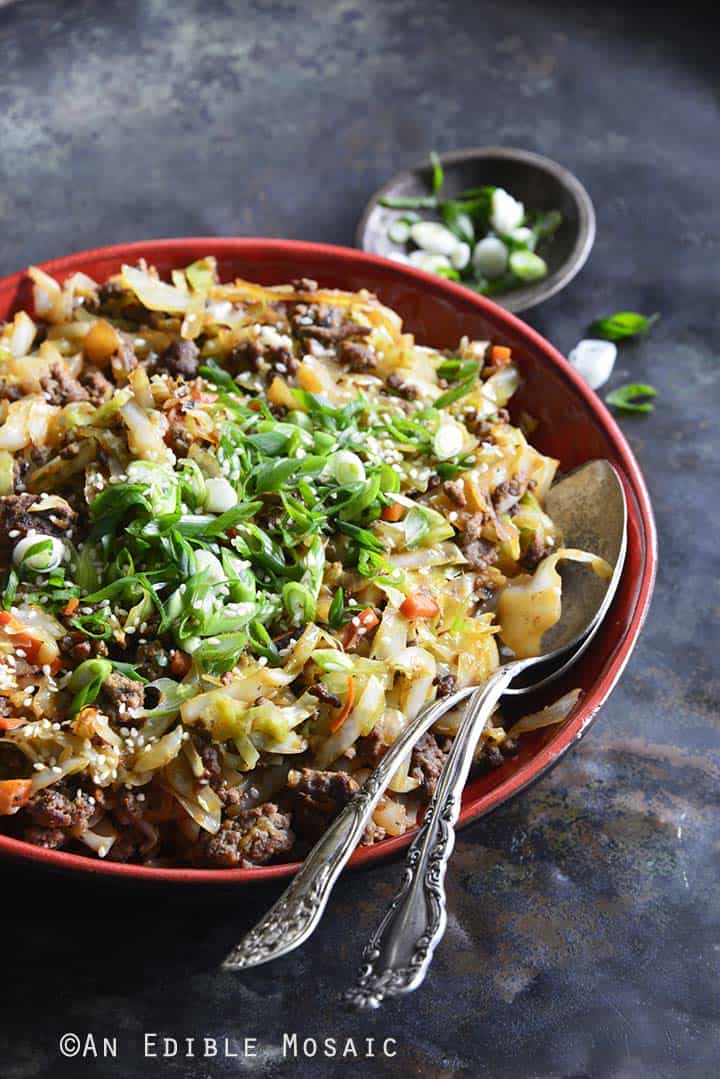 One Skillet Meals
I love the simplicity of one pan and one skillet meals! It means fewer pots and pans to juggle on the stovetop, and less cleanup.
The ingredients in this recipe are cooked in stages in the same skillet.
Here Are a Few More One-Skillet Meal Ideas:
Easy Weeknight Dinners: 30 Minute Meals
We all love a nutritious meal that we can get on the table fast! Some nights 30 minutes is all the time we have to make dinner, otherwise the drive-through starts looking pretty darn appealing.
In an effort to avoid the drive through (and in the process, save money and provide your family with a nourishing meal), a few 30 minute meal ideas are always good to have on hand.
Here Are Some of My Favorite 30 Minute Meals:

Did you make this recipe? Please rate it and leave a comment below because I love hearing from you! You can also tag @anediblemosaic on social media. To stay up-to-date FOLLOW ME on Instagram, Twitter, and Facebook. Xoxo, Faith
Low Carb Egg Roll in a Bowl (aka Crack Slaw)
If you miss egg rolls since going keto, this Low Carb Egg Roll in a Bowl (aka Keto Crack Slaw) will be your new favorite meal. It has all the same bells and whistles, but in stir-fry form with much fewer carbs!
Print
Pin
Rate
Instructions
Add the oil to a large deep skillet over medium-high heat. Add the beef and cook until browned, about 5 to 7 minutes, stirring occasionally.

Add the cabbage, onion, and carrot, and cook until the vegetables are softened and starting to caramelize in spots, about 5 minutes, stirring occasionally. Add the garlic and ginger and cook 1 minute more, stirring constantly.

Turn off the heat and stir in the coconut aminos, vinegar, stevia, chili garlic sauce, 1 tablespoon sesame seeds, salt, and black pepper.

Transfer to a serving dish and top with the remaining 1 teaspoon sesame seeds, sesame oil, and scallion.
Video
Helpful Tips
Net Carbs: 9g per serving
Sweetener: You can substitute with 1 tablespoon of coconut sugar or brown sugar, or use your favorite sweetener instead.
Nutrition
Calories:
277
kcal
|
Carbohydrates:
14
g
|
Protein:
17
g
|
Fat:
18
g
|
Saturated Fat:
9
g
|
Trans Fat:
1
g
|
Cholesterol:
51
mg
|
Sodium:
450
mg
|
Potassium:
570
mg
|
Fiber:
5
g
|
Sugar:
6
g
|
Vitamin A:
1871
IU
|
Vitamin C:
60
mg
|
Calcium:
100
mg
|
Iron:
3
mg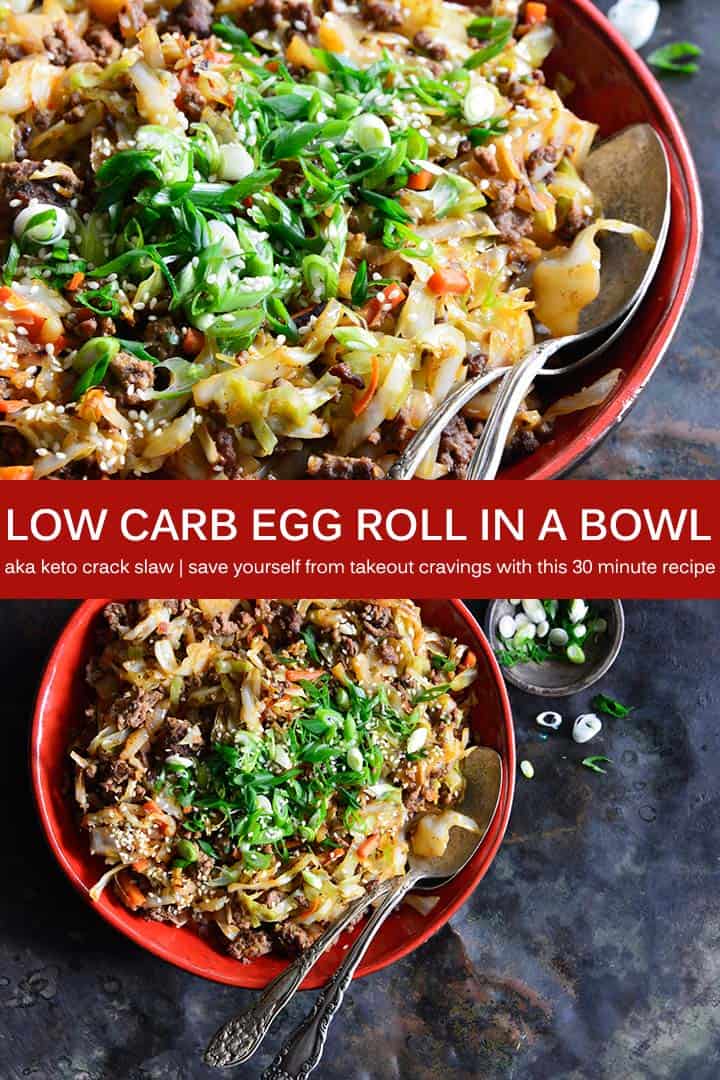 This post was first published on An Edible Mosaic on February 26, 2018. It was updated with more information on February 15, 2021.
Disclosure: This post contains Amazon affiliate links to products I believe in, which means that even though it doesn't cost you anything extra, I will receive a small amount of money from the sale of these items. Thank you for helping to support An Edible Mosaic!