YES, you can easily make restaurant-quality Indian food at home...and still eat keto! If you've seen Palak Paneer at Indian restaurants but haven't tried it, now is the time to whip it up along with some keto naan. Spoiler Alert: It's much easier than you think!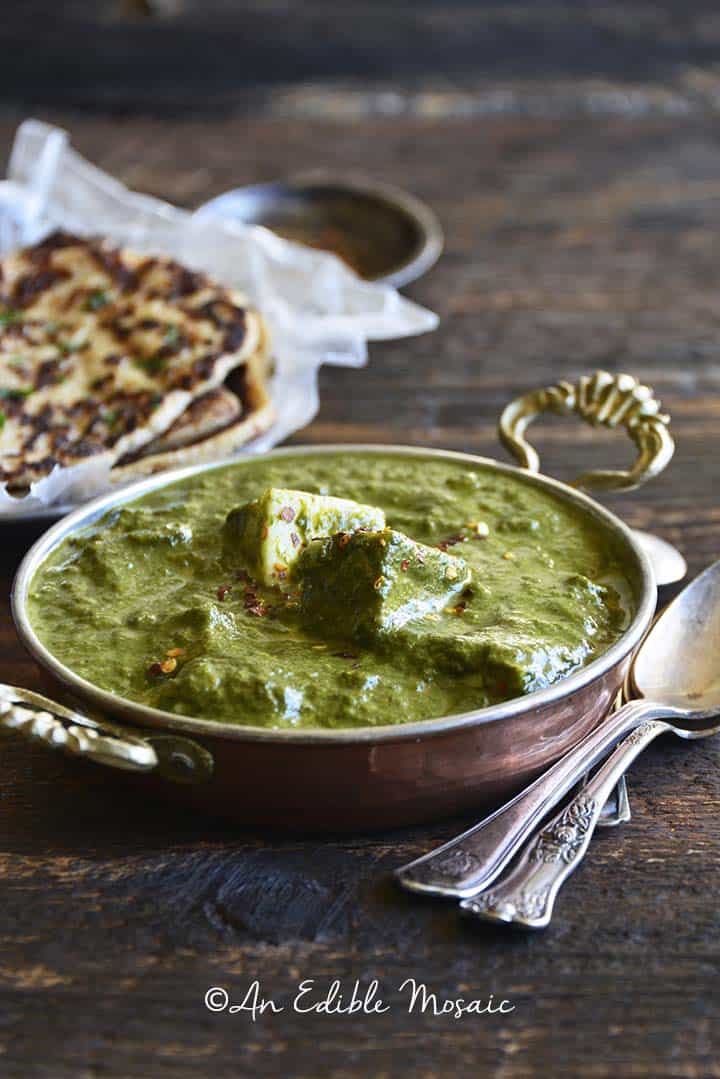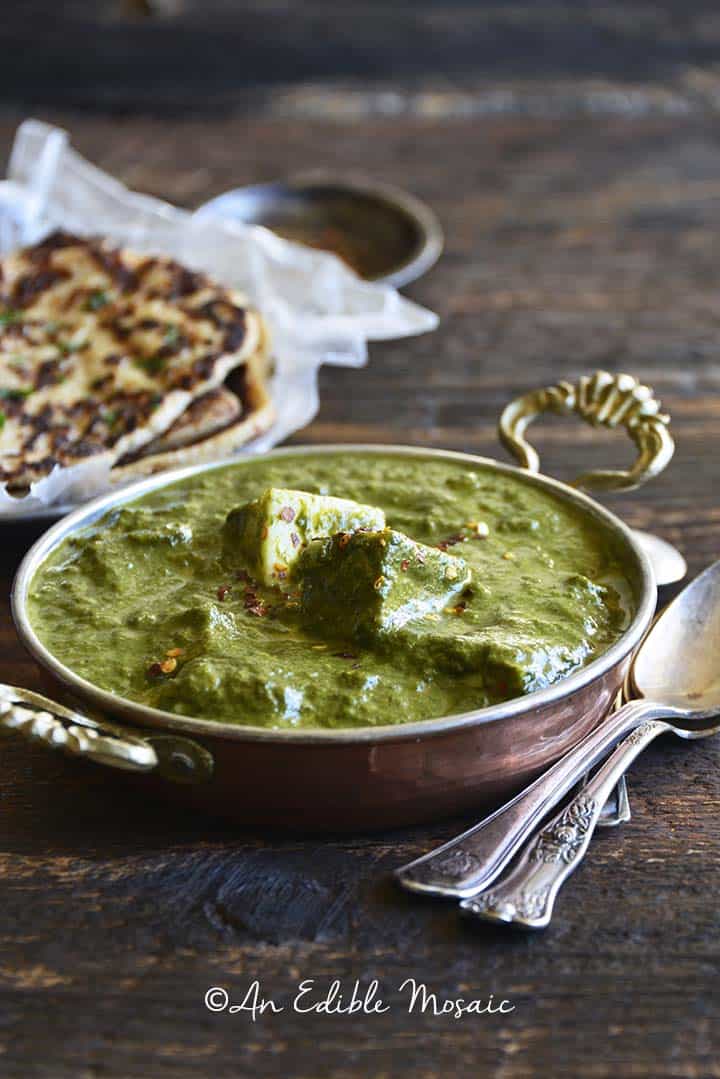 Indian food and I get along just fine. If you've been reading my blog for a while or if you follow me on Instagram, you probably know how deep my love for Indian food runs. (As evidence, Indian Butter Chicken is my absolute favorite meal, and I even opt for Indian food in Paris.)
But sometimes I'm in the mood for something a little different than the usual Tandoori Chicken, Goat Curry, or Lamb Tikka Masala. My Palak Paneer Recipe (Indian Paneer Spinach Curry) is really something special!
What's your favorite Indian dish?
What I Love About Indian Spinach Curry with Paneer Cheese:
Verdant green color
Aromatic with garlic, ginger, and spices
Rich with cottage cheese and a touch of cream
Easy to make
Low carb and keto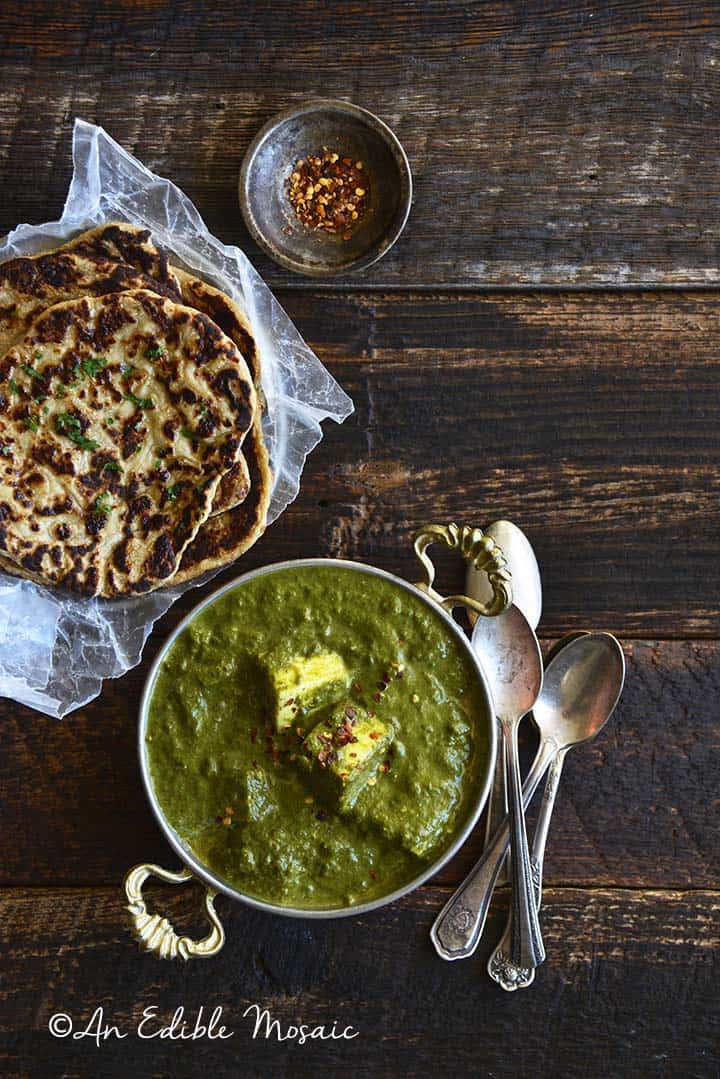 FAQ
What is the Difference Between Palak Paneer and Saag Paneer?
Palak means spinach in Hindi, while saag refers to leafy greens. Therefore, one of the main differences is that Palak Paneer contains only spinach, while Saag Paneer can contain a variety of leafy greens. Additionally, I have heard that Palak Paneer uses less cream than Saag Paneer. You can read more about the differences between these two dishes on Spice Cravings and Ambika's Kitchen.
Pro Tip: Try this recipe with half of the baby spinach replaced with mustard greens.
Can You Make Palak Paneer with Frozen Spinach?
Yes! You can make this recipe with frozen spinach. To do so:
Thaw a 10 ounce box of frozen spinach.
Drain most of the water off the spinach, but don't completely wring it out.
In the recipe below, skip step 1 and start with step 2.
Can You Freeze Palak Paneer?
Yes, this dish freezes very well. To freeze Palak Paneer:
Put it into a freezer safe container.
When you want to eat it, thaw it to room temperature.
Pour it into a saucepan and heat over medium-low heat until warm, stirring frequently, or in a microwave at 70% power, stirring every 45 seconds to 1 minute.
Pro Tip: Freeze this Indian Spinach Curry with Paneer Cheese in 1 cup capacity glass containers, thaw it overnight, and then reheat in the microwave for a hot homemade lunch at work!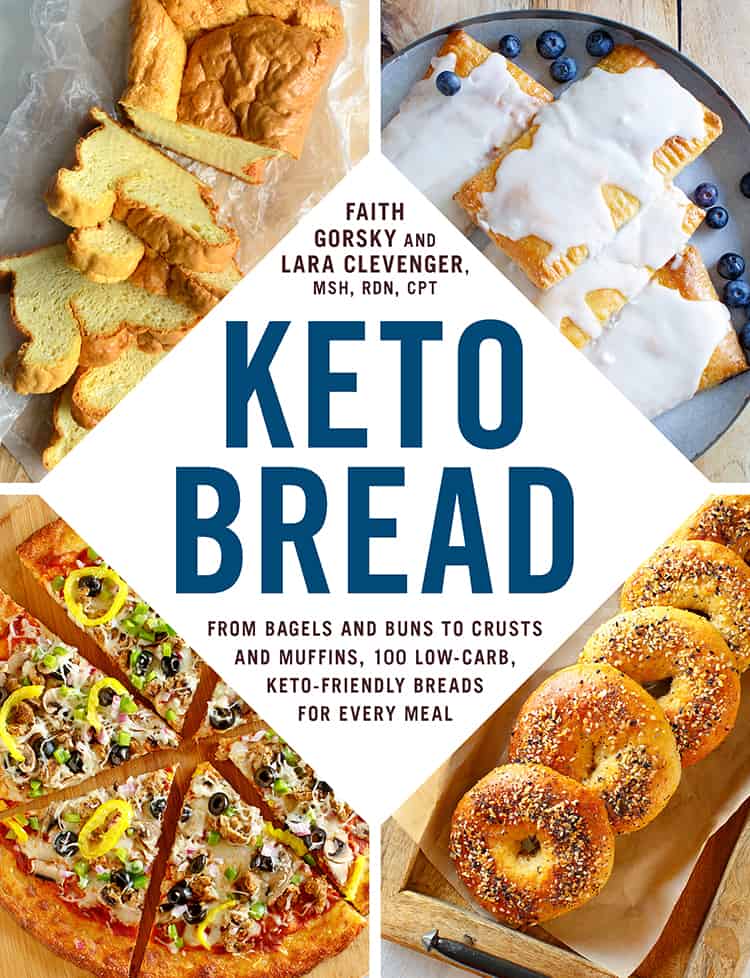 The Keto Queens Keto Bread Cookbook Published by Adams Media
This Palak Paneer recipe is from mine and Lara Clevenger's (together we are The Keto Queens) Keto Bread cookbook! This cookbook has been a real labor of love for us; after going keto, one of the things that we missed most was bread.
And we know we're not alone. One of the most common recipe requests we get is for keto bread and other keto baked goods!
Above: Keto Naan (Find the recipe in the Keto Bread cookbook!)
If you're a baker and you're used to regular flour, go into keto baking knowing that it's completely different. Keto "flours", such as almond flour, coconut flour, psyllium husk fiber, flaxseed meal, etc. are gluten-free. Because of this, it takes a bit more finesse to yield a result that has both a tender crumb and slight chew that's typical of classic breads and baked goods.
Coming up with the right combination of keto flours, leavening agents, and liquids (such as eggs, water, cream, etc.) is a true science experiment. Not only should the bread rise, but above all, it needs to taste good!
We've suffered through way too many keto breads that were too eggy, too dense, or too complicated to make. Our goal with the recipes in our Keto Bread cookbook was to simulate the real thing in a way that's approachable for everyone with basic kitchen skills.
Pro Tip: If you're new to keto baking, don't expect the breads to have as much rise as regular bread. I haven't met a loaf of keto bread that didn't fall a little once it cools. However, we worked really hard on coming up with the right combination and amounts of ingredients to get the best rise and best flavor in our keto bread recipes! We think you're going to love them.
To Whet Your Appetite: A Few Recipes from the Keto Bread Cookbook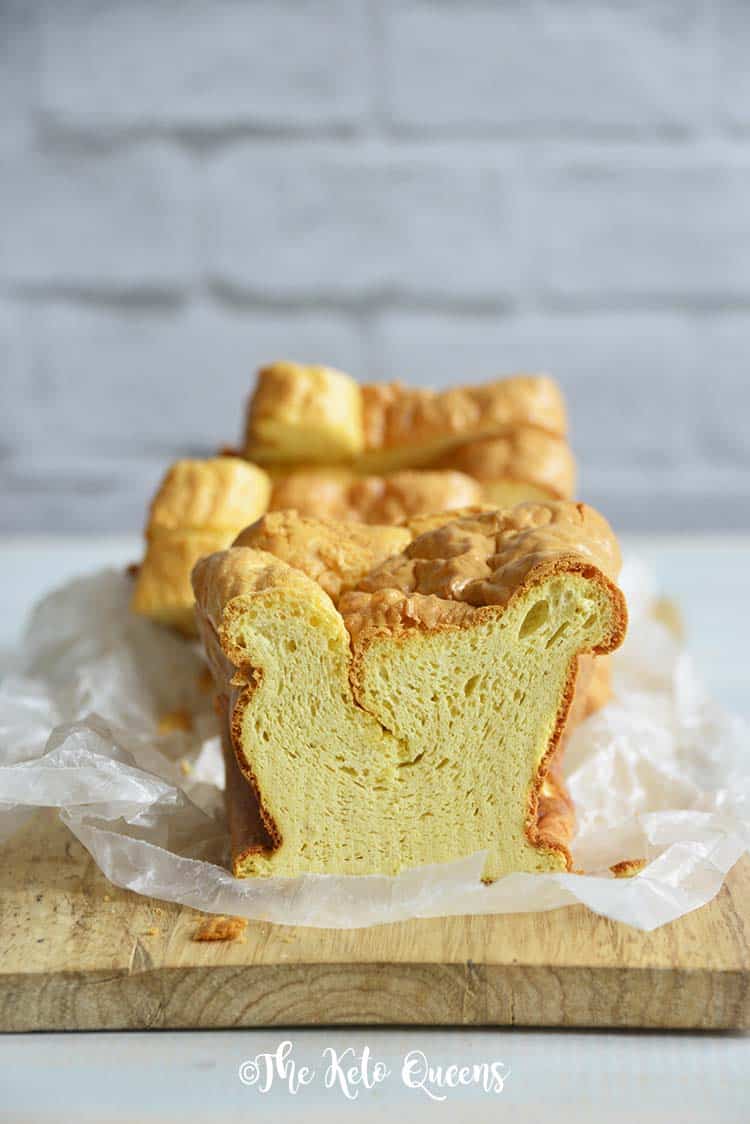 If you're craving fluffy Wonder Bread-style white bread, we have you covered.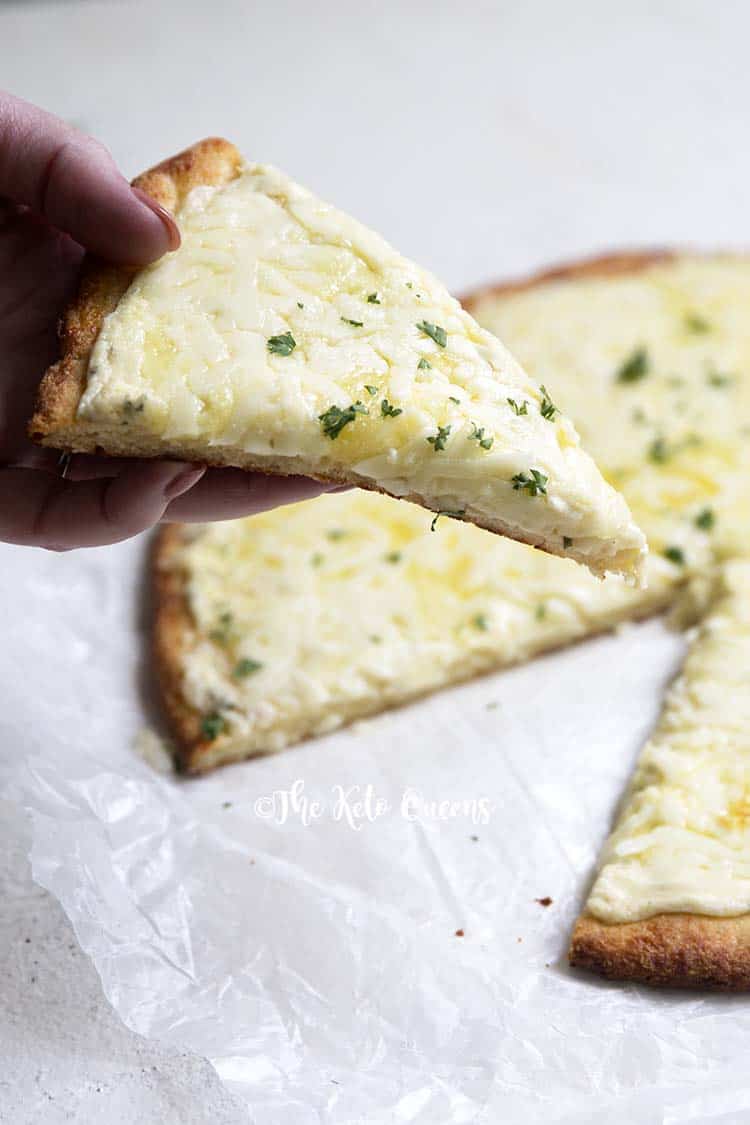 You want pizza? We have 3 cheese pizza in all its cheesy glory!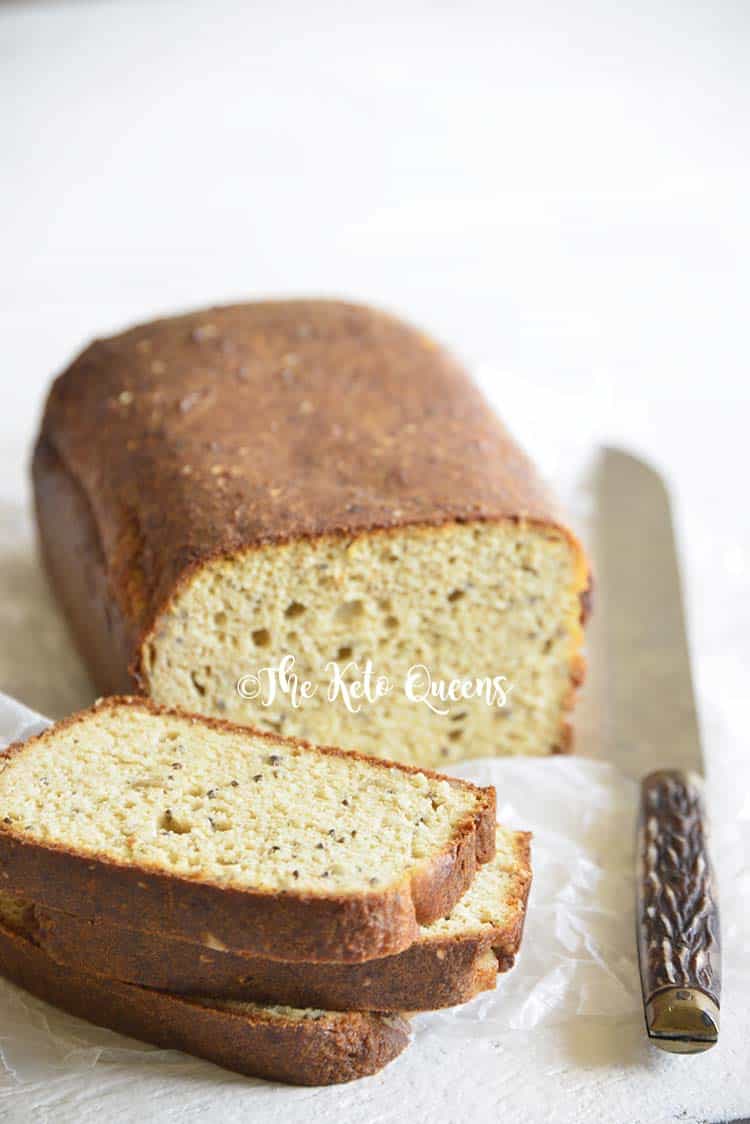 You're in the mood for wheat bread? We have the best keto wheat bread you'll actually think is regular wheat bread! (Our wheat bread recipe is only available in our Keto Bread cookbook!)
You can read more about our Keto Bread cookbook on The Keto Queens website.
Details About Keto Bread Cookbook:
Adams Media is publishing it on September 10, 2019
The book has over 100 keto recipes for bread, bread-like items (think biscuits, crusts, muffins, etc.), and baked goods
It's divided into the following chapters: Bread Basics, Breakfast, Lunch, Dinner, Snacks, Desserts
The variety of recipes will wow you (and your family, friends, and guests)! Pull-Apart Caramel Monkey Bread, Blueberry Pop Tarts, Oven-Fried Chicken and Waffles, Spiced Beef Empanadas, Broccoli Cheddar Hot Pockets, Graham Crackers, and Chicken Pot Pie, to name just a few
You can buy Keto Bread wherever books are sold, including on Amazon and Barnes and Noble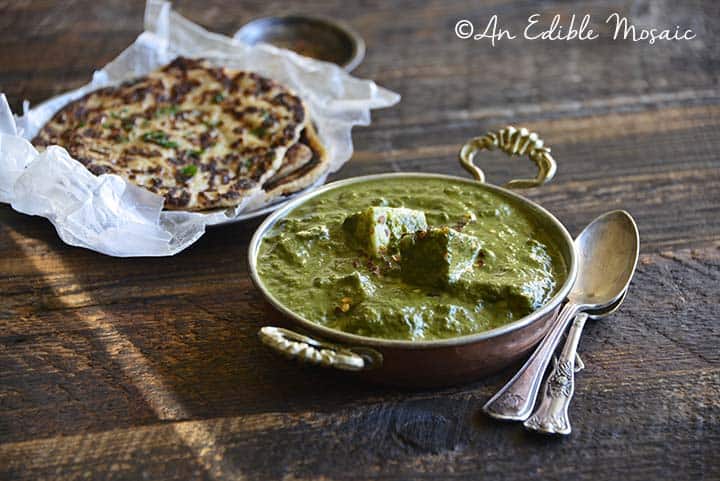 Did you make this recipe? Please rate it and leave a comment below because I love hearing from you! You can also tag @anediblemosaic on social media. To stay up-to-date FOLLOW ME on Instagram, Twitter, and Facebook. Xoxo, Faith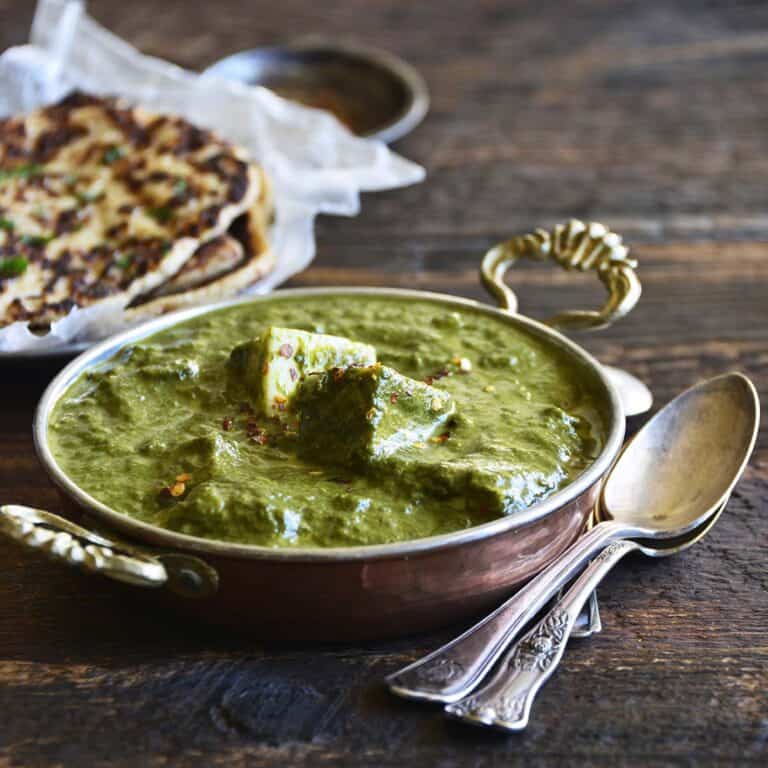 Palak Paneer (Indian Spinach Curry with Paneer Cheese)
A creamy, aromatic spinach-based curry with paneer cheese will bring a favorite Indian dish right into your own kitchen! Serve it with cauliflower rice or keto naan if desired.
Ingredients
For Serving (Optional):
Keto Naan

from the Keto Bread cookbook
Instructions
Fill a 5-quart pot halfway full with water and bring to a boil. Add the kosher salt, and then the spinach. Cook the spinach until wilted, about 2 minutes, and then drain. Lightly press down on the spinach, but don't extract all the water.

Add the spinach, tomato, and jalapeño to a blender and process until smooth.

Heat the ghee in a large, deep skillet over medium heat. Add the onion and cook until softened, about 3 to 5 minutes, and then add the garlic and ginger and cook 1 minute more, stirring constantly.

Stir in the spinach purée, salt, garam masala spice mix, coriander, cumin, turmeric, crushed red pepper flakes, and bay leaf. Bring to a simmer and cook 3 minutes, stirring frequently. Add the paneer cheese and cook 1 minute more, stirring constantly.

Turn off the heat and stir in the cream, lemon juice, and fenugreek. Cover the skillet and let it sit for 3 minutes.

Remove bay leaf and discard. Serve hot, with the Naan for dipping.
Faith's Tips
Recipe is from the Keto Bread cookbook by Faith Gorsky and Lara Clevenger, published by Adams Media on September 10, 2019.
Net Carbs: 4g per serving
The nutrition information for this recipe was calculated without the optional Keto Naan or Cauliflower Rice for serving.
Try this recipe with half of the baby spinach replaced with mustard greens.
This recipe is freezer-friendly! Thaw it overnight, and then reheat it in a saucepan over medium-low heat on the stovetop (stirring frequently), or at 70% power in the microwave (stirring every 45 seconds to 1 minute).
Nutrition
Nutrition Facts
Palak Paneer (Indian Spinach Curry with Paneer Cheese)
Amount Per Serving
Calories 209
Calories from Fat 162
% Daily Value*
Fat 18g28%
Cholesterol 51mg17%
Sodium 1586mg69%
Potassium 213mg6%
Carbohydrates 5g2%
Protein 7g14%
Vitamin A 2570IU51%
Vitamin C 13mg16%
Calcium 220mg22%
Iron 1mg6%
* Percent Daily Values are based on a 2000 calorie diet.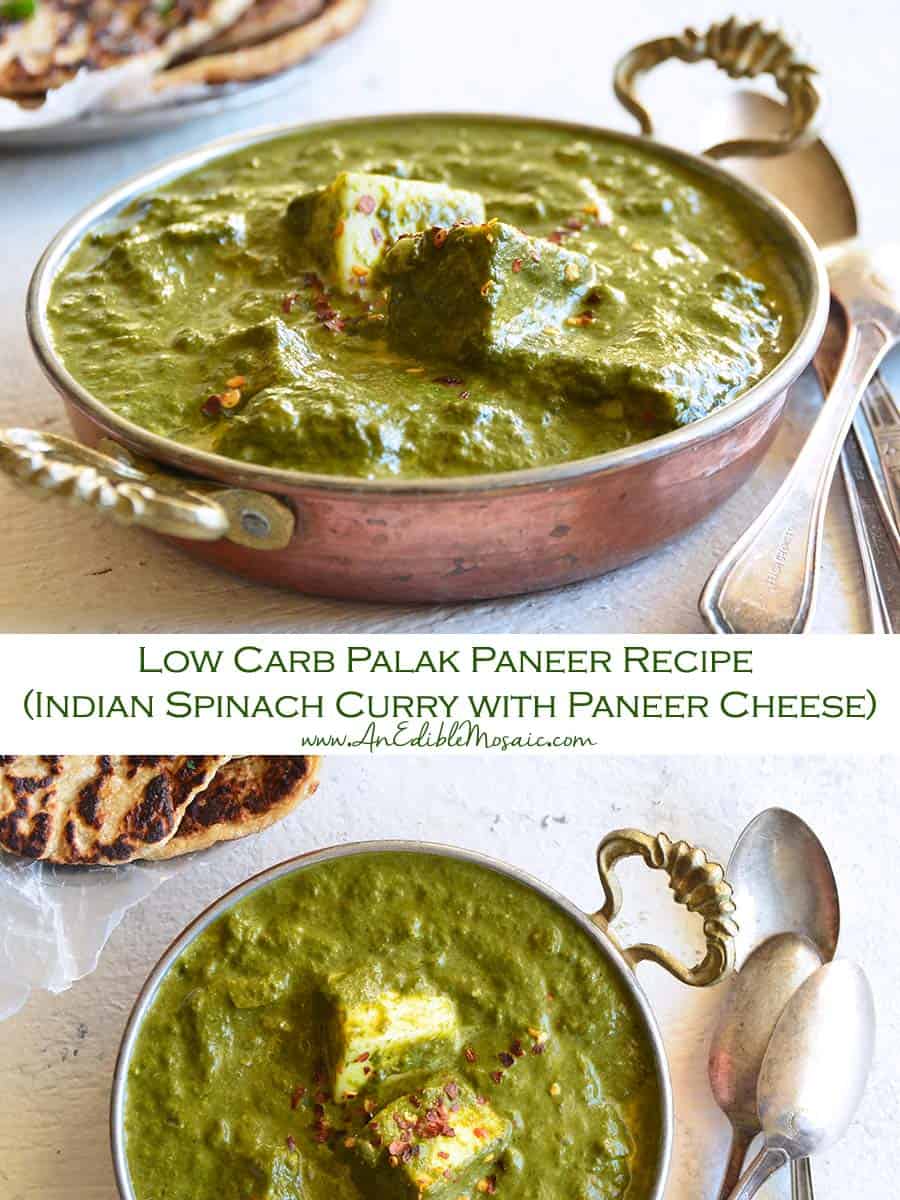 Disclosure: This post contains Amazon affiliate links to products I believe in, which means that even though it doesn't cost you anything extra, I will receive a small amount of money from the sale of these items. Thank you for helping to support An Edible Mosaic!