Indian Butter Chicken (Murgh Makhani) features tender spiced chicken marinated in yogurt and grilled, and then served in an aromatic spiced tomato-based sauce that's velvety smooth and rich with cream and butter.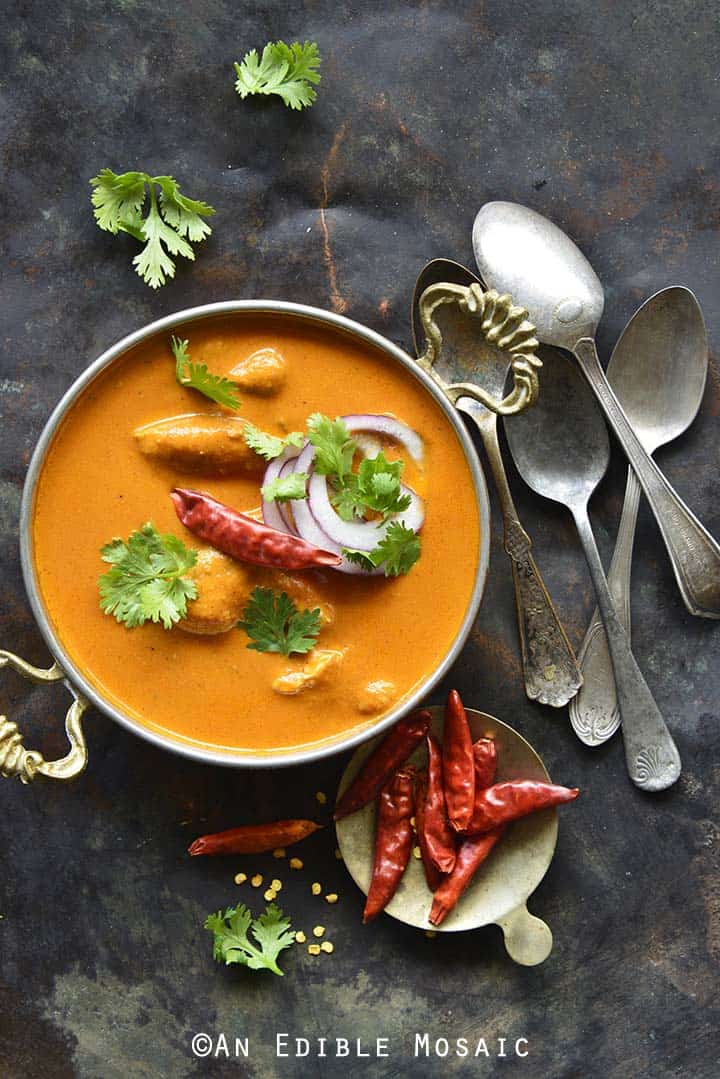 I have to share a secret…
This is my very favorite meal in the whole world. (And I'm excited because I only make it two or three times a year…after all it is butter chicken!)
I'll admit this recipe may look intimidating at first glance because of the long ingredient list and drawn out instructions. But take a deeper look…a lot of the ingredients are probably things you already have in your fridge or pantry, and not including marinating the chicken, this dish only takes about two hours to prepare.
Think about it this way: you're only two hours away from heaven. And on a Sunday afternoon, what could be better than the smell of Indian spices filling the house?
I invite you all to try my favorite dish and let me know how you like it. By the way, I'd love to hear what your favorite meal is!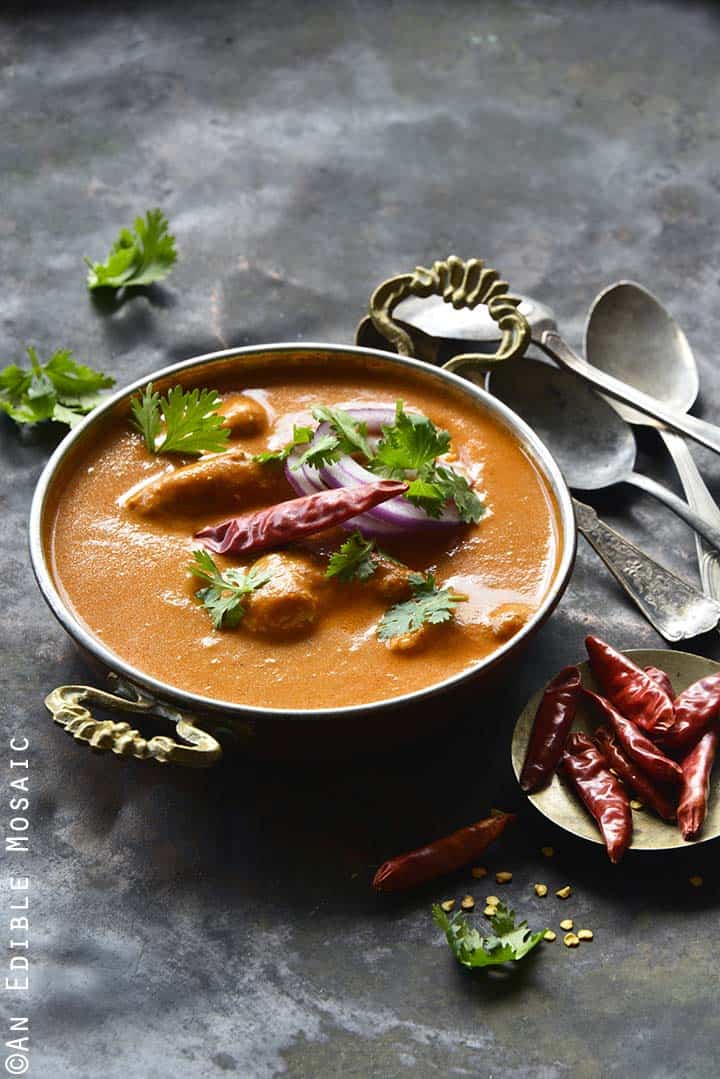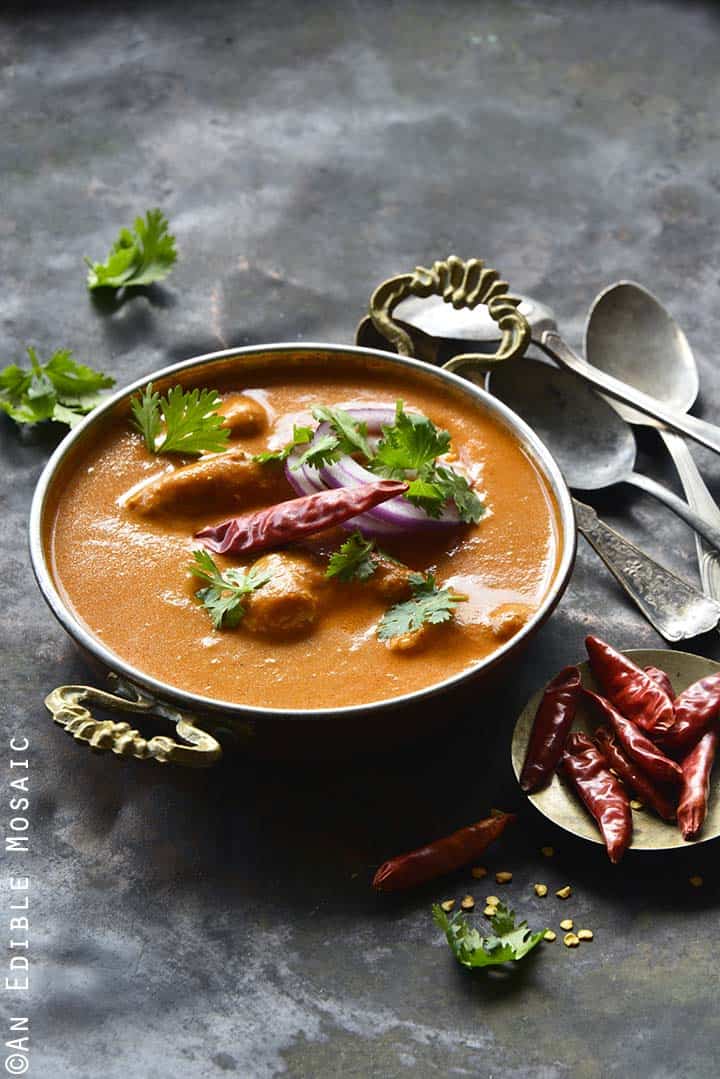 Indian Butter Chicken and Where it Comes From
Murgh makhani (also known as butter chicken) is an Indian dish of chicken marinated in a spiced yogurt mixture and typically cooked in a tandoor, which is a traditional clay oven. For home cooks, you can grill or roast the chicken in a hot oven. Once cooked, the chicken is combined with a richly-spiced tomato-based cream sauce that's made even more luxuriously velvety with the addition of butter.
According to Wikipedia, chicken makhani was invented in the 1950s by three Indian restauranteurs in Delhi: Kundan Lal Jaggi, Kundan Lal Gujral and Thakur Dass. The story goes that they came up with the recipe by combining leftover chicken with a creamy spiced tomato gravy that was rich with butter.
What Ingredients are in Indian Butter Chicken (Makhani) Sauce?
In addition to butter, cream, onion, garlic, ginger, and tomato, makhani gravy has quite a few spices. It typically contains a spice mix called garam masala that's a blend of the following: cloves, coriander, cumin, bay leaves, black and/or white pepper, cinnamon, cardamom, nutmeg, and mace. I've occasionally seen variations that include star anise and/or fennel as well.
Along with garam masala spice mix, butter chicken usually has fenugreek (which has a pleasant almost caramelized sugar aroma) and turmeric (which adds color). You can also add chili powder. Additionally, feel free to customize your spice blend by adding more of any spice you like (I usually add a bit more cumin, coriander, and cinnamon).
How to Make Indian Butter Chicken
Indian Butter Chicken is very easy to make! Cook the chicken and gravy separately, and then combine to serve.
Chicken:
The thing to keep in mind when you want to make butter chicken is that the chicken needs to marinate in the fridge at least two hours before cooking (but overnight is better, and up to two days is fine). After marination, the chicken is traditionally cooked in a clay oven called a tandoor; however, at home, I either grill it or cook it in the oven (425F for about 12 minutes or so). Chicken is fully cooked when it reaches an internal temperature of 165F and the juices run clear.
Don't rush the marinade because this is what lends flavor to the chicken, and additionally helps tenderize the meat.
Makhani Gravy:
To make Makhani gravy, starting by cooking onion, garlic, ginger, and jalapeno in oil. Subsequently, add tomato products (like diced or crushed tomatoes, and tomato paste), along with liquid (such as water or chicken stock). Spices lend depth of flavor, and then the mixture cooks a bit so the flavors can blend.
After cooking a while, blend the gravy until smooth. I then add golden raisins for bursts of sweetness to help balance the spice. After that, the cooked chicken is added. Finally, the dish is finished with butter and cream and typically served with basmati rice. The sauce should be thick enough on its own without the need to add flour of any kind.
Difference Between Indian Butter Chicken and Chicken Tikka Masala
The first difference is their place of origin; chicken mahkani is from India; however, according to Tasting Table, chicken tikka masala is a British invention from the 1960s. Chicken makhani has butter, which chicken tikka masala usually doesn't have, and additionally, makhani has more cream. Tikka masala is more heavily spiced.
I'm not sure if either of these are authentic differences, but I have personally noticed a couple of other differences at restaurants. Mahkani usually comes with golden raisins in the gravy, and tikka masala usually comes with sautéed bell peppers in the gravy.
Other Indian Recipe Inspiration:

Did you make this recipe? Please rate it and leave a comment below because I love hearing from you! You can also tag @anediblemosaic on social media. To stay up-to-date FOLLOW ME on Instagram, Twitter, and Facebook. Xoxo, Faith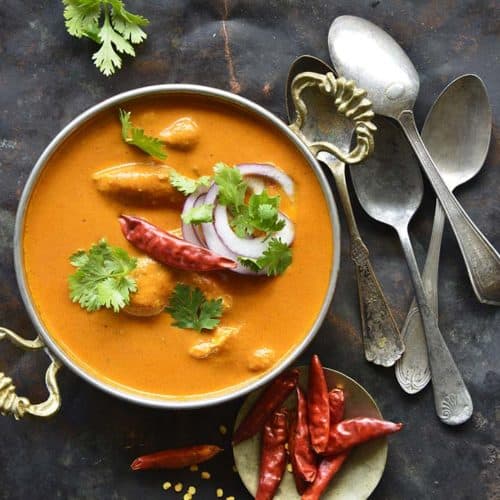 Indian Butter Chicken (Murgh Makhani)
Indian Butter Chicken (Murgh Makhani) features tender spiced chicken marinated in yogurt and then grilled, served in an aromatic spiced tomato-based sauce that's velvety smooth and rich with cream and butter.
Ingredients
Chicken:
½

cup

plain yogurt

2

tablespoons

fresh lemon juice

3

cloves

garlic

grated or crushed

5

teaspoons

Spice Mix

2

lbs

boneless, skinless chicken breasts

cut into large bite-sized pieces
Sauce:
2

tablespoons

clarified butter

ghee

2

medium-large onions

chopped

1

jalapeno pepper

seeded and minced (optional)

4

cloves

garlic

grated or crushed

1

tablespoon

fresh-grated ginger

1

tablespoon

sugar

or you can use coconut sugar

5

teaspoons

Spice Mix

2

teaspoons

fresh lemon juice

2

teaspoons

hot sauce

more or less to taste

14.5

oz

can diced tomatoes

with juices

½

cup

tomato paste

4

cups

chicken stock

1

bay leaf

½

cup

golden raisins

sultanas

4

tablespoons

unsalted butter

½

cup

heavy cream

¼

cup

chopped fresh cilantro

plus more for garnish if desired (optional)
For Serving:
Prepared basmati rice or prepared cauliflower rice
Instructions
For the spice mix, combine all ingredients in a small bowl.

For the chicken, combine all ingredients in a large bowl; cover it and marinade in the fridge for at least 2 hours (or up to 2 days).

For the sauce, heat the ghee in a 5-quart pot over medium heat; add the onion and jalapeno and cook until softened, but not browned, about 8 minutes, stirring occasionally. Add the garlic and ginger and cook another 30 seconds, then add the Spice Mix and lemon juice and cook 30 seconds more. Add the hot sauce and tomatoes and cook 5 minutes, then add the tomato paste and chicken stock.

Bring to a boil, then cover the pot and simmer for 20 minutes, stirring occasionally; cool slightly.

Puree the sauce until completely smooth using an immersion blender or in batches using a regular blender.

Return the gravy to the pan and add the bay leaf and raisins. Bring to a boil, then cover the pot and simmer for 30 minutes, stirring occasionally. Stir in the butter until melted, then turn off the heat. Stir in the cream (don't let it come up to a boil again).

While the sauce is cooking, you can cook the chicken. The chicken can be skewered and grilled, cooked in a broiler, or cooked in a very hot oven until it's no longer pink.

Add cilantro and the chicken to the sauce. Taste and adjust the seasonings as desired (you may want to add more salt, sugar, spices, hot sauce, lemon juice, etc.)

Serve with prepared basmati rice or prepared cauliflower rice.
Nutrition
Nutrition Facts
Indian Butter Chicken (Murgh Makhani)
Amount Per Serving
Calories 415
Calories from Fat 180
% Daily Value*
Fat 20g31%
Cholesterol 123mg41%
Sodium 774mg34%
Potassium 1047mg30%
Carbohydrates 28g9%
Protein 30g60%
Vitamin A 915IU18%
Vitamin C 18mg22%
Calcium 180mg18%
Iron 4.7mg26%
* Percent Daily Values are based on a 2000 calorie diet.

Update (May 16, 2018): I made this dish again and perfected the recipe and snapped a few pictures, so I decided to update both the recipe and the photos in this post. As a point of comparison to show how much my photography has evolved, I kept one of my original photos (below).
Disclosure: This post contains Amazon affiliate links to products I believe in, which means that even though it doesn't cost you anything extra, I will receive a small amount of money from the sale of these items. Thank you for helping to support An Edible Mosaic!