If you're not familiar with this dish, you might think that I went a little crazy.  (Scroll down and take a look…you're probably thinking, is that swamp water she's cooking?)  This green soup is a traditional Egyptian dish called Jew's Mallow, Jute Mallow, or Nalta in English (it's called Molokhia in Arabic).  It's said that the word Molokhia was derived from Molokia, which means "for royalty" and rightly so because it's so delicious. 
The consistency of this soup is something that must be surmounted if you're going to eat it, since Molokhia has a very mucous-like feel (similar to cooked okra).  Although Molokhia is often compared to spinach, both the texture and flavor are different…the best way I can describe Molokhia's flavor is earthy.  (I know, that probably doesn't help much.)  The flavor of Molokhia is complimented nicely with garlic and brightened with fresh lemon juice. 
This dish can also be made with chicken or lamb, but my favorite way to have it is with beef.  Feel free to boil a chicken and make the Molokhia with the chicken stock if you prefer (if you want to use lamb, you can prepare it the same way that I've prepared it with beef).  Also, you can add a teaspoon or two of dried coriander for extra flavor if you like.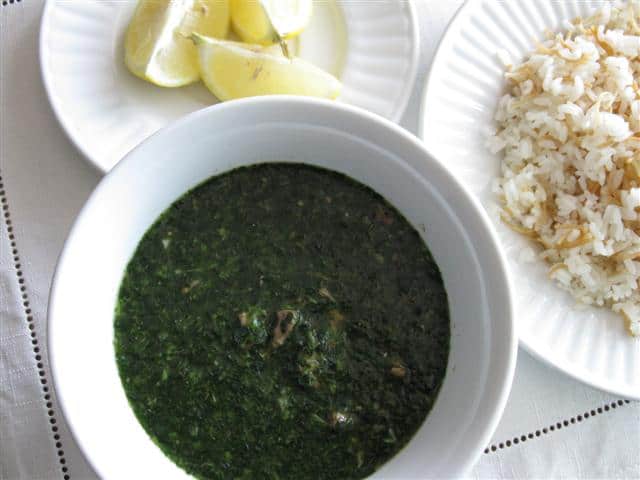 Jew's Mallow Soup (Molokhia)
(Yield:  6-8 servings)
1 ¼ lb beef, cut into bite-sized pieces
2 ½ TB canola oil, divided
4 ½ c warm water
2 beef bouillon cubes
1 bay leaf
2 (400 g) bags frozen minced Molokhia
4 large garlic cloves, crushed
1 teaspoon salt
¼ teaspoon black pepper
Rice (for serving)
Fresh lemon (for serving)
In a 5-quart pot with a lid, heat 1 ½ TB of oil on high; sear the beef on all sides, then add the water, bouillon, and bay.  Cover the pot, bring it to a boil, then turn it down to a simmer and let it cook for 60-90 minutes (stirring occasionally).  While it isn't necessary, I like to thaw the frozen Molokhia (at least so it's partially thawed).  Turn the beef broth back up to a boil and add the Molokhia, then turn it down to a simmer.  If you added frozen Molokhia, cook for 10-15; if you added thawed or partially thawed Molokhia, cook for 7 minutes.  When it's done it should have the consistency of a thick soup, and it should still be a pretty bright green.
In a small saucepan, add 1 TB of oil and heat it on medium-low; add the garlic and sauté for 45-60 seconds (stirring continuously).  Add the garlic to the Molokhia, along with the salt and pepper.  Taste the Molokhia and adjust it for seasonings. 
Serve the Molokhia alongside rice (the Molokhia is usually spooned onto the rice and eaten that way), with fresh lemon juice squeezed on top.