This Peanutty Thai Curry Hummus is full of some of my favorite Thai flavors: peanut, coconut, garlic, ginger, fish sauce, and fresh lime!
It was the strangest thing. I woke up on a day like any other…ate my regular breakfast, did my normal workout, showered, replied to a few emails, and headed to the fridge for a post-workout snack. I grabbed what I saw first, hummus and a carrot. Happy as a lark, I dunked the carrot into the hummus, only to discover that I was over it.
It wasn't working for me, to the point where I couldn't even finish my snack.
Hummus just wasn't my thing anymore (or so I thought).
That was like three years ago.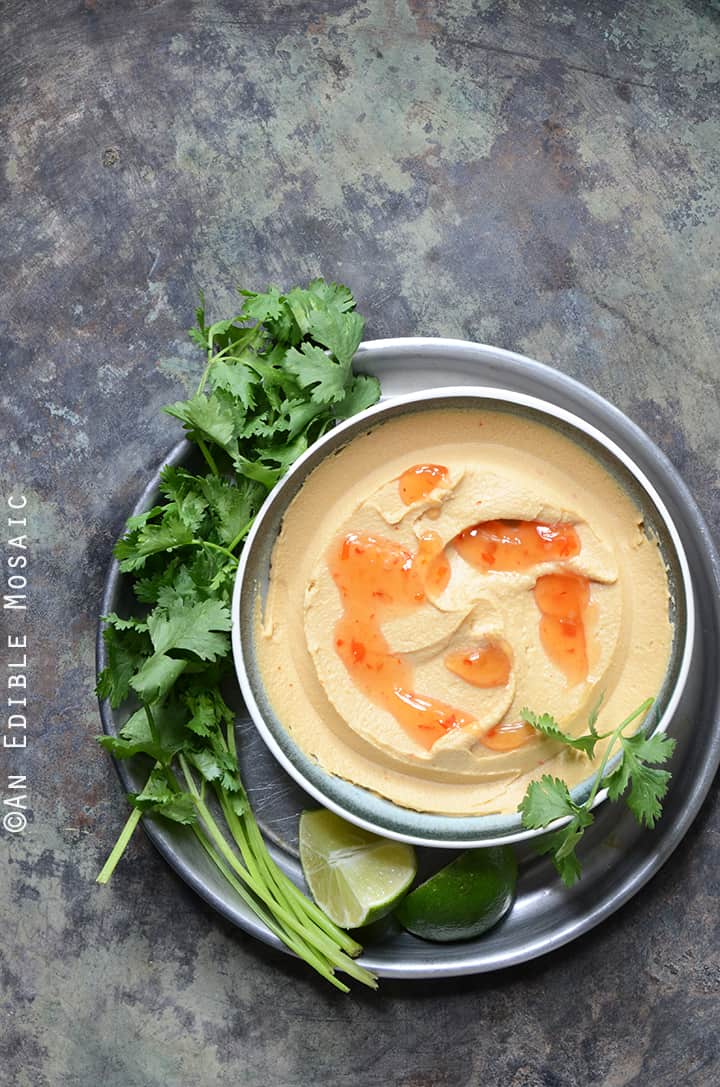 Since then, my husband and I have lived in Kuwait for a year (and subsequently moved back stateside), where hummus is a serious staple in the diet/lifestyle (let's just say, you're bound to come head to head with hummus in the Middle East). I fairly successfully avoided it the whole time, as I still just wasn't in the mood.
I have no idea what brought on this sudden random food aversion, and honestly, it's a bit frightening. (First it's hummus, but what's next? Indian food? French cheese? DARK CHOCOLATE? Shudder. Make it stop.) So after not having hummus for literally years, I decided to revisit it with flavors I always love: Thai!
My palate was somewhat confused (is it curry? Is it sweet? Is it savory? Do I actually like hummus again?). My hummus crisis is over though. I'm relieved to report that I happily ate my fair share of this batch.
This flavorful hummus is great with fresh pita bread, pita chips, crackers, or raw veggies for dipping, and any leftovers are delicious dolloped on salad greens (for more ideas on how to use leftover hummus, check out this article on Cooking Light). Serve this hummus at any party and it's sure to be gone by the end of the evening!
This is pretty cool. Online I found quite a few Thai-inspired hummus recipes with the same name, but each recipe is a little different! Here they are if you want to check them out for more inspiration:
Thai Coconut Curry Hummus from A Spicy Perspective
Thai Coconut Curry Hummus from Home by 28 Cooks
Thai Coconut Curry Hummus from Lemony Thyme
Thai Coconut Curry Hummus from Oh My Veggies
Peanutty Thai Curry Hummus
This Peanutty Thai Curry Hummus is full of some of my favorite Thai flavors: peanut, coconut, garlic, ginger, fish sauce, and fresh lime!
Ingredients
1 (15 oz/425 g) can chickpeas, rinsed and drained
4 tablespoons powdered peanut butter
3 tablespoons canned full-fat, unsweetened coconut milk, stirred before measuring
2-3 tablespoons fresh lime juice (more or less to taste)
1 tablespoon coconut sugar
1 large clove garlic, grated or crushed
½-inch piece fresh ginger, grated
1 teaspoon soy sauce (or tamari or coconut aminos)
½ teaspoon fish sauce
½ teaspoon crushed red pepper flakes (more or less to taste)
¼ teaspoon salt
2-3 tablespoons water
Garnish Ideas:
Sweet chili sauce
Fresh cilantro
Chopped peanuts
Sesame oil
Sesame seeds
Serving Ideas:
Fresh pita bread
Pita chips
Crackers
Crudités
Instructions
Add all ingredients to a blender or food processor and puree until smooth.
Transfer to a shallow bowl and top with any garnishes you like.
Serve with anything you like for dipping.