It's still January. How many of us have kept our health and/or wellness New Year's Resolutions so far?
And how many of us feel like they could use some inspiration at this point?
Personally, I strive to make a healthier change when I first notice the need arise, but (as most of us can probably attest to) that is so much easier in theory than in practice. Sometimes we just need some extra motivation.
Why not take a little help?
This year I'm committing to bringing you a few health gurus to give inside tips to help keep you motivated. I'll be sharing one post each month for "A Healthier Happier You 2015" all year long because our journey to being the healthiest version of ourselves shouldn't end when our resolve to keep our New Year goals fizzles out. Am I right?
The first guest I'm excited and so honored to introduce is Tess Masters, aka The Blender Girl. I had the pleasure of meeting Tess in person at Earthbound Farm in September (you can read more about that trip here), and I have to say, she's just as charming and charismatic in person as she is on her blog. She's easy to talk to and has a truly magnetic energy.
One of my favorite activities during the Earthbound Farm trip was a salad throw-down type of competition on the last day; we were divided into two groups and each group had to make a salad. Tess and I were partners and working with her and watching her creativity flowing was so much fun. She and I put together a really unique Asian-inspired kale salad with a killer miso/garlic/ginger/tahini dressing that I think I need to share the recipe for at some point.
Basically, Tess is the type of genuinely kind, down-to-earth person you want to have in your life.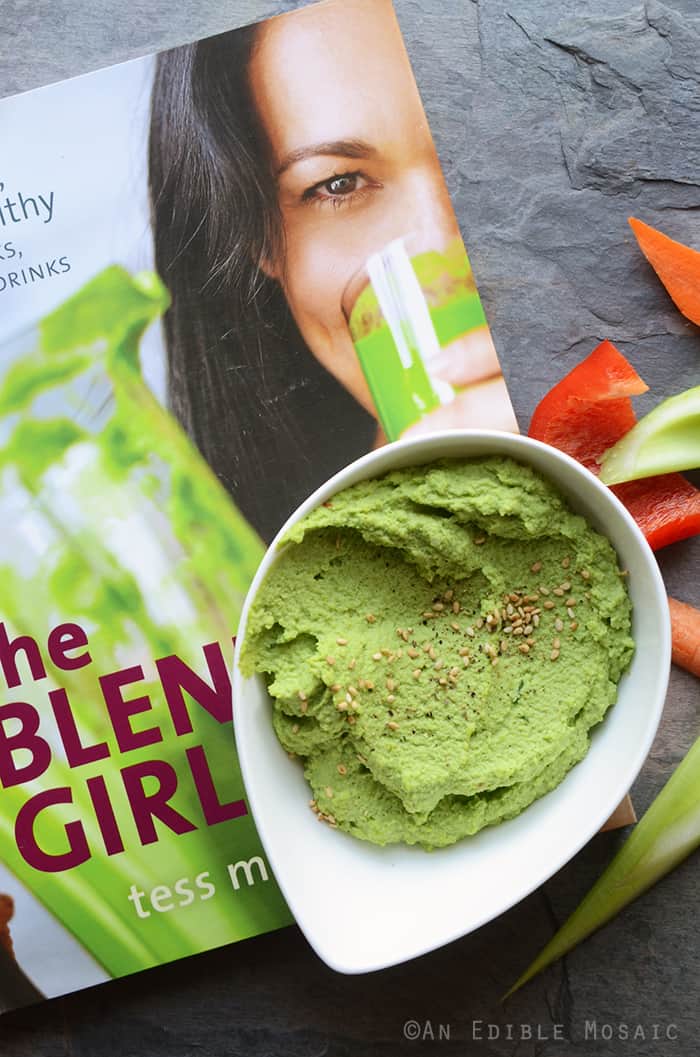 Her debut cookbook, The Blender Girl, features 100 whole food-based recipes that are gluten-free, vegan, and completely approachable. Now, for those of you like me who generally eat healthy 80/20, but aren't vegan, paleo, or gluten-free all the time, this book is a real gem. Tess' recipes fit seamlessly into that 80% of the time when we're eating healthy (and probably striving for a number that's even higher than that!).
Healthy is a given with Tess, but also, her food is knock-your-socks off delicious.
So many recipes from her cookbook are now on my "must-make" list. Like Fresh Spring Rolls with Orange-Almond Sauce, which sounds so yummy I think I could probably be happy just drinking that sauce on its own. Green Smoothie Fruit Leathers – how fun and ingenious is that for getting your kids to want to eat their greens?! Green Queen salad dressing, which is creamy and bright-flavored thanks to lemon and fresh herbs; Tess says this dressing transforms "even the most tragic mound of lettuce from drab to fab" and I can totally see that happening. Her Watermelon Gazpacho has me longing for summer and I'm normally a winter-loving girl. Her Alkaline Taco "meat" is a brilliant nut-based mixture that looks pretty killer. And there are even gorgeous desserts, like her Raw Chocolate-Orange Torte that is definitely worthy of a dinner party.
I tried Tess' recipe for Holiday Eggnog (you can check out my photo of it here on my Instagram feed) and as someone who loves eggnog, this vegan version was completely creamy, flavorful, and satisfying. I won't be waiting until next holiday season to make it again!
I also made Tess' Incredibly Edible Edamame Dip, which was a huge hit all around. Tess says about this recipe:
One of the enduring favorites on my website, this recipe is addictive. Not only because it tastes so darn good, but also because it only takes minutes to blend up and devour. However, the recipe only works in a high-speed blender or food processor. Use it as a dip with raw vegetables and crackers, or spread it on sandwiches or wraps. Totally guilt-free, super-healthy, alkalizing, and nutrient-dense, this one's a winner on all fronts.
It was definitely a winner at my house!
Tess was kind enough to answer a few questions for us…
1) Tell us about your journey to health. Was it a work in progress or secondhand nature? Were there any pitfalls?
I was diagnosed with Epstein-Barr virus in my teens, and a naturopath suggested I omit gluten and dairy, and adopt a whole foods lifestyle. This way of living had a profound impact on my energy levels and overall health. I became intoxicated with the concept of food as medicine, and developed a keen interest in health and nutrition. I studied nutritional science, took hundreds of cooking classes, and became obsessed with finding "the perfect whole foods diet" that was going to keep me in a state of optimal health all-year-round.
I tried a myriad of eating plans. I was vegetarian, vegan, and then I was a raw foodist. I experimented with Ayurvedic practices, Chinese yin and yang principles, Body Ecology anti-candida principles, green smoothies, and blood-group strategies. I knew just enough to be annoying. And I still had not found the magic bullet of health. No one program completely fit my needs. I would feel good, but eventually the symptoms of my former ailments would reappear.
When I embraced the concept of bio-individuality and shifted to an intuitive approach to my health the world opened up for me and food became more fun. I decided to cherry-pick what worked from these pillars of holistic health creat my own "immune boosting Tess Diet". I am now a seasonal, intuitive eater. My plant based eating plan changes as my needs do with climate, stress levels, emotions, physical activity, and my overall wellbeing. In the summer I eat a high percentage of raw foods, and in the winter more cooked foods. But, green smoothies, vegetable juices, and alkaline soups and salads remain staples.
2) What do you think is the most important thing someone can do for their health/wellbeing?
Eat a lot of non-starchy, high-water-content vegetables and leafy greens.
3) What does a typical weekday of eating look like for you?
Breakfast: An alkaline green smoothie (a variety of blends) or a green soup
Lunch: Raw power salad with avocado and sprouts and raw (or cooked) soup and a scoop of cultured vegetables
Dinner: Raw or cooked vegetable dish with leafy greens, and a scoop of cultured vegetables
Snacks: Sprouted nuts and seeds, kale chips, sprouted crackers
Hydration: Water with liquid chlorophyll, baking soda, or mineral salts added, and a few drops of Crystal Energy throughout the day. 1 glass of water kefir.
Before Bed: ¼ cup coconut water kefir
4) Name 3 ingredients that are always in your fridge that we probably wouldn't have guessed were there.
Coconut Water Kefir. I drink it every morning and evening, and make probiotic-rich elixir drinks with it.
Cultured Vegetables. I eat them with every meal.
Bragg Liquid Aminos. They just make everything taste better.
And a bonus additional 3 ingredients:
Cauliflower because somebody always requests the creamy cauliflower soup.
Tahini because I can never eat enough raw hummus.
Really good coffee beans for guests.
5) There is 15 minutes until dinner and you're famished; what do you eat?
I blend up a raw gazpacho or make a hot soup in my Vitamix, and while that's blending, I will throw together a power salad with leafy greens, sprouts, activated nuts and seeds, cucumber, avocado, and a green goddess dressing.
6) What is the easiest healthy change that anyone can make today?
Drink more water.
Thank you for being here, Tess! Buy The Blender Girl cookbook on Amazon for tons of healthy, delicious recipe inspiration.
Follow The Blender Girl on Facebook, Twitter, Pinterest, Instagram, and Google+.
Incredibly Edible Edamame Dip
Yield:
2½ cups, or about 10 (¼-cup) servings
Ingredients
3 tablespoons cold-pressed extra-virgin olive oil
2 cups (320g) shelled raw edamame beans
2 cups (54g) loosely packed baby spinach
¼ cup (60ml) freshly squeezed lemon juice, plus more to taste
3 tablespoons tahini
1½ tablespoons finely chopped onion (yellow, white, or Vidalia is good, but not red)
2 cloves garlic, minced, plus more to taste
¼ teaspoon ground cumin
¼ teaspoon red pepper flakes, plus more to taste
1 teaspoon natural salt, plus more to taste (I used Himalayan sea salt)
2 tablespoons sesame seeds, for garnish (optional)
¼ cup (12g) finely chopped flat-leaf parsley, for garnish (optional)
Instructions
Throw the oil, edamame, spinach, lemon juice, tahini, onion, garlic, cumin, pepper flakes, and salt into your high-speed blender or food processor and blend on high or process for about
2 minutes, until smooth and creamy. Stop the machine periodically and scrape down the sides of the container to fully incorporate the ingredients. A food processor will give the mixture a coarse consistency, which some people prefer.
Tweak flavors to taste. (You may like more lemon juice, garlic, pepper flakes, or salt.)
Serve topped with the sesame seeds and parsley.
Notes
Reprinted with permission; recipe from The Blender Girl by Tess Masters (Ten Speed Press; April 2014).
: : GIVEAWAY : :
I'm thrilled to be giving away one copy of The Blender Girl by Tess Masters to one lucky winner! (Thank you to Ten Speed Press for providing the cookbook for this giveaway!)
To participate in this giveaway, just leave a comment on this post telling me your all-time favorite healthy meal.
For extra entries, you can do any of the following (please leave a separate comment for each):
You do not need to have a blog to enter this giveaway. For shipping purposes, this giveaway is only open to U.S. residents. This giveaway ends on January 29, 2015 at 11:59 PM EST. Once the giveaway ends, the winner will be randomly chosen and notified via email. The winner will have three business days to respond with his or her mailing information, otherwise a new winner will be randomly chosen. Good luck to all!
Disclosure: Ten Speed Press is providing the cookbook for this giveaway, but I purchased my own copy of Tess' beautiful cookbook; as always, opinions stated are my own. This post contains Amazon affiliate links to products I believe in, which means that even though it doesn't cost you anything extra, I will receive a small amount of money from the sale of these items, which helps me keep this site alive – thank you for helping to support An Edible Mosaic!