Sometimes you just find yourself with a random ¼ cup of pumpkin puree in the fridge.
Now, I'm willing to admit that on fridge cleaning day, a normal person would most likely be willing to just toss it. Not me. If I've said it once, I've said it 100 times: I am a weird food-waster-phobic.
That ¼ cup of pumpkin was getting eaten.
Of course it wasn't enough pumpkin to make something like a cake, quick bread, or even granola, so what to do with it?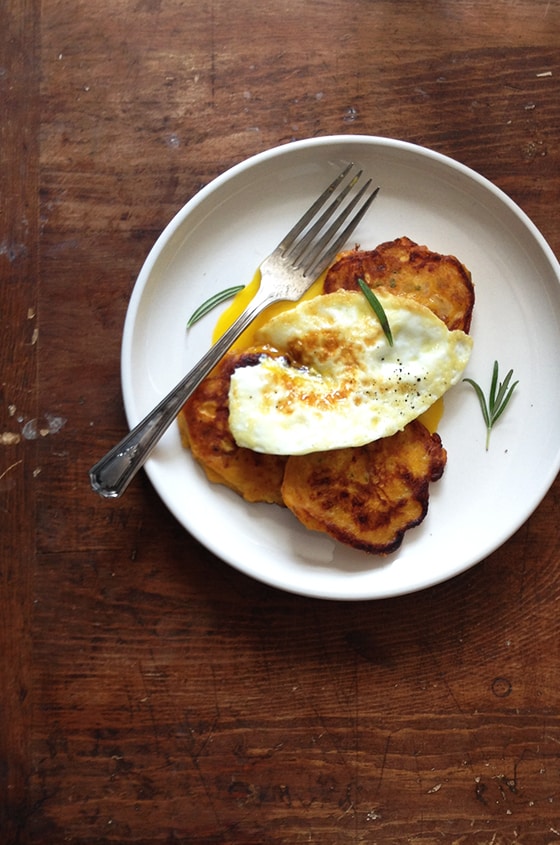 Savory Pumpkin-Cheddar Pancakes with Rosemary…Topped with Fried Egg (Sorry for the iPhone picture here, I was getting hungry at that point…this was too delicious topped with fried egg not to share though!)
I could have tossed it in with oats and made a quick bowl of pumpkin pie oatmeal…or whipped it up into a homemade pumpkin spice latte (BTW, if you're looking for the perfect PSL recipe I have you covered – it's in the BLEND: Holiday Volume 1 recipe e-book!).
But I sometimes forget that pumpkin loves savory just as much as it loves sweet.
I happened to glance at the rosemary plant on my kitchen counter that was on its last legs (side note: why can't I keep a plant alive to save my life?), and a savory idea took shape. Onions, garlic, herbs, sharp Cheddar. Oh yes, these goodies were going into a savory treat along with said pumpkin.
Pancakes call for toppings the way cookies call for milk or peanut butter calls for jelly. They just go. What best to top these savory little beauties with? Honey or maple syrup, of course; despite being savory, they are wonderful with a sweet syrupy topping. Butter is also pretty perfect, or if you want to skip the syrup, a fried egg with runny yolk will do the trick.
These can also be served at room temperature as a pretty little appetizer. Serve each topped with a dollop of sour cream or Greek yogurt and maybe a sprinkling of fresh chives; arrange them on a pretty platter, and you have a lovely, super simple appetizer. New Year's Eve party or New Year's Day brunch, perhaps?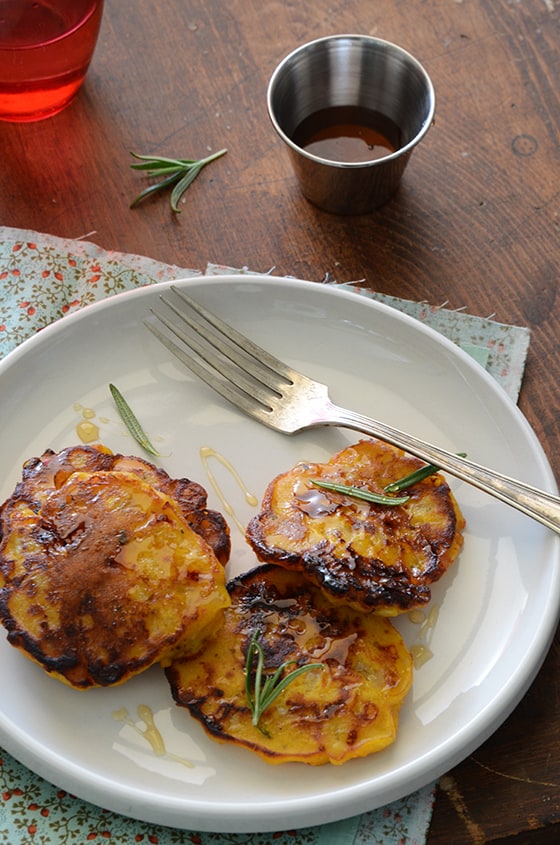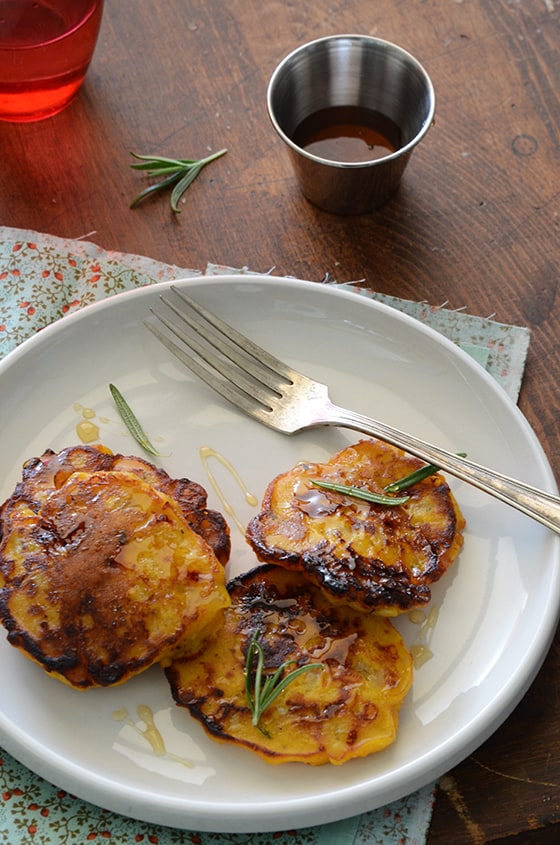 Savory Pumpkin-Cheddar Pancakes with Rosemary
Prep time:
Cook time:
Total time:
Yield:
2-3 breakfast servings, or 6 as an appetizer
Ingredients
2 tablespoons olive oil
1 medium onion, diced
2 large cloves garlic, minced
2 teaspoons minced fresh rosemary
½ cup (65 g) all-purpose flour
⅓ teaspoon salt
¼ teaspoon baking powder
⅛ teaspoon baking soda
⅛ teaspoon ground black pepper
1 large egg
¼ cup (60 g) pumpkin puree (canned or homemade)
1 tablespoon honey
1 tablespoon apple cider vinegar
3 tablespoons milk (low-fat is fine)
2 oz (60 g) sharp Cheddar, shredded
Canola oil, for frying
Any toppings you like, such as fried egg, honey, maple syrup, butter, sour cream, Greek yogurt, or herbs (like fresh minced chives)
Instructions
Heat the olive oil in a medium skillet over medium heat; add the onion and cook until softened and just starting to turn color, about 5 to 7 minutes, stirring occasionally. Add the garlic and rosemary, and cook 1 minute more, stirring constantly. Remove from heat and cool slightly.
Whisk together the flour, salt, baking powder, baking soda, and black pepper in a medium bowl. Add the egg, pumpkin, honey, vinegar, milk, and onion mixture, and stir to combine, being careful not to over-mix. Fold in the cheddar.
Heat a large nonstick skillet over medium heat. Once the pan is hot, add a light coating of canola oil and swirl the pan to coat. Drop the batter into the hot skillet by the heaping tablespoon and slightly spread it out to a circle. Cook until golden on both sides, about 3 minutes per side (don't be afraid to let these pancakes get a little darker and crispier than normal pancakes – they are fantastic that way!).
Wipe out the skillet, add more oil, and cook the remaining batter the same way.
Serve hot, warm, or at room temperature with any toppings you like.
Notes
To Reheat: I like to reheat these pancakes in a toaster.