I love breakfast meals. They're filling, nutritious, relatively fast to make, and usually cheaper than other meals. Why not eat the most important meal of the day (breakfast!) for any meal?
The recipe below is for one serving, because I'm sad to say my husband doesn't like breakfast foods (aside from eggs, sunny-side up or scrambled), but also because this makes it easy to adjust for any number of people.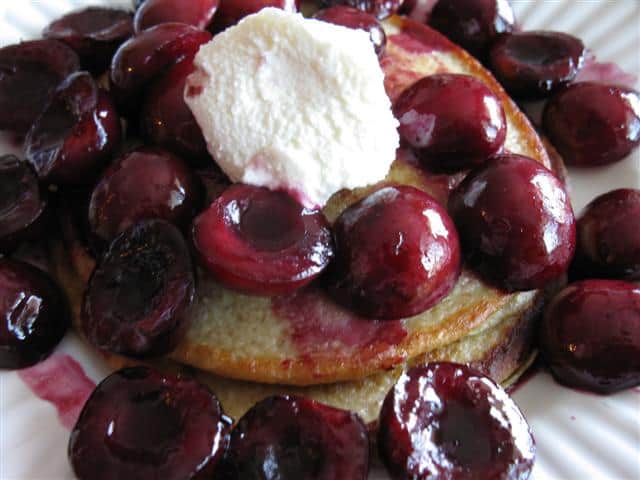 Oatmeal Ricotta Pancakes with Cherry Topping
(Yield: 1 serving)
2/3 c rolled oats (I used Quaker Old-Fashioned)
¼ c plus 1 TB ricotta cheese, divided
1 egg
½ small banana, mashed
1 tsp vanilla
Dash salt
1 c fresh cherries, pitted and halved
Cooking spray
In the blender, pulse the oats until powdered, and transfer them to a separate bowl. In the blender, purée the cheese, egg, banana, vanilla, and salt, then add the oat powder and blend until just mixed. Heat a small 6" pan over medium heat, lightly spray it with cooking spray, then add half the batter. Cook for 3-5 minutes or until the pancake is golden on the bottom; flip and cook for another 2-4 minutes or until the pancake is golden on the second side. Repeat with the remaining batter (you will end up with 2 pancakes, each 4-5" in diameter). For the cherries, lightly spray a separate pan with cooking spray and cook the cherries on medium heat for 3-5 minutes or until they start to soften. Top the pancakes with the cherries and 1 TB of ricotta cheese.