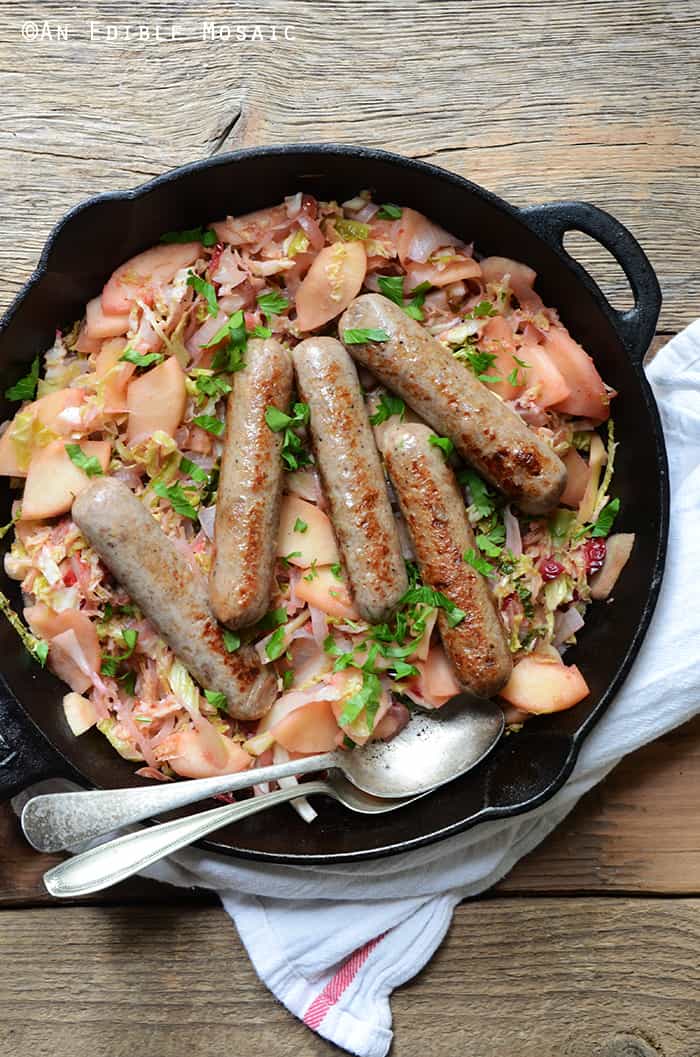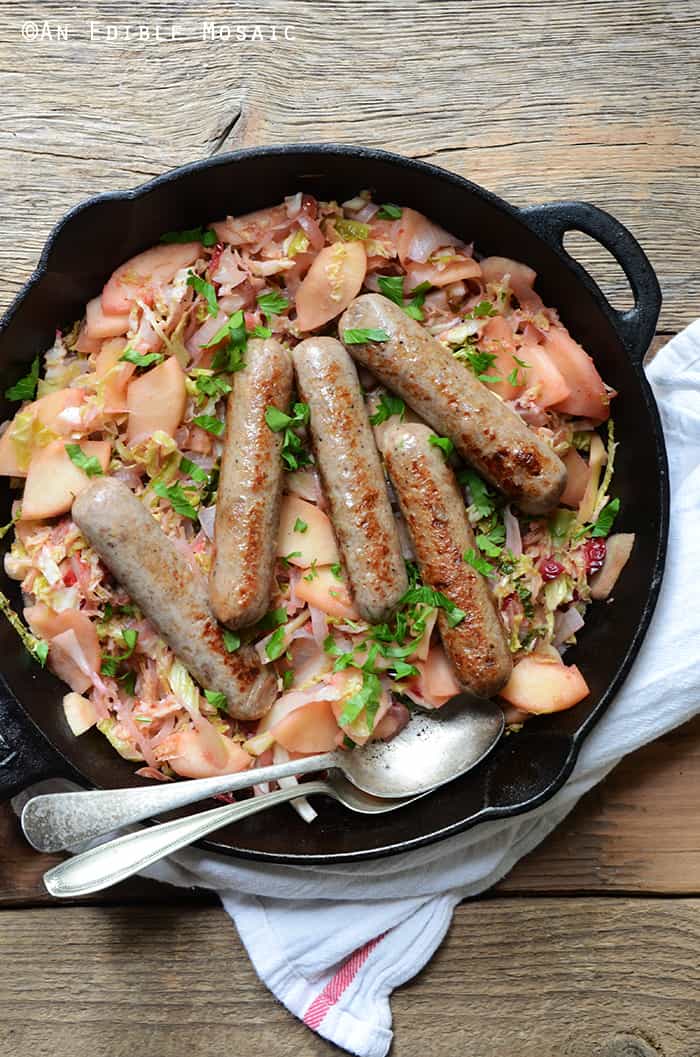 Ugh, it's not that stuffing with the orange zest, chestnuts, and raisins again, right, Mom?, my sister and I must have asked at least a dozen times every Thanksgiving growing up.
Neither my sister nor I were terribly picky eaters and we were both stuffing-lovers, but there was something about that stuffing that just didn't sit well with us, both flavor-wise and texturally (it had way too much thrown in there flavor-wise, and somehow it was always soggy!). I don't say this lightly, but that stuffing was gross. My mom claimed it to was an old family recipe (to protect the names of the innocent, or in this case, the not-so-innocent when it comes to horrible stuffing, I'm not going to say whose recipe it was). It's the funniest thing; she always said she could barely choke it down herself, and yet she kept making it year after year for the sake of tradition!
Well, I say to heck with tradition (at least when it involves inedible stuffing); let's start something new.
It sounds strange in looking at my Chicken Sausage Skillet with Cabbage, Apple, and Cranberries (which has no bread and isn't really stuffing-like at all), but this recipe was inspired by stuffing. I have a couple different favorite stuffing recipes; one is cornbread-based with brown butter, sage, and caramelized onion, and the other is French bread-based with apple, onion, thyme, and cranberries.
As part of my Crazy for Cranberry event, I decided to adapt that second stuffing recipe into a complete meal, sans stuffing and with added veggies (because you know we need to save up the calories for that big meal that's coming in just a couple weeks!). Because of how well it pairs with apple and onion, cabbage was a natural choice of veggie here.
As written, this recipe is paleo and very filling by itself; of course, if you want to stretch it out and keeping it paleo isn't a concern, it's also really nice served on a bed of toasted pecan brown rice.
Paleo Chicken Sausage Skillet with Cabbage, Apple, and Cranberries
Prep time:
Cook time:
Total time:
Ingredients
2 tablespoons olive oil
12 oz (340 g) fully-cooked organic apple chicken sausage (see Note)
1 medium onion, halved and thinly sliced
2 medium apples (I used Fuji), peeled, cored, quartered, and sliced
12 oz (340 g) savoy cabbage, sliced into thin shreds
1 cup (110 g) fresh cranberries
1½ tablespoons apple cider vinegar
1½ tablespoons honey
1 teaspoon minced fresh thyme
½ teaspoon salt
¼ teaspoon black pepper
1 tablespoon chopped fresh flat leaf parsley
Instructions
Heat the oil in a large skillet over medium-high heat; add the sausage and cook until browned, about 3 to 5 minutes. Transfer the sausages to a plate and set aside.
To the same skillet, stir in the onion, apple, cabbage, cranberries, vinegar, honey, thyme, salt, and pepper. Cover the skillet and cook until the vegetables are tender (but the apple isn't mushy) and the liquid is evaporated, about 8 to 10 minutes, stirring occasionally. Taste and add additional salt, pepper, and honey as desired.
Add the sausage back and sprinkle the parsley on top.
Serve.