The first time I ever dyed my hair was freshman year in college. I'm naturally a dirty blonde (which I have always thought was quite an unfortunate term for hair color), and decided to go a little lighter. It was so ridiculously similar to my natural color, it wasn't even worth the effort.
It's a mistake I haven't repeated.
Recently, I decided to go red.
(What can I say? Sometimes it's just time for a change.)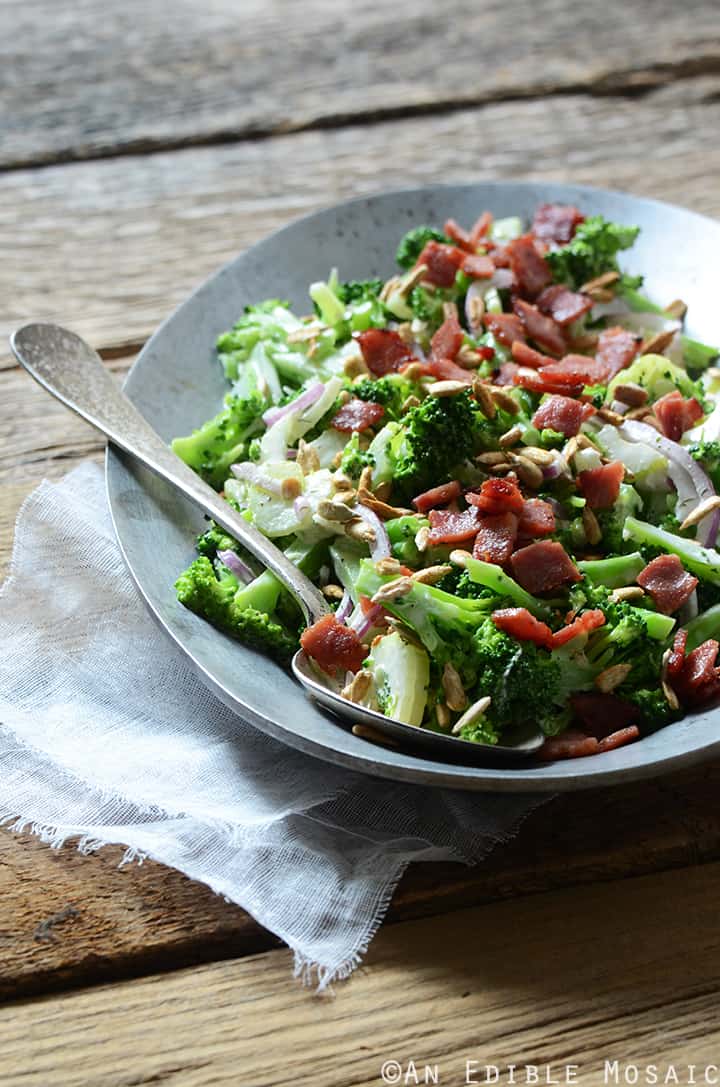 Speaking of change, as someone who grew up thinking that the only way to eat broccoli was boiled to mush, this salad is somewhat of a revelation and a good reminder of how delicious broccoli is when cooked properly (i.e., not to mush, lol).
Crisp-tender broccoli dressed in a creamy, but light dressing that's accentuated with crispy turkey bacon and crunchy sunflower seeds. A touch of fresh lemon juice and dill brighten up the whole dish.
I'm telling you, this salad is broccoli unleashed.
Crunchy Broccoli Salad with Creamy Dressing
Prep time:
Cook time:
Total time:
Ingredients
1 lb (450 g) broccoli, chopped into bite-sized florets (about 4 cups chopped)
2 teaspoons olive oil
3 slices turkey bacon, chopped
3 tablespoons mayo
3 tablespoons Greek yogurt
1 teaspoon fresh lemon juice
¼ teaspoon salt
¼ teaspoon black pepper
¼ teaspoon garlic powder
1 teaspoon fresh chopped dill (or ¼ teaspoon dried dill)
1 small red onion, quartered and thinly sliced cross-wise
2 stalks celery, thinly sliced
2 tablespoons roasted, unsalted sunflower seeds
Instructions
Fill a medium saucepan with water and bring it to a boil; salt the water, then add the broccoli and cook until fork-tender, about 90 seconds. Drain the broccoli and transfer it to a bowl filled with ice water to cool completely. Once cooled, drain well and set aside.
Heat the oil in a medium-large skillet over medium heat. Add the bacon and cook until crisp, about 3 to 5 minutes, stirring frequently. Use a slotted spoon to transfer the bacon to a paper towel-lined plate to drain any excess oil. Reserve for topping.
Whisk together the mayo, yogurt, lemon juice, salt, black pepper, garlic powder, and dill in a large bowl. Stir the in the broccoli, parsley, onion, and celery into the dressing.
To serve, transfer the salad to a serving bowl and top with the bacon and sunflower seeds. Serve immediately.
Notes
To Make This Salad a Day Ahead: Make the salad up through step 3 above; hold off on adding the bacon and sunflower seed topping until right before serving.